Written by Staff on July 25, 2019 – 2:54 pm -
Editor's Last Word for July 2019 by Lorraine Walker
July is officially the month of the dog days of summer. It's interesting how, when we move from air-conditioned buildings to cool cars back to even cooler houses, we don't even really get the full benefit of the heat of summer time. I remember as a kid playing outside and the heat didn't bother me at all. Now if I've been more than 10 minutes outside, I'm begging for either air conditioning or my favorite iced coffee. I don't think I'm the only one either, judging from the lineup at the coffee shop. Have we become a society that can't stand a little warmth? Or has it truly become hotter outside?
One thing that is for sure, an artist whose career is heating up once again, is the ageless Carman. He looks the same and sounds the same as he did when I first became a fan back in the 80s. And now he's back with a gospel album and joined by a quartet. Still, as he begins his new tour, I hope he doesn't leave off the iconic song, "The Champion." Thanks so much to Jennifer Campbell for that feature.
Special thanks as well to John Herndon for bringing us the story on another iconic group, the Kingsmen. So glad to see that they are back with a new album to go along with their new lineup.
In fact, thanks to all of our writers this month, for going above and beyond to bring us these great features. SGNScoops magazine is blessed to have some of the best writers in the industry. They bring us features better not only inspiring but also entertaining. I hope you've had time to also read the devotional writers who contribute to the SGNScoops website. We are blessed.
My sister mentioned the other day about how often the subject of fear comes up in today's Christian music. Whether it's Southern or Country gospel, or Contemporary Christian music, usually you won't have the station on long before you will hear the subject of being afraid, and how Jesus can break those chains of fear and anxiety. The thing is, you have to recognize that it is fear. Then you need to remember that Jesus is love, and perfect love casts out fear. Does that line sound familiar? Then you know it is part of scripture and knowledge of the word of God is essential to dealing with fear. Remind yourself and the ultimate source of fear, satan, that God is in control and he has the final word.
After you have gone to the word to claim the promises of God and to remind yourself of the many times he says, "Fear not!" then rest in that knowledge and talk to the author of peace. Tell him your fears and let him soothe you with his divine presence. Turn on some good gospel music and let yourself soak in the words of songs touched by the hand of God.
If you are afraid or anxious today, I urge you to talk to someone you know and trust who can help you find peace in the words of our Savior. Let his words be your rock, your fence, your protection and your safety. For Jesus is the Word. He will never fail you.
I am so glad we have music that can overcome evil and fear with the sword of the Spirit, the word of God. Thank you to all of the songwriters who bathe their minds and work in the Holy Spirit, and the singers who are blessed by God to communicate his love. You are all vessels for his glory.
If you need have any questions or comments or suggestions after reading this month's issue, please write to me, lorraine@sgnscoops.com 
By Lorraine Walker
First published by SGNScoops magazine in July 2019
Read the July SGNScoops Magazine Online HERE
Download July SGNScoops Magazine On PDF
HERE
Find SGNScoops Magazine On Facebook
HERE
Listen To Todays Gospel Music
HERE
Tags:
Carman
,
Dear
,
Editor's Last Word
,
Kingsmen
,
Lorraine Walker
,
SGNScoops Magazine
Posted in
concert reviews
,
sgn scoops magazine
|
Comments Off

on Lorraine Walker: Facing Fear
Written by Staff on May 2, 2019 – 8:09 pm -
On Saturday, April 27th, 2019, a concert was held in London, Ontario that was for some the end of an era. The event was a fundraiser for New Life Prison Ministries, a jail outreach program in the area.
London Gospel Temple was the site for many gospel music fans who were happy to hear some good, live music after a long, cold winter.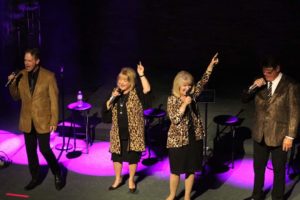 Opening the evening was the popular Ontario group, the Chapelaies, who are into their 51st year of ministry. This mixed quartet has won the hearts of many over the years. Led by David and Sheila Jackson, who are joined on stage by Myrna Hand and Phil Pugh, this group performs with grace, class, and the love of Jesus Christ.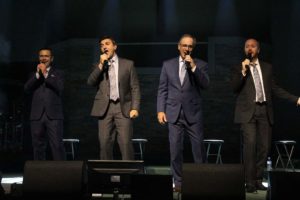 Legacy Five followed the Chapelaies and the audience was treated to an outstanding performance of male four-part harmony at its best. Enthusiastically singing their hit songs, the group showed why they are so often mentioned among the best in the U. S. Scott Fowler; the gracious host, and Josh Townsend, the expert pianist, joined superb bass Matt Fouch, as the group members who will bring the L5 into the next decade. New members will join them this weekend, but the Canadian audience was witness to the very last concert of Legacy Five with smooth baritone Scott Howard and the incredible tenor style of Josh Feemster.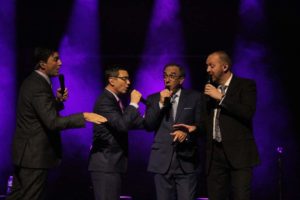 The evening was fun as well as worshipful and engaging, as attested to by the continuous calls for encores at the end. Afterward, group members stayed late to talk with every fan. Many selfies were snapped and much laughter filled the hall.
It was an encouraging, enjoyable evening, surpassing even the greatest expectations. A huge thanks to all involved. The evening was truly unforgettable.
By Lorraine Walker, who will be able to tell the story of how she was there at the last concert of two of the best vocalists in gospel music.
Special thanks to photographer Jillian Whitson for providing the concert images.
Tags:
Chapelaies
,
David Jackson
,
FJosh Townsed
,
gospel music
,
Josh Feemster
,
Legacy 5
,
legacy five
,
Matt Fouch
,
Myrna Hand
,
New Life Prison Ministries
,
Phil Pugh
,
Scott Fowler
,
Scott Howard
,
Sheila Jackson
,
Southern Gospel Music
Posted in
artists
,
concert reviews
|
Comments Off

on Chapelaires and Legacy 5 leave a lasting impression in London
Written by Staff on November 7, 2017 – 1:23 pm -
What does it take to get this Canadian girl to go to some place called Bell Buckle, Tennessee? Well for starters, a getaway weekend simply titled: Russ and Tori Taff's weekend in Bell Buckle, consisting of some of the best Gospel music there is today. Throw in some of the best southern cooking, hospitality, and charm. Think it is hard to fit all of this into a charming hamlet of 500+ inhabitants? Well, it is possible because that's exactly what happened. To quote our weekend host Tori Taff, "A joyful oasis from your daily routine," and that's what this amazing weekend delivered.
What I am referring to? The 2nd Annual Russ and Tori Taff 's Weekend in Bell Buckle, Tenn., on Oct. 7 and 8. From the moment I stepped into the Bell Buckle Banquet Hall on the Friday for early registration, I was greeted with open arms, which quickly got filled with the warmest and most sincere hug from our greeter
Tori herself. As a guest, you get treated to a registration bag filled with goodies; name tag/badge, lovely commemorative mug, a professional and gorgeous autographed 8×10 picture of Russ Taff, yummy moon pie samples, Bell Buckle bumper sticker, and an exclusive CD by Russ of never before released songs. In addition, a list of shops indicating their discounts especially for the weekend guests, all packed into a nice yellow tote bag. Tori is definitely in her wheelhouse, hosting, greeting and scheduling this annual event. Leaving Russ, who has been called "the introvert in an extroverts career," to do what he does best: sing. And that he did, in spades.
Tags:
Bonnie Keen
,
Christian Music
,
Dony McGuire
,
gospel music
,
Mark Lowry
,
Reba Rambo- McGuire
,
russ taff
,
Susan Werchonowicz
,
tori Taff
,
Weekend in Bell Buckle Tennessee
Posted in
artists
,
christian entertainment
,
concert reviews
|
Comments Off

on BELL BUCKLE WEEKEND WITH RUSS AND TORI TAFF
Written by Staff on March 14, 2016 – 4:19 pm -
SGNScoops roving reporter, Jamie Britt, from Lumberton, North Carolina, recently sent us in this feature on the Glorymen's 27th Anniversary:
On Saturday evening, March 5th, the Glorymen celebrated their 27th anniversary concert at East Lumberton Baptist Church in Lumberton, NC.  Their featured guests were the Whisnants from Morganton NC.
 Some of the highlights for me were getting to see some of the former members come together.  Also, at the end of the concert, The Glorymen and the Whisnants came together to sing, "I've Never Been This Homesick Before."  
Some of my favorite songs by The Whisnants that
were sung were: "Worry Ends Where Faith Begins,"which by the way is the current radio release; another favorite was "I'm Not Afraid to Trust Him," and also, "I'll Trust the Potter's Hand."  
The Lord showed up in a powerful way that evening.  
The greatest moment for me personally came after the concert had ended.  I had the honor of meeting Susan Whisnant.  She's a very genuine lady filled with the love and compassion of God.  She's more than willing to pray with a person when needed, and that I admire greatly in her.  
If you ever get an opportunity to see these groups in person, I highly recommend taking the time to pay them a visit.
–By Jamie Britt
More News
More on the Whisnants here and the Glorymen.
Tags:
Glorymen
,
Whisnants
Posted in
announcements
,
concert reviews
,
exclusive report
|
Comments Off

on Whisnants help Glorymen celebrate their 27th Anniversary
Written by Staff on September 24, 2015 – 5:10 am -
In 1980, five men in Dahlonega, Georgia came together to form what is now one of the most celebrated and most beloved Southern Gospel groups, Gold City. The original lineup consisted of Bob Oliver (Tenor), Jerry Ritchie (Lead), Ken Trussell (Baritone), Dallas Gilliland (Bass) and Larry Goddard (Piano). Gilliland would be replaced shortly after formation with a man who has since become synonymous with the group, Tim Riley.
A multiple Singing News Fan Award winner and Gospel Music Hall of Fame member, Tim Riley is well known for his incredibly rich and clear bass voice. Riley became a stalwart member (until 2004, and later 2014) of the group whose lineup has experienced many changes over the years.
Tags:
Daniel Riley
,
gold city
,
gospel music
,
Tim Riley
Posted in
announcements
,
Christian interest
,
concert reviews
|
Comments Off

on 24 Karats: A Look At The Legendary Gold City Quartet
Written by Staff on September 20, 2015 – 12:02 pm -
Robert York's Concert Rambling's: Hope's Journey's Homecoming
I recently found four great reasons to return to Alabama.  One was Hope's Journey annual Homecoming.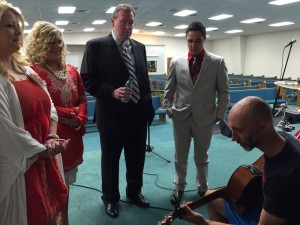 Vonda Easley founded Hope's Journey in 2003 along with her daughter Ashley Easley and Chris Clay. Starting out as a trio,  after two years they added a bass singer, Trent Adams, to become a quartet. When Trent departed from the group in 2008, they returned to a trio.Vonda and Chris had said many times they would like to go back to a quartet and finally a few months ago, they hired Jordan Wilson as their bass singer. Lauren Miller-Huckabee was added just a few weeks before Jordan as they lost a member of the group.
Reason number two was the person that was going to be there to emcee the program. Rob Patz, CEO and founder of Costal Media Group and also publisher of SGN Scoops was to be there. Rob is a great supporter of Southern Gospel music. He promotes several multi-day events a year across the nation. He is a great emcee and speaker. With Rob and Vonda on stage together you get many laughs, but he had to be nice at this concert because Vonda's mom was there.
Then the third reason was that former Hope's Journey member Ashley, who left the group in 2007 to marry Josh Franks, was there. When Ashley married Josh they started singing as a duet and traveled almost every where to share the gospel. Josh, also being a preacher, often held revivals. These two together are a dynamic duet with Ashley's great voice and Josh's energy.
The final reason was The Browders from Hinton, VA, were there. This great family group with Dad Tommy and his testimony will give you one of the greatest uplifting you can receive.
Tommy shares how he developed polio at age two and was not expected to live until age 19, but God saw different and Tommy in the wheel chair continues to sing and play, something that was never expected in his condition. His sons Matthew and David along with Matthew's wife Sonya make up the group.
Vonda introduced Rob, making sure that everything was in line for the door prizes and then Chris had the opening prayer. Rob introduced Josh and Ashley Franks who got the evening off with an up beat song. During their set they brought up their children Priscilla and Eli. You could just see the sparkle in Grandma Vonda's eyes when these two were singing.
Hope's Journey was up next, starting off with "Happy Rythmn." Often their new bass singer Jordan was featured on songs as well as the others in the group.
The Browders came on the stage with "Lift Up His Name" and "He's Alive." Following Tommy's testimony he sang "I Am Blessed," saying, "God has blessed and been so good to me." What a time we all had!
Just prior to the concert beginning, I got a text from Penny Shelnut saying her group Sacred Calling was going to be at a church in Powder Springs the following morning. If you know me, I had to make that event as it was on my way home. Got up early to hear them. 
Sacred Calling has been singing for five years and current members are Nicole Buchanan, Penny Shelnut, Rachel Elkins and Andrew Alder on the piano. Rev. Snyder Turner sang "My Brand New Home" for their 41st Annual Homecoming. He made a comment after the service how he liked Scared Calling. He said he was not much on jokes and appreciated a group that doesn't tell jokes but sings the message. I thoroughly enjoyed Sacred Calling and their Homecoming. 
Thanks to Robert York for this feature.
For more artist features keep reading SGNScoops.
Tags:
Hope's Journey
,
Josh and Ashley Franks
,
Sacred Calling
,
southern gospel
Posted in
announcements
,
artists
,
christian entertainment
,
Christian interest
,
concert reviews
|
Comments Off

on Robert York attends Hope's Journey's Homecoming
Written by Staff on September 7, 2015 – 1:30 pm -
Last night Pat Barker and 11th Hour sang to a full crowd at Meadowbrook Baptist Church in Oxford, Alabama.
The evening began with Pat talking about his Gospel roots, giving credit to his Dad. He sang several songs that he and his Dad enjoyed. One I especially enjoyed was "Poor WayFaring Stranger," which we don't hear often enough.
11th Hour sang their radio chart song "Picture This", "How Will You Plead," along with the classics "Sheltered In The Arms Of God," and "He Will Roll You Over The Tide" and many more.
Pat asked a couple of friends, Eric Dunson and Lauren Allen, to come up and sing. They both did great job and we're well received.
The evening ended with Pat and 11th Hour singing a few songs together. What a blessed evening.

SGN Scoops was honored to be in attendance.

By Paula Hendrick
For more concert and artist features,  keep coming back to SGNSCOOPS.
11th Hour are one of the many great artists appearing at Creekside Gospel Music Convention, November 2nd through 5th.  Find out more!
Tags:
11th Hour
,
Creekside Gospel Music Convention
,
Eric Dunson
,
gospel music
,
Lauren Allen
,
Pat Barker
Posted in
announcements
,
artists
,
concert reviews
|
Comments Off

on AN EVENING WITH PAT BARKER AND FRIENDS
Written by Staff on August 6, 2015 – 10:04 am -
On August 1, 2015, we were privileged to be at a concert featuring Karen Peck and New River in Coburg, Ontario. The site was the Lakeshore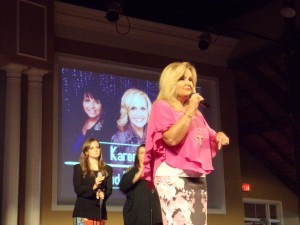 Pentecostal Camp, a beautiful campsite on the shores of Lake Ontario. Inside the Tabernacle was seating for about 1000 people on old-fashioned wooden pews and we were happy to see modern fans and feel the air-conditioning on that exceptionally warm evening.
Karen Peck and New River stepped onto the stage to a very appreciative crowd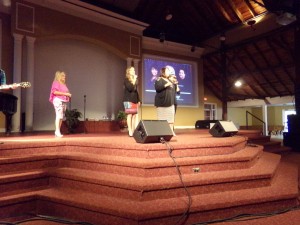 welcoming the artists for the first time to that venue. Many had heard this mixed group previously and fully enjoyed the first few renditions of top songs from the well-awarded history of KPNR.
Karen Peck Gooch, Susan Peck Jackson and Jeff Hawes were joined onstage in the first half by Karen's daughter Kari on vocals and Matthew on guitar. Karen's husband Rickey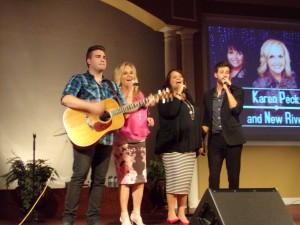 was running sound and we were happy to note that he is on his way to better health after dealing with cancer for much of the year.
Some notable musical moments included "On The Banks Of The Promised Land," where the guitar that Matthew was playing so proficiently turned into the sound of a mandolin, and then "Hallelujah For The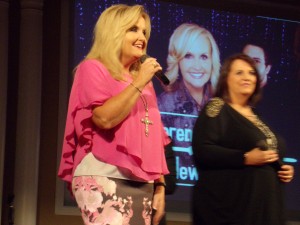 Cross," a song off of their newest release, Pray Now, which featured Jeff Hawes on the lead. This vocalist will definitely be missed!
I always enjoy the clear tones of Susan on her alto leads, especially the tune "Sustaining Grace," which was another chart-topper for KPNR. Karen then had Rickey give his testimony of coming through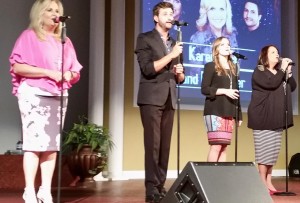 his health battle, and we were all exhorted to "Pray Now," in every situation, for God does hear and answer prayer!
During the intermission we were blessed by the instrumental sounds of Matthew on steel guitar and Jeff Hawes on piano. Jeff is a terrific pianist as well as vocalist and Matthew is working his way to proficiency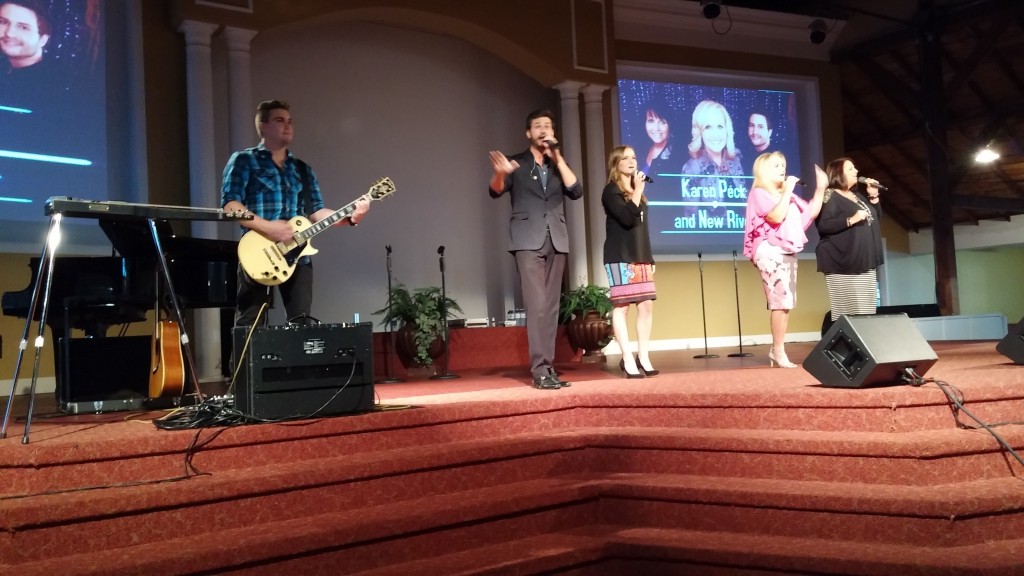 on a variety of stringed instruments. They made a great team.
The second half was as wonderful as the first, and I don't say that lightly. Karen has a way of

drawing in her listeners and then taking them with her as her voice soars ever higher, bringing a special sense of worship and praise to God. After a full concert, Karen stepped down off the stage to present a song completely alone. Her rendition of "My God Will Always Be Enough," was simply incredible. Her clarity, tone and strength in her upper register after a long evening were amazing and gave proof to why she is one of the top vocalists in Gospel music.
After a sensitive and encouraging prayer time, the artists ended the evening appropriately with the song, "Finish Well." While the hall was filled with all ages, there was a predominance of older listeners who sometimes feel that their best years are behind them. What an encouragement and exhortation to everyone there, that while we still have breath we have a work to do for the Lord, and we all need to "Finish Well."
The Karen Peck and New River concert at Lakeshore Pentecostal turned out to be the penultimate performance of Jeff Hawes with the group, and we were thrilled to have had that experience. We wish Jeff all the best in his new endeavors within the educational system, but we hope he knows how much the Southern Gospel world will miss his vocals and sweet spirit. Our prayers are with KPNR as they fill Jeff's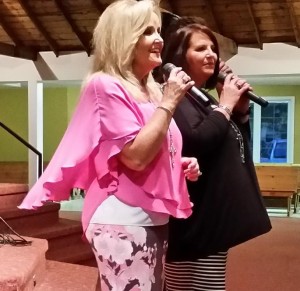 position with another Godly vocalist.
No doubt Karen Peck and New River will persist in expanding their boundaries and pushing the envelope, as they continue on their journey of excellence in Gospel music.
Special note to all you fashionistas out there: take special note of the ladies' shoes and fashions onstage. KPNR always is in style with colors that flatter and never look immodest. Love that about these artists!
By Lorraine Walker
Photographs by Cindy, Joan and Lorraine Walker
Visit Karen Peck and New River on the web and on Facebook.
For more news, information and artist features, visit SGN Scoops online and on Facebook.
Tags:
gospel music
,
jeff hawes
,
karen peck and new river
,
Karen Peck Gooch
,
Kari Gooch
,
Lakeshore Pentecostal Camp
,
Matthew Gooch
,
Pray Now
,
Ricki Gooch
,
southern gospel
,
Susan Peck Jackson
Posted in
announcements
,
artists
,
christian entertainment
,
Christian interest
,
concert reviews
,
gospel events
,
sgn scoops magazine
,
special feature
|
Comments Off

on Karen Peck and New River in Concert: Final Weekend with Jeff Hawes
Written by Staff on April 21, 2015 – 10:50 am -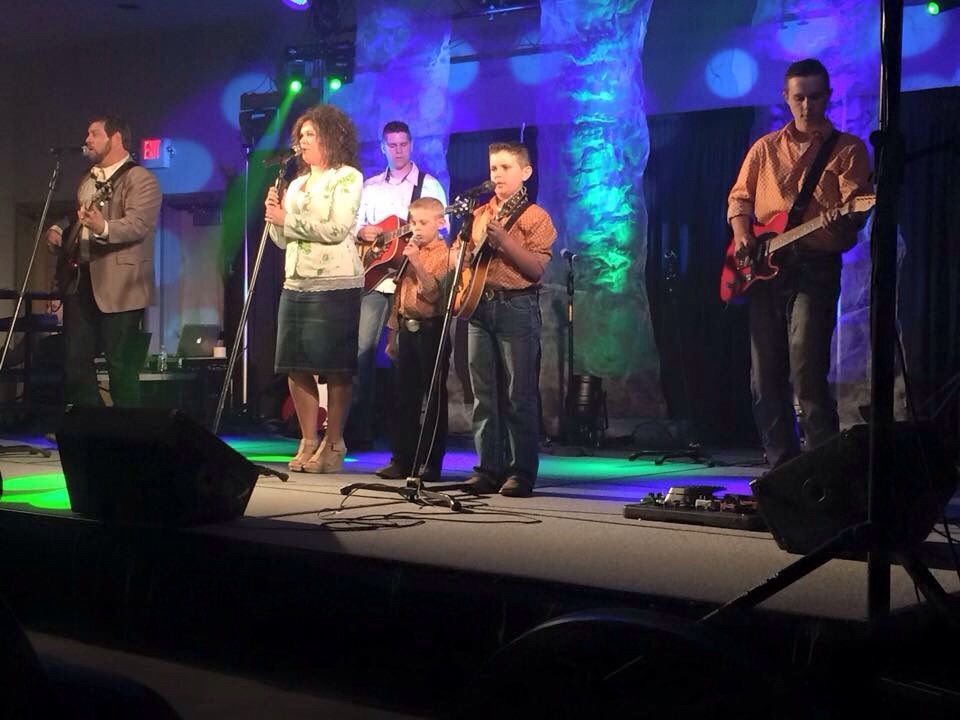 Randa Jordan of the Jordan Family Band tells SGN Scoops…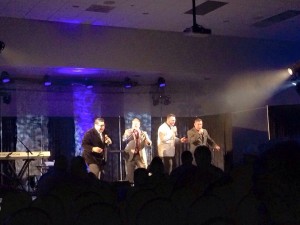 This weekend was our first time being a part of the SESGMC (South Eastern Southern Gospel Music Conference) in Tifton, GA. What a fun, two-day event with so much great talent. Over 40 groups performed and each did an outstanding job!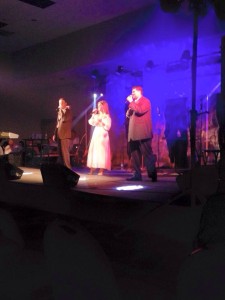 My family and I sang on the Friday afternoon showcase and the Spirit of the Lord was truly there in the midst! We won a spot to sing on main stage and once again enjoyed the spirit of the people and their warm reception. We also enjoyed catching up with old friends and meeting new ones.
Every soloist, duo, trio and group had a great time at this event hosted by Ricky Atkinson of Ricky Atkinson and Compassion. It is growing and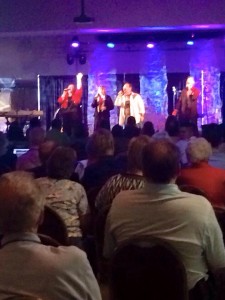 becoming something special in the South Georgia area. Make plans to attend this two-day event in April of 2016! You will be blessed and have a great experience in Southern Gospel music!
For more information on the Jordan Family Band click HERE.
Tags:
christian country
,
Jordan family band
,
Ricky Atkinson
,
Ricky Atkinson and Compassion
,
SESGMC
,
Southeastern Southern Gospel Music Conference
,
southern gospel
Posted in
announcements
,
awards
,
christian entertainment
,
Christian interest
,
concert reviews
|
Comments Off

on The Jordan Family Band attends the SESGMC
Written by Staff on February 6, 2015 – 10:47 am -
The Booth Brothers packed the house again while in concert at Shiloh Hills Baptist Church recently. The Brothers h
ave been coming to the area for several years and every time additional space has to be added. They attract all age groups to their concert. There were several children there as well as a lady that was 99 years old. She said after the concert if she made 100 she would be back to hear The Booth Brothers again!
After opening remarks, introductions  and announcements, Pastor Vic Bledsoe introduced the Shiloh Hills Choir under the direction of Matt Bledsoe.  A great music program from the choir concluded with "How Great Thou Art."
The Booth Brothers took the stage 
​
to a standing crowd, singing many of their new songs that featured their newest member Paul Lancaster.  Michael introduced a special guest in the audience: Stan Whitmire. He invited Stan to the piano and Michael, Ronnie and Paul gathered around the piano to sing. Stan accompanied the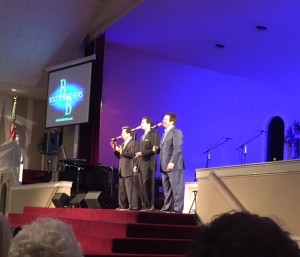 group throughout the second half of the concert on the piano also playing a couple of piano solos.  Michael closed the program with prayer and folks hung around for about an hour talking with the guys. I must say that Paul Lancaster is a great fit for the Booth Brothers.
The next concert at Shiloh Hills Baptist Church will featured the departed member of The Booth Brothers, Jim Brady and the Jim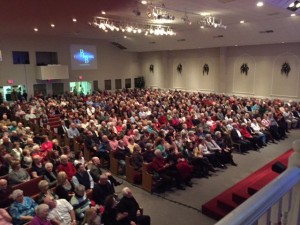 Brady Trio. This concert will be

March 13 at 7:00 pm

.  Former Mark Trammell Quartet bass singer, Pat Barker, will open for the Jim Brady Trio.
Tags:
booth brothers
,
Christian Music
,
Jim Brady
,
Jim Brady Trio
,
mark trammell
,
Michael booth
,
Pat Barker
,
Paul Lancaster
,
Ronnie Booth
,
southern gospel
,
Stan Whitmire
,
Tim Parton
Posted in
artists
,
concert reviews
|
Comments Off

on BOOTH BROTHERS AT SHILOH HILLS BAPTIST CHURCH