Written by Staff on January 27, 2015 – 9:40 am -
By Candi Combs
In a quaint historic church in southern Virginia, the Rick Webb family recently raised their voices to the rafters. The family of four shares that special harmony reserved for those closely related. The group is lead by Rick Webb and his wife Phyllis. The couple has been singing together most of their adult lives. They are joined with son Parker and daughter Hannah who all hail from North Carolina.
In Rick's opening remarks, he introduced Hannah as a beauty queen who recently appeared with Jeff Foxworthy on American Bible Challenge. "Not only can this gal sing, she is also pretty smart!" quipped her father. Parker is responsible for managing the group's road schedule as well as contributing his smooth vocals. Phyllis introduced herself as a theologian offspring to self-describe her childhood as the daughter of a pastor.
Much of the music preformed comes from the Rick Webb Family's newest release from Committed to the Call. "Heaven's Bells are Ringing" is a song with a happy tempo that was the Webb's choice to open the evening concert. In a tribute to the many challenges of a local church, the Webb's performed, "Let the Church Roll On." Definitely a favorite of the crowd was the performance of "Unclouded Day" from the Cokesbury Hymnal. Rick followed by using his smooth voice to deliver, "I Have Found Him."   Parker then took center stage with his own arrangement of Squire Parsons' "Beulah Land."
The Webb couple shared great stories from their early pre-marital days traveling with Disney's Sounds of Liberty.   The travel schedule was brutal
during that time but they met each other and learned much about this great country called America. These experiences were an excellent introduction to a stirring rendition of "God Bless America."
A unique area of ministry for the Rick Webb Family is a production of Glory and Majesty they direct during the Christmas holiday season in Indiana. Phyllis told the
story of a cast member with special needs who for many years performed his role flawlessly. The Webb's have learned that the man came to a saving knowledge of Jesus though the production and had recently passed away. "Saved through the simplicity of salvation," Phyllis said as she introduced, "If Not for the Old Rugged Cross." "Please don't leave here tonight without being sure you know Him", she cautioned.
The simple call to salvation was highlighted with the song, "Every Knee Shall Bow," as the group opened a time of invitation.   With the room focused on the Cross, the group asked promoter and songwriter, Dawn Smoot Moss to join them on stage to close the night with "Behold He Comes."
The Rick Webb Family has a beautiful gift
of song that is obvious. Perhaps the most intriguing aspect of this group is their sweet spirit as they share what being a Christian really means. Each member of the group warmly welcomes each person they see. Their love for the Gospel does not stop when they step down from the stage. The genuineness of The Rick Webb Family ministry goes from the product table to the local Mexican restaurant where they enjoy baskets of chips.
As owners of Song Garden Music, Rick and Phyllis Webb are committed to developing young artists to carry on the gospel through music. In addition to the project featured at the concert, the Rick Webb Family has also recently released a project targeted at children. Rick stated, "We must be committed to telling the youngest of children about how much Jesus loves them." With great focus, this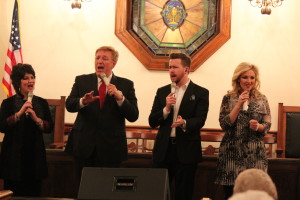 dual-generational family group is making a strong investment in future generations.
Watch for an exciting announcement forthcoming in regard to future plans for the Glory and Majesty production. The Rick Webb Family is seeing doors open to new goals with this ministry. These folks are clearly looking for opportunities from above!
Rick Webb Family music is available on line and at most Christian music outlets. http://rickwebbfamilymusic.com/
Tags:
Candi's Catch Ups
,
Christian Music
,
gospel music
,
Hannah Webb
,
Parker WEbb
,
Phyllis Webb
,
Rick Webb
,
Song Garden
,
southern gospel
,
The Rick Webb Family
Posted in
announcements
,
artists
,
christian entertainment
,
Christian interest
,
concert reviews
|
Comments Off

on Candi's Catch Ups: The Rick Webb Family
Written by Staff on January 16, 2015 – 1:05 pm -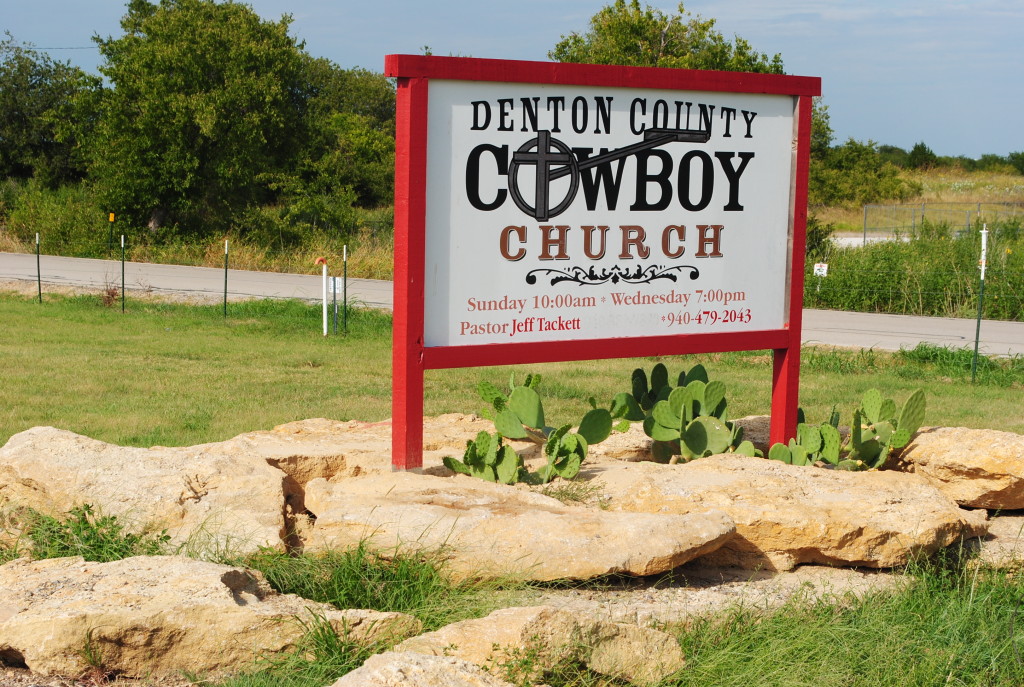 By Vivian Belknap
For the 2nd annual Denton Gospelfest, Southern Gospel Music promoter, David Ray, put together a very diverse show this year by bringing to the stage musicians from 13 to 81 years of age. The venue location was at Denton County Cowboy Church in Ponder, Texas. The Cowboy Churches are a growing Jesus-centered fellowship with emphasis on the "cowboy" style of worship. The dress is casual with cowboy hats and boots in evidence. Almost always there is a rodeo arena on the property and Denton County Cowboy Church is no exception. They have a large well-built arena adjacent to their worship center with an area for children to play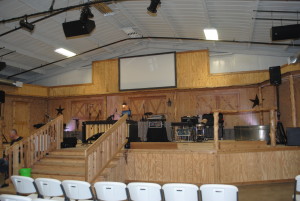 during a rodeo event or during services. The church is situated in a rural area, surrounded on all sides by pastures and woods. They have a horse trough, which serves as a baptistry, and the décor is pure western with horse saddles and hay bales being a part. Most of the Cowboy Churches favor Country Gospel music as well as Southern Gospel and the hymns. The leadership there was very welcoming and concessions were in abundance. Doesn't get much better: great Southern and Country Gospel music and great Texas food!
The concert began with Lisa Dye, a local singer from Grand Prairie Texas, the daughter of Glen Dye, who opened with "The Holy Hills of Heaven," and "This Ship Was Made to Sail." Then Matt Jones, a member of the King's River trio from Ft. Worth, Texas, joined her on stage. Not only did they sing a duet, but he also did a fine job on the keyboard.
David Ray kept us entertained between sets by telling stories of his childhood, growing up as a PK, (you know, a preacher's kid.) I grew up as one, and oh, yes, we have stories!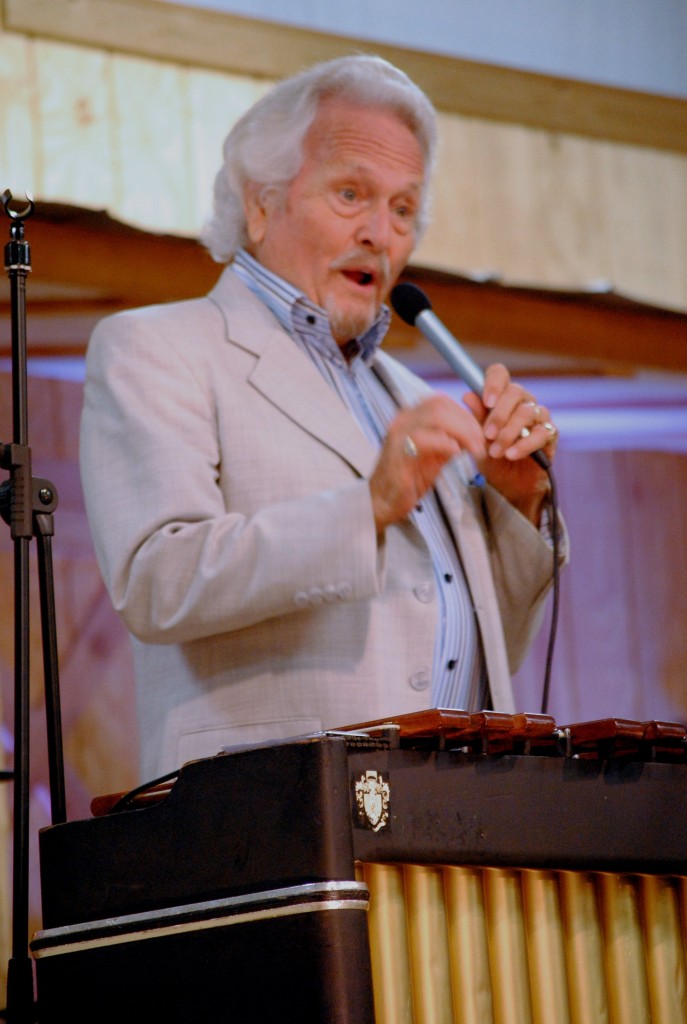 Next we were introduced to Reynold Rutledge and his magnificent instrument, a marimba. Are you familiar with a marimba? If not, it looks like a xylophone, but there is a difference between the two instruments. The xylophone has an octave range of 2 ½ to 4, and the marimba has a 3 to 5 octave range, and even higher for newer instruments. The marimba has a more mellow sound and is more suited to a solo rather than an ensemble set as Reynold so masterfully proves in his performances.
Reynold opened with "God On The Mountain," filling the auditorium with his rich tenor voice. Even though he is 81 years young and has been playing and singing for 75 years, one would never know his age by looking at him or hearing him sing. He then played "Give Them All To Jesus," with a great Latin feel, and ended it with "cha, cha, cha." That put a smile on all our faces.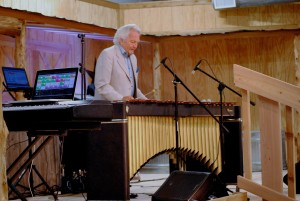 Next he sang "I Know Who Holds My Hand," with fantastic lungpower; really he doesn't need a microphone. Next on the marimba was "Gentle Shepherd," and he gave this song the sound of being in the islands. We heard "Dwelling in Beulah Land," and "This is Just What Heaven Means to Me," and he started it with a yodel. That put another smile on our faces. His eclectic music brings much variety to the program.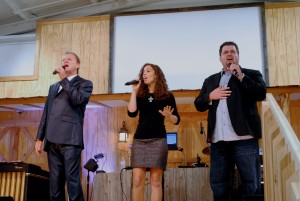 The great family harmony of The Hootens followed Reynold Rutledge. The Hootens are from Waskom, Texas. Where is Waskom, TX? It is on I-20 just a short distance from the Texas/Louisiana border. The trio consists of Ronnie, Donnie and Carli Hooten. In late 2012, Donnie was invited to sing at Open Range Fellowship Church in Greenwood, Louisiana. After some time, he invited his daughter, Carli, to sing with him. They thought it would be fun to put a little group together and since they had sung a few times in the past with Donnie's Uncle Ronnie, they spoke with him about becoming a group. They agreed to be known as The Hootens and began to sing just about every Thursday night in front of 800 people at the Open Range Fellowship Church. Through this exposure, the group gained popularity in the area and began receiving invitations to sing at other churches. Read more »
Tags:
christian country
,
Denton Gospelfest
,
gospel music
,
Lisa Dye
,
Reynold Rutledge
,
southern gospel
,
The Erwins
,
The Hootens
,
Vivian Belknap
Posted in
artists
,
concert reviews
|
Comments Off

on DENTON GOSPELFEST
Written by Staff on January 9, 2015 – 10:36 am -
On January 7, 2015, we were in New Genesis Church in Douglasville, GA to see the award-winning Triumphant Quartet.  This church has a lot of Southern Gospel Concerts and Triumphant Quartet is one of everyone's  favorite groups that visit there.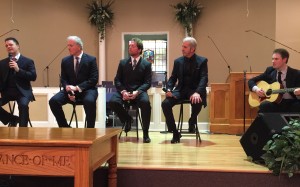 Triumphant Quartet has been singing together since 2003 when they started singing at the Louise Mandrell Theater in their home town Pigeon Forge,TN.  Before forming the Quartet, one of the members was at the theater almost every 
Sunday
 morning, singing in the worship service there.  Louise decided she needed a full time quartet to appear daily at the theater so she contacted them and what started there is now history.  The four guys: Eric Bennett, David Sutton, Clayton Inman and Scotty Inman, have been singing together ever since.  In 2008, after Ms. Mandrell left the theater, they felt it was God's will for them to go on the road full-time.
Eric and David have been on stage singing together for several years. They had been performing in Dollywood together, and when Triumphant was formed, they asked Clayton and Scotty to join them.  Clayton had been singing with Won by One, a group he formed in the mid-'90's, and Scotty had been with Poet Voices. The four voices then joined together to become one of the most awarded male quartets on the road today.
In Douglasville, Triumphant sang a good mixture of songs: fast, old, and new, and then Eric did a great closing invitation.  A local group, Mercy's Call, which consists of Jennifer McAllister, Joey Peace and Jelinda Hill, opened the concert.
A great time was had by all! To experience Triumphant in a venue near you, visit their website at http://www.triumphantquartet.com/
Written by Robert York
Pictures courtesy of Robert York

Tags:
Christian Music
,
Clayton Inman
,
David Sutton
,
Eric Bennett
,
gospel music
,
January 2015
,
Mercy's Call
,
scotty Inman
,
southern gospel
,
triumphant quartet
Posted in
artists
,
christian entertainment
,
Christian interest
,
concert reviews
|
Comments Off

on Triumphant Quartet In Concert At Douglasville Georgia
Written by Staff on December 22, 2014 – 2:46 pm -
By Lynn Mills
Though the holiday season is quickly passing, the spirit of Christmas resides in the hearts of those who believe the wondrous story and live to share its joy. Looking back on the weeks leading up to the Christmas season there are numerous concerts each year where your favorite carols are sung by your favorite artists. Though it's true that many groups reserve the majority of December for Christmas vacation; it is becoming more popular for a few groups to team up with their friends and hit the road at the beginning of the month for a special Christmas tour. For the winter of 2014, another pairing was added to the roster of SGM Christmas tours, hailing by the name of Home For Christmas; featuring the Mark Trammell Quartet and The Whisnants.
Home For Christmas was first introduced to fans in late October when the pre-sale for the Home For Christmas CD was put on the market. This project brought together The Whisnants and The Mark Trammell Quartet (MTQ) in a combination of 12 Christmas songs both old and new that showcased both groups on one recording. At the beginning of November, MTQ and the Whisnants hosted an online Launch Party over the course of 12 hours on Facebook where they shared Christmas memories, traditions and personal thoughts concerning the songs on the new Christmas project via videos, photos and posts from both group's members. Shortly after Thanksgiving, they hit the road and performed their very first official tour together!
The inaugural concert occurred on the Showboat Branson Belle as a part of the Carols On The Belle Series. It was a balmy 70 degrees out in Branson, Missouri! But more than that, the folks that came on board filled the Showboat to capacity; the first Home For Christmas concert was sold out! When the Mark Trammell Quartet and Whisnants took the stage everyone gathered around for their opening tunes, "The Faithful Medley," and "Unspeakable Joy." After a few words from Susan, Jeff and Mark, the Whisnants sang a few of their contributions to the CD: "Without Christ There's No Christmas," and a ballad, "I Call Him Lord." The Mark Trammell Quartet came up and gave the crowd a little variety in musical taste; they sang their hillbilly tune, "O Beautiful Star Of Bethlehem" and the more refined arrangement of "God Rest Ye Merry Gentlemen."
The Whisnants, who had been listening to MTQ sing from where they were seated on black stools, returned to the spotlight to sing their new upbeat tune, "Jesus Brought Joy To The World." Mark Trammell also explained to the audience why they sing.
It is worthy to note the diversity of the crowd on the Showboat – a bus from Michigan brought a good amount of Asian folk, many Indian couples were present and others who came for the classic Branson tour and sightseeing staples. The crowd, therefore, was not made of your typical Southern Gospel fans, so an explanation was due!
Mark also shared about being raised in a pastor's home and how one would expect his mother's favorite Christmas song to be a traditional carol…but it wasn't. It was the classic "Christmas Song". Mark went on to croon the first few lines from this well-known song. While he was doing his best impression of Perry Como, the others were doing their best to steal the spotlight. This came about in the form of Santa hats, which were distributed in a quiet fashion to all the group members seated behind Mark. Susan decided to share and plopped her hat, complete with tiara, on Mark's head. After a bit of waltzing and other comical antics from those who were obviously bored with Mark singing his solo, Trammell gave up and sang, "I'm gonna' kill them when this is over…!"
From those humorous moments, the singers moved to a sincere reading of the Christmas story in Luke. Mark turned the pages of his black leather Bible to the second chapter and told of how the Savior came to be born in this world. "Silent Night," followed this. Susan, the only lady on stage, sang this carol from the viewpoint of a mother. Afterwards, she asked the audience to sing "Away In A Manger," with her. A sweet sound echoed through the boat.
As the evening came to a close, Mark Trammell had the crowd on the edge of their seat by a powerful arrangement of "O Holy Night." An equally powerful message followed as Susan introduced her solo, "If You Could See What I See," and the thought behind the message.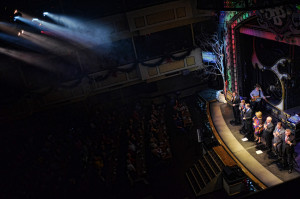 "People come up to me all the time," Susan began, "They say, 'I love Christmas, but it's a lonely time for me; I lost my husband, I lost my wife, I lost my kid, I lost my mom…it's lonely'." She went on to say that in 2013 on December the 23rd her father-in-law went home to heaven. "A lot of people felt sorry for us," she went on, "But we had a friend who wrote this song and sent it to us on Christmas Eve. If God gave us one glimpse into heaven, we would never wish them back." Susan sang that comforting message and prayed. As the Showboat came back into dock MTQ and the Whisnants left everyone with this tune: "Christmas Time's A Comin'!"

The next night, the Home For Christmas Tour went to Arkansas where they sang a full concert at Beryl Baptist Church. Though this wasn't the last stop on the tour, this is where my ability to follow ended. The difference between the Showboat and this concert was that they had more time at the church and material was added. One of those additions was a fun performance of "The 12 Days of Christmas." Susan and Mark beckoned 12 volunteers from the audience (the pastor, who is an accomplished bass vocalist, being one of them) and soon a line formed at the foot of the stage. Aaron Hise and Nick Trammell distributed cards with each part written on them and the fun began! It would be impossible to re-tell everything that made us laugh – but we had a great time! Another highlight of the evening was Austin Whisnant singing a song Susan originally recorded, called "Even Then," and Ethan's solo of "Strange Way To Save The World."
"Home For Christmas" is a must see for fans who love Christmas music. It is impossible to miss the sincerity of those ministering on stage. Nothing is scripted – it's all from the heart. Whether the moment is funny, reflective or serious, the heart behind it shines through. This is Christmas. This is the way we think of the holiday when we close our eyes and picture a homey, old-fashioned Christmas tree set in the midst of children at play and Christ where He ought to be: in the center of it all. Home For Christmas offers songs you want to hear, the new ones you'll be humming after you hear them the first time, the singers you love and the sincerity of the Christmas story, all creating memories you won't easily forget!
If you are interested in bringing the Home For Christmas Tour to your area in 2015, contact The Harper Agency for more info at: http://www.harperagency.com/ or call 615-851-4500.
For more artist features and concert reviews by Lynn Mills and others, view the latest SGN Scoops magazine at www.sgnscoops.com
Tags:
branson
,
Christian Music
,
christmas
,
christmas music
,
gospel music
,
Home For the Holidays
,
mark trammell
,
mark trammell quartet
,
susan whisnant
,
Whisnants
Posted in
artists
,
concert reviews
,
gospel events
,
sgn scoops magazine
|
Comments Off

on Home For The Holidays with the Mark Trammell Quartet and the Whisnants
Written by Staff on December 15, 2014 – 12:38 pm -
The Singing Echoes returned to Glade Road Baptist Church in Acworth, GA for their fifth time, where Rev. Chuck Smith is the Pastor. A lot of folks that attend Bill Bailey's events would recognize Rev. Smith as he is pretty active in Bill's concerts. Chuck's wife Wilma Smith also is involved as she often sings at these events.
The Smith's son Chad has a group called Copperhead Highway that are members of Glade Road Church and they opened the concert last Saturday. They are a very popular group in the Acworth area and have numerous fans as they sing in several venues around that area.
The Singing Echoes are based out of Cleveland, Tennessee where they have an annual singing at Blue Springs Park. Next year's dates for the Blue Springs Valley Singing are July 15 – 18, 2015 . For more information, check the weblink below. They presented their usual exciting, uplifting music for all who gathered at Glade Road Baptist.
For those not acquainted with the Singing Echoes, they were established in 1969 with the original members consisting of Max, Lela, Lynn, Gary and Debbie Epperson.  They have introduced many songs in their long history of singing Gospel music. Currently they are working on project number 50 to celebrate their 45th Anniversary of singing.  Some of their most popular songs have been: "It's Enough," 'Think I'm Excited," "Somebody's Here," and "Wake Up To Sleep No More."  "Wake Up" granted the Singing Echoes a Grammy nomination for their arrangement of the song, the same arrangement performed by almost all Southern Gospel Quartets at one time or another.
The tradition continues today with Gary, Debbie and Lynn, as well as all their children traveling on the road with them:  Adam, Joshua, Matthew and Jonah.  Jonah is the fourth generation and the youngest member of the group. He is only twelve years old and plays several instruments.  The oldest member, I think, came over on the Mayflower (just fooling Lynn).
When you attend a Singing Echoes Concert, you can expect to experience a live band with some of the most talented musicians traveling on the road today and hear Spirit-filled singing, peppered with heart filled testimonies from each member.  They have been tagged as "The Most Exciting Group in Gospel Music".  If they are in your area, you need to experience The Singing Echoes.
http://www.singingechoes.com/
Tags:
christian country
,
Copperhead Highway
,
gospel music
,
Singing Echoes
,
southern gospel
Posted in
artists
,
concert reviews
|
Comments Off

on SINGING ECHOES RETURN TO ACWORTH
Written by Staff on December 11, 2014 – 11:22 am -
By Lorraine Walker
 Jubilee means 'celebration' and that's exactly what we had when the Jubilee singers came to Hamilton, Ontario on December 5, 2014. IMC brought the Jubilee Christmas with Greater Vision, Legacy Five and the Booth Brothers all the way to Canada and the audience couldn't have been any more grateful. Over a thousand people filled Bethel Gospel Tabernacle, where they were delighted to see a platform full of lit Christmas trees, ready to host this special musical celebration.
Having traveled many hours through the night to reach their destination, Landon Beene of IMC said, "It's been a wonderful trip. We've had great weather and great ticket sales. A lot of people are excited about this tour. It was a breeze through the border last night, so as the Road Manager, that makes me really happy! We'll see how it goes tonight on our way back through." He added, "This is the first time that we've ever presented one of the Christmas Jubilee programs in Canada. We are sold out tonight, so I think the people are excited about the guys being here."
The crowd certainly was eager as the ticket holders burst through the doors to find their seats. The decorated foyer was filled with the colors of the season and the merchandise of the artists. Preparing for the evening, Scott Fowler of Legacy Five remarked: "It's good to be back in Canada. We always look forward to coming here and the Canadian folks are fun to sing to, so we are glad to be back. This is our last tour of the year and we are doing 12 Christmas shows in 12 days, so we call it the 12 days of Christmas. The Christmas Tour is the highlight of our year."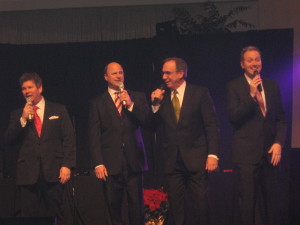 The artists were as energized as the audience as they filed on stage for the opening number. What a delight to hear 10 voices in four-part harmony fill the sanctuary with the opening notes of "Hark the Herald Angels Sing," along with a huge quartet-ending. Following this, Chris Allman of Greater Vision entertained the crowd with "The Most Wonderful Time Of The Year." Allman later remarked, "My favorite thing about the Jubilee is hanging out with the guys, of course. We love the shows and we love to see the people enjoy themselves. Tonight was a great crowd. If we can see them having fun, it's a lot of fun for us. We have fun on the stage, just hanging out with the guys. It's a really special experience."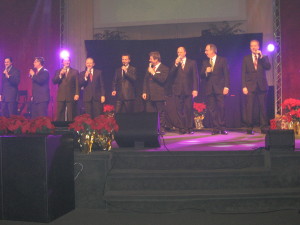 Everyone certainly did have fun during the course of the evening, with emcee Gerald Wolfe of Greater Vision often playing the straight man to jokesters Scott Howard, Michael Booth and Rodney Griffin. One example was the "Twelve Days of A Gospel Singers' Christmas," where even Trey Ivey joined in the hijinks. Howard remarked, "It's always fun when we get together with all our buddies from Greater Vision and Booth Brothers, our best friends out on the road. We always have a good time. I tell people that we are going to have fun and we just hope you do too! The Christmas stuff is fun to do and I think everyone enjoys Christmas music. We only do it one month a year but I think people would like it year-round. So we may extend this tour next year." There were several hints of a tour extension and a return to Canada during the evening, but as we know, a lot can change in a year!
One group who is dealing with change is the Booth Brothers, who sang the Evie Karrlson classic, "Come On, Ring Those Bells!" Jim Brady, who is leaving the Brothers to form his own group, the Jim Brady Trio, in the New Year, blessed the crowd with leading the Booths in "It Came To Pass," written by Gerald Wolfe. Ronnie Booth showed his 'crooner' side by smoothly singing about "Chestnuts Roasting On An Open Fire." The addition of Rodney on saxophone was a surprise to the crowd and one of the many laugh-out-loud moments of the evening.
Legacy Five sang such Christmas favorites as, "I'd Sure Like To Go To Grandma's House For Christmas," and "Christmas With A Capital C." Their pianist, Trey Ivey showed his prowess on "Here Comes Santa Clause," "O Little Town of Bethlehem," and this writer's personal favorite, "O Holy Night," on which Legacy Five lent their vocals to bring the carol to a powerful, worshipful end. Bass singer Matt Fouch had his work cut out, as he was the only bass on the platform. His rendition of "I'm Dreaming Of A White Christmas" turned dreams into reality with more comedy from his fellow singers.
Several times during the evening, different members of the groups would join together to bring different songs, carols and comedy. Rodney Griffin stated later, "My favorite part is how the three groups kind of forget their identities as individual groups. As Ronnie Booth explains it, when we get on this tour, the three groups become one. So there is no Greater Vision, Legacy Five and Booth Brothers. It's just a team of 11 of us working toward the same goal. Right now we are hauling everything out together. A few moments ago we were greeting the people together and now we are hauling out Christmas trees together. We do as much as we can to make it a success together."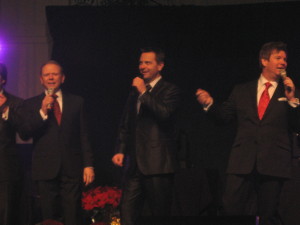 From the big ballads to the acapella numbers to newer songs like, "It Will Always Be Christmas To Me," as well as fun songs like "Hunting For Christmas," the men kept the audience on the edge of their seats. Wolfe led the crowd in the favorite carol, "Silent Night." Later in the evening, Wolfe commented, "The best thing about the Jubilee is hearing the audience sing. They are better than we are! You heard it tonight: "Silent Night"…that's my favorite part of the whole evening." He added, "I would do it all year. I just love this kind of music, I love the guys and it's a lot of fun. It's different every night because our memories [of how it was done the night before] aren't that good!"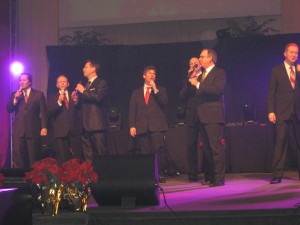 At the end of the second half, Ronnie Booth opened up the Bible to Luke 2 and reverently began the Christmas story. Scott Fowler followed this with "Welcome To Our World," beautifully sung as only he can do. The men then sang the energizing, "Go Tell It On the Mountain," and the lovely, "Christmas Benediction." Ronnie said later, "My favorite part is the Benediction and the arrangement of that particular one by Larry Goss. That is my favorite of all the songs we do. The other one is the one we sing called, "The Right Time," written by Mosie Lister. It says so much in such a little space. Obviously there is a lot of fun and people need that, but we are not here just to have fun, we also get very serious at the end, presenting Christ and the Gospel."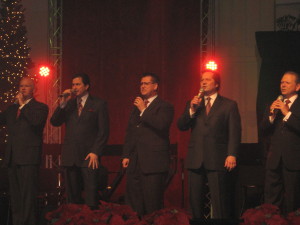 Matt Fouch agreed with Ronnie. "I enjoy the laughter, the fun stuff; but one of my favorite spots is coming to the very end when Gerald brings it all together and shares with everyone, 'You know, we've talked about how the story began with Jesus, and that's the season that we celebrate. But let me tell you the rest of the story…' That's the part I look forward to every night, because that is where we see the hope with His resurrection."
Michael Booth, one of those who certainly kept up his part in the comedy routines said, "Selfishly, my favorite part is that it is an easy night for me because in our programs I do all the emceeing, for the most part and I'm singing on every song. So it is a very easy program for all of us because we share the load. I also just like being with the guys. We are all pretty good friends. People ask us if we are having as much fun or getting along as well as it looks we are, and we do. We will get up on each other's buses tonight and ride across the border, then when it gets around 2:00 or 3:00am we will get in our own buses to sleep."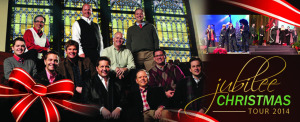 Many thanks to IMC and Greater Vision, Legacy Five and The Booth Brothers for presenting a beautiful, professional program, suitable for all those who enjoy Christmas music. If they come near your area, be sure you attend and bring an unsaved friend. The music will thrill them, the comedy engage them, and the presentation of the Gospel will bring them closer to the Christ of Christmas. Special thanks as well to Landon Beene, Brian Hutson, the Jubilee crew and the staff and ushers of Bethel Gospel Tabernacle, Hamilton, Ontario. We certainly had a Celebration of Christmas!
For more information, visit http://www.imcconcerts.com/tour
Tags:
booth brothers
,
Chris Allman
,
Gerald Wolfe
,
Greater Vision
,
Gus Gaches
,
Jim Brady
,
Jubilee Christmas
,
legacy five
,
Matt Fouch
,
Michael booth
,
Rodney Griffin
,
Ronnie Booth
,
Scott Fowler
,
Scott Howard
,
Trey Ivey
Posted in
artists
,
concert reviews
|
Comments Off

on It's a Jubilee Christmas!
Written by Staff on December 9, 2014 – 12:29 pm -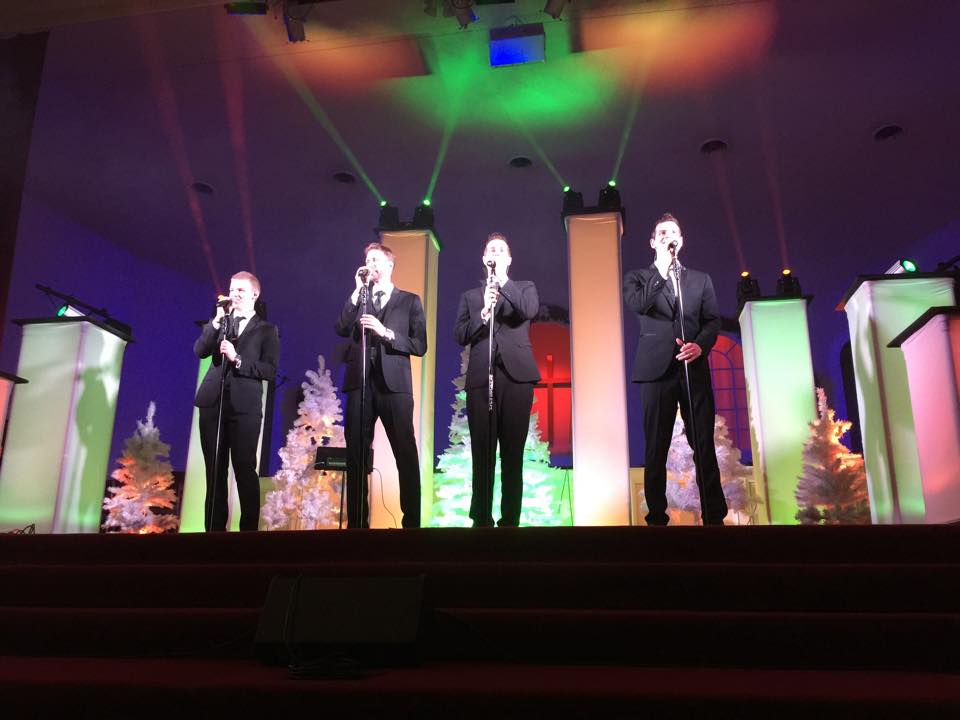 By Robert York
On December 6th, 2014, the Ball Brothers brought their Christmas Tour to Kennesaw, Georgia. This is their seventh year of doing the Christmas Tour. They were returning from Canada where they were in minus 16 degree weather and glad to be in the south where it was a little warmer. They carry lights, Christmas trees and a set with them on tour which also includes two snow machines.
The Ball Brothers arrived at Shiloh Hills Baptist Church around 2:30pm. We had just picked up a big sack of Arby's sandwiches for them and Daniel gobbled two of them down before they started unloading. Each of them had a specific task to do. Trees were set up, then the lighting stands and lights were put up. They had two bars of led lights with four lights on each as well as 12 revolving lights on top of the stands. Sound check was next. They finished all this in about two and half hours for a 6:30 concert time.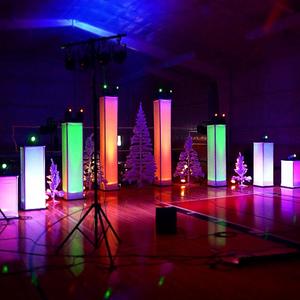 The Brothers opened the concert with Joy To The World, sang numerous Christmas songs and included a few of their other hits mixed in the program. They used the snow machines on a few songs that were snow related and it was so much snow that Daniel made a snow ball and threw at Andrew. Daniel and Andrew mixed up a lot of comedy scattered through out the program. After the first set they took an intermission and came back afterwards to conclude the program.
I have done concerts for the past 12 years, including two years at Shiloh Hills Church in Kennesaw, GA. There were about 50% of the folks there that had not been to one of the concerts I've promoted. Most were from the Metro area but had some from TN, SC and one from Broken Arrow, OK.
The Ball Brothers spent the night at the Church after taking down their set and sang for the Sunday morning worship service before heading to North Georgia for a concert that evening. They will be hitting the road again on Thursday Dec 11 for another northern state tour including IL, OH, IN, MI and TN. You can check their website www.theballbrothers.com for their schedule. If they are within driving distance you need to catch the concert.
Tags:
Ball Brothers
,
Christian Music
,
Christmas songs
,
Georgia
,
gospel music
Posted in
announcements
,
artists
,
concert reviews
|
Comments Off

on Ball Brothers Christmas Concert In Georgia
Written by Staff on September 22, 2014 – 2:49 pm -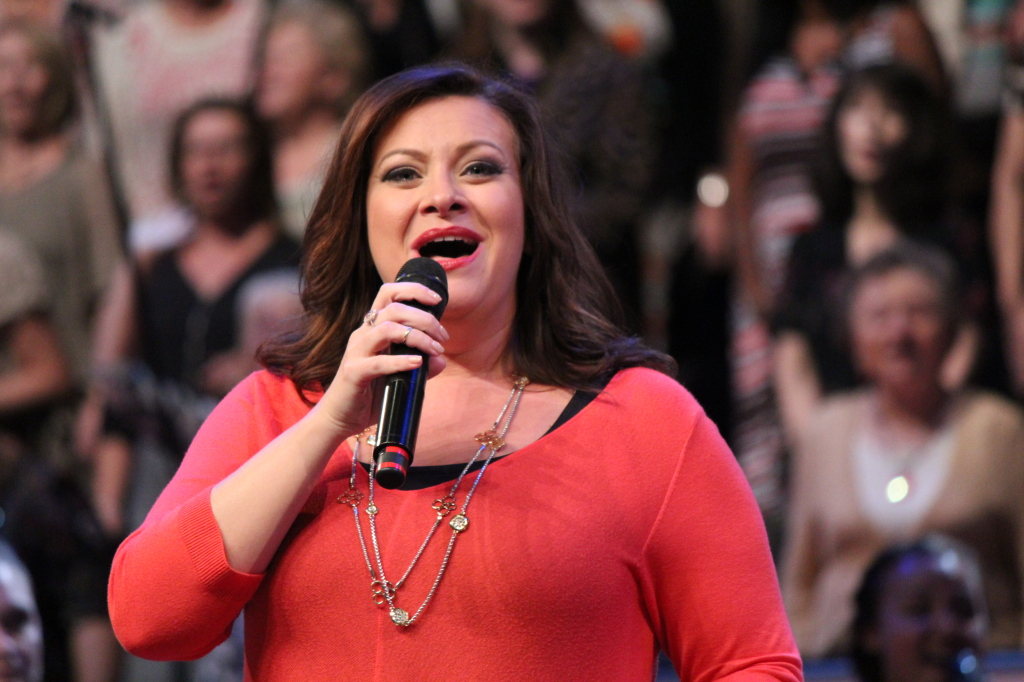 By Candace Combs
Members of Thomas Road Baptist Church in Lynchburg, VA, the home of Liberty University, have been challenged. Pastor Jonathon Falwell, son of the church's founder, Jerry Falwell, has asked to multiple campus congregations to think: 'What If…?'
There was no better choice to kick off the series than TaRanda Greene. TaRanda traveled to Virginia to join worship leader Charles Billingsley along with the TRBC choir and orchestra for a morning full of praise and worship.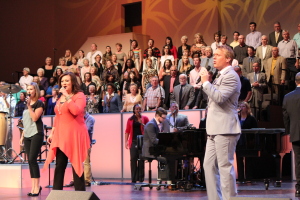 Each music selection revolved around the central theme of declaring God as Holy and culminated with focus on the Cross. TaRanda joined the praise team in leading the congregation with "You are Holy" and "For You are Holy".
Ramping up the music with the stage lighting turning red, TaRanda sang "The Wonderful Cross" with Billingsley and the entire TRBC Worship Team. The biggest treat came when TaRanda began "This Blood".   Her exquisite vocal ranges made every listener feel the power of Jesus blood. At the bridge, the full choir joined while everyone in the room was standing. TaRanda clearly shared her heart in the words, "I've come to tell you He's alive! And, He's coming back again"!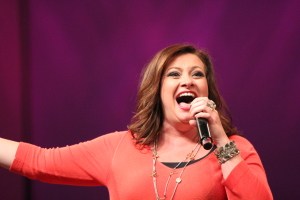 TaRanda Greene, a young girl from Tennessee met and fell in love with a Gospel singer, and together they became The Greenes. Just four years ago this week, Tony Greene was called to glory. What if God took this young woman and brought her to many stages beside her husband, and then left her alone to raise two young daughters? Surrounded by loving family and countless fans, TaRanda has faced every challenge with the strength she gets from the Lord.
Recently, TaRanda made her first pilgrimage to Israel with In Touch Ministries. "I never imagined a piece of land could change my life," stated Greene. "I knew that Jesus changed my life years ago, but the experience of walking in His steps…wow!" Greene is still continuing to process all the feelings from the experience.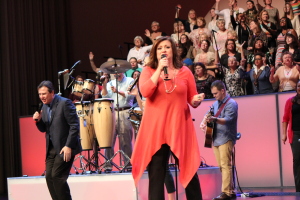 Watch for new music coming from TaRanda Greene and Stow Town Records. This new solo project encompasses several music genres. It is entirely possible that songs will appear on various charts. "I'm very excited to see where God will open new doors", Greene commented. This project is set to release November 10.
Like everyone who was in attendance at Thomas Road Baptist Church, TaRanda Greene left Virginia asking, "What if…."
Stand by; if this lady keeps singing like this, there is no limit! For more on TaRanda visit http://tarandamusic.com/
Tags:
Candi Combs
,
Charles Billingsley
,
sgn scoops
,
Taranda Greene
,
The Greenes
,
Thomas Road Baptist Church
,
Tony Greene
Posted in
artists
,
concert reviews
|
Comments Off

on Candi's Catch-Ups: TaRanda Greene at Thomas Road Baptist Church
Written by Staff on September 18, 2014 – 12:05 pm -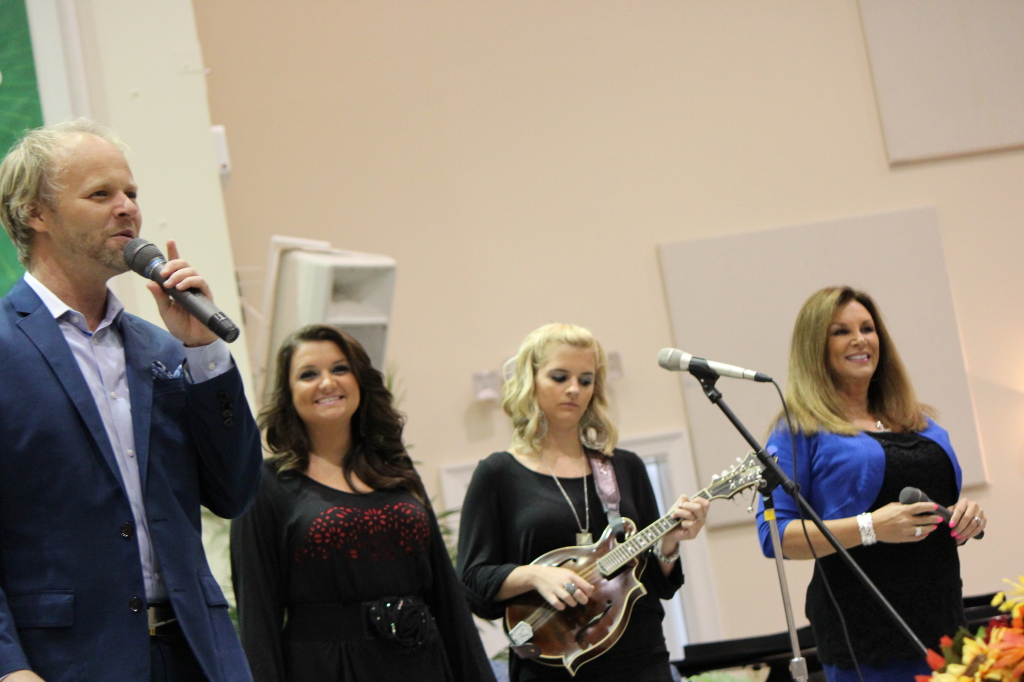 The Blue Ridge Mountains were recently filled with the melodious sounds of one of Southern Gospel's most talented families! The Nelons were guests of Crossroads Baptist Church in Fishersville, Virginia. After an introduction from Melody Vaughn of Joy FM's Morning Joy Ride, The Nelons took the stage with Jason, Kelly, Amber and Autumn.
Getting the crowd engaged right from the start, The Nelons opened with a Gaither classic, "I Don't Want to Get Adjusted" and then went right into "We Shall Wear A Crown". The classics continued with "And I Know, Yes I Know".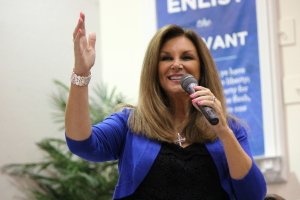 The Nelon's most requested song was performed next, bringing everyone into a spirit of worship. Kelly Nelon has sung, "O For a Thousand Tongues To Sing" for many years, yet it always moves the heart.
Kelly Nelon is the daughter of the quintessential Gospel icon, the late Rex Nelon. Rex brought Southern Gospel into the hearts of thousands. As Kelly shared her heart regarding the legacy that Rex brought, his granddaughter, Autumn, stepped to the microphone to sing a song dedicated to his memory, "Grandpa, Tell Me 'Bout the Good Ole Days." Autumn has become quite an accomplished mandolin player which she played while Jason Clark backed her on an acoustic guitar. The music world needs to take notice; this young lady is the real deal. Her vocal range is wide and strong. It is refreshing to watch her as she is standing on the threshold of breaking wide open.
Fresh out of the studio is the Nelons' latest project, "Hymns, The A Capella Sessions". The Nelons' tight family harmony was best demonstrated in Jason's arrangement of "The Hallelujah Chorus". With precise vocal artistry, they raised the roof to this precious song for the ages.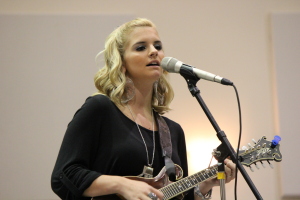 The award winning music video featuring Jason, "Excuse Me, Are you Jesus?" was performed while telling the story of a man hurrying through an airport when he disrupts an apple cart vendor operated by a visually impaired woman. The anxious passenger misses his gate call in order to restore the cart. There is great imagery in the video of how God restores our dismantled lives.
The next set began with "He's More Than Wonderful" which featured the Nelons' special four-part harmony. Joining the Nelons on stage was Crossroads' Pastor who joined in with, "We're Going Home To Jesus". The entire house was standing and clapping to this crowd favorite.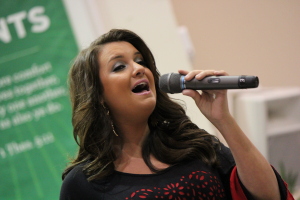 The group also sang, "Keep On the Firing Line," performed to Jason's arrangement using only vocals and including a chorus of "Onward Christian Soldier".   With a twist on vocals and the powerful voices of each Nelon, this song featured multiple key changes, which they performed with amazing accuracy.
Several years ago, Jason penned an arrangement especially for a very young Autumn. Even as a senior in high school, Autumn delivered "I Choose To Live" with complete confidence. This young Nelon is rising with a style unique to her own talents.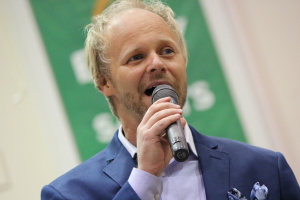 The program varied in a way that kept the audience entertained. Jason, Autumn and Amber began bringing the evening to a focus on salvation with "Blessed Assurance". Kelly took over with "Settled At the Cross". Amber, with perhaps the purest vocals in music today, then took center stage with "I Stand Amazed In the Presence". Jason contributed on the acoustic guitar as Amber joined in with her mandolin. The group concluded their concert with an emphasis on prayer.
After loading the bus following the concert, the Nelons shared a meal at a nearby restaurant. Somehow Jason got word that the woman taking payment for the meal was disappointed that she was unable to attend the concert due to her work schedule. Always ready to minister, the Nelons sang a song of encouragement for her benefit and to the thrill of the entire crowd gathered around.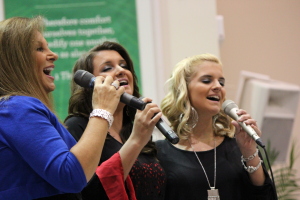 Always prepared to share their faith anytime, and anywhere, the Nelons touched many on this night in Virginia! Check out their itinerary and enjoy a live concert by visiting http://kellynelon.com/ .
Tags:
Amber Nelon Thompson
,
Autumn Nelon Clark
,
Candi Combs
,
Christian artists
,
gospel music
,
jason clark
,
Kelly Nelon Clark
,
southern gospel
,
the nelons
Posted in
artists
,
concert reviews
|
Comments Off

on Candi's Catch Up: The Nelons In Concert
Written by Staff on August 29, 2014 – 7:23 am -
By Candace Combs
Christian people everywhere, in every culture, need to worship the Creator. Worship comes in many forms, music perhaps being one of the greatest. Charles Billingsley, Worship leader at Thomas Road Church and Artist-in-residence at Liberty University in Lynchburg, VA, presented to a full house the release of his new project, Only Jesus.
Billingsley, formerly the lead singer with NewSong, has continuously dedicated his ministry and teaching to the art of worship.   This latest edition is completely engrossed in leading listeners to forget about the stage, forget the instruments and completely focus on worship of Jesus. Thus the title: Only Jesus.
The title track is completely titled, "Jesus, Only Jesus" and features the familiar voices of Travis Cottrell, Michael O'Brien, and Southern Gospel favorite, Guy Penrod. This collaboration with these voices features the best of each genre of Christian music today. Hopefully, this won't be the last!
Thomas Road Church dedicated the evening to the ministry of an international humanitarian relief organization named World Help (worldhelp.net). The evening opened with a bouncy children's choir representing every corner of the world. The group performs nationally as Children of the World. They were a special treat with their culturally inspired clothing representing the nations of their origin.
When Billingsley took the stage, he had a full compliment of stage band and the worship choir from Thomas Road Church.   The program opened with traditional worship songs that was joined with the over 5,000 in attendance.   Billingsley communicated that he would be leading us from early traditional songs of the faith, leading from the great sacrifice of the Cross, to the glorious Resurrection.
"Great is Thy Faithfulness" was performed with a contemporary yet traditional arrangement. Billingsley sang the familiar, "It is Well," with a full force of power. While the arrangement is the same sung for years in churches, Billingsley's rendition exudes great power from his smooth voice, into an offering of faith.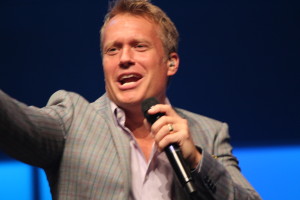 Once the audience was assured that worship was the focus of the event, Billingsley and the worship team broke into "Jesus, Only Jesus." This song was followed by dialogue that "Jesus is the only way, the only hope." Billingsley continued to invite any non-believers to a relationship with Jesus.
A crowd favorite at the Virginia church, "Only Boast" was performed next. Having brought a history of worship, the program moved into a section of songs of the Cross. "Mercy Tree" is a song that portrays the great cost of salvation. The song was accompanied with a video presentation pronouncing the truth that worship is about a relationship. The Christian deserves nothing, yet on that tree God revealed just how holy He is!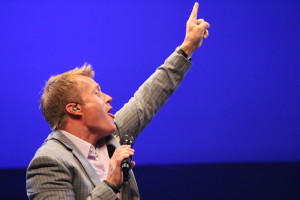 Worship was brought full circle as the entire room was filled with the melody of "Gloria" in a modern arrangement. A sign language interpretation of the lyrics was presented during the performance. Billingsley held nothing back as he brought the evening of worship to a full crescendo.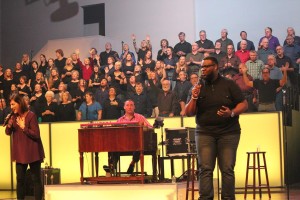 Prayer, in addition to music, is another of the Christian's arsenal of worship. Billingsley next took the opportunity to lead in prayer asking "God to help us worship you, to give you all we have." He further asked God for help in capturing scripture in music. This request was natural segue into "Ten Thousand Reasons."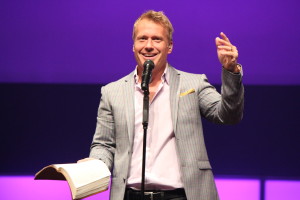 Quietly and joyfully, in closing, the congregation joined in a chorus of "Bless His Holy Name." Concluding in such a simple way was Billingsley's way of keeping the nights focus on Jesus, only Jesus!
For an inside look at the production, go to Charles Billingsley YouTube, Behind the Scenes recording: "Jesus, Only Jesus." The CD is now available. This music should be just what you need to get your worship on! For more information, visit http://charlesbillingsley.com/
For more concert reviews in the latest SGN Scoops visit https://www.sgnscoops.com/
Tags:
Candace Combs
,
Charles Billingsley
,
Christian artist
,
concert review
,
guy penrod
,
sgn scoops
Posted in
artists
,
concert reviews
,
sgn scoops magazine
,
special feature
|
Comments Off

on Concert Review: Charles Billingsley – Only Jesus