Written by SGN Scoops on February 13, 2013 – 7:45 pm -
Seattle: It's never too early to introduce your kids to a regular devotional routine or ways in which they can let their light shine in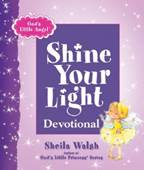 their daily lives. The Shine Your Light Devotional (Tommy Nelson/February 19, 2013/ISBN 978-1-4003-2069-1/$16.99) by renowned Bible teacher  Sheila Walsh allows parents to do just that. On February 26 at 8 PM EST/5 PM, Walsh will be hosting a webcast to connect with moms and highlight this new release.
 Young girls need to know that they can be bright, shining lights for God—and this new devotional will teach them to do so by thanking God, learning His Word, telling others about Him, and showing His love to everyone they meet.
More than 50 devotions help girls see that God wants us to learn about Him and to put His Word in action. Memory verses, prayers, "Shine Your Light" activities that focus on serving God each day, and devotional thoughts explore how little girls can be more like Jesus. With lots of sparkles and even more great biblical applications and encouragement, the Shine Your Light Devotional is sure to be a favorite part of a little girl's day.
"I wish I had understood when I was a young girl struggling with shame and self-doubt that God loved me just the way I was – that's what I want for the girls in our life," explains Walsh. "Let them grow up strong in the knowledge that they are Daughters of the King."
The Shine Your Light Devotional incorporates artwork from Walsh's latest series of God's Little Angel™ storybooks. These stories follow on the heels of Walsh's wildly successful God's Little Princess series, which has won the National Retailer's Choice Award twice and is the most popular Christian brand for young girls in the US.
During the February 26 interactive webcast, the audience can submit questions for Walsh to answer, join a live chat with other parents, and be eligible to win a variety of prizes, including copies of Shine Your Light.  Participants can join the webcast via the author's Facebook page or for those who do not have a Facebook account, the Litfuse Publicity Group website.
Tags:
Children's Devotionals
,
Childrens Ministries
,
Litfuse Publicity
,
Sheila Walsh
Posted in
announcements
|
Comments Off

on Bestselling Author Sheila Walsh to Host Webcast
Written by SGN Scoops on February 7, 2013 – 8:31 am -
Nashville, TN (January, 5th, 2013) – Mansion Entertainment recording artist, The Mark Dubbeld Family, have released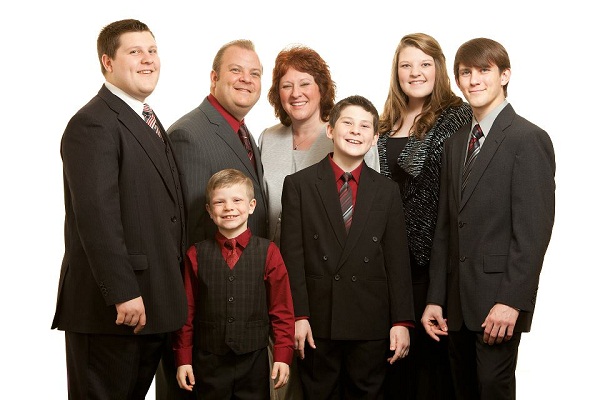 their first Children's Book called,  "The Farmer Said, 'Yes!'"
Written by Janene A. Dubbeld, the book relays the true story of Don and Twana Hawk who were missionaries to Honduras.
As a farmer and his wife from Ohio, Don and Twana heard God's call to go and help underprivileged children learn about Jesus. They would also teach the boys how to provide for their families.
Author Janene Dubbeld commented. "Since the first class of just 12 students, more than 7,000 students have been educated and ministered to through the school named, "El Sembrador," founded by the Hawks."
El Sembrador's educational programs include vocational training and a Bible institute. Many graduates have gone on to become mechanics, lawyers, engineers, and pastors. It encourages children of all ages to say, "yes," to whatever God desires for them to do.
Mark Dubbeld said, "Teaching children the importance of missions is an important area of Christianity and Janene reaches kids of all ages with her book."
Missions will benefit from the sale of this Children's book. To purchase or find more details of this book go online to mjdubbeld.com, mjdubbeld@msn.com, or http://www.facebook.com/marknjanene.dubbeld.
The Mark Dubbeld Family continues to tour full-time on the "Inside The Gate" Tour in Florida for the months of February and March. Their appearances ranging from churches, concert venues, RV parks with recent appearances at Dollywood and National Quartet Convention Main stage.  For Booking or more Information regarding resources about The Mark Dubbeld Family visit their website at www.mjdubbeld.com or 540-293-8467
Tags:
Childrens Ministries
,
Dubbeld Family
,
Mark Dubbeld
,
Southern Gospel News
Posted in
announcements
|
Comments Off

on The Mark Dubbeld Family Releases New Children's Book
Written by SGN Scoops on December 5, 2011 – 6:32 pm -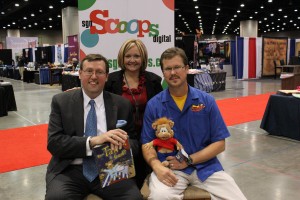 Attention SGNScoops readers! Join in the Holiday fun at SGNScoops! We want you to participate in our "Christmas Traditions" Contest. We're looking for traditions you've grown up with, carry out now and will pass along.  Here's what you do: Email us your favorite tradition and your contact information to connect@sgnscoops.com. The Scoops Staff will choose one winner on Monday, December 19th.
Our winner this year will win author, Phillip W. Rodgers' "Discovering God" series of Children's books. Each of the four autographed books answer important questions about God such as: How Tall is God?,  Does God Celebrate Christmas?,  When Was God Born? and When does God sleep?  The books are designed to encourage a God-centered worldview and focuses on a characteristic of God. The illustrations are colorful and the rhyming text is written in terms children easily understand. Ruth Graham says, "Phillip W. Rodgers' books are delightful-from the engaging illustrations to the clever poetry to the eternal truths they teach. I am using them with my grandchildren- and enjoying them as much if not more than the children. As I read them, I am reminded of the great realities about God that sometimes get forgotten in my busy grown-up world."
A children's book collection endorsed by Focus on the Family would be a GREAT gift for your children or grandchildren! SGNScoops says "Thank You" to Phillip W. Rodgers for your generous donation.  To learn more about Phillip W. Rodgers, visit his website at http://www.discoveringgodseries.com/
THE CONTEST STARTS NOW! Email us at connect@sgnscoops.com
Tags:
Childrens books
,
Childrens Ministries
,
Christian Children's Books
,
Phillip W. Rodgers
,
Rhonda Frye
,
rob patz
,
sgnscoops
Posted in
Christian interest
|
Comments Off

on SGNScoops Christmas Contest Starts Now!
Written by SGN Scoops on July 31, 2011 – 9:22 am -
BRENTWOOD, Tenn. – July 29, 2011 – What's in the distribution deal? A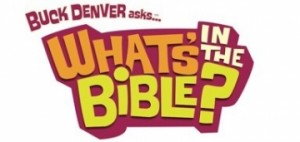 new relationship, according to VeggieTales' Creator and Jellyfish Labs Founder Phil Vischer and Bill Hearn, President and CEO of EMI Christian Music Group (EMI CMG) who have announced a long-term distribution agreement for Vischer's Jellyfish Labs and its "Buck Denver Asks…What's in the Bible?" DVD series.
 
EMI CMG Distribution will assume distribution rights for the DVD series, forthcoming ancillary products and the music products created by Jellyfish Labs for the Christian retail marketplace in the U.S. and Canada, as well as the digital domain, including iTunes and Amazon.com. This fall, EMI CMG will re-launch five DVDs and release a new music CD and new DVD.
 
"I'm excited that Jellyfish Labs and our Buck Denver Asks…What's in the Bible? DVD series has found a new home at EMI CMG Distribution," said Vischer, who, before embarking on his latest venture, created VeggieTales. "I've always appreciated Bill Hearn and his team; their commitment to excellence and innovation make them great partners as we work to enhance the spiritual journeys of families everywhere through creative children's products."            Read more »
Tags:
Bill Hearn
,
Childrens Ministries
,
Christian Children's DVD's
,
EMI Christian Music Group
,
Jelly fish
,
Phil Vischer
,
Veggie Tales'
Posted in
christian entertainment
|
Comments Off

on VEGGIETALES' CREATOR PHIL VISCHER AND HIS NEW COMPANY,JELLYFISH LABS, INK DISTRIBUTION DEAL WITH EMI CMG