Written by Staff on June 23, 2017 – 6:01 pm -
The Hoppers develop a new normal following Dean Hopper's recent health scare
The Hoppers don't have time for jigsaw puzzles. However, time and patience are exactly what has been required as they've carefully pieced things back together as of late.

In early December, America's favorite family of Gospel music was shaken when Dean Hopper suffered a pair of strokes over a two-day span.
"Any time you have a stroke, it comes out of nowhere," Dean says. "I knew I was tired. I was stressed. I opened a new business last year. You're heading into the holidays, so you have extra concerts because of Christmas. We did some work in the studio. We were trying to make all of that happen. I was tired … tired as much as anything. Evidently, I wasn't getting enough solid sleep at night."
The unexpected episode began with vertigo-like symptoms.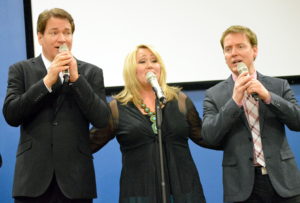 "We were in a country club doing a Christmas program for a guy, and his chef had made us dinner," Dean recalls. "It was about 4:30 (p.m.) on Dec. 6. All of a sudden, the walls started moving. It was like the earth moving below you, and you can't stop it. It lasted for about 60 seconds, and it quit. I went, sat up, sang and did the program. We had been on the road about a week at that point.
"We went home, and we were trying to get ready to go again. I was up in my office, and Karlye (Dean's daughter) was with me. Things started moving. It was about a minute and a half. I just thought I was tired, so I went to bed early. The next morning, I had to see an orthopedic specialist to get an MRI on my knee (for a torn meniscus), and I got up with double vision. We did a concert that night. On the second portion (of the concert) that night, I had double vision for about eight minutes."
That prompted Dean to seek medical counsel.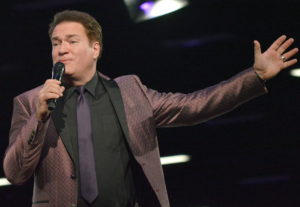 "I called a doctor friend in Savannah, Tenn., and she said it might be an aneurysm," Dean explains. "I had already had a CT (computed tomography) scan, and it came back normal. (At the emergency room), I was laying in the bed, and I had a (similar) episode. He said, 'You have had a stroke.' My symptoms were double vision, headaches, and what I call vertigo-like symptoms."
Those symptoms of dizziness and feeling like the world was spinning actually lasted until early January before they ceased.
Tags:
Claude Hopper
,
Connie Hopper
,
Dean Hopper
,
gospel music
,
hoppers
,
Kim Hopper
Posted in
artists
,
christian entertainment
,
sgn scoops magazine
|
Comments Off

on Dean Hopper Becomes a Student of Down Time
Written by Staff on September 28, 2015 – 11:39 am -
Bonus Sunday Evening Concert Sets The Stage for Thousands of Gospel Music Fans
Pigeon Forge, TN (
September 28, 2015
) – Over 40,000 gospel music fans are set to descend on the town of Pigeon Forge, TN as the 2015 edition of the NQC is set to officially start today.
Last night – Sunday, September 28, 2015 – early arrivers enjoyed a bonus evening concert by the top names in gospel music including The Hoppers, Mark Trammell Quartet, Greater Vision, the Jim Brady Trio and Tim Lovelace.
The LeConte Center in Pigeon Forge, TN – a $45 million special events facility – serves as the host for gospel music's
largest annual event.
The NQC was founded in 1857 by gospel music legend and former backup vocalist for Elvis Presley, J.D. Sumner who co-produced the event with James Blackwood. The annual convention was moved in later years to Nashville, TN and then to Louisville, KY where it was held for 20 years.
Featured artists are a "Who's Who" of gospel music, and nightly concerts feature up to 20 acts. Among them are the Booth Brothers, Greater Vision, the Hoppers, the Kingdom Heirs, Triumphant and the Collingsworth Family, as well as prominent soloists such as Grammy Award winner Jason Crabb.
Special events during the week include the Singing News Fan Awards, a fan-voted program of Singing News Magazine, on Sept. 30, the keynote address by Dr. David Jeremiah on Oct. 2, the Cathedrals' Family Reunion featuring several alumni of gospel's most celebrated group on Sept. 30 and a Gospel Music Hymn Sing hosted by
Gerald Wolfe on Oct. 3.
Tags:
Connie Hopper
,
Gerald Wolfe
,
gospel music
,
Greater Vision
,
hoppers
,
mark trammell quartet
,
national Quartet Convention
,
nqc
,
southern gospel
Posted in
announcements
,
artists
|
Comments Off

on NQC KICKS OFF TODAY IN PIGEON FORGE, TN!
Written by Staff on March 26, 2015 – 2:39 pm -
Waynesville, NC (March 26, 2015) – The Dominion Agency is thrilled to welcome America's Favorite Family of Gospel Music, The Hoppers, to their fine roster of artists.
This multi-award winning family group has been singing to global audiences for 58 years with appearances ranging from presidential religious inaugural ceremonies and New York's Carnegie Hall to singing conventions and church platforms. To begin working with such an outstanding group, with such a rich history in Gospel music, brings a new sense of excitement to the Dominion Agency.
President and CEO, Michael Davis, expresses, "I am so honored to be representing one of the most celebrated artists in the history of Gospel music, The Hoppers. With 58 years of ministry and still going strong, The Hoppers are thrilling and blessing audiences night after night. What a privilege to work with this Godly family for whom I have so much love and respect!"
"After 58 years of successful in-house representation, The Hoppers are excited to announce we are teaming with Michael Davis and The Dominion Agency," states Dean Hopper. He continues, "This new relationship will allow us to reach many new audiences as we declare the Gospel through the unique sound our family is known for."
To schedule The Hoppers for your church, concert, or ministry event call Michael Davis at 828-454-5900 or email him here: scheduling@thedominionagency.com.
To learn more about The Hoppers, visit TheHoppers.com.
Like them on Facebook HERE.
And, follow them on Twitter @hoppersmusic.
To learn more about the entire Dominion Agency roster of fine artists, visit thedominionagency.com.
Mailing Address:
PO Box 1277
Waynesville, NC 28786
Phone:
828-454-5900
828-454-5917
###
*Pictured: (l to r) Karlye, Connie, Mike, Claude, Kim, and Dean Hopper.
Tags:
Christian artists
,
Claude Hopper
,
Connie Hopper
,
Dean Hopper
,
Dominion Agency
,
gospel music
,
Karlye Hopper
,
Kim Hopper
,
Micheal Davis
,
mike hopper
,
southern gospel
,
The Hoppers
Posted in
announcements
,
artists
|
Comments Off

on The Dominion Agency Welcomes America's Favorite Family of Gospel Music, THE HOPPERS
Written by Staff on September 25, 2014 – 3:02 pm -
Pictures by Craig Harris of SGN Scoops…one of our roving reporters on the scene at the National Quartet Convention!
Tags:
Bryan Walker
,
Clarke Beasley
,
Connie Hopper
,
Craig Harris
,
Gary Casto
,
legacy five
,
national Quartet Convention
,
nqc
,
sgn scoops
,
The Hoppers
,
The Kingsmen
,
the perrys
,
The Whisnants
,
Tribute
Posted in
announcements
,
artists
,
gospel events
,
sgn scoops magazine
|
Comments Off

on SGN Scoops at the National Quartet Convention
Written by Staff on September 25, 2014 – 2:12 pm -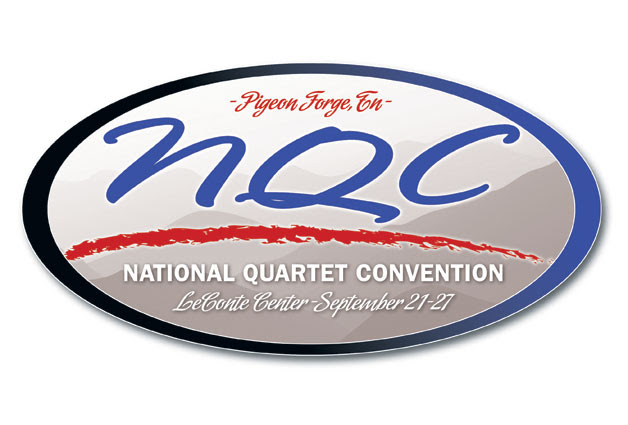 Return of Connie Hopper Highlights Evening Performance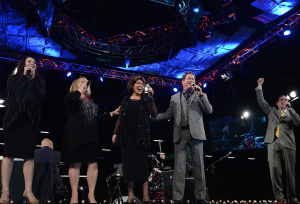 Pigeon Forge, TN – The 57th annual
NQC
(National Quartet Convention) is in full swing at
the
LeConte Center
in 
Pigeon Forge, TN. 
Clarke Beasley, NQC Executive Director, reports that an all-time attendance record has been set for the first-half of the week with the 11,500 seat LeConte Center sold out for
Tuesday
and
Wednesday
nights of the annual event.
A surprise appearance by
Connie Hopper
– who has been battling breast cancer again after being in remission for 35 years – was the highlight of
Wednesday
evening. The beloved singer appeared onstage as
The Hoppers
' hit song, "I've Come Too Far," began to play. The crowd leapt to their feet in thunderous applause and praise to God, welcoming Mrs. Hopper back to NQC. There wasn't a dry in the place as Connie spoke about having the 'peace that passeth all understanding' during this latest health scare.
The National Quartet Convention is the only event of the year where fans can see and hear their favorite artists at a single event, and then meet them and purchase their products. Music lovers can enjoy their favorite music all day and night, as music spectaculars begin each morning and continue until at least
11 PM
each evening.
Although all evening concerts are sold out at this time, passes still remain for many of the afternoon events. For a complete schedyle of events,please visit
www.nqconline.com
.
Tags:
Connie Hopper
,
gospel music
,
NQC. National Quartet Convention
,
southern gospel
,
The Hoppers
Posted in
announcements
,
artists
|
Comments Off

on NQC ATTENDANCE INCREASES 120%
Written by SGN Scoops Staff on August 29, 2014 – 1:55 pm -
Surely, I have had a team of prayer warriors that have reached the throne of God! All tests results have been favorable for my upcoming September 2nd surgery.
I thank each one of you for your powerful prayers and praise God for His unwavering faithfulness. I am doing well and working around the house as we prepare to travel to Brewton, Alabama for Saturday's concert.
Please tell all your friends and neighbors that The Hoppers' schedule will proceed as scheduled.
Once again, thanks for joining us in prayer and praise for my wonderful report. We all look forward to seeing you at a concert soon!
Connie Hopper
Tags:
Connie Hopper
,
hoppers
,
Southern Gospel Music
,
Southern Gospel News
Posted in
announcements
|
Comments Off

on Update From Connie Hopper
Written by Staff on August 26, 2014 – 12:13 pm -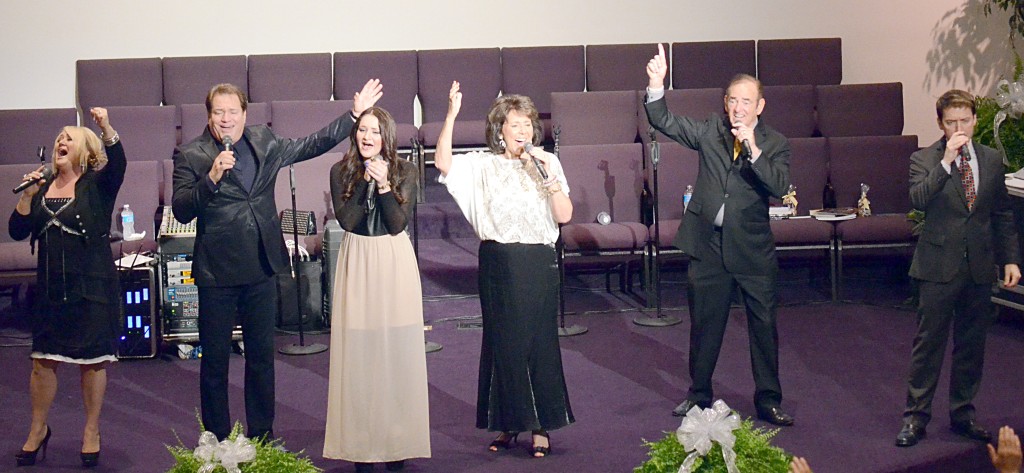 By Craig Harris
The Hoppers are one of Gospel music's best-loved families. They have been given awards and accolades and number-one songs for many years as audiences embraced their powerful harmonies. After 57 years, they are still going strong and pause for a moment to remember the past, live in the moment and look forward to the future during a conversation with SGN Scoops. Excitement abounds as each of the Hoppers speaks of their history, current happenings and possibilities in the years to come.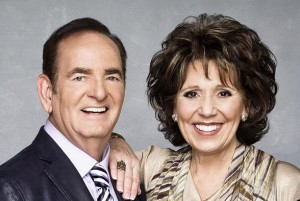 "I remember when we started; we'd have probably paid somebody to let us sing," Connie Hopper laughs. "We went to a church one night and sang and got $12.73 in the offering plate." Needless to say, much has changed since the Hoppers starting performing in 1957. They were then known as the Hopper Brothers and Connie. "In 1970, we quit our jobs and went on the road full time," she remembers. "It was three of the brothers and me."
Connie joined the group as the pianist and eventually married Claude Hopper. She began singing when Claude's brother, Steve, left the group. "We have been so fortunate to support ourselves through the work God has called us to do, and none of that has been by accident, nor any of our own doings," Claude explains. "Every day that we are blessed to travel is attributed to the support and prayers of each individual audience. We're like a turtle sitting on a fencepost. You know he did not get there by himself."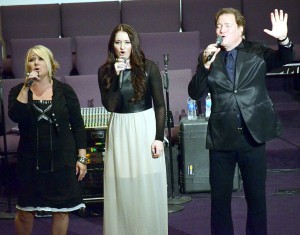 Connie wasn't the only current group member to come on board as a musician. Claude and Connie's son, Dean, signed on as the drummer at the age of seven. "The only thing I knew was that I wanted to play drums, and I would do anything I could to play music," Dean points out. "I had a chance to play all these guys' big (drum) kits – Mark Ellerbee (of the Oak Ridge Boys), Rick Goodman, Ronnie Sego and Billy Blackwood. That's when the big bands were the big thing. Everybody had a four-piece band."
Dean lived the dream. He vividly remembers flying home from Portland, Ore., by himself as an eight-year-old in order get back to school after the group was out on a lengthy road trip. "Dean would sit and watch Ricky Goodman and different ones play the drums," says Connie. "He's always been a good boy. He worked and helped his daddy on the farm, but he wanted to travel all the time. But we kept him in school." Dean began correspondence school after ninth grade and has been on the road ever since. Dean adds, "I played drums for everybody, played on lots of records, and played on stage with everybody that would ask." He later played the bass guitar and eventually moved into a more visible role as a vocalist when his uncle Will Hopper left the group.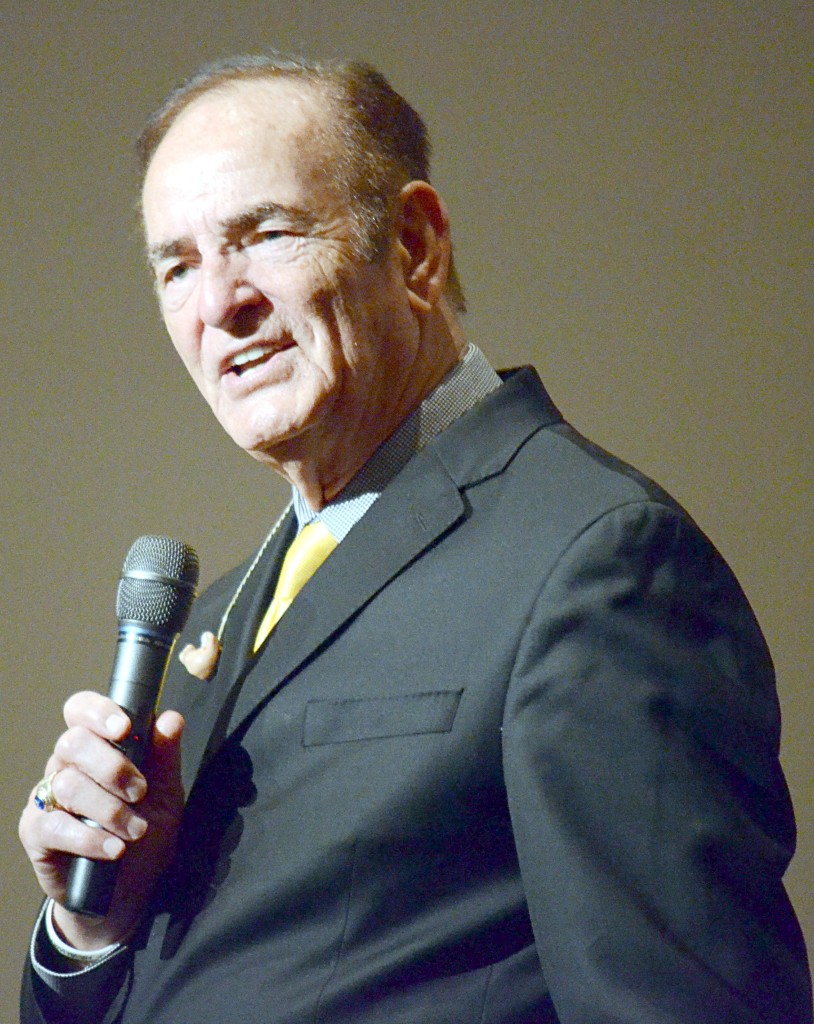 "(Claude) really leaned on Roger Talley a lot. Roger was an incredible part of this ministry for 10 years. Roger said, 'you need to go ahead and put Dean into that part.' At that time, I would sing one every now and again."
When Dean – who is seven years older than Michael – began playing the bass guitar, the door swung open for Michael. Roger Talley and Roger Fortner were also a part of the Hoppers' band at the time.
"Coming in as a 13-year-old kid, I was fortunate that I arrived when everybody still had a band," Michael noted. "Every weekend, we would go out, and I could stand on the side of the stage and watch people I respected. I'm thankful." However, he admittedly didn't have the same passion for it as quickly as Dean did.
"Michael was a different story," Connie explaines. "Michael wanted to stay at home and ride his motorcycle and hang out with grandpa. After Dean went out on the road, that just left Michael at home. His guidance counselor called me and said, 'Michael is smart, but he's just not doing his schoolwork. I think that's because you guys are gone.' We put him in correspondence (school). He was 13 years old when he started."
Michael adds, "I didn't envision a whole lot at 13 other than my dirt bike and my grandfather. I just loved spending time with my dad's dad. I spent a whole lot of time with him. He was my best friend. I've been blessed."
Michael is now singing the bass part during the majority of most concerts. "It seems to be working," Michael says. "They like us all up there as a family."
The current Hopper brothers have assumed different and more extensive roles in the day-to-day responsibility of the group. "I am proud, very proud," Claude emphasizes. "We never pushed them to be a part of this as boys. But now, seeing what they bring to the group and family as a whole, I don't know how we ever did it without them. Both are very talented in their own right and in very different facets. Where one is weak, the other picks up the slack, and vice versa. They know how to pry the very best from Mother and I, which is a wonderful asset to me as both a co-worker and a dad. God knew what he was doing when he blessed us with them."
Connie adds, "We never said, 'this is what you're going to do.' At this point, if one of them were to say 'this has been great, but I'm tired of this road,' that would be fine with me. I thank God for them. They're just great, and they're talented." Read more »
Tags:
Claude Hopper
,
Connie Hopper
,
Craig Harris
,
Dean Hopper
,
Karlye Hopper
,
Kim Hopper
,
Michael Hopper
,
sgn scoops
,
The Hoppers
Posted in
artists
,
sgn scoops magazine
|
Comments Off

on The Hoppers: Past, Present and Future
Written by SGN Scoops Staff on August 25, 2014 – 1:02 pm -
From Connie Hopper, August 24, 2014
Dear Friends,
I just wanted to drop a note of gratitude for your kindness and encouragement throughout the years. With respect to that unmatched support, I wish to respond to recent inquiries and concerns.
Simply put, during my annual mammogram, the doctor discovered a small malignant mass. Because of our family's past experience with this disease and knowing the emotional toll it can take, they asked that we postpone a few concerts as to be with me during the time of my tests. Nothin' like good family support.
Yes, plans of surgery are already in motion and all doctors are beyond optimistic! Oswald Chambers wrote, "Prayer does not fit us for the greater work; prayer is the greater work."
We greatly appreciate your understanding of any time off I may need to take, and sincerely covet your prayers.
Once more, I thank you.
Connie Hopper
Tags:
Connie Hopper
,
hoppers
,
Southern Gospel Muisc
,
Southern Gospel News
Posted in
announcements
|
Comments Off

on A Note From Connie Hopper
Written by SGN Scoops Staff on April 10, 2013 – 7:41 am -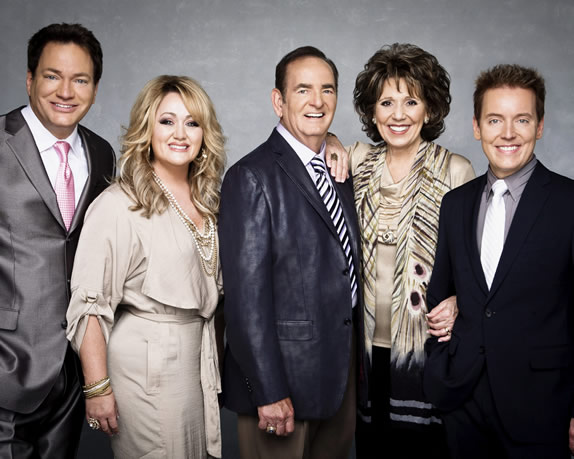 Nashville, TN – For over 55 years The Hoppers have been singing to audiences around the world and they show no signs of slowing down. This "favorite family of Gospel music" has been criss-crossing the globe since the first of the year performing classic songs and new material on the Something Good" tour in support of their newest release, Count Me In. The tour, filled with the distinct and celebrated family harmonies, began in Amsterdam and has now crossed the globe into the United States.
"It is exciting for our family to take this new music and intertwine it with some of the audience's favorite songs through the years" shared Connie Hopper. "Looking into the faces of the audience each night as they hear something that encourages them is the reason we do what we do – night after night."
The tour includes special stops at "Great Western Fan Festival" April 25 – 27 in Visalia, CA and "Singing In The Sun" April 16-20 in Myrtle Beach, SC.
In other news, The Hoppers are also honored to have received a total of 6 Singing News Fan Awards Nominations. The group and members were nominated in the following categories:
• Favorite Album: Count Me In
• Favorite Female Singer: Connie Hopper
• Favorite Female Singer: Kim Hopper
• Favorite Soprano: Kim Hopper
• Favorite Alto: Connie Hopper
• Favorite Mixed Group: The Hoppers
"It is an honor to see our family nominated for the hard work that everyone contributes," comments Dean Hopper. "We are especially proud of the nomination for Favorite Album for Count Me In. This album is special to us."
A full listing of tour dates is available at www.TheHoppers.com. For more information on the Singing News Fan Awards, visit www.SingingNews.com.
The Hoppers latest release, Count Me In, distributed exclusively through EMI CMG Distribution, is available at online outlets, including iTunes, Amazon.com and ChristianBook.com. It is also available in retail stores where Christian music is sold.
Connect with the Hoppers
Web: www.TheHoppers.com
Facebook: www.Facebook.com/TheHoppersOfficial
Twitter: www.Twitter.com/HoppersMusic
Tags:
Connie Hopper
,
great western fan festival
,
Singing In The Sun<
,
Southern Gospel Music
,
Southern Gospel News
,
The Hoppers
,
Visalia Ca
Posted in
announcements
|
Comments Off

on THE HOPPERS "SOMETHING GOOD" TOUR DELIGHTS AUDIENCES