Written by Staff on August 1, 2020 – 6:50 am -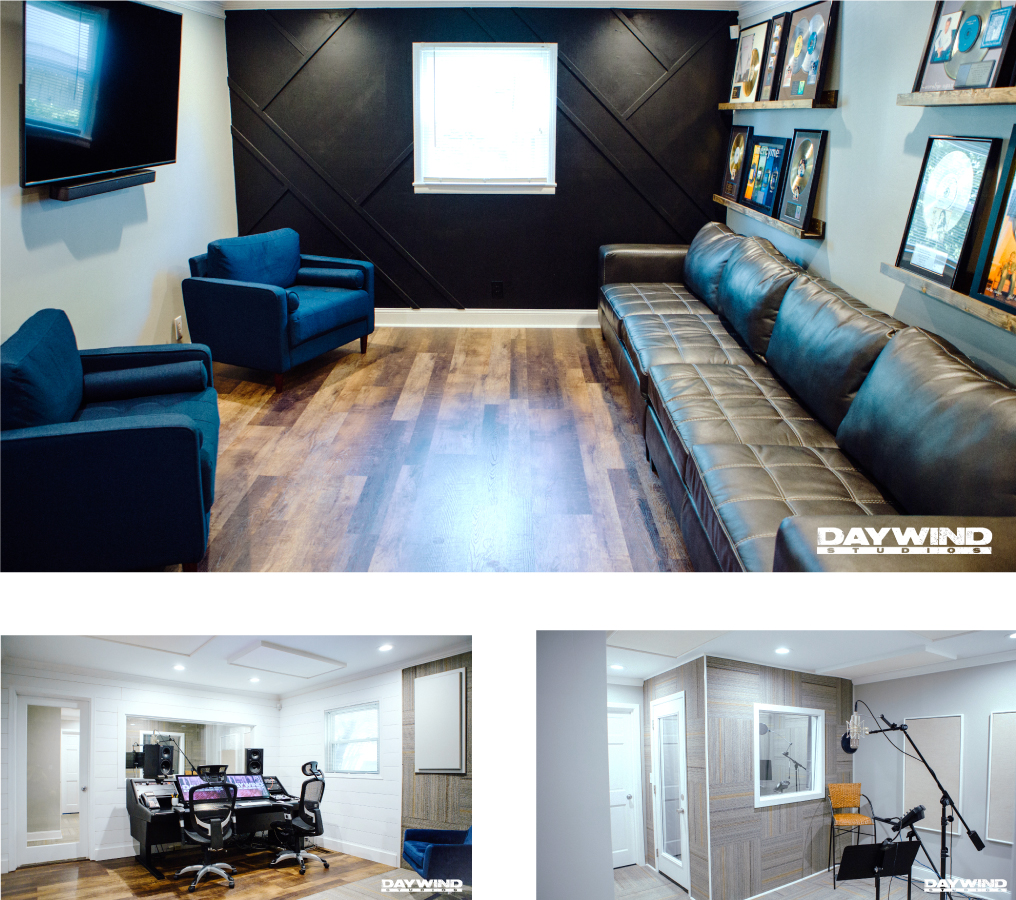 NASHVILLE, TN (JULY 21, 2020) — Daywind Studios has completed renovation on its  state-of-the-art recording studios in Hendersonville, TN. The renovations completed upgraded one of its studios, adding two additional vocal rooms, an expanded lounge area, new state-of-the-art, professional-grade equipment, video streaming capabilities, and more.
Through the years, Daywind Studios has recorded top artists, musicians, and songwriters from around the world.  The complex now features two studios, one for tracking bands, orchestra, and choirs, and one primarily focused on vocals and overdubs.  The studios are located in a creative commons just north of Nashville, TN, surrounded by Daywind Music Publishing, one of the largest music publishers in Christian and bluegrass music, New Day Christian Distributors, the top Christian music one-stop distributor, Daywind Records, one of the leading record companies in Christian music, and Billy Blue Records, the successful new bluegrass label.  Across the road from Studio B are offices for The Tree Radio and the Southern Gospel Music Association's Hall of Fame Museum Archives.  In a given day, writing sessions, artist visits, strategic planning for recordings, and more happen just outside the studios, reminiscent of the Motown studios in Detroit and the Brill Building in New York.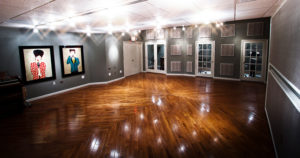 Daywind Studios is home to Daywind Soundtracks and Soulful Sounds, the leading performance track brands in Christian and Gospel music, produced by Gary Prim and Tyrone Dickerson, respectively.  Gary and Tyrone use the top musicians and vocalists in Nashville for their recordings, part of what sets these tracks apart from all others. The studio was the long-time home for all tapings of the Gaither Homecoming Radio program, as well as the popular television music series "Live at Daywind."  As the creative home of Daywind Music Group, the studios have hosted many popular Christian and bluegrass artists including Karen Peck and New River, Joseph Habedank, Jason Crabb, Greater Vision, Brian Free and Assurance, Tribute Quartet, Michael English, Mark Lowry, Legacy Five, Appalachian Road Show, and many more.
Driving the success of the studios are the tremendous staff engineers Justin Kropf, Anthony Johnson, Cody McAlister, and Chris Latham who have been a part of many award-winning recordings.  Staff producer, Marty Funderburk, is as good as they come in getting the most from artists in the studio.  In addition, the top musicians in Nashville frequent the studio, from session musicians to orchestra players and top background vocalists, ensuring a top-quality project.
Daywind Studios are available to musicians and artists for custom recording packages that include a professional producer, engineer, musicians, photographer, graphic design, and mixing & mastering. Artists interested in exploring custom recording and/or video packages can visit  daywindrecordingstudio.com.  Daywind and Soulful Sounds tracks are also available for lease.  The newly-renovated, state-of-the-art complex and our friendly professional staff are ready to make your recording experience in Nashville one of the best memories of your life.
Did you know that you can receive the printed, full-color version of SGNScoops Magazine by subscription? Find out more 
HERE
.
Find SGNScoops Magazine On Facebook 
HERE.
You can download the latest edition of SGNScoops Magazine 
HERE.
Read the latest edition of SGNScoops Magazine online
HERE
.
Listen To Today's Gospel Music
HERE
Tags:
daywind
,
Daywind Music
,
Daywind Music Publishing
,
Daywind Studios
,
gospel music
,
New Day Christian Distributors
,
Southern Gospel Music
Posted in
announcements
,
artists
|
Comments Off

on Daywind Studios Reopens Fully Renovated Studio Complex in Hendersonville, TN
Written by Staff on December 2, 2017 – 6:37 pm -
Nashville, TN (December 1, 2017) – Singer/songwriter Joseph Habedank is capping off a stellar year with his first-ever GRAMMY® nomination. Nominees for the 60th GRAMMY® Awards were announced earlier this week, with Habedank's 2017 release, Resurrection, appearing in the Best Gospel Roots Album category.
Resurrection, produced by Wayne Haun, is Habedank's sophmore studio release on Daywind Records, and received the 2017 GMA Dove Award for Southern Gospel Album of the Year earlier this year. The project features the chart-topping single, 'Here He Comes,' as well as nine other new songs co-written by Habedank with acclaimed songwriters such as Michael Farren, Tony Wood, Jimmy Yeary, and Lee Black, among others.
Named by Singing News as the 2017 Soloist of the Year, Joseph Habedank has appeared on stage this year alongside the legendary Reba McEntire at the GMA Dove Awards, as well as on the Ryman and Grand Ole Opry stage with Opry members Dailey & Vincent.
"I am so overwhelmed with gratitude for everyone who had a part in this record," says Joseph Habedank. "Thank you to Daywind Records, my producer, Wayne Haun, all of my co-writers; Tony Wood, Chris Cron, Michael Farren, Wayne Haun, Lee Black, Megan Mulnix, Joel Lindsey, Jimmy Yeary, Kenna West, Benji Cowart and Krissy Nordhoff. The studio musicians, Mark Hill, Jonathan Brown, Dave Cleveland, Scott Williamson, Joel Key and the Nashville String Machine. I am so incredibly thankful for this amazing honor."
The 60th annual GRAMMY® Awards will be held at Madison Square Garden in New York City on Sunday, January 28th, 2018. The award show will be aired at 7:30 PM ET on CBS Television Network.
Resurrection is Habedank's second studio project on Daywind Records, following the highly anticipated debut, Welcome Home. While the lyrics of Welcome Home speak of redemption and second chances, Resurrection triumphantly sings victory over sin, death and the devil through Christ. Acclaimed songwriters such as Lee Black, Tony Wood, Chris Cron, Gerald Crabb, Jimmy Yeary, Michael Farren, Wayne Haun and Joel Lindsey, among others, teamed up with Habedank to craft ten brand new songs, including the first radio single, 'Here He Comes.' Much like Welcome Home, Resurrection covers a range of musical styles, from the current radio single 'Just When You Thought,' to the southern rock-infused 'Jailbreak' and gospel inspired 'I Believe In The Resurrection.'
Resurrection is available to through New Day Christian. Mainstream and digital distribution are provided by Sony RED.
For more information on Joseph Habedank, visit josephhabedank.com
For the latest issue of SGNScoops Magazine click here.
For the latest Gospel music news click here.
For online Gospel music radio click here.
Tags:
Daywind Music
,
grammy
,
Joseph Habedank
Posted in
announcements
,
artists
|
Comments Off

on Joseph Habedank Receives First GRAMMY® Nomination
Written by Staff on February 12, 2017 – 3:57 pm -
Hendersonville, TN (February 9
th
, 2017) – Daywind Music Publishing is proud to announce that Dianne Wilkinson has reached an elite level among songwriters with the penning of her 1,000
th
song, entitled "Just Another Mile." To bring the achievement full circle, the song will be recorded by the quartet who has cut more of her songs than any other, the Kingdom Heirs, on their upcoming Sonlite Records release.
Having begun her songwriting career in the 70s, Dianne has continued to create top-quality songs for over forty years, with cuts by groups such as the Cathedrals, the Hoppers, Gold City, and Karen Peck & New River, among others. Sixteen of those songs have reached the #1 position on the Singing News Radio Chart, and fifty-seven have been recorded by the Kingdom Heirs, including the hits "The Borrowed Tomb," "What We Needed," and "Just Preach Jesus."  Many songwriters would be content to rest on these accolades, however, Dianne praises a faithful God who consistently inspires new songs and allows her to continue doing what she loves.
Dianne Wilkinson shares, "I am overwhelmed by the blessings I have been afforded, and am so very conscious of the grace of God in my life! Many thanks to everyone involved in this milestone of mine. I see God's handprints all over it!"
"In more than 30 years here at Sonlite Records, there has never been a combination of artist and writer like The Kingdom Heirs and Dianne Wilkinson," adds Greg Bentley, A&R Associate at Crossroads Entertainment & Marketing. "There's a special magic that happens when you team these two up. It's like Dianne writes songs specifically with the group in mind. We are honored to be part of this milestone with Dianne and our friends at Daywind Music Publishing."
"What a blessing it is when God sends encouragement to weary travelers on their journey toward Home," offers Rick Shelton, VP of Daywind Music Publishing. "Together, Dianne Wilkinson and the Kingdom Heirs have cheered on countless saints with their songs. How fitting then, as Dianne passes this significant milestone of her 1000th song and the quartet celebrates four decades of performing in Pigeon Forge, that they would come together once again to share 'Just Another Mile' with the world."
Daywind Music Publishing services an impressive roster of acclaimed songwriters including Lee Black, Matthew Browder, Jason Clark, Jason Cox, Janice Crow, Aaron and Amanda Crabb, Adam Crabb, Gerald Crabb, Chris Cron, Ricky Free, Marty Funderburk, Karen Peck Gooch, Joseph Habedank, Tim Lovelace, Devin McGlamery, Kyla Rowland, John Darin Rowsey, Brandon Sharp, Belinda Smith, Sue C. Smith, Aaron Wilburn and Dianne Wilkinson.
For more information, visit facebook.com/daywindpublishing or info@daywindpublishing.com.
Tags:
2014 Creekside Gospel music Convention
,
Daywind Music
,
Dianne Wilkinson
,
southern gospel
Posted in
announcements
,
artists
|
Comments Off

on Daywind Songwriter, Dianne Wilkinson, Hits Milestone
Written by scoopsnews on October 30, 2015 – 5:46 pm -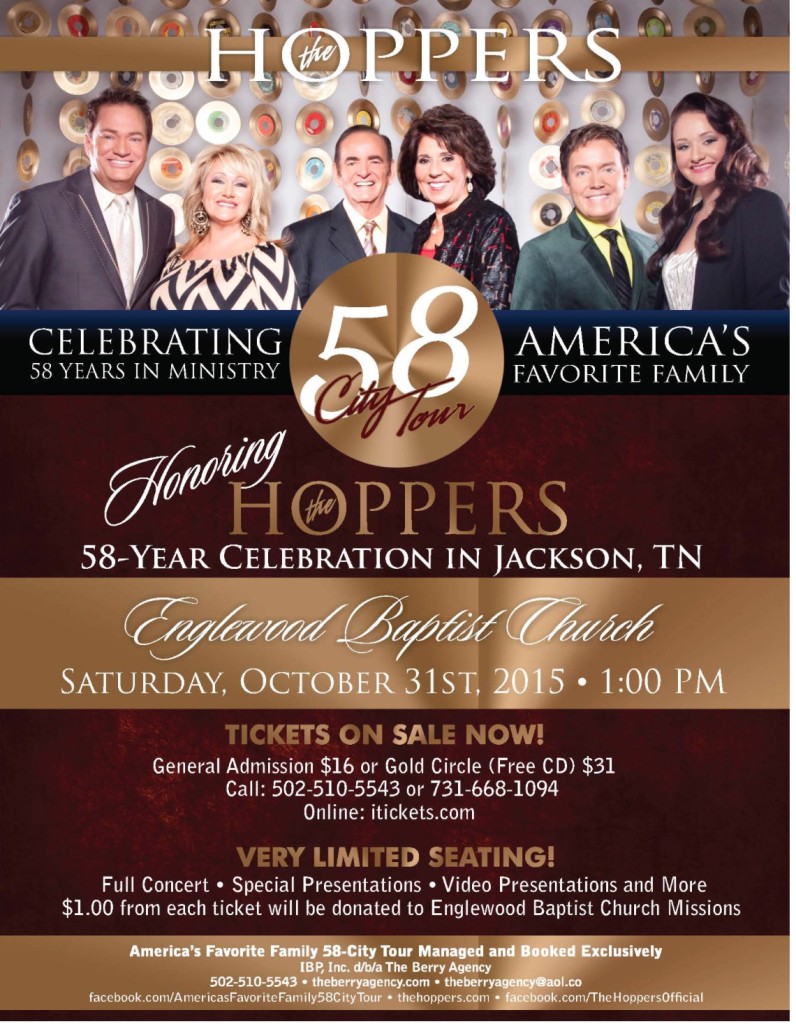 The Award-Winning Favorite Family of Gospel Music, The Hoppers, are headed to Jackson, Tennessee, as part of their 58-City Tour. In addition to this concert, Claude and Connie will be honored for their 58 years of ministry.
The family are recipients of many accolades from the Southern Gospel music field, including their innumerable Fan Favorite Awards from the national Singing News magazine. Most recently, they received the Dove Award for their very first children's album, "Kids."
Fans, friends, and newcomers alike are invited to be a part of a great evening of music from this family along with the NEW Hopper Brothers 2.0, a quartet for the next generation. You will not want to miss this special concert!!
Further information is below:
Saturday, October 31, 2015
1:00 p.m.
Englewood Baptist Church
2239 N Highland Ave.
Jackson, TN 38305
Ticket Prices are $31.00 (Gold) free CD, Artist Circle seating. General Admission tickets are $10.00 per person and may be obtained at http://www.ccmpromo.com/showoff.html?id=82101 OR call 1-800-965-9324
If you purchase four (4) or more tickets you may receive one (1) free ticket.
We are looking forward to seeing you there!!
Tags:
daywind
,
Daywind Music
,
hoppers
Posted in
announcements
|
Comments Off

on Hoppers, In the news!
Written by Staff on March 5, 2015 – 1:37 pm -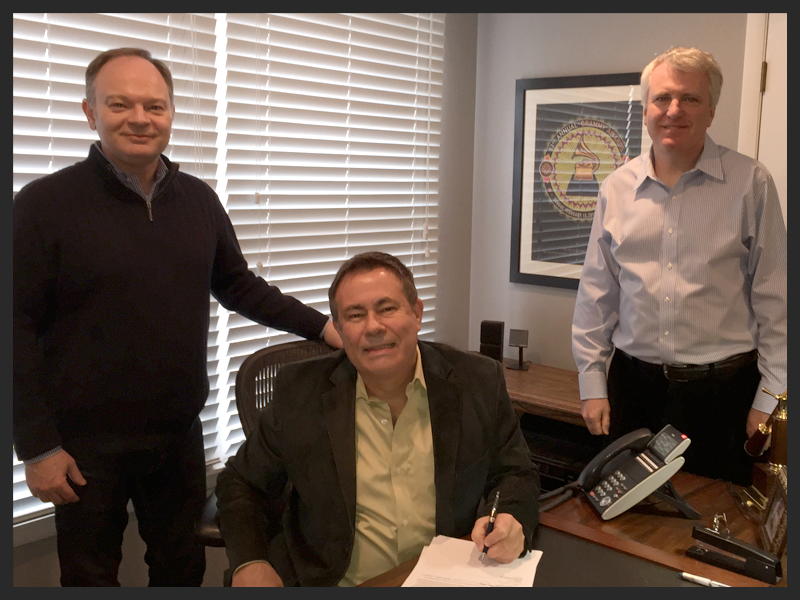 HENDERSONVILLE, Tenn. (March 4, 2015) – Dove Award winner Marty Funderburk has signed an exclusive agreement to remain as a part of the Daywind Music Publishing roster of songwriters. The veteran Funderburk has been affiliated with Daywind Music Publishing for the past 17 years.
"Songwriting is a privilege I hope I never take for granted," explains Funderburk. "Daywind Publishing has nurtured my creativity and allowed me the freedom to express that which God places in my heart for the past 17 years. I look forward to all that God has in store as we re-commit ourselves to moving forward with the work at hand."
While he has had dozens of songs land on the radio charts, Funderburk has had two No. 1 singles – the Kingdom Heirs' hit "Forever Changed" and the Talley Trio's chart-topping "Life Goes On." His songs have been recorded by Kenny Rogers, Ricky Skaggs and the Whites, Gold City, Jake Hess, Janet Paschal, Sisters, Brian Free & Assurance, the Hoppers, the Blackwood Brothers, Greater Vision, Mark Lowry, Karen Peck and New River, The Mark Trammell Trio, the Perrys, Ernie Haase & Signature Sound and the Bowlings.
Of his nine Dove Award nominations, the latest came earlier in 2014, with Funderburk's Christmas musical – "The Highest Glory" – winning the Dove Award for Musical of the Year.
"Marty Funderburk brought his talent to Daywind Publishing in the very early days of its existence," points out Daywind Vice President of Music Publishing Rick Shelton. "His brilliant songs have been recorded by every major artist in our genre, and his choir music has been performed by thousands of church choirs. Marty is a dear member of the Daywind family. We are so very proud of him and the impact of his songwriting."
Daywind Music Publishing is the premier source of new songs for the Southern Gospel and church print/choral markets. The organization is home to an award-winning roster of songwriters, including Belinda Smith, Dianne Wilkinson, Jason Cox, Joseph Habedank, Kyla Rowland, John Darin Rowsey, Ronny Hinson, Gerald Crabb and Scott Inman, among others. For more information, visit www.daywindpublishing.com  or e-mail info@daywindpublishing.com.
For more information on Mary Funderburk, visit his personal page on the Daywind Music Publishing web site at http://www.daywindpublishing.com/?page_id=402
Tags:
Brian Free & Assurance
,
Daywind Music
,
Dove Awards
,
gold city
,
Jake Hess
,
Janet Paschal
,
Kenny Rogers
,
Marty Funderburk
,
Ricky Skaggs and the Whites
,
sgn scoops
,
sisters
,
The Blackwood Brothers
,
The Hoppers
Posted in
announcements
,
artists
|
Comments Off

on Award-winning songwriter Marty Funderburk to remain with Daywind Music Publishing
Written by SGN Scoops Staff on February 16, 2011 – 3:22 pm -
Hendersonville, TN (February 16, 2011) – This morning during a press conference, held at the Fox

Theatre's Grand Salon in Atlanta, GA, the final Dove nominees for the 42nd Annual GMA Dove Awards were announced.  Daywind Music Group is incredibly honored to have received 9 nominations this year.
Celebrating nominations for both of their 2010 albums is Brian Free and Assurance.  They are nominated for Inspirational Album of the Year, Acapella, as well as Southern Gospel Album of the Year for Never Walk Alone, both produced by Ricky Free.  A Southern Gospel Recorded Song of the Year nomination went to the Booth Brothers for "Faithful One" (Jim Brady, Barry Weeks, Tony Wood) from the project, Room For More (Barry Weeks). Austins Bridge received a Country Album of the Year nomination for the project, Times Like These (Jay DeMarcus).  The Chigger Hill Boys & Terri garnered two nominations, with their album, …Oh Well (Mark Dunham), receiving a nod for Bluegrass Album of the Year and the song, "Blaze of Glory" (Marty Funderburk, Mike Richards) receiving one for Bluegrass Recorded Song of the Year.  Also receiving a nomination in the same category is Lewis Tradition's "I'm Going To Make Heaven My Home" (Lester Flatt, Earl Scruggs) from their debut release, Precious Memories (Lewis Phillips).
Daywind Music Publishing is also represented through nominations for Jason Crabb's "Sometimes I Cry" (Gerald Crabb) for Song of the Year, as well as the Bowling Family's "Run and Tell" (Marty Funderburk, Wayne Haun, Ray Davis) in the Country Recorded Song of the Year category. 

Daywind Records' A&R Director and Vice President, Norman Holland, shares, "What a thrill to see our tremendous artists celebrate these exciting Dove nominations.  We are always honored to come along side them in an effort to make music that impacts lives, and while we feel we are home to many of the best, it is a joy for us to see these sentiments affirmed by their peers in the Christian music world."

The 42nd Annual GMA Dove Awards will be held on Wednesday, April 20, 2011, at the historic Fox Theatre in Atlanta, GA, and televised nationwide on the Gospel Music Channel, Easter Sunday, April 24, 2011 at 7 pm & 9 pm EST. While the awards are the purpose of the show, music performances will definitely share center stage at the GMA Dove Awards, showcasing some of Gospel music's hottest and most diverse artists. Tickets to the 42nd Annual GMA Dove Awards are currently on sale through the Fox Theatre Box Office or at ticketmaster.com.  For more information on the GMA, visit gospelmusic.org.
Tags:
Daywind Music
,
GMA Dove Awards
,
The 42nd Annual GMA Dove Awards
Posted in
announcements
,
awards
,
christian entertainment
|
Comments Off

on Daywind Music Group Nominated For 9 Dove Awards
Written by Rhonda on November 5, 2010 – 7:22 pm -
 Hendersonville, TN (November 5, 2010) – For Southern Gospel fans, the message found in the lyric of the song is just as important as the voice singing it.  However, it is not often that the fans are given a chance to hear from the writers themselves.  But next Tuesday night, November 9, 2010, beginning at 6:00 PM, fans are invited to join some of Daywind Music's most recognized songwriters at the Bluebird Café in downtown Nashville for a night of sharing through song. 
 Known for displaying talented songwriters in an intimate setting, the world-renowned Bluebird Café will host a list of award-winning Daywind writers, including Ronny Hinson ("The Lighthouse"), Marcia Henry ("I'll Pray For You"), Marty Funderburk ("I Believe God"), Kyla Rowland ("Did I Mention"), Ben Storie ("God Is Still In America"), Daryl Williams ("Singing With The Saints"), and Kenna West ("We're Not Gonna Bow").  Having writers of this caliber together on the same night will be a thrill for music lovers and songwriters alike.
  "Daywind is proud to present its exclusive songwriting staff for a special evening of Gospel music at the world-famous Bluebird Café," offered Rick Shelton, Director of Publishing for Daywind Music.  "Each writer will perform one of his or her chart-topping hits, as well as brand new songs never before presented to the public.  Gospel music speaks to one's soul, and these are the writers who craft the speech."
 To make reservations to attend this event, visit www.bluebirdcafe.com/reservations.
In addition to the writers mentioned, Daywind Music Publishing also represents writers such as Sheri LaFontaine, Jeff Steele, and Dianne Wilkinson.
To learn more about Daywind Music Publishing, contact Rick Shelton at rshelton@daywind.com.
Tags:
Ben Storie
,
Bluebird Cafe
,
Daywind Music
,
Kenna West
,
Kyla Rowland
,
Marcia Henry
,
Marty Funderburk
,
ronny hinson
Posted in
announcements
|
Comments Off

on WORLD-FAMOUS BLUEBIRD CAFÉ TO FEATURE DAYWIND MUSIC SONGWRITERS