Written by SGN Scoops Staff on November 24, 2014 – 11:23 am -
DECLARATION of Nashville, Tennessee in conjunction with two of Michigan's finest artists have come together to announce a benefit concert for one of the most beloved figures in the Michigan Southern Gospel scene. Victor Seaton is the owner of Encore Productions in Roseville, Michigan. For well over three decades, Seaton has been one of the main promoters of not just Southern Gospel concerts, but numerous Christian Events in the state of Michigan, as well as in regions throughout Ohio, Illinois, Indiana, and West Virginia. Through Seaton's efforts and support, audiences spanning generations have enjoyed the artistry of legendary groups including The Cathedral Quartet, Gold City, The Kingsmen, and Bill Gaither; the region has also come to know such talented artists as Greater Vision, Legacy Five, The Booth Brothers, and many others active in the industry today.
In recent years, Seaton's health has been in decline and he has suffered numerous health related complications. This concert has been organized to help raise funds for these bills. The concert will take place on Friday December 12th, at the Liberty Missionary Baptist Church in Monroe, Michigan. The Special Guests for the evening will be one of Southern Gospel's most exciting and energetic new groups, DECLARATION, of Nashville, TN. Also appearing on the program that evening will be two of Michigan's finest groups; The Sammons Family of Wyandotte and Matchless Grace of Monroe.
All of the artists on the program are thrilled to take part in this wonderful concert. Jake Sammons of Declaration, a Michigan native who has enjoyed a friendship with Seaton for years, states, " For over thirty years, Victor Seaton has kept the light of Gospel Music burning brightly. His legacy is one of integrity, class and top tier talent all for God's Glory." Brian Fuson of The Sammons Family shared, "Victor Seaton has had a profound impact on my life since I first met him. It is my honor and privilege to give back to a great friend who has been such a blessing in my life."
Admission for the concert is free, no tickets will be needed. A love offering will be received. All funds collected will go directly to Victor Seaton. For those unable to attend who would like to donate, please send your donations to Victor Seaton Concert, PO Box 38, Roseville, Michigan. For more information on this concert, please contact Brian Fuson at 734-626-0376, or visit www.sammonsmusic.com.
Tags:
Declaration Trio
,
gold city
,
Liberty Missionary Baptist Church
,
Southern Gospel Music
,
Southern Gospel News
,
The Cathedral Quartet
,
The Kingsmen
,
Victor Seaton
Posted in
announcements
|
Comments Off

on DECLARATION TRIO TO HOST BENEFIT CONCERT FOR VICTOR SEATON OF ENCORE PRODUCTIONS
Written by SGN Scoops on October 24, 2012 – 5:38 am -
SGNScoops is proud to present the Creekside Gospel Music Convention next week, October 29,30,31 at the Smoky Mountain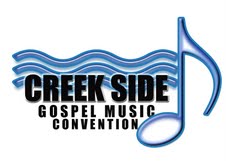 Convention Center in Pigeon Forge, Tennessee. The three day event will feature some of the best in Southern Gospel Music as well as celebrations of milestones and achievements in the Gospel Music Industry.  WATC Channel 57 out of Atlanta will capture the highlights of the Creekside Gospel Music Convention and will air a special program in December.  Below is a description of the activities and events of the Creekside Gospel Music Convention and remember ALL EVENTS ARE FREE TO THE PUBLIC!
On Monday evening at 7:00pm, we will celebrate 75 years in Gospel Music with Mrs. Lou Wills Hildreth! This celebration will include performances by special guests and will be hosted by Tim Lovelace.  This evening will be a great night of honoring a living legend in Gospel Music and everyone is invited!
Before the Lou Hildreth Celebration begins at 7:00pm, there will be a "Pre-Show" at 5:30 pm.  This Pre-Show will include artist performances by Phil Cross, Promise, Channing Eleton and more.  An evening concert will follow Ms. Lou's Celebration and will include performances by Declaration Trio, The Youngs and others.
On Tuesday morning, the fellowship continues!  There will be a 9:30 a.m. chapel service and then an afternoon musical matinee will take place.  From noon until 3:00pm, artist performances will include The Williamsons, Omega, Christy Sutherland, Ann Downing, Logan Smith along with many more.
The Diamond Awards Show will be presented on Tuesday evening at 7:00pm.  For the last several months, fans voted for their favorite artists and groups in 23 different categories. The final five nominees, along with the winner of each category, will be announced.  Special artist performances during the Diamond Awards Show will include the Ball Brothers, David Bryan, Gerald Crabb, Phil Stacey, Watts, Rowsey, Bean and others. The evening will also feature the debut of a brand new group, Crosby Lane. The night's special event will be hosted by soloist Christy Sutherland and Daniel Ball of the Ball Brothers.
The Diamond Awards Pre-Show will begin at 5:30pm on Tuesday afternoon and will continue until the Diamond Awards begin at 7:00pm. Following the Diamond Awards, performances from many artists and groups will continue until 11:00 p.m.
Wednesday morning, October 31, the Chapel Service will begin at 9:30am with a short devotion and time of worship. The afternoon concert, from noon until 3:00pm will feature David Bryan, Pine Ridge Boys, Ava Kasich, Renaissance Revival, The Griffins and more. From 3:00pm – 11:00pm, the fellowship and music continues with an Evening Concert showcasing Lindsay Huggins, Rhonda Frye, Lisa Herald, In His Image Quartet, Faith's Journey and others.  For a complete schedule, visit: http://www.creeksidegospelmusicconvention.com/p/2012.html  (Schedule is Subject to Change)
In addition to the celebrations, awards and gospel music, SGNScoops has partnered with a local ministry. All guests and participants are encouraged to bring good used clothing, house-hold items, toys, books, cds and more to benefit LIVE-IT.  LIVE-IT is a local non-profit ministry serving widows, orphans and the less fortunate in the Sevier County area.  Items collected will stock LIVE-IT's thrift store.  All items sold will directly fund ministry needs.   For more information about the out-reach project, visit: https://www.sgnscoops.com/2012/10/08/creekside-gospel-music-convention-announces-outreach-project/.
The exhibit area of the Smoky Mountain Convention Center will be filled with artist and vendor booths.  This is a great chance to meet your favorite artists as well as purchase a variety of products.
Rooms are available at the hotel on site for just $54 per night. Reservations can be made by phone or online. By phone, call toll-free at Toll Free: 1-800-223-6707 or local call 865-908-3015. Online Reservations- go to http://www.smokymountainconventioncenter.com/.
Click "Book My Room" then Click "SGN Scoops."
For more information, email rob@sgnscoops.com or rhonda@sgnscoops.com. Phone inquires: 360-933-0741
Tags:
Declaration Trio
,
diamond awards
,
gerald crabb
,
Gospel Music Events
,
Lou Hildreth Channel 57
,
phil cross
,
Rhonda Frye
,
rob patz
,
sgnscoops
,
SGNScoops Magazine
,
Smoky Mtn Convention Center
,
Southern Gospel News
,
Tim Lovelace
,
Williamonsons
Posted in
announcements
,
gospel events
|
Comments Off

on Creekside Gospel Music Convention October 29,30, 31 in Pigeon Forge, TN
Written by SGN Scoops on August 6, 2012 – 6:33 am -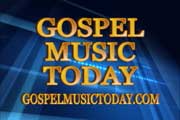 Jonathan and Jordan Wilburn of Wilburn & Wilburn are the guests on the current edition of Gospel Music Today. The Feature Group is New Salem, and Ken and Jean Grady host southern gospel news and concert updates. Gospel Music Today visits the Owasso Gospel Opry, in Owasso, OK, to hear Forgiven Quartet sing. Jean reviews a new CD by Declaration Trio, and the show features singing by Still Water Quartet and The Ascension Quartet. The latest edition of Gospel Music Today is online now at the Gospel Music Today website,
www.gospelmusictoday.com
Tags:
Ascension Quartet
,
Declaration Trio
,
forgiven quartet still water quartet
,
Gospel Music Today
,
Ken & Jean Grady
,
Southern Gospel News
,
wilburn & wilburn
Posted in
announcements
|
Comments Off

on Wilburn & Wilburn Special Guests On Gospel Music Today
Written by SGN Scoops Staff on April 6, 2012 – 9:11 pm -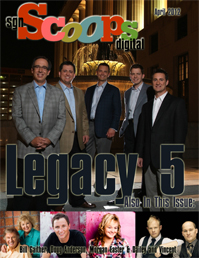 We are excited to present a PACKED April Edition of Scoops Magazine!  Thanks to Lorraine Walker for a fabulous cover story featuring, Legacy Five. We have stories on your favorite artists to include: Doug Anderson, Declaration Trio, Dailey & Vincent, Harold Reed, Jordan Wilburn, Gene McDonald and Morgan Easter. Rob Estep gives us a "behind the scenes" look with promoter, Rhonda Thompson and Lou Wills Hildreth tells us about the very first Dove Awards! Jennifer Campbell shares a very special conversation with living legend, Bill Gaither as he tells the story behind "Because He Lives!" Angela tells us what songs are topping the charts and Jonathan Edwards talks with Rich Crist of the Crist Family. Sandi Duncan Clark reviews brand new music and Rhonda Frye reviews a concert featuring The Greesons, McKameys, Michael Combs and the Singing Cookes.Scott Rhoades and Jennifer Campbell share their thoughts regarding Easter, John Mathis Jr encourages with words of wisdom and Laurette reminds us of the benefits of exercise. We were saddened at the news of the death of southern gospel promoter and friend to many, Jim Arneson. Rob Patz and several friends share the thoughts of Jim. We appreciate you reading our magazine and sharing the link with your friends, family and friends!
Read the Magazine Here
Tags:
bill gaither
,
Crist Family
,
dailey & vincent
,
Declaration Trio
,
Doug Anderson
,
Dove Awards
,
Gene McDonald
,
Greesons
,
Harold Reed
,
Jennifer Campbell
,
Jim Arneson
,
john mathis jr
,
jonathan edwards
,
Jordan Wilburn
,
legacy five
,
Lou Wills Hildreth
,
McKameys
,
Michael Combs
,
Morgan Easter
,
Rhonda Frye
,
Rhonda Thompson
,
Rich Crist
,
Rob Estep
,
rob patz
,
Sandi Duncan Clark
,
Scott Rhoades
,
SGNScoops Magazine
,
Singing Cookes
,
Southern Gospel News
Posted in
announcements
,
christian entertainment
,
sgn scoops magazine
|
Comments Off

on April 2012 SGNScoops Magazine