Written by Staff on October 19, 2015 – 5:40 pm -
October 19, 2015 (Nashville, TN)…StowTown Records and Ernie Haase & Signature Sound are proud to announce the birth of Lana Lynn Doyle.
Born Tuesday, October 6, she is the second child of lead singer Dustin Doyle and his wife, Aubrey. Lana Lynn weighed 7 lbs, 10 oz., and measured 20 inches long.
Dawson William, born February 4, 2014, is the proud older brother.
Dustin is the newest member of EHSS, recently joining the quartet after three years traveling with the popular trio, Beyond The Ashes. He plays several instruments, including guitar, piano, bass, and drums, and also enjoys writing songs and leading worship while at home.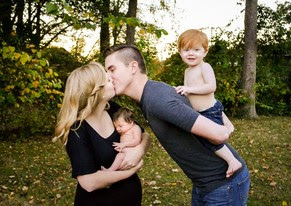 The Doyles make their home in McKenzie, TN.
Photos courtesy Elizabeth Cook Photography
ABOUT STOWTOWN RECORDS:
Founded in 2011 and expanded in 2014, StowTown Records reflects the musical vision of Ernie Haase and Wayne Haun, in partnership with Landon Beene and Nate Goble. The independent label is the creative home for top artists including Ernie Haase & Signature Sound, The Perrys, The Collingsworth Family, Beyond the Ashes, Doug Anderson, Devin McGlamery, Trey Ivey, Wayne Haun, The Taylors, The Browns, Triumphant, TaRanda Greene, The Erwins and selected classic music from The Cathedrals, their legendary bass singer, George Younce, and The Cathedrals Family Reunion. Distributed worldwide through Provident/Sony Distribution, StowTown Records has quickly garnered industry attention with multiple GMA Dove Awards and chart-topping releases from their highly respected artist roster.
for all your latest news and information go to the SGN Scoops Facebook page and LIKE us.
Tags:
Dustin Doyle
,
EH&SS
,
Ernie Haase & Signature Sound
,
StowTown Records
Posted in
announcements
,
artists
|
Comments Off

on EHSS' Dustin and Aubrey Doyle Welcome Baby Girl
Written by Staff on September 3, 2015 – 8:49 am -
From the Ernie Haase and Signature Sound Newsletter of September 1, 2015, Ernie Haase announced a couple of changes to the EHSS lineup. Here is what he said:
I'd like to take this opportunity to announce the newest member of the EHSS family.  His name is Tyler Vestal, and we are excited to have him on board!
If you have been to any of our summer concerts, I'm sure you've seen Tyler playing keyboards along with our own
Wayne Haun
on the piano.  Due to the success of
StowTown Records
, Wayne's producer duties for all of the StowTown projects, his additional duties as a committee member on both the Grammy and Dove Awards panels, AND his brand new daily radio show heard on
Solid Gospel Radio
, Wayne is a
very
busy man and will not be able to continue to go out with us
every weekend
.  So, you guessed it…this is where Tyler comes in!
Tyler has been learning the ropes from the best and he will be our new keyboardist.  But never fear…Wayne will continue to serve as our musical director and producer and will travel with us on the weekends when he is available to make sure we are continuing to do everything up to his standards!   He keeps us on our toes and we need that!
New Video featuring Dustin Doyle and Tyler Vestal
"Redemption Draweth Nigh"
So, here we grow again!  The EHSS family just keeps getting bigger and, in this case, MUCH YOUNGER!   I'm really enjoying having young Tyler and Dustin on the bus.  They bring back so many fond memories of my younger days with the Cathedrals, and I love the new and fresh ideas they are bringing to the table.
And in addition to all of this news, EHSS would like to wish young Tyler a
Happy 24th Birthday on

September 6th

!!
  I have socks older than that!!! (I've always wanted to use that joke!)
I know you're going to love getting to know Tyler, and to help you out with that, please check out his
full Bio HERE
.
Ernie Haase and Signature Sound recently added Dustin Doyle to the lineup after the departure of Doug Anderson. You can read more about Dustin HERE. 
Tags:
Doug Anderson
,
Dustin Doyle
,
ernie haase and signature sound
,
gospel music
,
StowTown Records
,
Tyler Vestal
,
Wayne Haun
Posted in
announcements
,
artists
|
Comments Off

on Ernie Haase and Signature Sound make Changes
Written by Staff on February 26, 2015 – 11:01 am -
Nashville, Tenn (February 26, 2015) Beckie Simmons is announcing today that talented young Gospel trio, Beyond the Ashes has reached a booking agreement withBSA/Beckie Simmons Agency of Nashville, TN, effective immediately. Beyond The Ashes consists of  Anthony Facello, Dustin Doyle, and Tyler Vestal.
Known as a group who is ministry minded, yet having some of the smoothest sounds in Gospel music, Beyond The Ashes fits well in just about any setting from churches to large concert venues.
Concerning this new agreement Anthony Facello commented, "I have been fortunate enough to know Beckie for many years. Like I felt about working with Wayne Haun I feel the same about Beckie Simmons Agency." Continuing he said, "I always wanted to work side-by-side with such talented and driven people. I am honored to be a part of BSA. We look forward to the future and what God has in store! Thank you Beckie for believing in BTA."
Beckie Simmons adds, "I have loved Beyond The Ashes music since their inception and have admired their work ethics for quite some time. I have long been a fan and applaud their passion for God and Ministry. All of us at BSA are excited to be a part of their Team."
If you would like to interview Beyond The Ashes contact
.
To learn more about Beyond The Ashes go to http://www.beyondtheashesonline.com or https://www.facebook.com/beyondtheashes . Twitter them at https://twitter.com/www.twitter.com/beyondtheashes1 .
To book Beyond The Ashes contact Beckie Simmons Agency at http://www.bsaworld.com or call 615-595-7500 .
                                                                                 ####
About Beyond The Ashes
Beyond our plans, beyond our own abilities, beyond our failures, beyond our own God-given talents, above and beyond anything we could ask or even imagine. God has a plan for each of us, to rise above the ashes and to live powerfully for Him.
When three different people come from three completely different parts of the United States and share the same strong desire and sincere call to worship and minister, then those plans, which are beyond our own, begin to come to fruition.
Tags:
Anthony Facello
,
Beckie Simmons
,
Beyond the Ashes
,
BSA
,
Christian Music
,
Dustin Doyle
,
gospel music
,
southern gospel
,
Tyler Vestal
Posted in
announcements
,
artists
|
Comments Off

on Beyond The Ashes Sign Booking Agreement With Beckie Simmons Agency