Written by Staff on September 4, 2019 – 2:27 pm -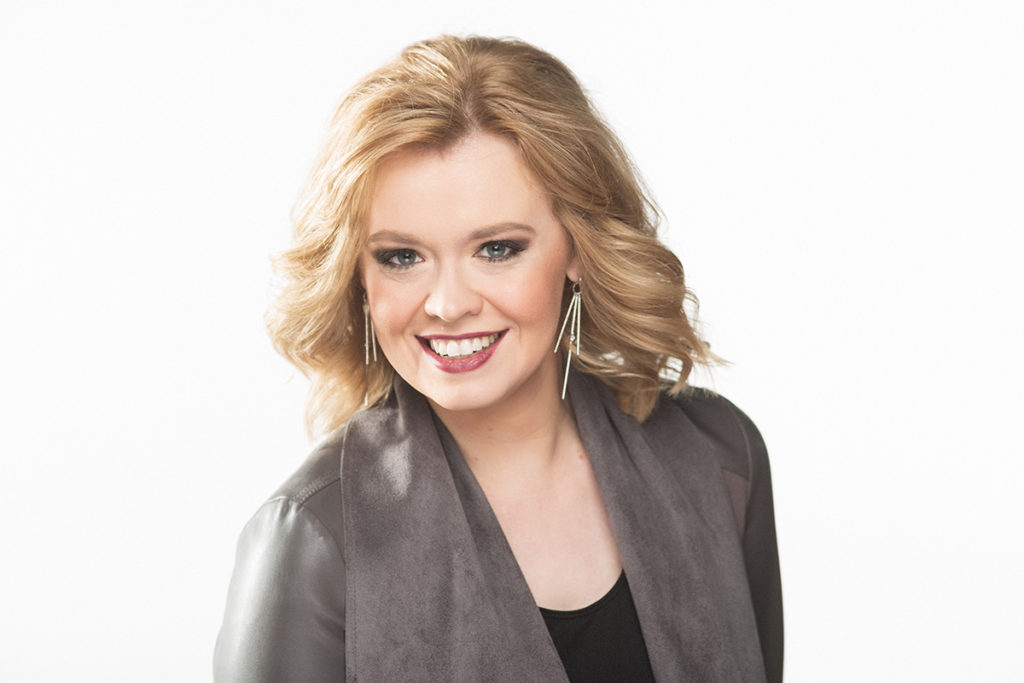 Arden, North Carolina (September 4, 2019) — On the heels of two new releases, Lauren Talley (website HERE) has joined the Gospel Music Association Hall Of Fame Nominations Committee, joining a prestigious list of industry veterans and fellow artists.
In her role,  Lauren Talley will help choose Hall Of Fame candidates from the Southern Gospel industry for GMA voters' consideration. The other committee members are Ed Harper (The Harper Agency), Dusty Wells (New Day), Charlotte Ritchie (artist), Elliott McCoy (artist), Gerald Crabb (songwriter), Becky Isaacs Bowman (artist), and Rick Sandridge (industry).
The 2020 class will be announced January 15, 2020 with the official GMA Hall of Fame induction ceremony taking place May 6, 2020.
"I love history, and I want to be part of it. The icons of this music poured so much into me as a young artist, and to be able to help honor them and publicly appreciate what they've accomplished is quite an honor for me," Talley says.
In August, Talley released two collections of music inspiring heartfelt worship and praise of the Lord. Each features her powerful and soulful voice.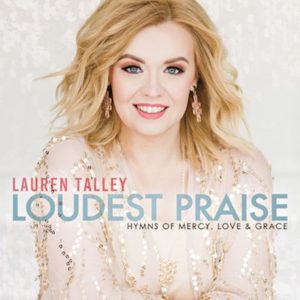 Talley brings her talent to beloved hymns, reminding of their timelessness and eloquence for worship on Loudest Praise: Hymns of Mercy, Love And Grace.
The album begins with the hopeful "Come Thou Fount Of Every Blessing," and Talley inspires awe of Christ with her vocals. Serving as inspiration for the album's title, this hymn sings of God's never-ceasing mercy and grace.
Other hymns include "When God Dips His Love In My Heart," "When I Survey The Wondrous Cross," "What A Friend We Have In Jesus" and "Does Jesus Care." Loudest Praise closes with the first single, "His Eye Is On The Sparrow."
Talley's voice fits the power of the cherished hymn's lyrics, as the song builds to a mighty end.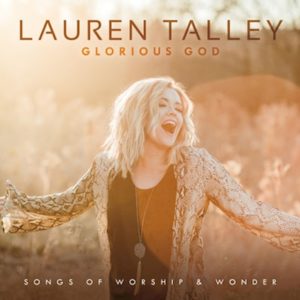 On Glorious God: Songs of Worship and Wonder, Talley captures the awe Christ inspires on this album of some of today's most loved worship songs, beginning with the first song which inspired the title.
"Glorious God" shares the creation story and recognizes all God created to give us the lives we live. It's a reminder that God's presence is all around, everywhere we go.
Other songs include "What A Beautiful Name/Agnus Dei," with Talley backed by the Voices of Lee Choir; "Let The Glory Come Down," featuring Amber Eppinette and Chris Allman; "Mercy Tree," "The Heavens Are Telling," "Jesus At The Center" and "Jesus Only Jesus."
Glorious God closes with "A Wretch Like Me," a worship song penned by Talley and based on the lyrics of "Amazing Grace."
While the music of these two albums is different in feeling, both accomplish the same thing: A moving sense of God's presence and His role in our lives.
Listen to Loudest Praise: Hymns of Mercy, Love And Grace HERE and Glorious God: Songs of Worship and Wonder HERE.
About Lauren Talley
Lauren Talley is one of Christian music's most dynamic talents and has inspired a generation of young people to serve the Lord.
Born into a rich musical heritage, Lauren sang her first solo at age 2 when she toddled onto the stage, interrupted her family's concert and announced she wanted to "thing." Lauren went on to make her own mark on the gospel music world as a member of her family group, The Talleys, with whom she received numerous awards, including a 2015 Dove Award for their song, "Hidden Heroes." Lauren's lead vocals shine on eleven number one hits for the group.
She has recorded five solo albums, her most recent being the highly touted 2017 release, "The Gospel," which displays her skills as singer, producer, and songwriter. She is also the author of "Songs In The Night," a companion devotional book to her 2010 album of the same title. Lauren performs solo concerts and is a featured singer and speaker for many women's conferences and special events across the country. She is frequently recognized for her appearances on numerous Gaither Homecoming videos and concerts, RFD-TV's "The Music City Show" and "In Touch" with Dr. Charles Stanley. In 2014 she was awarded an honorary doctorate degree in Worship Arts from John Wesley University.
When not traveling or recording her own music, Lauren often serves as studio background singer and producer for other recordings and works with emerging artists as a voice and performance coach. Lauren is a busy lady but always finds time to cheer on her beloved Tennessee Volunteers, drink sweet tea and spend time laughing with family and friends.
"My job as a communicator is to give people the truth of the Gospel," Lauren says. "I want people to know that Jesus is everything – He's the Answer the world is searching for, He's the solution to all problems and He's the only One in whom we have real hope. He called me to give people His message when I was 12 years old, and fulfilling that call is all I've ever really wanted."
About Crossroads:
Crossroads is a market leader in the Southern Gospel, Bluegrass, and Americana fields. Established in 1993, following the combination of Horizon Music Group and Sonlite Records, Crossroads now operates several divisions including Crossroads Label Group (Horizon Records, Sonlite Records, Mountain Home Music, Skyland Records, Pisgah Ridge Records, Crossroads Records, and Organic Records), Crossroads Distribution, Crossroads Radio Promotions, Crossroads Publishing Group and Crossroads Recording Studios. Led by a strong executive team of Christian music and Bluegrass music veterans, Crossroads combines cutting-edge technology with creative innovation to connect fans with our artists' life-changing music.
For more Gospel music features read the latest SGNScoops Magazine HERE.
Download SGNScoops Magazine In PDF 
Here
Find SGNScoops Magazine On Facebook 
Here
Listen To Todays Gospel Music 
Here
Tags:
Becky Isaacs Bowman
,
Charlotte Ritchie
,
crossroads
,
Dusty Wells
,
Ed Harper
,
Elliott McCoy
,
gerald crabb
,
Gospel Music Association Hall Of Fame Nominations Committee
,
Lauren Talley
,
Rick Sandridge
Posted in
announcements
|
Comments Off

on Lauren Talley joins the Gospel Music Association Hall of Fame Nominations Committee
Written by SGN Scoops Staff on September 14, 2016 – 11:29 am -
(Nashville, TN) – Ed Harper, iconic Gospel music industry veteran, will receive the prestigious Lifetime Achievement Honor from the SGMG (Southern Gospel Music Guild) during the 2016 National Quartet Convention In Pigeon Forge, TN. The presentation of the honor will take place during an invitation-only reception on Tuesday, September 27, 2016, at the LeConte Center. The announcement was made today by SGMG President, Clarke Beasley. Mr. Harper is the president of The Harper Agency, an elite booking agency for Gospel music artists.
"I can think of no one else that is more deserving of this honor than Mr. Ed Harper," stated Beasley. "For over four decades, Ed Harper has served the Gospel music community with excellence and integrity, continuing the legacy of his father. He is the epitome of class, representing his artists and gospel music with dignity, respect, and excellence – tirelessly working to spread the Gospel of Jesus Christ."
Growing up as the son of the late Herman Harper, Ed Harper was exposed to the gospel music industry at a young age. Herman was the original bass singer of the Oak Ridge Boys during their early years as a gospel quartet, from 1956-1968. The last three years Herman also served as a co-owner and manager of the Oaks. Wanting to get off the road, Herman left his role with the Oak Ridge Boys in December of 1968 and began working with the first ever booking agency in gospel music Don Light Talent, who represented the group at the time.
As a young teenager, Ed began observing the booking agent's world and through high school and college hoped that someday he may be able to follow in his father's footsteps. In January of 1982, beginning his last semester before graduating at Belmont College majoring in business management, his lifelong dream came true. Ed recalls, "My father called me at my dorm one morning and said come in the office today. He was headed out of town but had a general price list of the agency roster on his desk that I could reference for all incoming phone calls inquiring about booking the artists. I actually booked my first date on an artist that day and I was hooked, and have never looked back."
When Ed graduated from Belmont in May of 1982 he began working full time with Don Light Talent alongside his father, overseeing the gospel division of the agency. In 1986, he and his father started their own agency and this year marks the 30th year of the Harper Agency. Over the next few years, Herman Harper decided to bring his two other sons Clay and Jeff into the fold and the Harper Agency was definitely a family affair. In December of 1993 Herman Harper passed away unexpectedly. Wanting to fulfill his father's intentions prior to his death, the agency incorporated and Ed became president and Jeff and Clay officers and co-owners of the agency. Over the years the Harper Agency has represented many of the pioneer artists in southern gospel music such as the Cathedral Quartet, JD Sumner and the Stamps, Vestal Goodman, Florida Boys, the Speer Family. Today their roster includes many top artists in southern gospel; Mark Lowry, the Booth Brothers, Isaacs, Martins, Legacy Five, Collingsworth Family, Brian Free and Assurance, the McKameys, Mark Trammell QT, The Talleys, Whisnants, Tribute, The Perrys, Kingsmen Quartet, Karen Peck and New River, Jim Brady Trio, Ball Brothers and Mark Bishop.
Throughout his career, Ed Harper has had the opportunity to serve as a board of director for industry organizations such as the Gospel Music Association, GMA Foundation and Hall of Fame, Southern Gospel Music Guild and the Gospel Music Trust Fund which his late father founded in 1983. Ed states "I have always wanted to gain knowledge in all areas of the music industry and having the opportunity to serve on the board of many organizations has been a great educational process along with a networking opportunity. This year marks my 35th year in the business I truly love and am blessed to be a part of. I love sharing with young aspiring agents and artists what I have learned through my journey, the good and the challenging moments as well. No two days have ever been the same."
For more information on Ed Harper and the Harper Agency, visit HarperAgency.com.
Tags:
Ed Harper
,
Southern Gospel News
Posted in
artists
|
Comments Off

on Ed Harper to Receive SGMG Lifetime Achievement Honor