Written by Staff on July 6, 2015 – 3:23 pm -
SGN Scoops welcomes 2nd Generation to their Fast Five platform! This mixed trio has been around for some time, engaging audiences with their smooth harmonies, light banter and worshipful Gospel music. 2nd Generation's latest project is Soul Searching, to be released later this month. Their current radio single you may have heard is entitled "He Saved Me."
Welcome Elaine, Brenda and Randy to SGN Scoops Fast Five!
SGN:  What is one venue you would like to sing at?
Elaine- There have been many events we have already sung at and experienced. I'm with Brenda, probably a Bill Gaither event.
Randy-There are so many great events, it's hard to choose; but I would love to sing with Triumphant Quartet again, so – their homecoming event! They are a blast to be around!
Brenda- My dream as long as I can remember has been to sing at a Bill Gaither event. Growing up our family, the Singing Greens would attend events like that and I would sit and admire all the groups on the stage and think how awesome it would be to sing on a stage like that, or to know those people. God has blessed us to know many of those people and we call them our friends. God places dreams in our hearts and He doesn't forget them. We believe that we will sing on a Gaither event very soon.
Tags:
2nd generation
,
brenda denney
,
Elaine Robinson
,
gospel music
,
Randy Barnes
,
sgn scoops
,
SGN Scoops Fast Five
,
southern gospel
Posted in
artists
,
christian entertainment
,
Christian interest
|
Comments Off

on SGN Scoops Fast Five: 2nd Generation
Written by SGN Scoops on January 5, 2014 – 7:59 pm -
OAK GROVE, AR. – (January 6, 2014) –Diamond Award winning trio 2nd Generation is excited to announced the addition of Randy Barnes to the trio.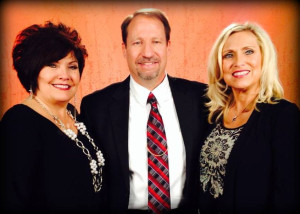 Randy Barnes, originally from Kirksville, Mo., grew up listening to Southern Gospel music, from groups such as the Blackwood Brothers, Statesmen, Jake Hess and the Imperials, Chuck Wagon Gang, and many others.  He began singing in church at a very young age, and would occasionally join his sisters on the platform.  After High School he joined the Air Force and eventually ended up in Louisiana where he attended Oakmont Church of God. There he joined up with a trio traveling from church to church on the weekends.  A career change to law enforcement, and a move to Texas, limited the amount of travel Randy could do, so he sang in his local church as often as he could, but he also continued to sing with local and regional groups.
In 2008 Randy retired and began singing with The Voyagers Quartet out of Little Rock, Ar.  He sang lead for the quartet, and God began opening several doors for the group and for Randy.  During the 4+ years that he sang with the group, he also sang with the legendary Melody Boys Quartet whenever Gerald Williams needed a fill-in!  While singing with the Voyagers, Randy felt God placing a calling on his life to move into a fulltime ministry.  The only question Randy had was where…. Eventually, the answer came; 2nd Generation… The ministry-minded focus of Elaine and Brenda was exactly what Randy was looking for.  Randy says, "We sang together a few times in rehearsal, then a couple of weekend concerts. It felt right, and God was doing some great things in the services!"  "I am honored to be a part of 2nd Generation!"
Randy and his wife Linda have been married for 33 years and have one son, Michael.  They have 2 grandchildren, and as of January 2014…one more on the way!!  They now live in Cabot, Ar.
Randy has several favorite verses; but one of his favorites is: Isaiah 40:31
"But they that wait upon the Lord shall renew their strength; they shall mount up with wings as eagles; they shall run, and not be weary; and they shall walk, and not faint." 
We are so excited about having Randy join 2nd G," mentioned 2nd Generation's Brenda Denney and Elaine Robinson. "We have been through a few changes over the years, but with every change God has taken 2nd G to a new level and we are expecting great things ahead".
2nd Generation is in the process gathering new songs to fit the new trio and will be in the studio recording a new project soon. Until then be listening to Southern Gospel radio for a new 2nd Generation single to be released Jan 2014. All radio promotions are being done in-house for the group, so for more information on how to obtain the new single, please contact 2nd Generation.
Tags:
2nd generation
,
brenda denney
,
Elaine Robinson
,
Southern Gospel News
,
Voyagers Quartet
Posted in
announcements
|
Comments Off

on 2nd Generation Announces Addition of Randy Barnes
Written by Rhonda on August 29, 2010 – 10:16 am -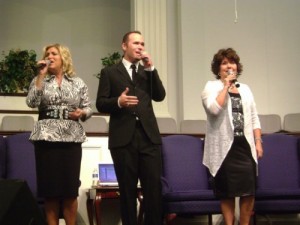 OAK GROVE, Ark. – (August 26, 2010) – Diamond Award winning trio 2nd Generation is excited to announce the addition of Rocky Logan as the group's new vocalist.
Rocky Logan was raised in Prague, Oklahoma and began singing in his local church. At a young age, Rocky placed his faith in Christ and shortly knew that he was called to pursue a career in Gospel Music. Rocky has recently traveling with Logan Road, a group that he started with Ryan Bilby. Rocky credits artists such as the Martins, the Crabb Family, the Hoppers, the Hinsons, and many more as his musical influences.
"I am beyond excited to join 2nd Generation," mentioned Rocky. "Brenda and Elaine are two Godly women who are completely focused on the ministry. I know that God has amazing things planned for the future."
 
Elaine Robinson of 2nd Generation said, "We are please to announce the addition of Rocky to 2nd Generation. We have prayed and prayed for God to speak clearly to us about who should fill this position. When Rocky auditioned for us at the Branson Gospel Music Convention, Brenda and I both felt the spirit connection."
"Rocky has a tremendous voice, and we are proud that he is 25 years old and loves Southern Gospel music," responded Brenda Denney of 2nd Generation. "We are hoping that he will make us look a lot younger. HA! The last three weeks on the road with Rocky have been great. It feels right. It sounds great, and we are excited to see what God does with 2nd Generation."
Fans are encouraged to be listening for 2nd Generation's new single, "I'll Not Fear the Crossing," at Southern Gospel radio.
For more information on 2nd Generation – visit http://www.2ndgenerationministries.com. 
You can also find out more information about the group on their MySpace at http://www.myspace.com/2generation.  The group's ShoutLife can be found at http://www.shoutlife.com/2ndgeneration.
About 2nd Generation
2nd Generation is based out of the Oak Grove, Arkansas. 2nd Generation has appeared at churches, state fairs, Singing in the Sun, Trinity Broadcasting Network, the Jim Bakker Show, Branson Gospel Music Convention, and many other events.  The group's current project, their sophomore album I See a City, has spawned off three hit singles including the #1 Fan Favorite songs "Feel the Joy" and "The Blood Covered It All."
Tags:
2nd generation
,
brenda denney
,
Elaine Robinson
,
Rocky Logan
Posted in
announcements
|
Comments Off

on Rocky Logan Hits the Road with 2nd Generation