Written by SGN Scoops on June 30, 2012 – 4:59 am -
NASHVILLE, Tenn.—Dove Award-winning singer/songwriter Nichole Nordeman offers a poignant and personal look at God's relentless pursuit of humanity with Love Story, due August 28 from Worthy Publishing.  Subtitled The Hand That Holds Us from the Garden to the Gates, Nordeman's first book traces God's unyielding mission from the beginning of time to rescue His beloved, in our most fragile and broken condition.
Based on the best-selling multi-artist recording, Music Inspired By The Story (EMI/WOW), which Nordeman co-wrote, Love Story exposes the humanity and more emotional underside of our most beloved biblical characters. Spanning Adam and Eve's painful choice in the garden, Abraham and Sarah's crawl through infertility, Mary's teenage journey as a young, unlikely mother, Paul's staggering encounter with Jesus on a dirt road, and the hope we cling to as we imagine His return.  Nordeman does not simply offer these stories from her own perspective, but bravely weaves her own life's fumbling and failures into each chapter, leaving these iconic men and women of the Bible looking less heroic and a little more human. Her poetic observations point ultimately to the all-consuming love of God for all of us.
"In every story and on every page, from the garden to the gates, I encountered God's people tucking His love into their satchels, sewing it into their robes, clutching it in fear, clawing at in anger, carving it into caves, collapsing into it, rejoicing, repenting, revising and rewriting their stories because they were…we are…so perfectly loved," says Nordeman.  "The Bible is the ultimate used book that's falling apart in perfect condition, much like its cast of characters. Love stories, all of them."
"If Nichole Nordeman weren't so curious, creative, clever, and convicted, our generation would be missing its finest songs and pages," said pastor and best-selling author Max Lucado.  "But she is curious, creative, clever, and convicted.  And since she is, you are holding a book that will blow the dust off an old faith and give structure to a young one.  Read it!"
Nichole Nordeman is a recording artist and songwriter for Sparrow Records/EMI Christian Music Group, with numerous #1 and Top 10 singles to her credit and cumulative CD sales of over one million.  A two-time Gospel Music Association winner for Female Vocalist of the Year, she has won a total of nine Dove Awards, including one recently as the lyricist on the best-selling album, Music Inspired By The Story.  She lives with her family in Tulsa, OK.  Connect with her on Twitter @nicholenordeman.
Worthy Publishing (www.worthypublishing.com), a division of Worthy Media, Inc., is a privately held company whose mission is helping people experience the heart of God. Worthy is an independent voice in Christian publishing, managing editorial, marketing, publicity, sales, and distribution from its home offices in Brentwood, TN. Worthy focuses on a boutique list of new books each year, crossing a broad spectrum of genres, including fiction, Bible study, current events, devotionals, biography, leadership, specialized Bibles, as well as spiritual and personal growth.
Love Story, a 224-page hardcover title, retails for $16.99 and will be distributed by EMI CMG.
For further information visit http://worthypublishing.com/books/Love-Story/ or www.turningpointpr.com.
Tags:
Christian Books
,
Contemporary Christian Music
,
EMI Christian Music Group
,
GMA Dove Awards
,
max lucado
,
Nicole Nordeman
,
Sparrow Records
Posted in
announcements
,
Christian interest
|
Comments Off

on NICHOLE NORDEMAN PENS POIGNANT, PERSONAL LOOK AT GOD'S LOVE STORY
Written by SGN Scoops on July 31, 2011 – 9:22 am -
BRENTWOOD, Tenn. – July 29, 2011 – What's in the distribution deal? A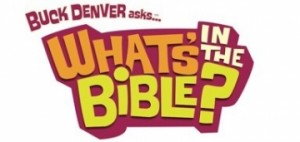 new relationship, according to VeggieTales' Creator and Jellyfish Labs Founder Phil Vischer and Bill Hearn, President and CEO of EMI Christian Music Group (EMI CMG) who have announced a long-term distribution agreement for Vischer's Jellyfish Labs and its "Buck Denver Asks…What's in the Bible?" DVD series.
 
EMI CMG Distribution will assume distribution rights for the DVD series, forthcoming ancillary products and the music products created by Jellyfish Labs for the Christian retail marketplace in the U.S. and Canada, as well as the digital domain, including iTunes and Amazon.com. This fall, EMI CMG will re-launch five DVDs and release a new music CD and new DVD.
 
"I'm excited that Jellyfish Labs and our Buck Denver Asks…What's in the Bible? DVD series has found a new home at EMI CMG Distribution," said Vischer, who, before embarking on his latest venture, created VeggieTales. "I've always appreciated Bill Hearn and his team; their commitment to excellence and innovation make them great partners as we work to enhance the spiritual journeys of families everywhere through creative children's products."            Read more »
Tags:
Bill Hearn
,
Childrens Ministries
,
Christian Children's DVD's
,
EMI Christian Music Group
,
Jelly fish
,
Phil Vischer
,
Veggie Tales'
Posted in
christian entertainment
|
Comments Off

on VEGGIETALES' CREATOR PHIL VISCHER AND HIS NEW COMPANY,JELLYFISH LABS, INK DISTRIBUTION DEAL WITH EMI CMG
Written by SGN Scoops Staff on June 19, 2011 – 3:48 pm -

Dallas, Ft. Worth, TX— David C Cook and Integrity Media reached an agreement whereby Integrity Music became part of the David C Cook family. The decision to acquire Integrity Music was motivated specifically by David C Cook's desire to expand its global impact in the area of worship. Per the agreement, David C Cook has acquired only those assets specific to Integrity Music. Integrity Media, based in Mobile, AL will still exist consisting of Integrity Direct, Integrity Worship Institute, and the international companies in the UK, South Africa and Singapore. Industry veteran C. Ryan Dunham, formerly David C Cook's senior vice president of sales and marketing, will serve as president of Integrity Music, effective immediately.
"At David C Cook we are committed to the Great Commission. Our mission is to 'Equip the Church with Christ-centered resources for making and teaching disciples who obediently transform today's generations.' We are delighted to have Integrity Music join the David C Cook family in serving the body of Christ," states Cris Doornbos, CEO of David C Cook.
"The acquisition of Integrity Music makes sense from both a ministry as well as a business standpoint. Both organizations are widely respected for their international reach and their worship music catalogs," states Ryan Dunham, Integrity Music president. "David C Cook is no newcomer to the worship music ministry. In 1993 Cook acquired Kingsway, a worship music company in Eastbourne, England, and partnered with EMI Christian Music Group to produce the Thank You Music song catalog. Kingsway artists include Matt Redman, Tim Hughes, Brenton Brown, The City Harmonic, and many others whose original songs are shaping the way a world-wide generation of Christians experiences worship," continues Dunham.
Integrity Music has profoundly influenced the worship music culture over the past 24 years. "Cris Doornbos and I share a deep passion for serving the global church and for the role worship music plays in making disciples around the world," says Integrity co-founder and CEO Michael Coleman. "As Integrity prepares to celebrate 25 years in ministry, I look forward to seeing the expanding impact of Integrity songs and products around the world."
The acquisition benefits David C Cook by adding an even greater variety of worship titles to the organization's current offering. It will also benefit Integrity worship artists and writers by providing a fresh perspective and an ownership structure as part of a nonprofit with an expanding realm of influence. Most importantly, it will provide the global church more options than ever for meaningful worship.
"I am honored that Michael Coleman, a man whom I highly respect and who has meant so much to the worship music movement, has chosen to entrust us with Integrity Music's worship catalog," Doornbos says. "Our vision for Integrity Music songs and recordings is to see them sung by people in their native languages in churches all over the world."
Integrity Music will operate independently within David C Cook as a Strategic Ministry Unit and be relocated to the company headquarters in Colorado Springs after a transition period of 3 months. Distribution of Integrity Music products in the U.S. will continue through Provident-Integrity Distribution and Columbia and Sony Music Distribution.
Tags:
David C Cook
,
EMI Christian Music Group
,
Integrity Media
,
integrity music
,
Michael Coleman
,
Provident-Integrity Distribution
Posted in
announcements
,
Christian interest
|
Comments Off

on David C Cook Acquires Integrity Music From Integrity Media Inc.