Written by Scoops Staff on September 27, 2009 – 8:18 pm -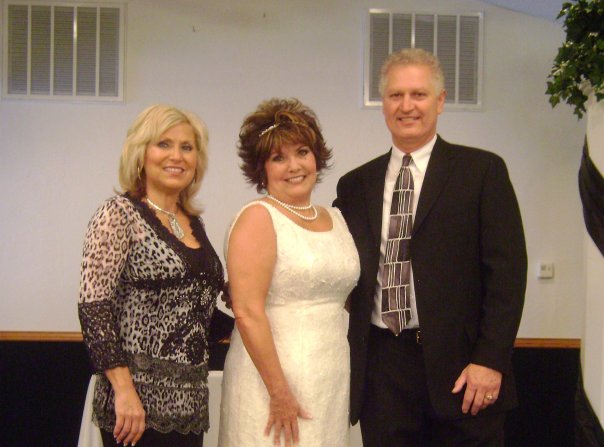 From the Facebook files:
Elaine Parks of trio 2nd Generation was married to Rev. Les Robinson at the Boyd Church of God in Oak Grove, Arkansas, where Rev. Robinson in a Pastor, this past Saturday, September 26, 2009.
The wedding was a family event that includes the couple's children and grandchildren and music performed by friends, including a rendeition of the Kenny Rogers classic "Lady" by 2nd Generation member Jimmy Hoskins.
Brenda Denney, sister of Elaine and the third member of 2nd Generation, says, "It was such a happy day. Elaine was a beautiful bride and they make a wonderful couple."
Rev. Robinson proposed to Elaine on stage during the last night of the Branson Gospel Music Conve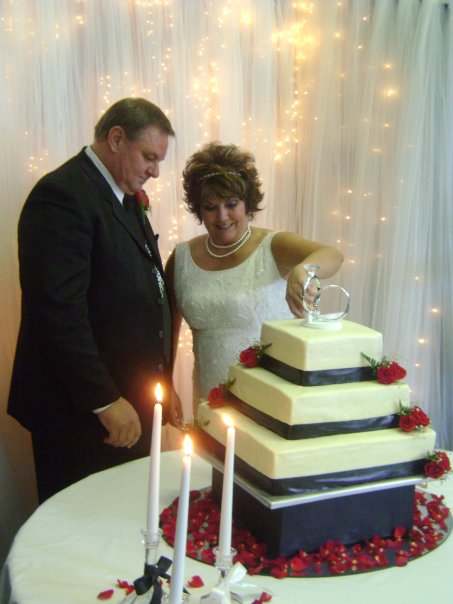 ntion this past July.
He will continue to pastor at the Boyd Church of God, while Elaine will continue in full time music ministry with 2nd Generation, who recently made their debut on the Artist Spotlight Showcase at National Quartet Convention.
Messages of congratultaions can be sent to:
2nd Generation Ministries
PO Box 73
Oak Grove AR. 72660
.. or of course, posted on Facebook!
We at Scoops love hearing about LOVE and wish the new Rev. & Mrs. all God's best for many happy years!
Tags:
artists
,
facebook files
,
happy news
Posted in
artists
|
Comments Off

on Elaine Parks of 2nd Generation adds a member to the SG family
Written by Kelly on September 3, 2009 – 8:55 am -
From, of course, the Facebook Files
Today I was doing my usual status-message-catchup and noticed this: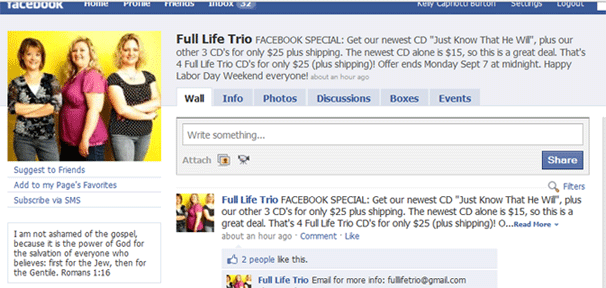 Text reads:
FACEBOOK SPECIAL: Get our newest CD "Just Know That He Will", plus our other 3 CD's for only $25 plus shipping. The newest CD alone is $15, so this is a great deal. That's 4 Full Life Trio CD's for only $25 (plus shipping)! O…ffer ends Monday Sept 7 at midnight. Happy Labor Day Weekend everyone!
I thought, 'Hey, that's cool!' I've seen groups invite people to concerts, advertise for bookings, celebrate chart successes, and even look for lodging using their Facebook status, but I had not yet seen CD specials.
So I asked Debbie Davis, owner of Full Life Trio: Why Facebook? Here's what she had to say:
I created the Full Life Trio fan page on Facebook as a way to let people know more about our ministry and to send updates. Within 1 month of creating the page, we already have over 350 people signed up.
Many of them had never heard of Full Life Trio before now, so we wanted to give them a chance to get our product in their hands for the lowest price possible. We'll probably be having more specials on FB throughout the year.
Kudos to Debbie and other groups who are utilizing FREE social networking to spread the word about their ministries.. this, inevitably, spreads the word about the Gospel!
Is your ministry utilizing a website or tool in this way? Let us know about it.
Happy Networking!
Visit Full Life Trio here.

Tags:
artists
,
facebook files
,
random cool stuff
Posted in
artists
|
Comments Off

on Full Life Trio tries Facebook marketing
Written by Scoops Staff on September 2, 2009 – 7:18 pm -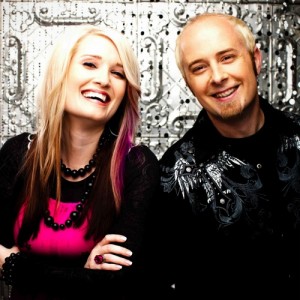 BIRMINGHAM, Alab. – Dove Award nominee Wendy Word + forgiven has recently seen success with their current radio single.
The song – "You & Jesus" – has broke on to several leading industry charts. It will debut at #61 on the upcoming October 2009 edition of the Singing News Top 80 chart. In addition, the song also debuted on the Christian Voice Magazine Top 100 Southern Gospel chart this month and has been a steady fixture on the GospelMusicTimes.com Top 100 Fan Chart. This week – the song landed at #21 on the popular chart.
Wendy Word said, "This song has such a personal message to me. I'm very excited to see that radio has supported the song as much as they have. People seem to really like it everywhere we sing it."
"There's a really strong and catchy quality about this song that most radio singles don't have," mentioned Chris Unthank of SouthernSpinRadio.com. "Our listeners are absolutely eating this song up. If a station hasn't picked this song up yet – they are definitely missing out on one of the strongest cuts of the year."
"You & Jesus" was written by Wendy Word and was inspired by the life of her grandmother. The song is being pushed to radio by Jim Stover of Crossroads Music.
Wendy Word + forgiven are currently recording vocals for their new mainline recording. The new album is being produced by Dove Award winning producer Kevin Ward and should be available by the end of the year.
The popular duo recently signed a booking agreement with Thomas Spradlen and Spradlen Promotions.
More information on Wendy Word + forgiven can be found at http://wendywordandforgiven.com.
Fans are encouraged to stop by Wendy Word + forgiven's MySpace at http://www.myspace.com/wendywordforgiven/.
From the Facebook files:
Wendy and Tony are in London, Kentucky this week leading revival. They were initially scheduled for a one night service there on Sunday and then asked by the pastor to stay on through the week. Wendy reported, "Well praise our living God. The alter was full tonight of people ready to be what God wants them to be.. I can't wait to see what God is going to do."
About Wendy Word + forgiven
Wendy Word + forgiven is a husband and wife team based out of Sterrett, Alabama. Wendy Word, joined by her husband Tony, travels all across the United States ministering the Gospel through their brand of country-tinged Southern Gospel music. The duo's current release is entitled Heartfelt and features the hit singles "That's Enough", "I Just Feel Like Something Good Is About to Happen", and "Lowest Time".
Tags:
artists
,
facebook files
,
news
Posted in
breaking news
|
Comments Off

on Wendy Word + forgiven's "You & Jesus" Breaks on to Multiple Charts
Written by Scoops Staff on August 25, 2009 – 10:01 am -

From the Facebook Files:
The first annual Northern Arkansas Quartet Convention took place over the weekend of August 21-22 at Highland Hills Baptist Church in Highland, Arkansas. The event was organized by the Crusader's Quartet, who also sponsors the annual Deep South Regional Quartet Convention in November.
Headlining the event were The Crusader's Quartet, Crosspoint Quartet, His Call Ministries, and Heaven's Echoes. Along with concerts, the convention included times of worship, group sings, and prayer time for over 150 requests that were received at the church. There was even a "midnight sing and buffet" at a local eatery.
According to organizer Penney Talley, "There is no way to tell you in words the power of the move of the Holy Spirit in our group events and the church on Sunday."
More information can be found by visiting http://www.dsrqc.com or by contacting The Crusader's Quartet at d-talley@sbcglobal.net
Photo courtesy of Penney Talley.
Tags:
events
,
facebook files
Posted in
gospel events
|
Comments Off

on Revival at Northern Arkansas Quartet Convention
Written by Scoops Staff on August 13, 2009 – 9:44 pm -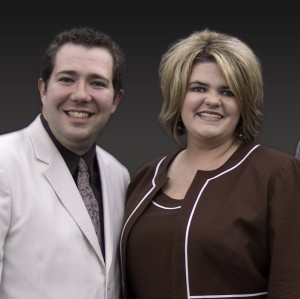 From the Facebook files: Rindy Nehrkorn of The Nehrkorns notified friends on Wednesday evening that she was facing a minor medical procedure the following day to remove a tumor-like mass from her right ear canal.
Twenty four hours later, both Rindy and her husband Justin were spreading a testimony of miraculous healing. Justin says, "[The doctors] went into [Rindy's] ear, and the 'tumor-like' thing they went to remove wasn't there! Isn't God awesome!?"
Yes, He is.
Meanwhile, Rindy reports she is back home doing laundry, thankful for all the prayers on her behalf.
The Nerhkorns are based in southern Illinois and have a full concert schedule throughout the fall. More information can be found at http://www.nehrkorns.com or by calling 618-998-4656.
Tags:
artists
,
facebook files
,
news
Posted in
artists
|
Comments Off

on A bit of a miracle for Rindy Nehrkorn