Written by Staff on November 10, 2016 – 4:20 pm -
Suzanne Jennings and Woody Wright's Unique Circuit Rider Creation Strikes a Chord with Listeners
Award-winning Gaither HOMECOMING Artists Creatively Document
a Chapter of Our Nation's History
NASHVILLE, Tenn.—November 7th, 2016—Gaither Music Group's all-new Circuit Rider DVD rode straight to the top of this past week's Billboard Music Video chart in addition to the Christian Music Video chart, according to Nielsen Soundscan, garnering the #1 position on both. The audio version of the docu-musical also claimed the #1 position on the Southern Gospel Album Sales chart and a Top 20 spot on the Contemporary Christian Music chart.
"This project has been a labor of love and a long time in the making," stated Circuit Rider's co-creator Suzanne Jennings. "We feel excited and privileged to be releasing this docu-musical honoring the great men and women who laid the foundations of our faith here in America."
The recording features vocal performances from some of the most celebrated talents on the Gaither HOMECOMING stage, including Guy Penrod, Russ Taff, William Lee Golden, Gloria Gaither, Lynda Randle, Tanya Goodman Sykes, Mark Lowry, Benjy Gaither, Woody Wright, Buddy Greene, Judy Martin Hess, The Isaacs, Joy Gardner, Reggie Smith, Charlotte Ritchie, Angie Primm, Michael Sykes and more. The DVD is hosted by former governor of Arkansas, talk show host and presidential nominee Mike Huckabee.
Created by Jennings and Woody Wright, Circuit Rider is the real-life account of the spiritual formation of a nation and the church we have today shaped in part by the dedication and vision of these circuit riders. These musical performances and readings, sung and read by some of the most well-loved gospel artists, tell the story of these preachers who blazed the trail to share the gospel of Jesus with people of every race and nationality living in little towns and settlements across the nation. These brave men and women, from every denomination and creed, understood the meaning of perseverance and sacrifice. Their stories are not often told, but they are as much a part of the American landscape as Mt. Rushmore and the Grand Canyon.
That story of hardships, revivals, baptism, sanctification and suffering is captured through this release, which is currently airing as a TV special on a large number of networks including PBS, DirecTV, Dish TV, AT&T U-verse, TBN, RFD, GaitherTV, FamilyNet, CTN, GMC, GMTN, Guardian, Liberty, TCT and TLN. In Canada it is airing on Vision TV, The Miracle Channel, CTS and Hope TV.
Gaither Music Group brought in the esteemed Michael Merriman to direct the filmmaking, and he and Stephanie Reeves produced the LIVE performances taped at Fiddler's Grove Historic Village in Lebanon, Tennessee. Jennings and Michael Nolen teamed up for the screenwriting.
Circuit Rider is exclusively distributed by Capitol Christian Distribution and is available throughout general market stores and the Christian marketplace in addition to online retailers including iTunes, Amazon and www.gaither.com.
To enjoy a promotional video of the DVD, visit YouTube clip here:

CD and DVD SONG LISTING:
01. Burnin' (featuring Guy Penrod)
02. Circuit Rider (featuring William Lee Golden & Russ Taff)
03. The Raven (featuring The Isaacs)
04. Bluegrass Moon (featuring Buddy Greene)
05. I'm the Clay (featuring Judy Martin Hess/Charlotte Ritchie/Tanya Goodman Sykes)
06. Mine All Mine (featuring Lynda Randle)
07. We Go Alone (featuring Joy Gardner & Woody Wright)
08. So Many Miles (featuring Reggie Smith)
09. The Old Man (featuring Benjy Gaither)
10. Refining Fire (featuring Michael Sykes)
11. Against the Grain (featuring Mark Lowry)
(Top to Bottom) Oak Ridge Boy William Lee Golden and Russ Taff, Buddy Greene and cast film the new Circuit Rider DVD.
Photos by: Daniel Meigs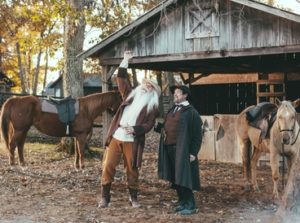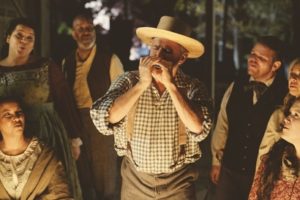 Tags:
Benjy Gaither
,
Circuit Rider
,
Gaither Gospel Series
,
Gloria Gaither
,
guy penrod
,
LYNDA RANDLE
,
Mark Lowry
,
russ taff
,
Tanya Goodman Sykes
,
William Lee Golden
,
Woody Wright
Posted in
announcements
,
artists
|
Comments Off

on Gaither Music Group's All-new Docu-musical Rides to Top of Three Music Sales Charts
Written by SGN Scoops on October 22, 2012 – 10:01 am -
NASHVILLE, Tenn.—October 22nd, 2012— One of Gospel music's most awarded and acclaimed family groups
The Hoppers
have just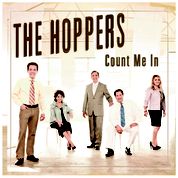 completed an all-new studio recording entitled
Count Me In
(Spring Hill Music/Gaither Gospel Series®), scheduled to hit the streets on October 23rd.  Family members Kim, Dean, Connie, Claude and Michael Hopper joined hands with industry veteran producer
Michael Sykes
, along with co-production from Kim and Mike, to bring this collection of songs to life.
"Michael Sykes took us under his wing and revived a bit of old-school soul in all of us," described Connie.  "You can hear the emotion and conviction in our wavering voices throughout this album, and we intentionally didn't edit any of that emotion out. We set a path for ourselves, musically, to simply do something different…something that hopefully makes you feel God's Spirit."
"We discovered we didn't have to go about this in the standard 'ABC recording fashion,'" explained Kim.  "Instead, we dove head first into recording vocals with only a click track, later adding the instrumentation and definitive melody around our voices.  This is contrary to what we normally do, and it gave such a freedom in tracking!  We were able to do so much more with the emotion of each song."
That passion is evident on Count Me In, complete with lush orchestration and unmistakable, seamless harmonies.  The release features stirring power ballads, for which the group has long been known, with new offerings such as "He Didn't Just Carry the Cross He Carried Me" and "I Am Whatever You Need."  For Hoppers' fans whose favorite tunes are the group's contagious upbeat melodies, the new release includes "Mighty Is the Word," "I'll Take You Home" and the title cut and first radio single "Count Me In," currently climbing the airplay charts.
From catchy choruses to reflective strains, the recording captures some special moments for the avid Gospel music fan with a cover of the Bill and Gloria Gaither classics "I Just Feel Like Something Good Is About to Happen" and "I Will Serve Thee," an easygoing version of "If I Can Help Somebody" and a re-make of the thought-provoking ballad "I Wish We'd All Been Ready," which finds Connie delivering a heartfelt, earnest vocal alongside the family's signature blends and emotional interpretations.
"We've found that what you sing doesn't just have to line up with what you believe, it has to be your burden- your heart- as you sing it," stated Dean.  "The Hoppers have definitely evolved musically over the past 55 years, but so has circumstance.  Count Me In is our representation of where we are now with a nod to where we've been and, most importantly, where we are going.  This album is such a monumental thing for us."
The Hoppers are recent inductees into the Gospel Music Association's (GMA's) Hall of Fame, and they have just returned from The Singing News Fan Awards where Kim was awarded Favorite Soprano and Favorite Female Singer only a couple of weeks after being named Favorite Soprano at the first annual National Quartet Convention (NQC) Awards, held in Louisville, Ky.
The group enjoyed recent success with the release The Gaither Gospel Series: The Best of The Hoppers (Gaither Music Group).  The DVD soared to #2 on Billboard's video chart while the CD entered the Billboard Heatseeker chart at #4. Additionally, the CD entered the Nielsen SoundScan southern gospel chart at #1 and the Contemporary Christian chart at #10.
The Hoppers maintain a heavy touring schedule, performing on the Gaither Homecoming video series, at the National Quartet Convention, at the Great Western Gospel Music Fan Festival, at the Cove and at Singing in the Sun in addition to around 150 solo dates annually.
Count Me In
, distributed exclusively through EMI CMG Distribution, will be available at online outlets, including iTunes, and is currently available for pre-sale at Amazon.com and ChristianBook.com.  It will also be available in retail stores where Christian music is sold.  For further information regarding The Hoppers, please visit
www.thehoppers.com
.
Please visit www.
Facebook.com/TheHoppersOfficial
to view special behind-the-scenes videos from The Hoppers' time in the studio, or visit them on Twitter: @CDeanHopper, @KarlyeHopper, @HoppersMusic.
Tags:
Gaither Gospel Series
,
gospel music association
,
Mychael sykes
,
national Quartet Convention
,
singing news fan awards
,
Southern Gospel News
,
Spring Hill Music
,
The Hoppers
Posted in
announcements
,
new music
|
Comments Off

on Fans 'Count On' an All-new Dynamic Release from The Hoppers
Written by SGN Scoops on September 18, 2012 – 11:08 am -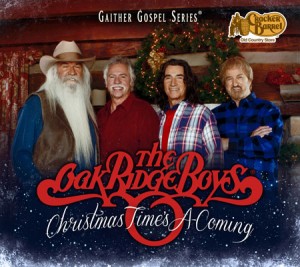 Nashville, Tenn. (September 17, 2012) – The legendary Oak Ridge Boys will be filling the holiday season with the celebrated sounds of their Christmas Time's A-Coming CD (Gaither Gospel Series). The album is set to launch on September 25th. An exclusive version of the CD is now available at Cracker Barrel Old Country Store®, featuring two heartwarming bonus tracks that capture the meaning of the season. The masterful blend of new and traditional yuletide tunes is enhanced by the powerhouse group's renowned four-part harmonies. The Christmas Time's A-Coming album marks the Oaks' sixth holiday CD. In November, the Grammy-winning group will be kicking off its storied Christmas tour of more than 20 years.
"The Oak Ridge Boys love Christmas music. For us, Christmas is about family, home, singing, happiness, love, kids and gifts.  But, the main thing Christmas is about is the birth of Jesus Christ; when time quit numbering backwards and started counting forward.  No other man has ever walked this Earth who reversed time. So, although we love singing the fun songs, the spiritual songs about "the birth" are very real for The Oak Ridge Boys," says lead singer Duane Allen.
"We are so excited about our new album, Christmas Time's A-Coming. As usual, we have a nice mix of songs that we are looking forward to adding to our Christmas show and tour starting in November. Once again working with the youthful acoustic driven mind of producer Ben Isaacs and our own Duane Allen, we have come up with, perhaps, our greatest Christmas collection yet," says member Joe Bonsall.  "From classics like 'Here Comes Santa Claus,' 'Joy to The World' and the title cut to incredible brand new songs like 'Peterbilt Sleigh,' 'Getting Ready For A Baby' and 'Glorious Impossible,' we seriously think that folks everywhere will continue to celebrate the holidays with The Oak Ridge Boys," he adds.
Christmas Time's A-Coming will be available through retail outlets across the U.S., including iTunes and Amazon.com.
For more information, please visit: www.oakridgeboys.com.
Tracks on Christmas Time's A-Coming
1. Let It Snow! Let It Snow! Let It Snow!
2. Peterbilt Sleigh
3. Here Comes Santa Claus
4. Christmas Time's A-Coming
5. White Christmas
6. All I Want For Christmas Is You
7. Santa Claus Is Coming To Town
8. Getting Ready For A Baby
9. Joy To The World
10. Mary, Did You Know?
11. Mary Had A Little Lamb
12. Glorious Impossible
Tags:
Country Music News
,
Cracker Barrel Old country Store
,
Gaither Gospel Series
,
oak ridge boys
,
Southern Gospel News
Posted in
announcements
|
Comments Off

on Oak Ridge Boys Launching Holiday Season with New Christmas CD & Multi-City Tour
Written by SGN Scoops on June 19, 2012 – 4:02 pm -
Emotional Release Marks Randle's Debut Recording with
Co-Producer Ben Isaacs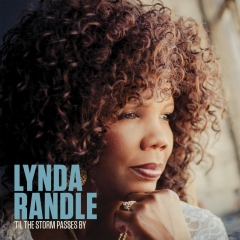 NASHVILLE, Tenn.—June 19, 2012–Gospel recording artist
Lynda Randle
has just recorded an all-new collection of songs entitled
'Til the Storm Passes By
, scheduled to hit the streets on July 31
st
.  Randle teamed up for the first time with co-producer Ben Isaacs (The Gaither Vocal Band, The Oak Ridge Boys) for the new recording, which showcases Randle's deep, transparent vocals highlighted with soulful tones.
The 12-song release marks Randle's first all-new recording in four years and includes congregational favorites "Just a Closer Walk with Thee," "Nothing but the Blood" and "I Have Decided to Follow Jesus"; a new version of the popular ballad "People Need the Lord"; a re-make of the unforgettable pop hit "What a Difference You've Made in My Life"; a crooning performance of the classic title cut; and a bluesy rendition of "Wayfaring Stranger."
With three additional songs written or co-written by Randle, the release, recorded in Nashville, finds the singer, a household favorite on the Gaither HOMECOMING touring circuit, reconfirming an assured faith with gratefulness and hope.
"I was facing many challenges during my time of recording," describes Randle, a resident of Kansas City, "and I feel as if God Himself just 'swooped me up' at times and placed me in front of a microphone and had the whole host of heaven sing for me!  I think Ben and I both knew that something supernatural was taking place; and for me, this release is a dream come true."
In some ways, 'Til the Storm Passes By feels more like a "reality come true" for Lynda, whose rich vocals resonate with the stirring emotion of a singer who has experienced firsthand the messages of her songs.
"My family and I have experienced so many spiritual and personal storms over the past two-and-a-half years," she explains, "and God has held us close through every single one and brought us safely to the other side.  'Til the Storm Passes By' is not just a line of an old song to me.  It's a testament of God's faithfulness in my life. He always keeps His promises.  Knowing the limitations of my own strength, all I can say is, 'But God….'"
"When the label and Lynda approached me about producing this release, I immediately had a vision of where I wanted Lynda to go musically, and it was really fun to watch that play out in the studio," recalls Isaacs.  "Lynda's voice is multi-faceted.  This release captures the depth of her vocals, and there is a spaciousness about it that accentuates those vocals beautifully."
'Til the Storm Passes By, the newest release in the Gaither Gospel Series, will be distributed through EMI CMG Distribution and will be available through digital stores and at retail stores everywhere.  The release will be positioned heavily at retail, through catalog placement and through a direct tv campaign on networks including GAC, RFD, TBN, FamilyNet, CTS, CTN, TCT, TLN, FFE Airtime 1, Grace, Legacy, Miracle and Vision as well as on Gaither.com.
For further information, visit www.lyndarandle.com.
Tags:
Ben Isaacs
,
Family Net
,
Gaither Gospel Series
,
Gaither Music
,
LYNDA RANDLE
,
oak ridge boys
,
Southern Gospel News
,
tbn
Posted in
announcements
,
new music
|
Comments Off

on Gospel Songstress Lynda Randle to Release All-new Recording
Written by SGN Scoops on June 4, 2012 – 4:44 pm -
Legendary Group Joins Producer Ben Isaacs to Capture Gospel Music Roots
NASHVILLE, Tenn.–The Oak Ridge Boys recently released an all-new Gospel recording entitled Back Home Again (Gaither Music Group).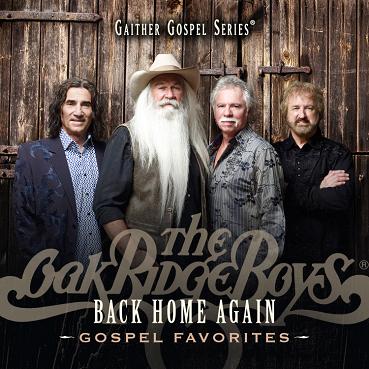 The 12-song release, produced by Ben Isaacs (Gaither Vocal Band, The Isaacs), features an organic, "rootsy" approach to Gospel favorites new and old and finds this multi-award winning quartet back where it all began for them with faith-based lyrics and rich, four-part harmonies.
"It is a natural part of our career to continue with the music of our first love—Gospel music, which is the foundation of our harmonies," describes Oaks' member Duane Allen.  "We tried to find great songs and record them in the way they affected us when we first heard them.  We poured our hearts and souls into these songs and 'let them happen' with a natural approach."
Part of that process included the group's teaming up with Isaacs who stated, "The mere fact that I was able to work with legends like The Oak Ridge Boys was an honor.  Falling in love with their different personalities and learning what makes them click was a blast for me.  I wanted to capture the stage energy and close harmonies that they have during their live appearances on this recording.  I tried to keep that 'live buzz' with a ton of energy in the vocals."
Those raw, heartfelt vocals can be heard on classics such as "Why Me"; "Coat of Many Colors," the classic Dolly Parton hit; "River of Jordan"; "Standing in the Need of Prayer"; "In That Great Gettin' Up Mornin'"; the title cut, "Back Home Again," originally recorded by John Denver; and the first radio single "Lead Me to That Rock." 
Back Home Again, which has an acoustic, raw feel that accentuates the group distinctive blends, has been featured in recent weeks on networks including GAC, RFD-TV, Trinity Broadcasting Network (TBN), GRACE TV, Vision Television, Family Friendly Entertainment and CTS.  The Oak Ridge Boys plan to feature songs from the release during their upcoming performance on The Grand Ole Opry, and they will be highlighting it during their upcoming appearance during CMA Fest at the Country Music Hall of Fame in Nashville, TN.   
Back Home Again is curently available online and at retailers everywhere and is distribued by EMI CMG Distribution. For further information, visit www.oakridgeboys.com or Twitter.com/OakRidgeBoys or www.facebook.com/oakridgeboys.
ABOUT THE OAK RIDGE BOYS
The Oak Ridge Boys, who have sold over 30 million units, are a name that has become synonomous with "America, apple pie, baseball and Gospel music."  In addition to their awards and accolades in the country and pop music field, they have garned four Gospel GRAMMY Awards and nine GMA DOVE Award as well as the Mainstream Artist of the Year Award at the ICM Awards.  They are members of the GMA Hall of Fame as well as The Grand Ole Opry, and they are recipients of the President's Award from the Southern Gospel Music Guild.  The group is featured regularly on the Gaither HOMECOMING Series and are legendary pioneers in the worlds of country and Gospel music.
Tags:
Ben Isaacs
,
Christian Country Music
,
Gaither Gospel Series
,
Gaither Vocal Band
,
oak ridge boys
,
Southern Gospel Music
,
Southern Gospel News
Posted in
announcements
|
Comments Off

on The Oak Ridge Boys Go "Back Home Again" for an All-NEW Release