Written by Staff on March 26, 2018 – 3:19 pm -
All-new CD and DVD Recordings Commemorate the Music of The Chuck Wagon Gang, Gaithers, Happy Goodman Family, Rambos and Speer Family
NASHVILLE, Tenn.—March 26th, 2018—Gospel Music Hall of Fame members and award-winning family group The Hoppers have just recorded an all-new CD and DVD in commemoration of some of gospel music's legendary pioneers who paved the way before them. Produced by gospel music icon Bill Gaither, along with award-winning, veteran producer Michael Sykes, The Hoppers: Honor the First Families of Gospel Music (Gaither Music Group), which is scheduled to release on April 6th, pays tribute to classic hits originally recorded by The Chuck Wagon Gang, Gaithers, Goodman Family, Rambos and the Speer Family.
"This was Bill Gaither's idea and it was a good one!" stated group matriarch Connie Hopper as she remembered these groups' impacts on The Hoppers. "The Chuck Wagon Gang was the first gospel music I heard on the radio growing up. Later, after we began traveling and singing, I had the opportunity to meet Rose, Anna and Roy Carter. It is our privilege to honor The Chuck Wagon Gang on one of their great classics 'Lord, Lead Me On.'"
Other classic tunes chosen for the release include "God Walks the Dark Hills," "Gentle Shepherd," "I'd Rather Have Jesus," "I Wouldn't Take Nothing for My Journey," the first radio single "Be an Overcomer," "He Looked Beyond My Fault" and more.
"Bill [Gaither], along with all The Hoppers, agreed we should musically stay true to the songs as they were first recorded by the original artists," stated soprano Kim Hopper. "Vocally we are very different from these artists, so naturally we gave these songs a different sound."
That acclaimed Hoppers' sound was inspired by many of these pioneering gospel music families. Connie recalled, "We were in concert with the Rambos in SC. I was in my seat listening intently when Buck stepped to the mic to tell the crowd that Dottie had just written a new song—'He Looked Beyond My Fault.' It was indeed a special moment."
"I was fortunate at a young age to be traveling with my family during the years these honored family groups were in their prime," said Dean Hopper. "You might say I had a front row seat to greatness. I spent time on their buses, and some even visited our home to sit down for my mom's home cooking. We had many conversations before the concerts, and then I watched the crowd respond as these honored families brought life to these great songs. These are treasured memories."
Group leader and bass singer Claude Hopper shared another special moment inspired by the Speer Family, "In 1956 I attended my first concert in Winston Salem, NC. The Speer Family was among the featured artists that night. Dad Speer was singing the song 'I'm Bound for That City.' He walked the stage rubbing his hand through his white hair and singing with such passion and conviction I thought he was going to that city that night, and I wanted to go with him. That concert inspired me to sing this music. Sixty-one years later I'm still doing it."
A family group who has been blazing musical trails for over 60 years, The Hoppers are a mainstay in gospel music. For decades their recording and performing have been inspiring new generations of up-and-coming artists. They have garnered over 25 Favorite Groups Awards, six Favorite Alto Awards, 40 Female Vocalist Awards and five Favorite Musician Awards. Their talents have taken them from the stages of Carnegie Hall and the Gaither HOMECOMING tours to platforms in Israel, Europe and Africa; and their radio hits are a mainstay at the top of The Singing News radio charts.
The group's DVD release The Gaither Gospel Series: The Best of The Hoppers (Gaither Music Group) soared to #2 on Billboard's video chart while the CD entered the Billboard Heatseeker chart at #4. Additionally, the CD entered the Nielsen SoundScan Southern Gospel chart at #1 and the Contemporary Christian chart at #10.
The group, led by Southern Gospel Music Association Hall of Fame members Connie and Claude, maintain a heavy touring schedule, performing on the Gaither HOMECOMING video series, at the National Quartet Convention, at the Great Western Gospel Music Fan Festival, at the Cove and at Singing in the Sun, in addition to around 180 solo dates annually.
The Hoppers: Honor the First Families of Gospel Music is distributed by Capitol Christian Music Distribution and Universal Music. The 90-minute DVD features a behind-the-scenes interview with the group hosted by Gaither. The DVD and CD will be available at retail and digital outlets worldwide including iTunes, Amazon, www.gaither.com and www.thehoppers.com. It is available for pre-sale now at www.amazon.com, www.cbd.com, www.gaither.com and www.thehoppers.com.
The new recording will air as a television special on RFD-TV, TBN, Gaither Television Network, PBS, DISH TV, DirecTV, FamilyNet, CTN, GMC, GMTN, Guardian, Liberty, TCT and TLN. It will air in Canada on Vision TV, CTS, The Miracle Channel and Hope TV. It will be promoted via a social media campaign, positioned in retail/e-tail outlets everywhere, featured in the Gaither Catalog Collection and on the Gaither web site and aired on the "HOMECOMING Weekly" program on Sirius XM.
The LIVE performance video of "Be an Overcomer" is also featured on the recent CD and DVD release A Few Good Men (Gaither Music Group), which features the Gaither Vocal Band, The Gatlin Brothers and The Oak Ridge Boys. For a preview of "Be an Overcomer" visit: https://www.youtube.com/watch?v=dAmJpP2SnYY
For further information regarding The Hoppers website.
The Hoppers: Honor the First Families of Gospel Music Song Listing (CD and DVD):
1. Be an Overcomer
2. Lord, Lead Me On
3. God Walks the Dark Hills
4. I'm Longing for Jesus to Come Back
5. One More River
6. He Is Mine and I Am His
7. I Wouldn't Take Nothing for My Journey
8. I'd Rather Have Jesus
9. He Looked Beyond My Fault
10. Some Glad Day
11. Gentle Shepherd
Download The PDF Version Of SGNScoops Magazine HERE
Find SGNScoops Magazine On Facebook HERE
Listen Online To The Best In Todays Gospel Music HERE
Tags:
gaither
,
Gaithers
,
Goodman Family
,
hoppers
,
Rambos
,
Speer Family
,
The Chuck Wagon Gang
Posted in
announcements
,
artists
|
Comments Off

on GMA Hall of Fame Members The Hoppers Pay Tribute to Gospel Music Pioneers
Written by SGN Scoops on October 22, 2013 – 9:12 am -
Defiance, OH (October 22, 2013 The Tacketts from Defiance, OH, performed twice on Saturday, October 5th at Bill and Gloria Gaither's Annual Fall Fest at Gaither Family Resources in Alexandria, IN. They shared the stage with The Browns, Reggie and Ladye Love Smith, and Woody and Vonnie Wright.
"
We are so excited for what God is doing through our ministry" Jeff stated." God bless you and we thank everyone for your continued support and prayers!"
They left the Gaither Fall Fest and traveled to Taylortown Community Church, in Shelby, Ohio for a CD Release Concert. The concert was held at Jeff's father's Church, Rev. Doug Tackett. The new project, 'Miracles Never Cease' was released at NQC this year and the title song for the project was written by Jeff"s father. The CD Release Concert was held on Sunday October 6th during the morning service.
For more information on the Tacketts go to http://www.tackettmusic.com or https://www.facebook.com/pages/The-Tacketts .
You can reach the Tacketts by E-mail at The Tacketts <trio@tackettmusic.com> .
Tags:
Gaithers
,
Southern Gospel News
,
The Tacketts
Posted in
announcements
|
Comments Off

on Tacketts Sing at Gaither Fall Fest
Written by SGN Scoops on November 3, 2011 – 12:27 pm -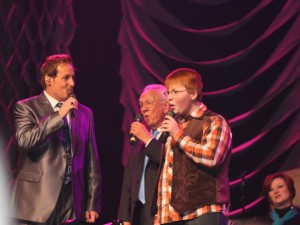 {EHA-Nashville, TN} Gold Rush Music Group, of Dahlonega, GA, has signed Gaither Artist, Logan Smith. Owners of Gold Rush Music Group are Debra Perry (formerly of the Perrys) and her husband, Christopher. Logan's project will be available by the end of December. "We are excited to be working with such a talented artist," notes the Reed's. For more info on Logan Smith and Gold Rush Music Group, visit: http://www.goldrushrecordingstudio.com
Tags:
Gaithers
,
Gold Rush Music Group
,
Logan Smith
,
Southern Gospel Music
,
Southern Gospel News
Posted in
announcements
|
Comments Off

on Gaither Artist, Logan Smith Signs With Gold Rush Music Group