Written by SGN Scoops Staff on March 15, 2017 – 10:12 am -
(Coastal Ridge Communications) Orlando FL – Recently the trio known as Georgia, celebrated their recent radio success with friend and songwriter Dr. Pope. Georgia has been in Southern Gospel Music for over 40 years and is starting to see a resurgence on the charts. Over the last thirteen months, the group, which consists of Terry Dale, David Presley and Reggie Smallwood, has had three consecutive top 40 hit singles.
Terry Dale, owner and tenor singer, states, "We feel blessed that radio has embraced our music. My good friend and prolific songwriter, Dr. Pope, has written some great songs that we have been so thankful to be able to record and release nationally. Our group wants to thank him for all that he means to us."
The group's recent single, Do You Know Him, written by Dr. Pope, has been climbing the charts. "I just want to write songs that make a difference in people's lives. I've had success in the secular world, but I have felt the Lord telling me to use my talents for Him", adds Dr. Pope.
For more information on Georgia go to www.georgiagospeltrio.com
To schedule interviews with this trio, email their radio promoter, Richard Hyssong, at richardhyssong@yahoo.com.
Tags:
Georgia
,
Southern Gospel News
Posted in
artists
|
Comments Off

on Georgia Celebrates Recent Radio Success
Written by scoopsnews on September 30, 2015 – 7:17 pm -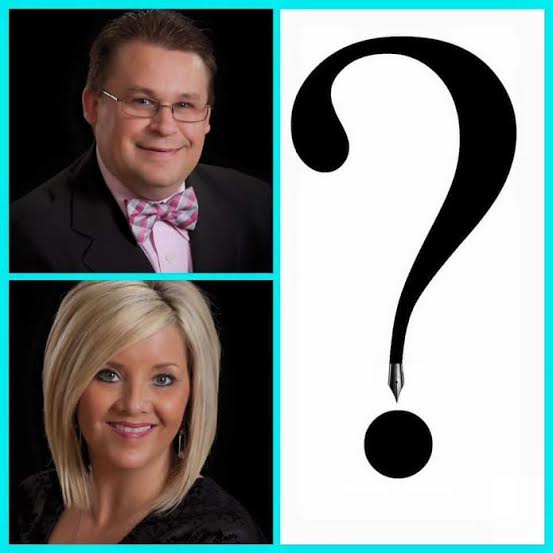 Common Love Trio is a mixed group based out of Douglasville Georgia. We are seeking a Female Soprano to complete our ministry team. The new team member must live the Christian lifestyle and be able to commit in serving the Lord each weekend. The ideal candidate must be a non smoker and must be able to maintain the Soprano part correctly. If you are interested in the open position please contact Todd Johnson at 678-858-9849. www.commonlovetrio.org 
Tags:
Common Love Trio
,
Georgia
,
southern gospel
Posted in
announcements
|
Comments Off

on Common Love Trio is Calling All Sopranos
Written by SGN Scoops Staff on September 9, 2015 – 10:44 pm -
The year 2015 marks the 40th anniversary of the group "GEORGIA". This dynamic trio consists of David Presley, lead; Reggie Smallwood, baritone; Terry Dale, tenor and Rodney Dale, driver and sound engineer. Terry Dale, owner and founder states, "After all of these years the group is still going strong. Our goal has always been to reach as many for Christ as possible."
One of their many outreaches include their radio program "The Georgia Gospel Showcase". Thousands listen each Sunday morning starting at 7:00 am est. on WCON, 99.3 FM in Cornelia, GA.
The group has been honored with several awards within the gospel music industry. In 1984 the Southern Gospel Music Association voted GEORGIA best male group of the year. Their hard work and determination to make a difference was recognized by former Governor Joe Frank Harris, as he declared the group "Goodwill Ambassadors for the State of Georgia."
Their current radio single, "That's Why I Love Him" is skyrocketing up the charts. For the month of September 2015, the song came in at #10 on the SGNScoops Top 100.
For forty years the Lord has truly blessed this trio and they are looking to the future with great anticipation.
For more information and to reach Georgia go to www.georgiagospel.com
Tags:
Georgia
,
southern gospel
,
Southern Gospel News
,
That's Why I Love Him
Posted in
announcements
|
Comments Off

on GEORGIA CELEBRATES 40TH YEAR!
Written by SGN Scoops Staff on April 12, 2015 – 1:24 pm -
The Jeff & Sheri Easter 7th Annual Homecoming at the Lewis Family Homeplace, 1935 Lewis Family Road, in Lincolnton, Ga. is Thursday-Saturday, May 7-10, 2015
The event features two-time Grammy nominees and six-time Dove winners Jeff & Sheri Easter with Dailey and Vincent, The Bowling Family and Little Roy Lewis and Lizzy Long Show on Thursday at 7 p.m., The Isaacs, Primitive Quartet and Lewis Tradition on Friday at 7 p.m. and Karen Peck and New River, The Easter Brothers, The Browders on Saturday at 6 p.m. Adult admission is $20 and an additional love offering will be received. 12 and under are free. Attendees should bring a lawn chair. Concessions will be available for sale. A portion of the proceeds will benefit the non-profit Lewis Family Homeplace Restoration Fund honoring the career of Georgia's three-time Hall of Fame members The Lewis Family. The will also be a talent contest on Saturday afternoon at 1 p.m. with registration on line. James Easter will host a Sunday morning service May 10 at 11 a.m. For more information, call (706) 359-1997 or visit www.jeffandsherieaster.com.
Tags:
Georgia
,
Jeff & Sheri Easter
,
Southern Gospel Music
,
Southern Gospel News
Posted in
announcements
|
Comments Off

on Jeff & Sheri Easter 7th Annual Homecoming
Written by Staff on December 9, 2014 – 12:29 pm -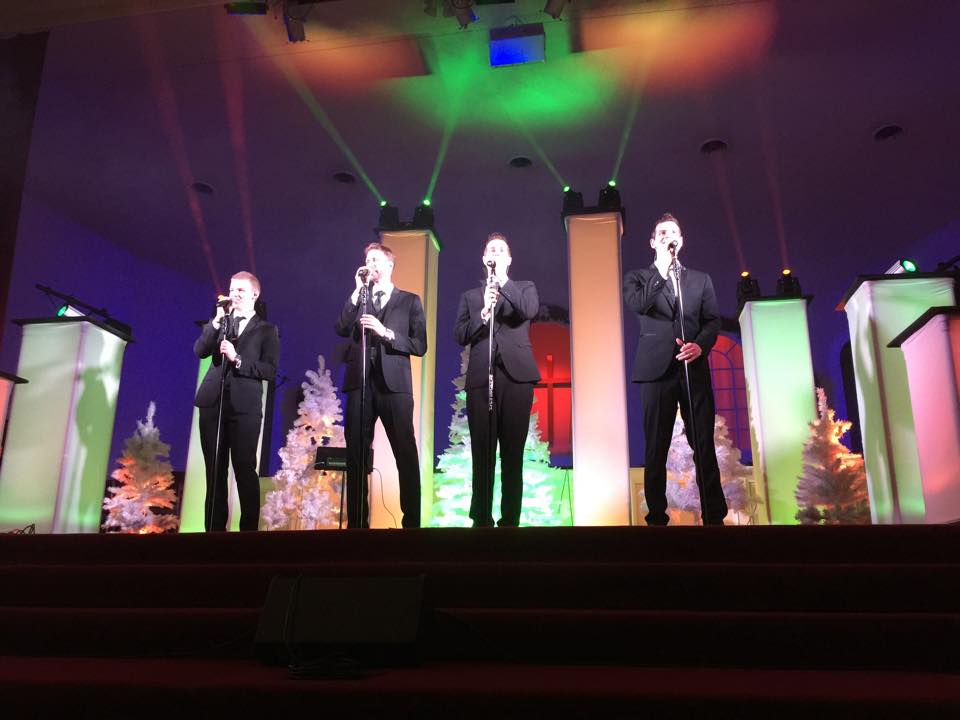 By Robert York
On December 6th, 2014, the Ball Brothers brought their Christmas Tour to Kennesaw, Georgia. This is their seventh year of doing the Christmas Tour. They were returning from Canada where they were in minus 16 degree weather and glad to be in the south where it was a little warmer. They carry lights, Christmas trees and a set with them on tour which also includes two snow machines.
The Ball Brothers arrived at Shiloh Hills Baptist Church around 2:30pm. We had just picked up a big sack of Arby's sandwiches for them and Daniel gobbled two of them down before they started unloading. Each of them had a specific task to do. Trees were set up, then the lighting stands and lights were put up. They had two bars of led lights with four lights on each as well as 12 revolving lights on top of the stands. Sound check was next. They finished all this in about two and half hours for a 6:30 concert time.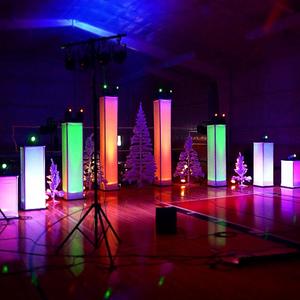 The Brothers opened the concert with Joy To The World, sang numerous Christmas songs and included a few of their other hits mixed in the program. They used the snow machines on a few songs that were snow related and it was so much snow that Daniel made a snow ball and threw at Andrew. Daniel and Andrew mixed up a lot of comedy scattered through out the program. After the first set they took an intermission and came back afterwards to conclude the program.
I have done concerts for the past 12 years, including two years at Shiloh Hills Church in Kennesaw, GA. There were about 50% of the folks there that had not been to one of the concerts I've promoted. Most were from the Metro area but had some from TN, SC and one from Broken Arrow, OK.
The Ball Brothers spent the night at the Church after taking down their set and sang for the Sunday morning worship service before heading to North Georgia for a concert that evening. They will be hitting the road again on Thursday Dec 11 for another northern state tour including IL, OH, IN, MI and TN. You can check their website www.theballbrothers.com for their schedule. If they are within driving distance you need to catch the concert.
Tags:
Ball Brothers
,
Christian Music
,
Christmas songs
,
Georgia
,
gospel music
Posted in
announcements
,
artists
,
concert reviews
|
Comments Off

on Ball Brothers Christmas Concert In Georgia
Written by Staff on September 19, 2014 – 1:45 pm -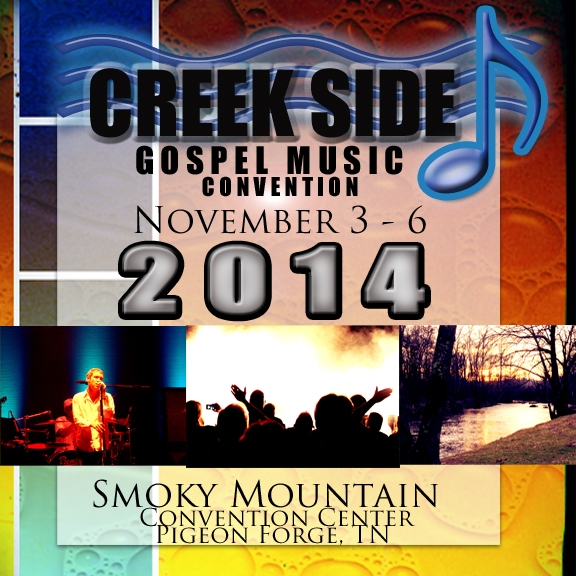 Pigeon Forge, TN.(September 19, 2014) – WATC Television out of Atlanta, Georgia, has announced they will be covering the SGNScoops' 2014 Creekside Gospel Music Convention and   Diamond Awards Celebration at Pigeon Forge, Tennessee on November 3rd and 4th. The television station, which also streams their programs on the web, will be at the Smokey Mountain Convention Center to record the Monday night presentation, "Lou Hildreth Honors Willie Wynn" as well as Tuesday night's Diamond Award celebration, the event to honor Gospel music's finest artists as chosen by the readers of SGNScoops digital magazine. Many of these special moments will be shown on a TV Special and viewed online at www.watc.tv at a later date to be announced.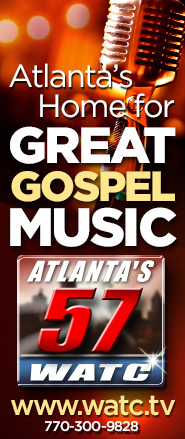 Coastal Media Group is hosting the Creekside Gospel Music Convention, which takes place from the 3rd through the 6th. As well the special events mentioned above, the Convention includes daily Chapel services, specialty showcases and evening concerts.
Patricia Mathis, Vice President of WATC TV, Atlanta's TV 57, is looking forward to returning to Pigeon Forge. "It's exciting to once again be a part of the Creekside Gospel Music Convention and for being able to share this with the viewers of WATC TV in Atlanta," says Mathis. "While it is nothing like being in the audience at Creekside, we are glad that we can bring a little part of Creekside and the great gospel music being performed there to our audience. Creekside just keeps getting bigger and better ever year!"
Rob Patz, CEO of Coastal Media Group and publisher of SGNScoops commented, "We are grateful to Patricia and WATC for their professionalism, experience and dedication in airing quality Gospel music programs. We are thrilled that they are returning to Creekside and we are glad to be able to share some of Creekside with fans across the nation and the world by television and internet."
About WATC TV: WATC TV provides Atlanta with a mix of family, Christian and educational programming. It is known to viewers as the home of Atlanta Live and is seen over the air throughout the metro Atlanta market and also in over one million cable and satellite homes. WATC is the home of many original series and has been honored with numerous Angel and Telly Awards, as well as receiving it first EMMY in 2010. The station's programming can be seen around the world via video streaming located on the WATC website at http://www.watc.tv/
About Creekside Gospel Music Convention: Creekside Gospel Music Convention will be held at the Smokey Mountain Convention Center, Pigeon Forge, Tennessee from November 3rd through 6th, 2014. The CGMC is presented by SGN Scoops and Coastal Media Group at Pigeon Forge and is the home of The Diamond Awards and other special events. Tickets are free but must be reserved in advance at http://www.creeksidegospelmusicconvention.com/ . For more information on Creekside Gospel Music Convention visit https://www.facebook.com/Creeksidegospelmusicconvention
About SGNScoops: SGNScoops Digital is a fully-downloadable monthly magazine that exists to promote the gospel by unveiling what is intriguing and real about Southern Gospel and Christian Country music. SGNScoops offers music news and views as well as concert and book reviews, inspirational articles and features reaching beyond our gospel music world. For more information: https://www.sgnscoops.com/
# # #
If you'd like more information about the Creekside Gospel Music Convention, The Diamond Awards or SGNScoops, or to schedule an interview with Rob Patz, please contact Rob Patz at 360.933.0741 or e-mail Rob at rob@sgnscoops.com
Tags:
Atlanta
,
Channel 57
,
coastal media
,
Creekside Gospel Music Convention
,
diamond awards
,
Georgia
,
gospel music
,
rob patz
,
sgn scoops
,
southern gospel
,
WATC
,
Willie Wynn
Posted in
announcements
,
artists
,
sgn scoops magazine
|
Comments Off

on WATC To Cover 2014 Creekside Gospel Music Convention And Diamond Awards