Written by Staff on December 7, 2018 – 3:34 pm -
It is early morning and I'm (Selena Day) surrounded by "Get Well" cards and medical paraphernalia sent home for us from the hospital. I am extremely grateful that what was meant for evil has turned into our good.
About three weeks ago, Chuck (Day) called me from Louisiana; he was singing at a men's conference and I had decided to stay at home. He asked me to pray for him as his chest was hurting very badly. I prayed and told him to call me first thing in the morning.   
After he came home, we decided to visit our local hospital. In the ER, everything seemed good. His nurse told us that his troponin enzymes were negative. I asked what this meant and she said that it was a good thing. After many tests, we were told that his heart showed no damage nor any swelling but they wanted to keep him overnight to watch and do a stress test the next day, letting the heart doctors take a look at him.  
We were very hopeful, thinking that in the worst-case scenario, he would need a stint in his heart. He failed the stress test and the cardioecogram, and they went in to do a heart catheter. The procedure lasted for 30 minutes after which life tilted and everything started moving at a very fast pace in slow motion.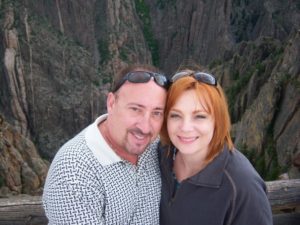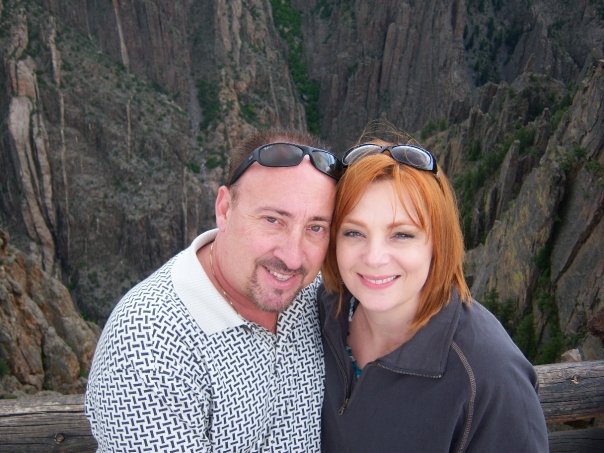 I love how God knows how to meet us at every step of our journey. When they rolled Chuck back for the heart catheter, a young man came and found me and told me that God had wanted him to give me something. It was a rubber band bracelet that had Ez. 37 (The Valley of the Dry Bones) with prophesy written on it as well as the phrase: "The Hand of the Lord is upon You."  
I kept the bracelet on while Chuck was in the hospital. I believe that it was God's instructions to me during this time. God told to Ezekiel to prophesy that those dry bones should live. This scripture has been a very poignant story over the years in my journey with God and he reminded me once again to prophesy into my life.
After the procedure, I knew from his face that it wasn't good. In fact, those were the first words out of his mouth, "It's not good." The doctor came in and started using phrases that spoke death to me: "You need to get your family together;" "Make hard decisions;" "Life-changing;" "Transferring you to another hospital."
There were other people in the room with us, angels in my recollection. They talked us through this process calmly and helped us to focus on life and not death.  
When we encounter adversity that shakes us deeply, it is amazing how God shows up even when we fail to notice it is him; from nurses, friends, fans and even strangers, each one shared a little piece of Christ into our lives.  
I sit here writing this and I feel a little overdramatic writing these words, but when you are talking to a doctor about your husband's profession and they tell you that there is a small chance that his vocal cords could be damaged and that there is a risk to heart surgery, it feels overdramatic to you.  
Chuck has been professionally singing since he was 10 years old. That is just who he is. If something had happened to his voice it would have been like losing a hand or foot. So in the midst of this, I made a choice not to focus on the negatives of the 'what ifs', but to look toward the voices and people God sent our way to bring hope.  
Never underestimate your power of just saying, "It's going to be okay." Never underestimate your power of hearing the Father's voice and sharing your story. Never underestimate the power of giving a small amount to help.  
We set up a GoFund Me site because we had no idea how long Chuck would be down and unable to travel or sing. I am so moved by all the people that gave whether large or small. Never underestimate the power of the widow's mite.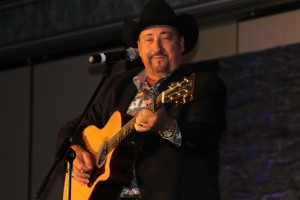 I watched them roll my husband back for surgery and I thought I was handling it pretty well, until I had to rationally talk to a stranger to ask questions and then the tears started to flow. I was all alone because I had left my support people behind due to an elevator not working properly. This stranger simply walked from behind her desk and hugged me, telling me that I was in the exact, right place and that their hospital was top in the nation for heart procedures. Never underestimate your power to comfort a stranger. She was exactly what I needed at that moment.  
I had two friends that stayed with me pretty much the whole time Chuck was in the hospital, one who drove nine hours and took off a week from work to come and help me.  Never underestimate your power to be a friend when someone needs it. They were my "Aaron and Hur," holding up my hands when the battle became weary to me.
I will never forget in the dark early morning hours God reminding me that how we at the last minute chose a song Chuck wrote many years ago to release to Southern gospel radio in November entitled, "The Healing Stream." Never underestimate the peace of God's gentle reminders in your life.
As I sit here in the quiet of the morning, I am grateful at how well Chuck is doing. I am not sure how our life has changed, because we haven't ventured out into that life. We are timidly sticking our toes into the water of our new life, but I covet your prayers. If I know one thing that made the difference in our journey, it was the prayers of the believers standing with us for victory over our battle.  
As we enter the Christmas season celebrating the birth of our savior remember that he is not just a baby, he is not just a martyr…He is alive and he is a king, working in your life, and he has a plan for you.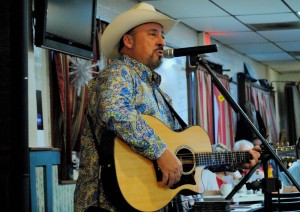 Access your right in the kingdom because during this season that is what I learned. God can and will use anything and everything to work what was evil for your good.  
My heart may feel weary, but I am walking that truth every day and I am happy and I am grateful. God is with me.  
Selena Day is a motivational speaker and is available to speak at your conference or event.  You may contact her at selenaday@me.com http://www.queenliving.org http://facebook.com/queenismsbyselenaday. Photographs courtesy of Selena Day.
Note from the Editor: Hey SGNScoops readers! Let's bless Chuck and Selena Day and their family by helping them reach their goal with Chuck's GoFundMe account. Please click on this link to bless them this Christmas.
Tags:
christian country
,
Christmas giving
,
Chuck Day
,
Giving
,
Selena Day
Posted in
announcements
,
artists
|
Comments Off

on Christian Country artist Chuck Day in recovery
Written by Staff on December 29, 2017 – 8:42 am -
Paul Roark, husband of Jetta and father to Shane and Travis, was a generous man who loved to give to others.
Travis shared from his heart, "When dad passed away, instead of flowers, we placed money into a fund to help make Christmas special for some local kids who would otherwise not have gifts to open at Christmas. This has become a tradition for our family."
The Paul Roark Memorial Children's Christmas Fund is supported by the generosity of some private donors and the items sold at Christmas in the Smokies. Chapel Valley matches the donations and sales and that money is used to bless local families in need each Christmas. Shane stated, "God blessed us with the ultimate gift, His Son. Christmas isn't the same without Dad here, but I'm so thankful that we were blessed with a father who taught us how much joy there is in giving to others."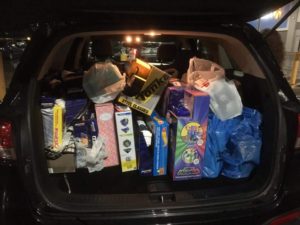 This year, five children ages 3-9 were recipients of the gifts from the Paul Roark Memorial Children's Christmas
Fund. "Paul may not be here to help us deliver the gifts to these special little ones, but his spirit of generosity and love inspires us as we continue to share this Christmas joy," shared Jetta.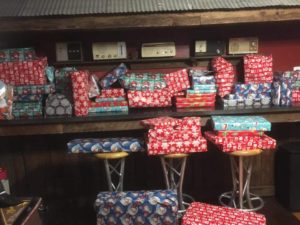 Merry Christmas to you and your families as you celebrate Christmas together!
More Gospel music news here.
Newest SGNScoops Magazine featuring your favorite artists here.
Listen to our Online Gospel music station here. 
Tags:
christmas
,
Giving
,
Paul Roark
,
Roarks
Posted in
announcements
,
artists
|
Comments Off

on Season of Giving: A ROARK FAMILY CHRISTMAS TRADITION
Written by Staff on December 21, 2015 – 3:41 pm -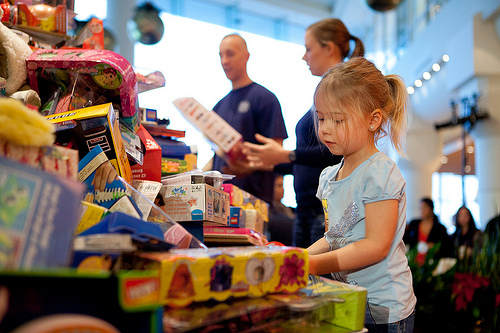 During this time of year, my solo concerts and teaching seminars slow down. The pace allows me to volunteer more and be a bit more involved with my family and friends.  Either way I win, so I embrace the moment of life given. It is Christmas!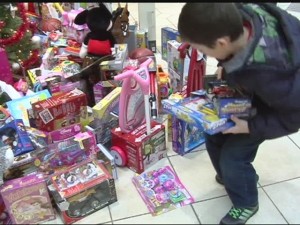 Over the weekend, during my volunteer work at the Toys for Tots Warehouse, my patience and last nerve was fully tested. With over countless people coming through building, the noise, clutter, mishaps, running children, squeals and even some discontented parents started to wear on my last nerve. But as the song says, "Put on a Happy Face!" and that we did.  Even when sorely tested, the lull of the Christmas music, the smiles and even an occasional hug offset most of the issues.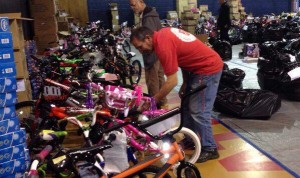 As the afternoon was winding down, a lady with three children came into the warehouse. I saw the children and thought well, maybe someone else will help them. I went back to clearing up some clutter and was about my business.
After a few minutes the lady was still near the front door looking but not touching. Her children were close and had those big brown eyes that just sparkled. She looked around, a bit lost and frazzled. As much as I wanted to finish and leave for the day (I was tired!), I asked if I could help her. I could tell she seemed a bit down but was trying to make the best of the moment.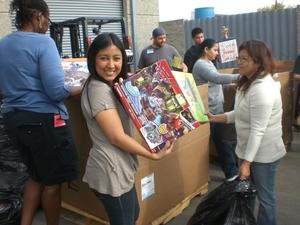 As I walked closer toward the family, I heard her say to the children, "Boys, be good and don't be rowdy! Daddy's watching!"  She asked about the Tonka Trucks, a fire engine, and if we had airplanes. Of course we had lots of toys. People had given liberally this year and it seemed we had plenty.
I took over to the cars and trucks. As the boys looked in awe, I asked their ages. She politely replied with a big smile, 11, nine and six.  She gave their names, but I really did not listen well. The youngest boy pointed, saying that was "the one Santa was gonna bring him."  The middle boy saw the fire trucks and ladder rigs; he said that was what he wanted for Christmas. The oldest walked around until he found an Air Force plane that was about as big as he was.  He stood there just looking and smiling. They were well behaved and polite. They had manners. This was not so bad after all.
As Mom and I talked, I asked her why she had said, "Daddy's watching?" when clearly she and the boys were alone. At that moment, she turned quiet for a bit with a faraway look in her eye. In a low somber voice, she said, "This is the first Christmas we've ever had alone. Their Daddy was killed in the middle east by a car bomb. It happened just after he went back last Christmas."
I stood there. I was looking for the right words to say. Then the boys came running back and asking about something that went right by me.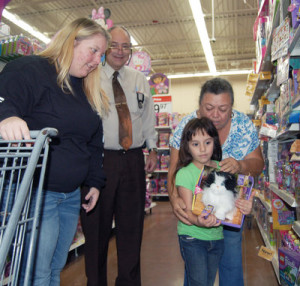 In that very moment, my mind wandered back to a time when my brothers and I would wake up early on Christmas morning just to see what Santa had put under the tree for us. I remembered the smells of cookies, coffee, bacon and my Mom singing in the kitchen. I remember Dad playing with us boys on the floor in front of the Christmas Tree.  At my advanced age, I still smile and am wishful  when I think of those times in that small little house in Deep Gap, NC.
Then someone hollered, " Look out!" I looked around the cold warehouse floor, there the boys played and heard them ask again about GI Joe and bicycles.
As I saw those three boys smiling and just playing in Toyland, I asked the lady how she was doing. With that far-away look in her eye she said, "Not a day passes that I don't think of him, talk to him and sometimes cry." By this time I was getting misty-eyed. She said her families and the locals had really helped out, "But this year was hard." She went on, saying they had to move to a different house after the foreclosure, and that there were delays in getting military benefits for the family. By this time I was stunned, starting to get agitated at a system I knew nothing about.
She knew I was getting agitated. She said, "It's okay! We will go through the process and it will work out. God's got it under His control." I was surprised at that comment. It was not what I expected.  She said, "If it were not for my faith in God and His blessings, I wouldn't have made it this far." Wow, what a sermon was just given to me. Her words were truly a blessing to me.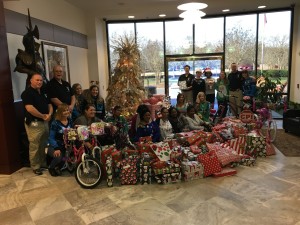 As the boys were taken to other aisles, we loaded her car with the toys they wanted. I got their address to make sure that on Christmas Eve, three shining bicycles will be on their doorstep.  Other volunteers made sure there was food boxes and candies for the boys loaded in that old car. Mom looked shocked at the out-pouring of attention.
I thanked her for her service to this country and to me. She suffered a loss, so that I could be free. It was so Americans in all places could celebrate this one time of year we call Christmas.  Others saluted her while the boys (who I now knew by name) were told how proud their Dad would be of them taking care of their Mom. I can't tell you how I felt when I watched the boys waiving from the back seat as they drove away. God had just given me another Christmas gift.
Now the point. When you least expect it God allows a blessing to come your way that re-affirms your faith. A blessing comes to teach you that your life is never as bad as you think.  A blessing comes to encourage you to live life fully, in the moment.
That family's sacrifice is huge. But still greater, there was a historical sacrifice made for all mankind as our Creator gave His only son, to be born with a life's purpose of being the ultimate universal sacrifice for all. The Christ Child is the only Person in all of mankind that has changed people for good. His teachings and principles are still impacting this world for good. Yes this Christmas we celebrate HIS life in great joy, blessing and thankfulness!
It is with renewed spirit and thankfulness I can say I know that Christ lives today! Merry Christmas to all!
By Charlie Griffin
For more stories and news visit SGN Scoops on Facebook.
Tags:
christmas
,
Giving
,
Toys For Tots
Posted in
christian entertainment
,
Christian interest
,
special feature
|
Comments Off

on CHRISTMAS IS MORE THAN JUST HUSTLE AND BUSTLE