Written by Staff on June 11, 2019 – 4:22 pm -
The Pine Ridge Boys need your help. They wrecked their bus on May 18, 2019, and have been making do, while working with insurance and different types of transportation.
Today, bass singer and group manager, Larry Stewart, is celebrating the birthday of his wife, Anne. This lovely lady isn't asking for anything for herself, rather, she is asking for help for the Pine Ridge Boys.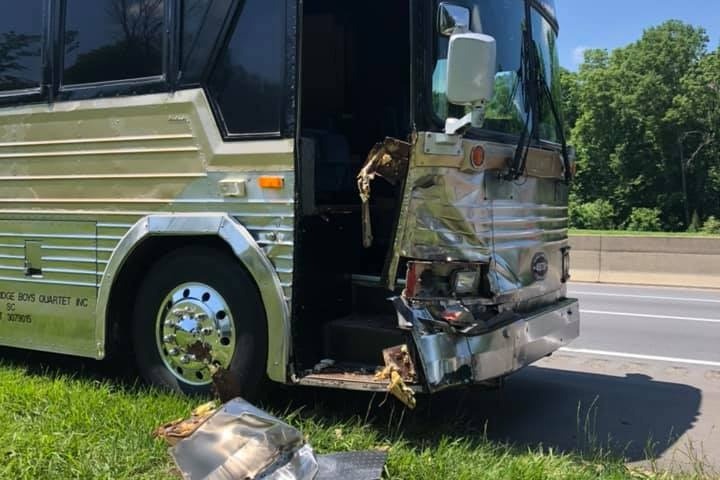 "Yes, today (June 11th) is my birthday. I'm thankful for all the calls and texts but what I would really love is for you to make a donation to the Pine Ridge Boys Quartet Bus Fund."
A Go Fund Me account has been set up to help the group obtain transportation. The site itself, set up by Mark Cash, says, "As many of you may already know we wrecked our bus several weeks ago. Over the years many have said, 'If there is anything we can do to help you, please let us know.' Well, we are letting you know. We are going to have to replace our bus. The damage was enough for the insurance company to total it. We did have insurance on the bus, but with it being a 1979 model, the insurance money that we are going to receive is not enough to buy another bus. We are asking for help. The Bible tells us in Matthew 7:7 'Ask, and it will be given to you; seek, and you will find; knock, and it will be opened to you.' We are asking you to help us pray about our needs. To help us get another bus would you also be willing to make a donation to bus fund?…"
Thank you for helping our friends, the Pine Ridge Boys. You will enjoy their music at the 2019
Creekside Gospel Music Convention
, Oct. 28 – 31, at Pigeon Forge, Tenn. For more information about Creekside, the 2019 Diamond Awards, VIP tickets and accomodations, call Rob Patz at 360-933- 0741.
Tags:
Bus Crash
,
Go Fund Me
,
gospel music
,
Larry Stewart
,
Pine Ridge Boys
Posted in
announcements
,
artists
|
Comments Off

on Please help the Pine Ridge Boys
Written by Staff on October 19, 2015 – 6:02 pm -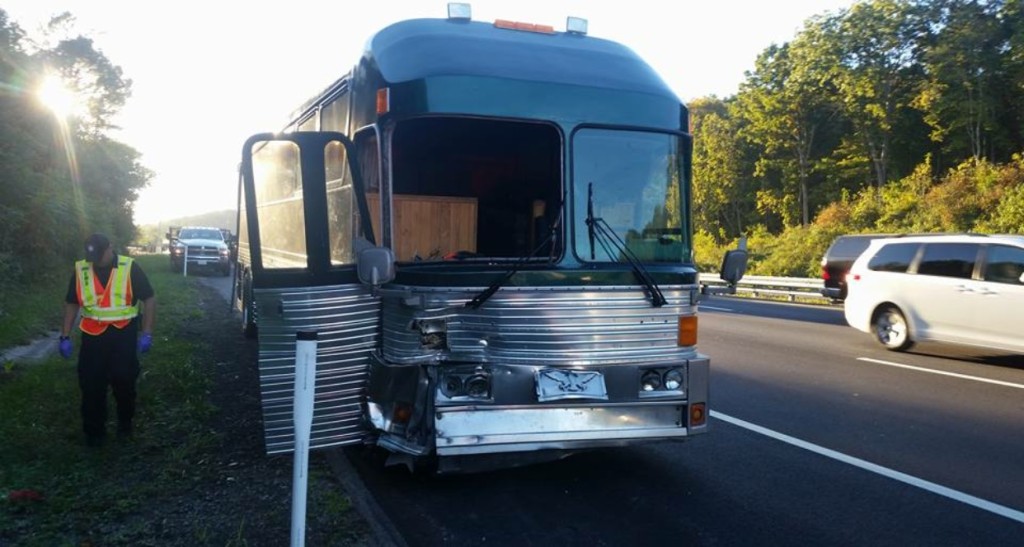 After their bus crash last week, Majesty III has posted on their Facebook page a way for everyone to help them recover.
On October 18, Majesty III posted:
PLEASE HELP US BY SHARING THIS POST
Thankful to the many of you who have asked, and here is the avenue that a friend of MAJESTY III set up to help us. We are not begging nor do we want to pressure anyone, however we are by grateful the help that Gods people offer. No donation is to small or large to be helpful. All donations are tax deductible. Click HERE to go to Go Fund Me.If you have any questions, feel free to call Warren Finney's cellphone at 870-831-0815.
For artist news and information go to SGN Scoops Facebook page and LIKE us.
Tags:
bus accident
,
Go Fund Me
,
gospel music
,
Majesty III
Posted in
announcements
,
artists
|
Comments Off

on Majesty III Needs You
Written by Staff on June 7, 2015 – 8:03 am -
Help Drew Battle Leukemia
SGN Scoops received this note from the mother of Drew Bowman asking for prayer:
Over the past five or six weeks Drew had been looking pale, having daily headaches and running low grade fevers. We had taken him to the doctor multiple times and had treated him for strep, migraines and had gotten him glasses. Nothing was helping. He was continuing to get more and more pale, and having worse headaches.
I made him an appointment for May 19th and insisted she order blood work. We had that done around 2 pm and at 4:30 pm his pediatrician called to tell me he was severely anemic and she would call me as soon as all other lab results were in.
The next morning at 11:45 we got the call that would change our world forever.  Dr. Barnett told us that we needed to have Drew at Texas Children's hospital asap. I asked why and she said that the type of anemia she was hoping it was, it wasn't. She called the type he had aplastic anemia. She said to prepare to be there, at a minimum, three days. She then said he would definitely be getting a blood transfusion and bone marrow aspiration. They needed to rule out any type of blood cancer.
The next few day I'm positive God carried us through. By the night of the 20th, we knew he had some form of leukemia. They did many tests including spinal taps and bone marrow biopsy and on the morning of the 22nd, they told us he had ALL Leukemia.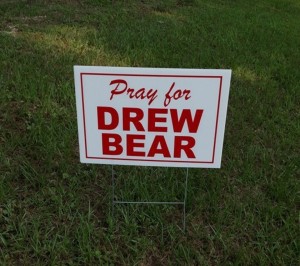 We are hoping our SGN Scoops family can be a blessing to The Bowman family. Pray for Drew and all the Bowman today.  Let's help them battle Drew's ALL
Leukemia. 
http://www.gofundme.com/drewbear
Tags:
Christian family
,
Drew
,
Go Fund Me
,
Leukemia
,
Pray
Posted in
announcements
,
causes
,
christian entertainment
|
Comments Off

on Let's All Help Drew in his Battle with Leukemia!