Written by SGN Scoops on August 30, 2012 – 1:51 pm -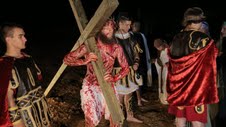 Nashville – The latest music video debut by Jim Sheldon paired with fellow solo artist Rachel Taylor titled "New Again" is now available on YouTube.com/godseyandassociates.  The video was filmed over the span of four days in various locations throughout Nashville and Murfreesboro by Godsey and Associates.

"New Again" portrays the relationship between Mary and Jesus, reflecting from Jesus as a baby to a powerful scene of the crucifixion and finally his resurrection.
"What an amazing opportunity to capture this story on film.  Everyone gave 100 percent.  I hope we reach many people with the message of 'New Again'." said producer Scott Godsey.
Twenty year old Garrett Taylor from LaVerne, TN was cast for the role of Jesus in the video.  "Well I didn't know what to expect, but playing Jesus was awesome.  There is just something about that name that makes you feel good.  However, people probably think being Jesus would be easy but it was not.  Carrying the cross was difficult."
The role was a challenging and strenuous one for Taylor.  "Being on the cross made it hard to breath and I almost dislocated my shoulder."  Although the physical demands of the role were painful, the actor says it wasn't the most difficult part of the portrayal.
"The hardest part about portraying Jesus was trying to be like him every day after we were done shooting the video.  I did not really get emotional except for when I was on the cross from all the pain.  It took about a day to sink in what I did and it gave me a new perspective on what Jesus went through on the cross."
Jim Sheldon, also noted for other YouTube successes such as "I Belong to Jesus" and "Extreme Makeover" is very excited about the video reaching new audiences.  "I am honored and blessed to be teamed with a God gifted and Christ centered group of people!" said Jim. "I am praying for God to open opportunities for Rachel and me to perform this video all across the country."
Watch the video here:  http://www.youtube.com/watch?v=L1T5t79K4n0.
For more information about Godsey and Associates, visit:  http://www.godseyandassociates.com
For more information about Jim Sheldon, visit:  http://www.puttinggodfirstministry.com/
For more information about Rachel Taylor, visit:  https://www.facebook.com/racheltaylor04#!/racheltaylor04/info
Tags:
christian music videos
,
Godsey & Associates
,
Jim Sheldon
,
rachel taylor
,
Southern Gospel News
Posted in
announcements
|
Comments Off

on CRUCIFIXION DEPICTED IN NEW AGAIN MUSIC VIDEO
Written by SGN Scoops on April 27, 2012 – 2:30 pm -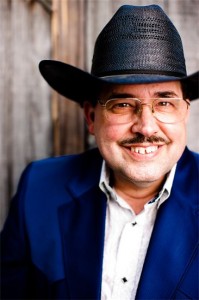 DANVILLE, Ky. – (April 26, 2012) – Homeland Inspiration Group recording artist Jim Sheldon continues to make inroads at Christian Country radio. His debut single, "God Is Looking at My Heart," has earned another milestone this week. The hit single has found itself on top of the popular syndicated internet radio show "JB's Indie Gospel Top 10 Chart" this week.
The press information for the show said: "Congratulations Jim Sheldon on blessing us with the #1 song of the week for April 29, 2012 – 'God Is Looking At My Heart.' It has been on the chart for seven weeks, and now in its seventh week it is at #1. I am proud to see it here at the #1 Position on JB's Indie Gospel Top Ten Chart. Thank you for being such a blessing to us all." Jim commented, "I am continually in awe of how God has used my ministry over the last couple of years. This is just another testimony to His greatness! I can't wait to see what he has in store for the rest of this year!"
Jim earned his first ever Top 20 single earlier this year at Christian Country radio with "God Is Looking At My Heart". "God Is Looking at My Heart" is the debut single from Jim's recording His Grace. The single was released and promoted to Christian Country radio through HMG Nashville. Fans of Christian country and Southern Gospel music can hear the single by visiting Jim's website at http://www.jimsheldonmusic.com . You can also sample Jim's music by visiting his Reverb Nation site at http://www.reverbnation.com/jimsheldon .
In addition, Jim's debut music video for his Southern Gospel single "I Belong to Jesus" has received an overwhelming response on YouTube and is garnering much media attention for the Christian Country singer. The video has already amassed over 107,000 views and counting since its debut on the web. You can view the video by visiting YouTube at http://youtu.be/t43KwQMYKcg
Jim has been filming the follow-up video to "I Belong to Jesus" this week with Godsey & Associates.
For more information about Jim, visit his website at www.jimsheldonmusic.com.
About Jim Sheldon
Jim is based out of Danville, Kentucky where he spearheads his personal ministry – Putting God First Ministries. Jim was most recently seen traveling and singing baritone for the The Keetons. Jim recently signed a recording contract with Homeland Inspiration Group's Mont Eagle Records. His debut album with Mont Eagle Records – I Belong to Jesus – is now available!
Tags:
christian country
,
Godsey & Associates
,
Jim Sheldon
,
Southern Gospel News
Posted in
announcements
|
Comments Off

on Jim Sheldon Continues Hot Streak at Christian Country Radio