Written by SGN Scoops on October 22, 2012 – 8:02 am -
Nashville, TN (October 19, 2012) — THE ROYS have been named Inspirational Country Music's Bluegrass Artist of the Year for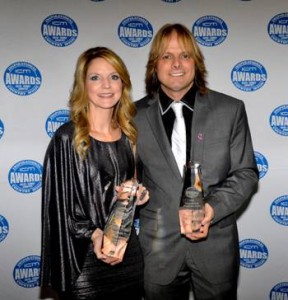 2012, giving them back-to-back wins in this category.  "We sing what is in our hearts and true to our Faith," comments Elaine Roy.  "It was a very strong group of nominees – everyone deserved this award," notes her brother Lee.  "Elaine and I are so honored to win this for the second year in a row."  THE ROYS were named the organization's Bluegrass Artist of the Year in 2011 and Duo of the Year in 2010 and 2009.
The brother/sister duo kicked off the 20th Anniversary Faith, Family & Country™ Awards Show with a performance of the title track from their current EP, NEW DAY DAWNING (Rural Rhythm).  The disc debuted at Number 2 on the Billboard Bluegrass Albums Chart in early September and two weeks later had risen to Number 1 on Amazon's Bluegrass Best Sellers list.
Last night's Awards ceremony was hosted by Inside Edition's Megan Alexander and GAC's Storme Warren and held at the Schermerhorn Symphony Center in Nashville.  THE ROYS shared the stage with luminaries Mac Powell (Third Day), Andy Griggs, John Berry, Doyle Lawson & Quicksilver and more.  The nationally-televised program aired on TCT Television Network, Total Living Network, NRB Network and Golden Eagle Broadcasting.  Fans should check local listings for repeat air dates and times.  Nashvillians can view the show on WKRN-TV (Channel 2) on December 23.
Music lovers can follow Lee and Elaine online at THEROYSonline, FACEBOOK and on Twitter @theroysonline.
Tags:
Bluegrass news
,
Elaine roy
,
Golden Eagle Broadcasting
,
ICM Awards
,
Inspirational Bluegrass
,
Inspirational country Music
,
NRB Network
,
TCT TV
,
The Roys
Posted in
awards
|
Comments Off

on THE ROYS Take Home ICM Bluegrass Artist of the Year Award For Second Consecutive Year
Written by SGN Scoops Staff on June 26, 2012 – 11:11 pm -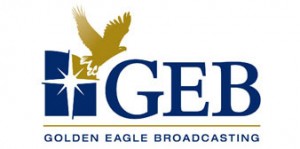 TULSA, Okla., — Golden Eagle Broadcasting (GEB) is proud to be a partner with Pathway Enterprises Broadcasting Network (PEBN), a nationally-recognized, nonprofit organization, to enrich viewers' lives through a new gospel programming series. Viewers will be blessed by a number of gospel music shows that air on GEB, DirecTV Channel 363 and Tulsa TV 53, Monday through Friday from 3 to 5 p.m. CT.
"To say we are thrilled to be part of Golden Eagle Broadcasting would be an understatement. After 30 years of developing, producing and hosting a number of gospel music shows for several networks, this collaboration with GEB is our greatest moment," said Bill Traylor, president of PEBN. "Our goal is to bring quality gospel music with classic performances as well as today's latest and most popular artists and with our new show, SPIRITFEST, and with GEB's blessing and guidance, our goal is being achieved."
PEBN is committed to sharing its vast content of southern gospel music with the world. Shows such as Sing Out America, SPIRITFEST and others take viewers on a journey from seeing their favorite groups of days gone bye to watching those artists that have stepped up to fill their shoes. Viewers will hear pure southern gospel music as well as finding music with a bluegrass and country flair. It's uplifting, encouraging and inspiring music for the whole family!
GEB network president Walter Richardson said he is excited to have the partnership with PEBN.
"We are excited to partner with a national powerhouse like Pathway," said Richardson. "This type of family-friendly programming adds to an already great lineup to uplift the lives of our friends who tune into GEB."
GEB recently celebrated its two-year anniversary on DirecTV channel 363. GEB has recently had some dynamic additions to the lineup including "The Blessed Life with Pastor Robert Morris" of Gateway Church in Dallas, Texas, which airs Sundays at 10:30 a.m. CT. His program features practical teaching and inspiring worship with the globally influential Gateway Worship Team.
GEB is a national Christian television network that helps viewers live well. GEB, which is owned by Oral Roberts University (www.oru.edu), can be viewed on Tulsa TV 53, DirecTV 363, Sky Angel and live streaming at www.goldeneagle.tv.
Tags:
bill Traylor
,
Christian TV
,
Golden Eagle Broadcasting
,
Pathway Enterprises Broadcasting Network
,
Sing Out America
,
southern gospel
,
southern gospel concerts
,
Southern Gospel News
,
SPIRITFEST
Posted in
christian entertainment
,
Christian interest
|
Comments Off

on Golden Eagle Broadcasting Partners with Pathway Enterprises Broadcasting Network for Gospel Music Programming