Written by Staff on September 2, 2014 – 12:23 pm -

Seattle, WA (September 2, 2014) – SGN Scoops is thrilled with the expansion of their new chart, SGN Scoops Top 100. Scoops is now receiving charting information from 35 Gospel music radio stations. More reporting stations increases the accuracy of the Top 100 chart as Scoops receives charts from more regions of the country. 
The Top 100 is posted every month in the latest edition of SGN Scoops digital magazine.
SGN Scoops is adding new charts every month so we encourage readers, artists and radio stations to check the SGN Scoops Top 100 chart each month for favorite songs and singers. Any radio stations that do not currently report to SGN Scoops Top 100 can do so by contacting  
radio@sgnscoops.com
For the latest edition of SGN Scoops magazine visit https://www.sgnscoops.com/
Tags:
Christian Radio
,
Gospel Radio
,
sgn scoops
,
SGN Scoops Top 100
,
southern gospel
,
Top 100 Radio Chart
Posted in
announcements
|
Comments Off

on SGN Scoops Top 100 Expands
Written by Staff on May 9, 2014 – 10:25 am -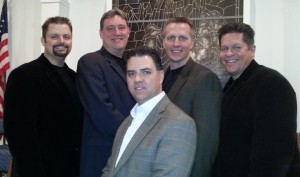 Birmingham, AL (
May 9, 2014
)  To The End Quartet has just released their new hot song "Walking On With Jesus" to radio this month. Upon building relationships with radio TTE is working their own radio promotions.
The guys (Byron Partridge, Daryl Green, Jimmy Reno, Neil Skipworth, and Keith Thomas) are releasing their new single penned by Randy Shelnut "Dixie Echoes" to radio.
To The End Radio Promotions is very excited about this song's release.  May God touch many lives through this new radio single 'Walking On With Jesus'. "Please call now to request this song through your favorite radio station."  We are excited like never before to share this new single with radio and also 
http://www.musictoradio.com/
" "Walking On With Jesus" is a get up and go (Up-Tempo) tune.
It will grab your attention with easy to remember and awesome compelling lyrics. Praying that radio is going to want to give attention to this song.
To The End Quartet can be booked through To The End Ministries at 
256-245-8984
Tags:
gospel music
,
Gospel Radio
,
To The End Quartet
,
Walking On With Jesus
Posted in
announcements
|
Comments Off

on New Release "Walking On With Jesus"
Written by SGN Scoops on August 8, 2011 – 5:55 am -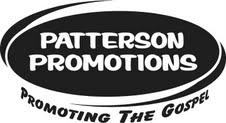 {EHA-Nashville, TN} Patterson Promotions announces the release of P.P. # 6 and the songs that will be promoted to radio through the company. Some of the songs on the CD include the following: Miracles Will Happen on That Day Homeland Quartet, Journey Will Be Sweet Pauline Patterson, Praise Makes the Walls Come Down Gann Family, Red Blood Christian Rick MaHarrey & Judah, Come Down Out of the Boat Common Bond Quartet, Don't Give Up, Jesus Is Coming Soon Darrell & Tojuana, Come to Me Rhonda Frye, The Stone was Rolled Away Steve Roberson, I Am The One Heirs of Grace, Holy Holy Southland Vocal Band, Jesus I Need You Now Jack Freeman, and Wedding Day Steven Conrad. President, Pauline Patterson, notes, "We are very excited about the new songs we have sent out for our artists. We are looking forward to what the future holds for the amazing talent we are representing. Please call radio and request their songs. Our bottom-line is to get our artists heard in order to spread their good songs and win souls to the Lord." Patterson recently celebrated her 6th year working full-time in Gospel radio promotions. The company is based out of Lily, KY.
For more info on Patterson Promotions: www.pattersonpromotions.com, or Ph. 606 528-0033
Tags:
Christian Radio
,
Commond Bond Quartet
,
Darrell & Tojuana
,
eha-nashville
,
Evie Hawkins
,
Gospel Radio
,
Heirs of Grace
,
Homeland Quartet
,
Jack Freeman
,
Patterson promotions
,
Pauline Patterson
,
Rhonda Frye
,
Rick maHarrey & Judah
,
Southern Gospel News
,
Southland Vocal Band
,
Steven Conrad
Posted in
announcements
,
new music
|
Comments Off

on Patterson Promotions Vol. 6 Released to Radio