Written by Staff on June 22, 2015 – 5:24 pm -
SGN Scoops Fast Five welcomes contestant Darlene Chapman to the Monday quiz time. Darlene is a singer, speaker and television host and greatly involved in Women's Ministries.
We cornered Darlene and asked her to share her life with SGN Scoops. Here are her responses:
SGN: What new things are happening in your career right now?
Darlene: I am Currently working on my new project…..
SGN: What is your dream venue where you would like to perform?
Darlene: I would LOVE to sing at The Grand Ole Opry.
SGN: What is one thing about you that people would be surprised to know?
Darlene: I am a very funny person, quick witted and love to make people laugh…I would love to be a Comedian!
Tags:
Christian artist
,
Darlene Chapman
,
Fast Five
,
gospel singer
,
Grand Ole Opry
,
sgn scoops
,
Steve Ladd
Posted in
announcements
,
artists
,
christian entertainment
,
Christian interest
,
exclusive report
,
gospel events
,
special feature
|
Comments Off

on SGN Scoops Fast Five with Darlene Chapman
Written by Staff on May 9, 2014 – 9:23 am -
"The View from Heaven" Can be Seen on Television, Website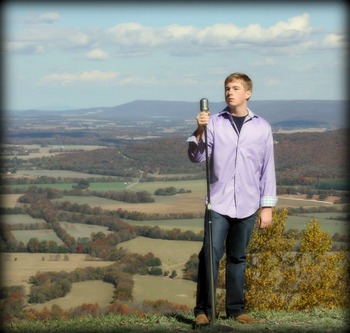 SIGNAL MOUNTAIN, TN May 8, 2014    Gospel singer/songwriter Noah Hinshaw recently released his first concept music video.  The touching and encouraging song "The View from Heaven" is Hinshaw's first single off his CD of the same name, his debut release from the Song Garden Music Group.
The video is available at 
www.noahhinshaw.com
 and will be shown in other media including local and national television programs.  While at the website, you can learn more about Noah and You can also find the video at www.harmonyroadtv.com
Hinshaw states "
As a fifteen year old singer/ songwriter from Winchester Tennessee, it was amazing to see my song come to life in the making of this video. Harmony Road Productions were great to work with on this project!"  He continues "My goal has always been to reach as many souls and touch as many lives as possible through my music and ministry, and live each day serving my precious Lord and Savior".
"The View from Heaven" is the story of a family that suffers an unbelievable personal loss, but is comforted by knowing that "The View from Heaven" is much different from our point of view here on earth.  The song and the video capture this comforting storyline in a beautiful way.
Song Garden Music Group's Marilyn Keffer says of Noah "It takes only moments around Noah to see that he is the real deal.-a young man who is very serious about his faith and sharing his beliefs through the music he writes."  For more information on Song Garden Music Group and their roster of top gospel music artists, visit www.songgardenmusicgroup.com.
Produced by Harmony Road Productions, the video was shot in and around The University of the South and Sewanee, Tennessee. Harmony Road Executive Producer Roger Spears says "We found Noah to be talented and professional beyond his years.  His dedication to music and the Gospel was apparent throughout the production." Spears continues, "Noah has a heart for the gospel and the ability to spread the Word in many formats including music, video and preaching." 
Harmony Road's Producer/Production manager Allan Rhodes adds "Getting to know the family was one of the most important parts of producing this video.  Aunt's, Cousins, Friends and Parents all expressed a desire to share the love of Christ through the music of Noah and the video."  Rhodes continues "My son Adam, who was child number 2 in the video, keeps singing this song over and over, he knows every word by heart."  It was truly a joy to work with such a talented family."
Harmony Road Productions is a division of Harmony Road TV.  Harmony Road TV is a 30 minute Southern Gospel television program hosted by Les butler and available to over 80 million homes nationwide.  In addition to the television program, Harmony Road Productions produces top quality music videos including concept and concert for Gospel artists as well as electronic press kits, other video and audio projects.  The company also provide other marketing and promotion services to these artists. More information is available at 
www.harmonyroadtv.com
,  or they can be reached atproduction@harmonyroadtv.com.
Tags:
gospel music
,
gospel singer
,
gospel songwriter
,
Harmony Road TV
,
music video
,
Noah Hinshaw
Posted in
announcements
|
Comments Off

on Noah Hinshaw Releases Music Video