Written by Staff on July 6, 2019 – 7:03 am -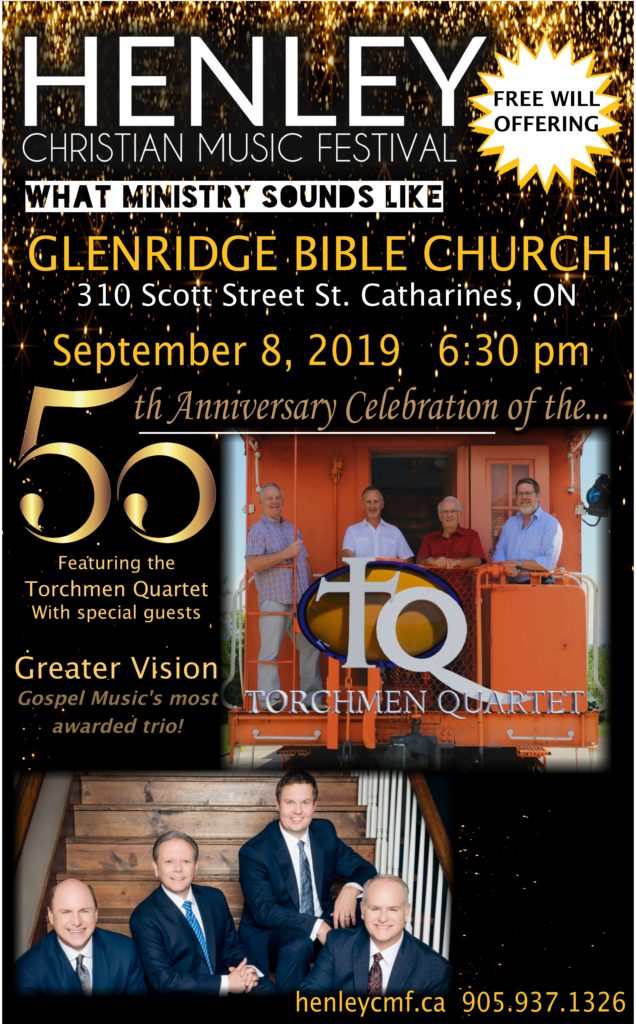 The Torchmen Quartet from Ontario, Canada, are celebrating 50 years in gospel music this year. Over the years they have made many friends and fans. Among these are gospel music artists, Greater Vision.
Greater Vision will be appearing with the Torchmen Quartet on Sunday September 8th, 2019, for the Torchmen's 50th Anniversary celebration concert.
This event will be held at Glenridge Bible Chapel, St. Catharines, Ontario, at 6:30 pm. The concert is free. An offering will be received during the evening.
Everyone is invited to help the Torchmen celebrate this incredible achievement. This event is being held as part of the Henley Christian Music Festival concert series.
For more information and directions go HERE.
About the Torchmen:
For 50 years the Torchmen have been celebrated as Canada's Gospel Quartet. Members include Mike Moran, Jon Hisey, Sandy McGregor, and Jeff Tritton. They regularly travel across Canada and the United States, and have many awards and accolades to their credit. To visit them online go here.
About Greater Vision:
This male trio, consisting of Gerald Wolfe, Rodney Griffin, Chris Allman, and Jon Epley, is the most awarded trio in the United States. From Morristown, Tenn., Greater Vision was formed in 1990 and continues to perform over 160 concerts every year across America, Canada, and abroad. For more information go HERE.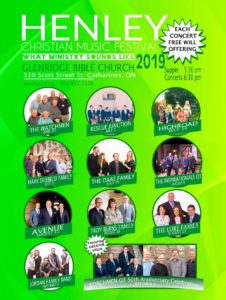 More About the Henley Christian Music Festival:
The Henley Christian Music Festival is a ministry of GBC, and is a year-round festival that brings the best in Southern Gospel music, and various genres of music to St. Catharines. The feature event is the Summer Series. This event runs from the last Sunday is June to the first Sunday in September and features a concert every Sunday night.  We will be serving BBQ at 5:30 on each night as well.  Every concert throughout the year starts at 6:30pm. There is no admission fee or tickets required for every event.  A free will offering is accepted. (From henleycmf.ca, July 6, 2019) For more information go HERE.
Read the June SGNScoops Magazine Online HERE
Download June SGNScoops Magazine On PDF
HERE
Find SGNScoops Magazine On Facebook
HERE
Listen To Todays Gospel Music
HERE
Tags:
Christian Music
,
gospel music
,
Greater Vision
,
Henley Christian Music Festival
,
Ontario
,
southern gospel
,
Torchmen
Posted in
announcements
,
artists
|
Comments Off

on The Torchmen celebrate 50 years with guests, Greater Vision
Written by SGN Scoops Staff on July 17, 2014 – 8:21 am -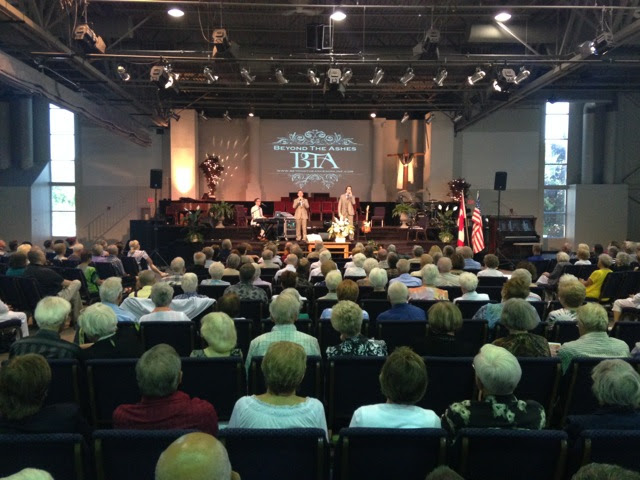 Nashville, TN (July 16th, 2014) – Beyond The Ashes made their very first Canadian concert appearance last month.  The group, who has traveled and sung all across the United States, had yet to take their ministry across the border until now.  The trip proved to be an amazing success and the guys look forward to many more opportunities to visit and sing in the Great White North.
Concert promoter, Richard Daniel, of the Henley Christian Music Festival expressed,  "I have never seen a better first set by a Southern Gospel group. Their harmony was impeccable, their stage presence was welcoming, their instrumentation was spot-on, and their love for the Lord was truly sincere.  They blessed us with 55 minutes of music during their first set alone."
But, the story gets more interesting.  Daniel continues, "As the first set was wrapping up we experienced a power outage and the alarms went off!  It's never a dull moment at the Henley.  With the safety of those in attendance at hand, we were forced to evacuate the building until we could determine the root cause of the electrical outage and the reason the fire alarm sounded.  Turns out an electrical line had come down in the vicinity and affected quite a number of homes and buildings…one being ours."
However, that didn't stop Beyond The Ashes.  Everyone came back in and the concert continued.  Even with no power in the building, the group ministered with an intimate acoustic set around an antique piano.
Daniel concludes, "And the Lord was there.  I had someone approach me and shared they felt the second set was better than the first. I didn't think that was possible!  Two sets, two completely different feels, one amazing God!  Thank you, Lord, for allowing us to host Beyond The Ashes and for allowing us to continue to steward this ministry for your Glory and Praise."
Beyond The Ashes' tenor singer and ministry leader, Anthony Facello, shared, "We had an absolutely fantastic first tour to Canada.  The scenery was beautiful and more than that the people greeted us with warm hearts and spirits of expectation.  We are already scheduled to return in 2015 and we can't wait."
Baritone, Tyler Vestal, adds "I loved going to Canada for the first time.  The people were so warm and friendly and loved the style music we did.  I cannot wait to go back next year."
Tags:
Beyond the Ashes
,
canada
,
Canadian appearance
,
Christian artists
,
gospel music
,
Henley Christian Music Festival
,
Ontario
Posted in
announcements
|
Comments Off

on Beyond The Ashes Impacts Canadian Audiences