Written by Staff on November 14, 2020 – 12:03 pm -
SGNScoops is sad to announce the passing of gospel music pianist/vocalist/songwriter, Henry Slaughter. Henry's longtime friend, Steve Weatherford, shared this post on Facebook yesterday:
"I just heard we lost yet another wonderful man of God, former member of my dads Quartet and a lifelong friend ,
Mr. Henry Slaughter had rejoined my dads quartet , thank you for the music you helped us make and the impact you made on so many , see you soon."
Henry Slaughter was born on January 9, 1927, in Roxboro, North Carolina. He appeared with the Stamps Ozark Quartet, Weatherfords, Imperials, and also with his wife, Hazel, as a gospel music duo. Henry and Hazel Slaughter often appeared on the Bill Gaither Homecoming videos.
No other details are available at this time.
SGNScoops staff extends prayers and condolences to Hazel and all the family and friends of Henry Slaughter.
We also are asking for prayers for Steve Weatherford as he recovers from Covid-19.
Tags:
bill gaither
,
gospel music
,
Hazel Slaughter
,
Henry Slaughter
,
Southern Gospel Music
,
The Imperials
,
The Weatherfords
Posted in
announcements
,
artists
|
Comments Off

on Gospel great Henry Slaughter passes away
Written by SGN Scoops Staff on March 16, 2015 – 10:16 pm -
GRAMMY® Award-winning Group Introduces Companion DVD to Recent Chart-topping Sometimes It Takes a Mountain CD Release
NASHVILLE, Tenn.—
March 16th, 2015
—
GRAMMY® Award-winning quintet the Gaither Vocal Band
 will release two all-new DVDs—
Sometimes It Takes a Mountain
(Gaither Music Group) and
Happy Rhythm
(Gaither Music Group)–on
March 17th
. Hosted by
Bill Gaither
and recorded in an intimate, rustic setting just south of Nashville at the concert hall of celebrated country duo
Joey+Rory
, the all-new recordings release on the heels of the top-charting
Sometimes It Takes a Mountain
(Gaither Music Group) audio recording, which released last fall.
The videos feature LIVE performances of the songs from the Sometimes It Takes a Mountain audio recording along with additional numbers as well as special performances by HOMECOMING artists The Martins, The Isaacs, Goodman Revival, Charlotte Ritchie, Buddy Greene and The Nelons.
The recordings include interview footage with group members Bill Gaither, David Phelps, Wes Hampton, Todd Suttles and Adam Crabb and highlight the unmistakable harmonies that have garnered five GRAMMY® nominations, two GRAMMY® Awards and 17 GMA DOVE Awards.  The Gaither Vocal Band was nominated for a 2015 GRAMMY® Award and was inducted into the Gospel Music Hall of Fame in 2014.
The group's intricate harmonies are showcased on songs written by some of gospel music's most respected songwriters including Bill and Gloria Gaither, Suzanne Jennings, Mosie Lister, Michael W. Smith, Gerald Crabb, Thomas A. Dorsey, Henry Slaughter, Jeff Silvey, Reba Rambo-McGuire and Dony McGuire, among others.  Crabb's award-winning vocals are highlighted on the recording's first radio single, "Sometimes It Takes a Mountain," which is currently in the Top 5 on the national radio chart.
The new DVD releases will be featured on an international TV campaign which will air on PBS, Dish TV, DirecTV, AT&T Uverse, GaitherTV, TBN, RFD, FamilyNet, CTN, GMTN, Guardian, Liberty, TCT and TLN.  It will air in Canada on Vision TV, CTS, The Miracle Channel and Hope TV.
The Gaither brand of artists and products topped the BILLBOARD Year-End Chart of Music Video Sales Labels for 2000, 2011 and 2014.
The
Sometimes It Takes a Mountain
and
Happy Rhythm
DVDs are exclusively distributed by
Capitol Christian Distribution
and will be available throughout general market stores and the Christian marketplace in addition to online retailers including
iTunes, Amazon
and
www.gaither.com
, where it is available now.
The Gaither Vocal Band will be on tour from now through the end of the year and will be a highlight of the
Gaither Homecoming Christmas Tour
.  A list of tour dates can be found at
www.gaither.com
.
For further information regarding the Gaither Vocal Band and/or
Sometimes It Takes a Mountain
and
Happy Rhythm
, including a video preview with a sampling of music, visit
www.gaither.com
or connect on Facebook at
www.facebook.com/gaithermusic
or on Twitter:
@gaithermusic
.
To hear some of the music from the new releases, visit:
Tags:
Bill and Gloria Gaither
,
Gaither Vocal Band
,
gerald crabb
,
Henry Slaughter
,
Jeff Silvey
,
Michael W. Smith
,
Mosie Lister
,
Reba Rambo-McGuire and Dony McGuire
,
Southern Gospel News
,
Suzanne Jennings
,
Thomas A. Dorsey
Posted in
announcements
|
Comments Off

on The GAITHER VOCAL BAND Showcases Happy Rhythms on Two All-New DVDs
Written by Staff on February 27, 2014 – 10:40 am -
By Philip Foster 
Since Jesus came and found me, and put His arms around me and all my binding fetters took away, although I've loved Him dearly and trusted Him sincerely, I've never loved Him better than today (1)
Those lyrics are from a song written by Henry Slaughter. There are certain songs, which seem to attach themselves to your very spirit. "I've Never Loved Him Better" is such a song.  Henry and Hazel sing this song on one of the Gaither videos.  The video can be found on YouTube, listed below.
Henry Slaughter has received five Dove awards as a result of his piano playing, his singing and songwriting, arranging and as a publisher. For over 50 years now, Henry and his wife Hazel have traveled over 65,000 miles each year, ministering the Gospel through music. Like all of us, Henry has his musical heroes; Lee Roy Abernathy, Frank Stamps, Vep Ellis, James Blackwood, Audrey Meier and Albert Brumley, just to name a few.
Henry and his wife Hazel live in Tennessee. They have three children, David, Mike and Amanda. For several decades now, Henry has been recognized as one of Gospel music's premier keyboard artists. Henry has written columns for MyBestYears.com and continues to do so. His column I Remember is recognized internationally and features memories of all the artists and people he has met over the decades.
In 2006, Henry was inducted into the Southern Gospel Music Association's Hall of Fame(2). Among his many accomplishments, his songwriting contributions include such gospel classics such as "Lonely Mile", "What a Precious Friend is He", "If the Lord Wasn't Walking By My Side" and many more.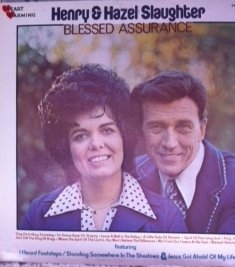 Henry knew he wanted to serve Christ through music at a very young age. After finding out that information, I had the great pleasure of contacting Henry Slaughter. I asked him how he got started in his ministry. Slaughter said, "I began my gospel music career with the Stamps Ozark Quartet, in Siloam Springs Arkansas. In January 1947, I began as their baritone singer and in six months became the piano player. I stayed with them until 1952."
"I left to be a singer and piano player for an evangelist," Slaughter continued. "In six months, I met Hazel in church and in another six months, we were married. I went back to the Ozark Quartet in Texas for a couple of years and in the meantime, Hazel and I sang in church. We soon discovered an acceptance of our music but it did not develop beyond the church stage, until I met the Weatherfords in Akron Ohio at the Cathedral of Tomorrow. It was there where I joined them as their pianist. After three years, I became the music director at the Cathedral of Tomorrow."
The Cathedral of Tomorrow was a great place for Slaughter and his wife to continue their musical growth. "Hazel and I enjoyed success as the musical staff on Television and it was also here that we recorded our first two records. These records found great acceptance in Ohio, Pennsylvania and Michigan, as well as in Ontario, Canada. In 1963, I left there to join the Imperials, where I remained for three years."
"After that, it was Hazel and me," Slaughter shared. "We made ourselves available and followed the Lord as our booking agent. I did some part time work for a church in Nashville and also worked as a keyboardist in a recording studio, also in Nashville. Then, the opportunity presented itself to be part of the Bill Gaither Trio concerts across America and Canada. We did that for about seven years and enjoyed wonderful acceptance."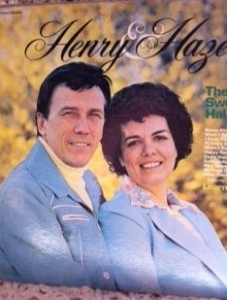 "After that experience I continued as a recording studio session player in Nashville and produced Gospel records in my own recording studio, and we continued traveling as Henry and Hazel. I sold the recording studio in 1990 and we retired from the road to do the new thing as Lord led. Gradually the roadwork ended and we found ourselves in the new life for the past 20 years in semi-retirement."
Even though they have slowed down, the Slaughters stay busy with many time commitments. "We remain on call to fill in here and there as needed; as worship leaders, Bible study groups and a weekly radio program for the City's Ministerial Alliance here in our home town, Ashland City (near Nashville.) We have been featured both as artists and writers on the Gaither Video Series for the past 20 years."
Henry and Hazel Slaughter have been blessed to touch the lives of many during their careers. Henry noted "Thanks to FaceBook, I keep up with friends and folks I have met and worked with and have been touched with our songs and music. We have lived and still live the good life that the Lord can only give. We are thankful to know the Lord has used our gifts of music to glorify and exalt and proclaim the Lord Jesus Christ." He concludes, "We enjoy the now, but are looking forward to the next assignment after this life is over and the new phase in heaven begins.
To God be the Glory! To Him we give all the praise and glory, now and forever more. Selah…. hooray and Hallelujah!"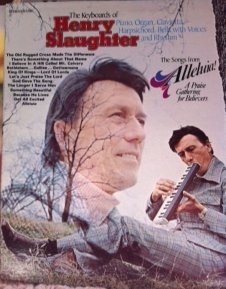 Henry's life story, chronicled in his 1980 autobiography, In Search of the Pearl of Great Price, is far more than a story about his international recognition, awards and showmanship. The book takes you back to his roots and details not only his career, but his spiritual pilgrimage and the relationships that made him the man he has become. Today, more than 30 years after it was published, the book can be found on Amazon.com. He also published a number of piano courses and songbooks throughout his career. (3)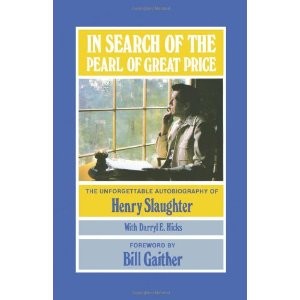 I have read In Search of the Pearl of Great Price, and I can tell you it is well worth the read.  I learned so much about Henry and Hazel Slaughter and the amazing career they both have had.  I encourage the reader to order this book.
Thanks to Henry Slaughter for a wonderful interview and for  sharing his life with our readers.
Find Henry and Hazel Slaughter on the web: https://www.facebook.com/henry.slaughter
http://www.youtube.com/watch?v=dwBHPnUUkSk
http://www.youtube.com/watch?v=sRUc0NSKU6o
Written by Philip Foster
First published June 2013 on SGM Radio website. For current features go to http://www.sgmradio.com/
(1) I've Never Loved Him Better Than Today-Henry Slaughter/James Rowe © 1965 Harvest Time Publishers (Admin. by Gaither Copyright Management)
(2) Wikipedia
(3) Wikepedia
Tags:
Christian Music
,
gospel music
,
Hazel Slaughter
,
Henry Slaughter
,
June 2013
,
SGM Radio website
,
southern gospel
Posted in
special feature
|
Comments Off

on Henry and Hazel Slaughter
Written by SGN Scoops Staff on August 14, 2013 – 9:54 am -
The summer issues continue to sizzle at SGNScoops Magazine! Gracing the cover this month- THE MARTINS! Our newest staff writer, Craig Harris captured the heart the the Martin's ministry and also shares the latest happenings with the Martins in this month's cover story. The August edition also features Eighth Day, Three Bridges, Morgan Easter, Henry Slaughter, Willie Wynn and Christian Country artist, Isaac Cole. The Perrys share their hearts regarding Tracy Stuffle's health situation and Rhonda Frye catches up with Ernie Haase on the road. Other articles include spiritual enrichment, Southern Gospel memories and Christian fitness. Sandi Duncan Clark reviews music, Angela Griffin reveals what songs are topping the charts and Lynn Mills gives the scoop on the Gatlinburg Gathering! Don't miss the latest scoop on Creekside and the Diamond Awards in this issue as well. All of this neatly tucked and beautifully designed in our FREE online magazine. Please share!
Tags:
eighth day
,
Henry Slaughter
,
Morgan Easter
,
three bridges
,
Willie Wynn
Posted in
sgn scoops magazine
|
Comments Off

on August 2013 SGNScoops Magazine