Written by Scoops Staff on December 14, 2010 – 8:24 am -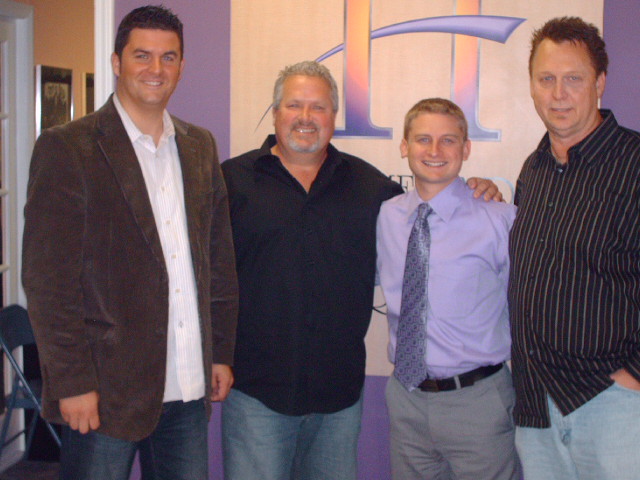 Nashville, Tennessee-  Riversong Records ( a division of Homeland Entertainment Group) announces the recent signing of  Steve Hess and Southern Salvation.  This trio from Nashville Tennessee has achieved increasing success in just the short 18 months they have been on the national scene.  This unique trio features a great blend, outstanding voices and each one that experiences this group live, is treated to a fun, energetic and spirit-filled event.
The group is comprised of Baritone Vocalist and Pianist Steve Hess (nephew of Gospel Music Hall of Famer Jake Hess),  Newest Member Lead Singer Stephen Hoell and Tenor Singer Judd Sulcer.  Already this trio has shared the stage with numerous of today's prominent Southern Gospel artists nationwide.  Together these men have dedicated their talent and their lives to presenting the Gospel through music.
Steve Hess says " The Riversong label has been home to some of the finest in Gospel Music.  Steve Hess and Southern Salvation is thrilled to be part of the Riversong and Homeland family".
Their first project on Riversong Records "Straight From The Heart"  is set to be released the first week of January 2011 with the new single "God's Grace Is Greatest currently at radio.  You can find more information on Steve Hess and Southern Salvation at www.southernsalvation.com or www.homelandentertainmentgroup.com
Tags:
Homeland Records
,
riversong records
,
southern salvation
,
steve hess
Posted in
artists
|
Comments Off

on Steve Hess and Southern Salvation Signs With Homeland Records
Written by Rhonda on August 12, 2010 – 5:33 am -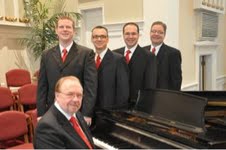 Nashville, TN (August 10, 2010) – Southern Gospel quartet, Southern Tradition, will be the featured artist this coming weekend, August 14th-15th, 2010, on Paul Heil's widely successful syndicated radio program, the Gospel Greats.
 
The group's debut recording, Sing Along With Southern Tradition, was produced by award winning producer, Michael Sykes.  Sykes commented, "I love the way this group brings together a traditional Gospel music sound with a fresh and innovative musical approach.  It makes for a nice listening experience.  It's my pleasure to work with Southern Tradition."
 
The project is released with Homeland Records' Riversong label.  The program will feature numerous songs from this solid recording including the title cut, "Sing Along Song" and the current single at nationwide radio "That's my Kind of Music."  In addition to hearing some of the wonderful music from this group, listeners will also hear interview segments, allowing them to get to know the members.
 
The fast rising quartet, Southern Tradition, is made up of Ken Taylor (lead), Mark Taylor (baritone), Thomas Nalley (tenor), Paul Allman (bass), and Tommy Fairchild (piano).  Many people will remember Fairchild from his years with the GRAMMY and Dove winning Blackwood Brothers and Oak Ridge Boys.
 
Group member Ken Taylor expressed, "We are continuously in awe of the doors God is opening for us. To have Michael Sykes working with us on our album and then to have Paul Heil choose it as a featured album on his program is a tremendous honor.  It is always a sure sign of God being in the middle of what you are doing when you know you could never have done any of it yourself.  We give Him all the glory for all of this and we look forward to what he has in store for our quartet."
 
To learn more about Southern Tradition, visit southerntraditiononline.com.
 
The Gospel Greats radio program is one of the best-known and most widely respected syndicated Southern Gospel music radio programs, airing in syndication on nearly 200 great radio stations across America, in Canada, on Sirius/XM satellite, in Europe, the Far East and on the Internet worldwide each week. To learn more about where you can hear the broadcast in your area, visit www.thegospelgreats.com. 
Southern Tradition is booked exclusively by the Tana Lonon Agency (TLA). To schedule them or other great artists from TLA, such as Crabb Revival, No Other Name, and others, you can email the agency at tanatla@aol.com or visit them on the web at tanalononagency.com.  You can also call the office at @615.866.9741.
Tags:
gospel music
,
Homeland Records
,
Paul Heil's Gospel Greats
,
Southern Tradition
Posted in
announcements
|
Comments Off

on Southern Tradition To Be Featured on Paul Heil's Gospel Greats