Written by Staff on November 4, 2013 – 7:57 am -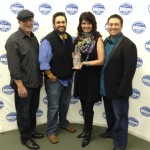 Thursday evening (Oct. 24), the 19th Annual ICM Faith, Family & Country Awards took place at The Fellowship at Two Rivers, honoring artists, songwriters, radio personalities and others associated with the Christian and inspirational country music scene.
Sunday Drive, a multi-award winning family group from Knoxville, TN, received the 2013 ICM Vocal Group of the Year Award.
The award was presented by Stella Parton, long time friend of the group. Sunday Drive performed on the show along with other entertainers and presenters including Guy Penrod, Canton Junction, Jim Ed Brown, Doyle Lawson and Melinda Dolittle from American Idol.
Rascal Flatts, Martina McBride and Scotty McCreery were winners in the mainstream categories.
For more information on Sunday Drive, visit www.sundaydriveband.com or call 615-598-7098.
Tags:
Canton Junction
,
Doyle Lawson and Melinda Dolittle
,
Faith family and Country Awards
,
guy penrod
,
ICM
,
Jim Ed Brown
,
Stella Parton
,
Sunday Drive
,
Vocal Group Of The Year
Posted in
announcements
,
artists
,
awards
,
breaking news
|
Comments Off

on SUNDAY DRIVE RECEIVES ICM VOCAL GROUP OF THE YEAR AWARD IN NASHVILLE
Written by SGN Scoops on February 5, 2013 – 12:10 pm -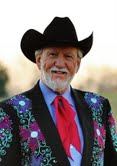 NASHVILLE, TN (February 5, 2013) –  Doyle Lawson was named Mandolin Performer of the Year by the SPBGMA (Society for the Preservation of Bluegrass Music in America) at the 39th Annual SPBMA Bluegrass Music Awards held on Sunday evening at the Sheraton Music City Hotel in Nashville.

Lawson received a total of four (4) SPBGMA Award Nominations including Entertainer of the Year, as well as Vocal Group of the Year and Gospel Group of the Year (Contemporary) with his band Quicksilver.
Also celebrating his 50th anniversary in music on Sunday, the ride for Doyle Lawson seems to be only gathering momentum, as Doyle Lawson & Quicksilver are reigning Inspirational Country Music Association (ICM) Vocal Group of the Year, and Lawson is still basking in the glow of his induction into the International Bluegrass Music Hall of Fame in September at Nashville's world famous Ryman Auditorium.

"Doyle is legendary in both bluegrass and gospel genres," said Bob Cherry of Cybergrass, "and he frequently mixes them to deliver something special.  He has given so much for so long to the music we all love, and he's never let us down.  Who wouldn't be proud of Doyle? The bluegrass and gospel community definitely loves this man and his music!"

Lawson was honored by the Governor and State of Tennessee in 2012 for his contributions to the state and nation through his music, was heralded by journalist Craig Havighurst as "one of music's lions,"  and Doyle Lawson & Quicksilver appeared on Rock and Roll Hall of Famer and 12-time Grammy winner Paul Simon's recent album "So Beautiful or So What."  DLQ also appeared on the acclaimed "Mark Twain: Words and Music" with such heavy-hitters as Jimmy Buffet, Clint Eastwood, Sheryl Crow, Brad Paisley, and Emmylou Harris.  DLQ's album "Drive Time" spent several weeks atop the Alternate Roots Top 66 International Bluegrass Chart at #1 and was proclaimed an Essential Album of the Year by Acoustic Guitar Magazine, while the single "Precious Memories" spent an impressive five months at #1 atop the Singing News Bluegrass Gospel Chart.  "I Saw Him Walk Out of the Sky" from the most recent gospel album "Sing Me a Song About Jesus" spent two months atop the Singing News Bluegrass Gospel Chart at #1 and was nominated as IBMA's Gospel Recorded Performance of the Year.

Sounds like Lawson and his band are just getting warmed up!  Attorney and fellow musician Charlie Sizemore echoed the sentiment, saying recently, "I would not be the least bit surprised if the best music from Doyle Lawson is yet to come."

In a statement written just before the SPBGMA Award was announced on Sunday, and in reflecting on his career in music, Lawson said:  "From the depths of my heart, I thank everyone who ever stood on stage with me, those who work behind the scenes, all of the people who have shown your support by coming to the concerts and buying the recordings, and most of all almighty God and His only begotten Son Jesus for watching over me and guiding my footsteps when I may have taken the wrong road of life. God bless you all, and stay with me! It's a great ride!"
 To read Lawson's full quote on his career, please go to:
http://doylelawson.com/2013/doyle-lawson-named-spbgma-mandolin-player-of-the-year-and-celebrates-50th-anniversary-in-music/
For a full listing of SPBGMA Award Winners, please go to:
http://www.musicrow.com/2013/02/2013-spbgma-award-winners/?utm_source=rss&utm_medium=rss&utm_campaign=2013-spbgma-award-winners


To view all SPBGMA Nominees, please go to:
http://www.spbgma.com/level2/natnom2013.html



Photo by Kim Hornsby
Tags:
Bluegrass Gospel
,
Bluegrass Music
,
Doyle Lawson
,
ICM
,
Inspirational Country Music Association
Posted in
announcements
|
Comments Off

on Doyle Lawson Named SPBGMA Mandolin Performer of the Year
Written by SGN Scoops on July 31, 2012 – 8:13 am -
Nashville, TN (July 31, 2012) — Mark Wayne Glasmire was taken by surprise today to learn that he is a candidate for nomination in two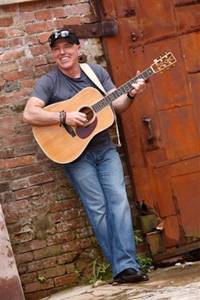 Inspirational & Christian Country Music™ Award Categories: New Artist of the Year and Songwriter of the Year. The organization's second round of balloting begins soon, and more information about the October 18 ICM Faith, Family & Country™ Awards Show can be found at www.ccma.cc.
The success of his critically-acclaimed 2009 CD, LIFE GOES ON, gave Mark a global presence and paved the way for his current EP, MARK WAYNE GLASMIRE (Traceway Records). The disc has already generated two major hits: his current upbeat U.S. single and nine-week No. 1 international smash "I Like You" (MUSIC ROW No. 56, Power Source Magazine Country Top 75 Chart No. 64), and the compelling "Going Home" (Power Source Magazine Inspirational Country Top 100 Chart No. 42). Glasmire was named International Hotdisc Chart's Most Popular Artist for 2011 in honor of his success with "I Like You."
"Last year was certainly a good one for me," says the outgoing Texas resident. "I had great bookings and got to spend time on the road visiting many of the radio stations that have been playing my songs." This year is proving to be even better for the talented vocalist–the hits continue, Mark's opening shows for top-tier acts including Dierks Bentley, Guy Clark, Joe Ely and Darrell Scott, and he remains a sought-after performer at music halls, pubs and festivals across the U.S. Mark just returned from a Midwest run that included "Muskegon Bike Time" (a Hot Rod Harley-Davidson event) and additional dates and television appearances in Michigan and Iowa. Glasmire also enjoyed entertaining the crowds during the 2012 CMA Music Fest Week with performances at Nashville Convention and Visitors Bureau Acoustic Stage; BB King's, Whiskey Bent Saloon and Music City Bar & Grill.
The Pennsylvania native has won numerous songwriting competitions, including the 2010 Chris Austin Songwriting Contest GRAND PRIZE WINNER / COUNTRY DIVISION, and many others. His music is available at iTunes and other e-tailers, and fans can watch the "I Like You" video clip HERE, at CMT.com, GACtv.com or TCN (The Country Network). Additionally, Mark's "Going Home" video can be viewed by clicking Here .
Tags:
CCMA
,
ICM
,
Inspirational & Christian Country Music Awards
,
Mark Wayne Glasmire
,
Southern Gospel News
,
Traceway Records
Posted in
announcements
,
awards
|
Comments Off

on Mark Wayne Glasmire Candidate For Nomination In Two Inspirational & Christian Country Music™ Award Categories
Written by SGN Scoops on April 9, 2012 – 3:42 am -

FARMINGTON — Local Christian artist Chelley Odle performed live at a Saturday night concert celebrating the release of her new CD, "Incredible Love." The concert, being held at Farmington's Centene Center, with opening act, Nashville singer / songwriter Michael Boggs.
Odle, of Desloge, last year signed with Activate Records to work on "Incredible Love," her sophomore recording project. She worked on the album with Grammy Award-winning, Dove-nominated producer, Tre' Corley.
Odle has opened for such acts as The Crabb Family, Crabb Revival, Austin's Bridge and Gold City. She has also performed with Crossway, Annie McRae, Aaron and Amanda Crabb, Crabb Revival and Jason Crabb.
She was a 2009 and 2010 ICM top 10 nominee for female vocalist of the year. Odle was also the 2010 CCMNOW Christian Country Honor Award recipient of the Female Vocalist of the Year Award. In 2011, she was nominated once again for the ICM Female Vocalist of the Year Award.
Opening act, Michael Boggs, joined the contemporary Christian group, FFH, in 1999 while a sophomore in college. FFH was extremely successful with seven No. 1 radio singles and seven GMA Dove Awards nominations. He recorded five FFH projects with Essential Records that have sold nearly two million copies. As a band member Boggs was involved in numerous special event projects, such as the multi-platinum WOW Hits and WOW Worship.
When FFH took some time off the road in the fall of 2006, he stepped into the role of worship leader for a ministry in Brentwood, Tenn., that hosts nearly 1,000 college students and other young adults every week. Boggs continues to keep a rigorous solo-touring schedule and has lent his songwriting skills to other artists who have garnered him 10 singles, as well as a featured song in the motion picture, "Facing the Giants." He wrote three of the songs on Odle's new CD.
Tags:
Activate Records
,
austin's bridge
,
CCMNOW
,
Chelley Odle
,
Christian Country News
,
Crabb Revival
,
gold city
,
ICM
,
Michael Boggs
,
Southern Gospel News
,
The Crabb Family
Posted in
announcements
|
Comments Off

on Odle performs live at Centene Center
Written by SGN Scoops on March 15, 2012 – 4:24 pm -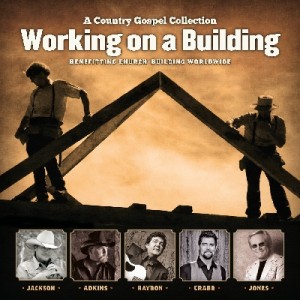 Nashville, Tenn. (March 12, 2012) – Proving once again that Country music artists have a big heart for the whole world, Ken Harding, president of New Haven Records, has joined Executive Producer Mark Carman, president of MCM World Media, to announce the upcoming release of the landmark CD, I'm Working On A Building. The title cut from the project, recorded by Marty Raybon (former lead singer of Shenandoah), has already been nominated for a Country Gospel Music Fan Award, presented annually by Christian Voice magazine.
This inspiring collection of new and existing songs was created exclusively to benefit the work of International Cooperating Ministries (ICM), a non-profit foundation that has constructed approximately 4,000 churches, orphanages and schools in more than 50 countries, supporting more than 20,000 congregations during the past 25 years.
The centerpiece of this collection is a high-octane version of the title cut by Raybon, featuring Country superstar Trace Adkins, Jimmy Fortune (of The Statler Brothers), and Country Music Association Award winner T. Graham Brown. The "Working On a Building" single is already receiving a tremendous response at Christian Country, Southern Gospel and select mainstream Country radio stations and is up for Favorite Song at the CGM Fan Awards program, scheduled for April 28 as part of Country Gospel Music FanFest in Pigeon Forge, Tenn. The GCM Fan Awards, selected solely by Country and Southern Gospel music fans, are sponsored each year by Christian Voice magazine. Read more »
Tags:
Aaron Tippin
,
Alan Jacison
,
Buddy Jewell
,
Christian Country Christian Voice
,
CMA Music Fest
,
Country Music
,
Country Music Association
,
George Jones
,
Glen Campbell
,
ICM
,
Inspirational Country
,
International Cooperating Ministries
,
Jason Crabb
,
Jimmy Fortune
,
Mark Carman
,
MCM World Media
,
New Haven Records
,
Raybon
,
Southern Gospel News
,
T. Graham Brown
,
Trace Adkins
Posted in
announcements
,
causes
,
new music
|
Comments Off

on TOP COUNTRY ARTISTS WORKING ON A BUILDING WITH NEW HAVEN RECORDS
Written by SGN Scoops on October 27, 2011 – 5:06 am -
Nashville, TN (October 26, 2011) — Lee and Elaine Roy were spotted on the set
during an August taping of Larry's Country Diner, and show host Larry Black invited them to perform. "It was totally unexpected," laughs Elaine Roy.  "We were really lucky our fiddle player Clint White happened to be with us." Leona Williams was the show's featured guest that day, but the grand lady of Country graciously made way for the Bluegrass/Roots duo. The Roys rose to the occasion with a rousing rendition of "Give A Ride To The Devil" from their current Rural Rhythm Records' CD, LONESOME WHISTLE.  "And we didn't leave until we'd gotten our fill of the Diner's awesome cheeseburgers and chocolate pie," adds Lee Roy.  This is The Roys' second appearance on the popular RFD-TV show this year.
 AIR DATES/TIMES (more info at www.larryscountrydiner.com ):Thursday, October 27th at 7:00 p.m. CDTFriday, October 28th at 9:00 a.m. CDTSaturday, October 29th at 10:00 p.m. CDTLee and Elaine are the reigning Inspirational Country Music Duo of the Year, and are in the running for three additional ICM awards this year: Vocal Duo of the Year, Inspirational Bluegrass Artist and Inspirational Country Song ("I Wonder What God's Thinking").  The Roys will perform on this year's show, which will be held in Nashville on Friday, October 28at the Schermerhorn Symphony Center.  The duo heads back out on the road on October 29 for shows in Alabama, Minnesota, Kentucky, Florida and Virginia.  These dates follow a hectic summer of high-profile performances at Country Thunder Festival USA (where they opened for Lady Antebellum), Dollywood, Dogwood Park Concert Series, and numerous other festivals and events.  The Roys have appeared on several Fox Television Network shows, Daily Buzz, ABC-TV's What's The Buzz, Daytime, GAC-TV, and other national programs. Fans can catch up with all the news and The Roys' complete itinerary by going to theroysonline.com .
Tags:
bluegrass
,
Christian Country News
,
Country Thunder Festival USA
,
Fox Television
,
ICM
,
Inspirational country Music
,
Instpirational Bluegrass
,
Leona Williams
,
RFD-TV
,
Schermerhorn Symphony Center
,
The Roys
Posted in
christian entertainment
|
Comments Off

on Catch The Roys' Impromptu Appearance On RFD-TV's Larry's Country Diner