Written by Staff on October 12, 2020 – 6:34 pm -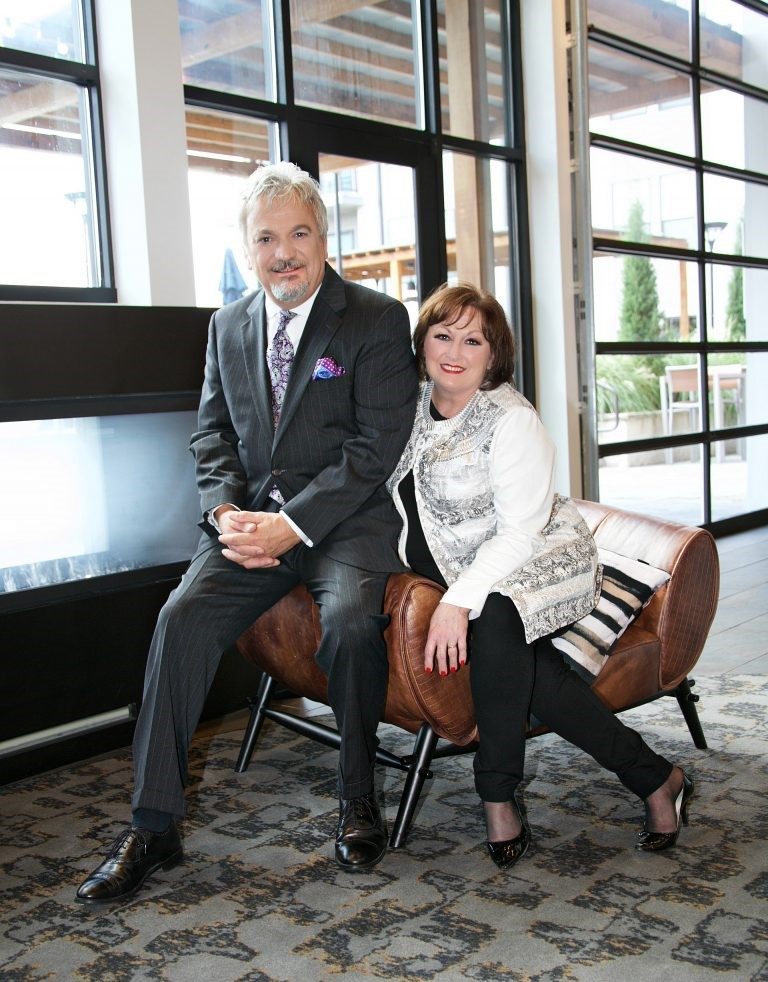 Inheritance is the musical branch of Douglas G Davis Evangelistic Association.  As with all things, the music began with a dream, a want to, and faith.
The dream began in 2001 as Davis felt God's leading in a new direction for ministry. Davis felt that God was calling him to develop the foundation that would allow him to use both his musical talent and his calling to present the gospel. Two close friends joined him in this endeavor and soon the non-profit ministry Douglas G. Davis Evangelistic Association, Inc. became reality. With the suggestion from the board of directors, the first trio formed by the DGDEA was named Eliana. This trio consisted of Douglas, his daughter, Lauren, and Pam Starr, which was replaced soon after by an alto singer.
Little did anyone know that more changes were coming. Changes came again when Lauren became a mother and the alto singer left to get married. As in life, Davis wondered where the ministry was headed. Changes were still coming. Douglas met Melinda in 2009 at a Redback Church Hymnal singing.  And the saying goes, the rest is history. They were married in June of 2011.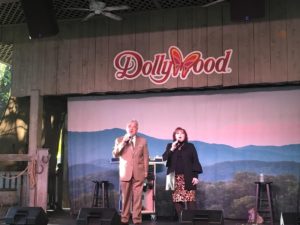 As Douglas and Melinda continued the ministry, a new artist name was chosen: Inheritance. The definition of Inheritance holds great importance for the believer and unbeliever; it carries the powerful meaning of hope. Webster defines Inheritance as something that is or may be inherited; the act of inheriting property; the reception of genetic qualities by transmission from parent to offspring; the acquisition of a possession, condition, or trait from past generations; a valuable possession that is a common heritage from nature. As you can see the promise is one of heritage and the promise to inherit the Kingdom of God. A new phase of ministry began with great anticipation.
Inheritance continues to share the gospel on concert stages, churches, revivals, conferences, and event platforms throughout America. Their brand of gospel music is energetic, filled with rich music and vocal arrangements. With crowd favorite songs to the new interpretative ballads, Inheritance offers a message of hope and encouragement in a troubled world. The impact of an Inheritance concert is felt in the days and weeks after the event. It is uplifting gospel music for today's world.
Davis shares, "We are not satisfied with our past successes. We want to share the good news today with any and everyone. Our new project, "Love Lifted Me," offers a variety of music that shares the positive message of Christ. It is really exciting to see what God is doing and what the future holds with our music ministry.
He continues, "Melinda and I have dedicated our lives to this ministry, proclaiming the good news of Jesus Christ through music, testimonies, and preaching. We pray each day this work is effective and true to its purpose. We spend countless hours searching for songs that will bring the Gospel message to you and through our rehearsals, we work to perfect our harmony. Our family blend is an effort to obtain the sound that will lift you up from your gloom and despair. We pray it will stir your heart to singing praises to the Lord."
Melinda states, "My sincere desire to those that we minister to is to tell them there is a God that sent His only son to die for them. He didn't send His son to condemn them but to save them and have a personal relationship with every single person."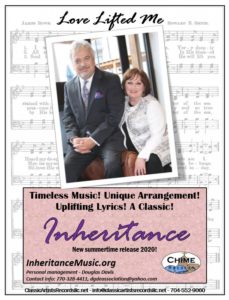 In the 2020 summer, while the Covid-19 Corona Age had set in, talks began with the Classic Artists Music Group concerning the future and direction of Inheritance. As the Corona mandates have changed, the focus on music and ministry is more pronounced than ever.
Davis says, "We are excited to be with a growing company that is focused on doing the right things for ministry. The Classic Artists Music Group has shown in good faith their commitment to work with us to grow our outreach in all areas of our ministry. As we work together, we expect good things as we grow together."
Charlie Griffin of Classic Artists Music Groups states, "As we have laid our music business foundation, we have worked very hard to be involved with artists who have a clear determination to make a difference in music ministry. The marketplace, our Christian community, and our world is changing, and we must adapt to reach people. Inheritance fits perfectly into our music family. They offer something different with their unique music and vocal arrangements. I think radio is going to love them. I know our Christian community will embrace their sincere heartfelt ministry in music and word."
The Classic Artists Music Group label, Chime Records, will be home for this talented musical group. The first Inheritance nationwide audio release will be an enthusiastic arrangement of "Love Lifted Me."
Griffin says, "There is not a song release recently that has this traditional energy playing on today's radio programs. The musical arrangements have the Harold Lane flare from the Speers. It is nothing but good."

This late summer release will be at radio stations on the Anytime Music! Anywhere! Summer 2020 Classic Artists Music Group Music CD disc. The compilation disc will be also having individual email support of wave and mp3 audio files sent to music programmers nationwide. The audio release will be supplemented by the Music Programmers Resource links found on ClassicArtistsRecordsllc.net.
Find this group at: Inheritancemusic.org
For DJ music interactions contact Classic Artists Records at 704-552-906 or info@ClassicArtistsRecordsllc.net. 
www.ClassicArtistsRecordsllc.net
For more news read the SGNScoops Magazine Here
Phone Friendly SGN Scoops Magazine Here
Find SGN Scoops Magazine On Facebook Here
Download SGN Scoops Magazine PDF Here
Listen To Todays Southern Gospel Here
Tags:
Classic Artists Records
,
Douglas G Davis Evangelistic Association
,
gospel music
,
Inheritance
,
Love Lifted Me
,
Southern Gospel Music
Posted in
announcements
,
artists
|
Comments Off

on Inheritance and Classic Artists Music Group Announce Music Partnership
Written by Staff on April 15, 2020 – 8:20 am -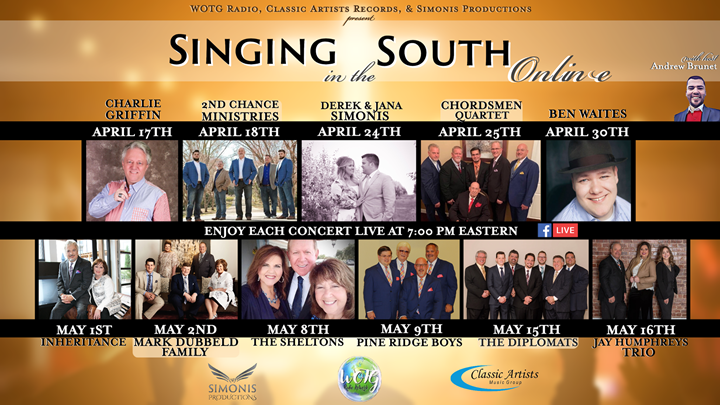 With the current state of gospel music given the COVID-19 virus and the "Stay At Home" social distance mandates, a partnership was formed to showcase select artists, their music and ministries with Singing In The South Concerts.
WOTG Radio Network, Simonis Productions, Classic Artists Music Group, along with Singing In The South Concert Series, invited some of today's southern gospel artists for a special Facebook LIVE concert series. The LIVE STREAMING concerts starts April 17 with Charlie Griffin and Second Chance Ministries as the first weekend guests. The concerts are slated to continue through May 2020. The concerts may be extended based on the "Stay At Home" mandates issued by local and state governments.
Most concerts will be on Friday and Saturday evenings at 7:00 pm EST hosted by Andrew Brunet of Singing In The South. Brunet's love of gospel music is unmatched. With his regular duties as host of multiple radio programs and podcasts, he promotes gospel concerts and artists in the Carolinas. Each artist concert promises to be filled with lots of music, laughs and energy.
Current artists confirmed for this special Singing In The South Internet concert series includes:
April 17 – Charlie Griffin
April 18 – 2nd Chance Ministries
April 24 – Derek & Jana Simonis
April 25 – Chordsmen Quartet
April 30 – Ben Waites
May 1 – Inheritance
May 2 – Mark Dubbeld Family
May 8 – The Sheltons
May 9 – Pine Ridge Boys
May 15 – Diplomats
May 16 – Jay Humphreys Trio
Each ONLINE LIVE STREAMING event will be one hour showcasing music, testimonies, a Q and A session with each artist and will have lots of artist fun. A special donation link will be set up to support the various music ministries with information links to their websites and social media options.
Derek Simonis of Simonis Productions will be engineering the production of this once in a lifetime concert series. His background in gospel music includes extensive work in web and graphic design, full time performance with Liberty and as a working partner with Classic Artists Music Group. Simonis shares, "We are excited to be part of this special LIVE STREAMING concert series. With the Corona life style changes, this allows us the opportunity to share some great talent, ministries and just to present Jesus to so many people."
Classic Artists Music Group's Charlie Griffin states, "With COVID-19 our social habits are changing. But the message of Christ and the Good News has not changed. So, we are working to use our tools to reach more people. From our music family we will be introducing some new music family members and just sharing the best gospel music possible. I am excited at this opportunity and look forward to reaching more people with Christs life changing message."
WOTG Radio Network will broadcast the Facebook LIVE STREAMING ONLINE events on their radio network of music channels. Up to nineteen channels will be airing this special concert series.
After the ONLINE concert performances, each special event will be archived on YouTube with each artist and/ or partnering vendors.
For more information on this concert series contact Singing In The South at 803-374-4069 or Classic Artists Music Group at 704-552-9060.
Participating partner links:
Did you know that you can receive the printed, full-color version of SGNScoops Magazine by subscription? Find out more 
HERE
.
Find SGNScoops Magazine On Facebook 
HERE.
You can download the latest edition of SGNScoops Magazine 
HERE.
Read the latest edition of SGNScoops Magazine online
HERE.
Listen To Today's Gospel Music
HERE
Tags:
2nd Chance Ministries
,
Ben Waites
,
Charlie Griffin
,
Chordsmen Quartet
,
Classic artists music group
,
Derek & Jana Simonis
,
Diplomats
,
Facebook online live concert
,
gospel music
,
Inheritance
,
Jay Humphreys Trio
,
Mark Dubbeld Family
,
Pine Ridge Boys
,
Simonis Productions
,
Singing In The South Concert Series
,
Southern Gospel Music
,
The Sheltons
,
WOTG Radio Network
Posted in
announcements
,
artists
|
Comments Off

on SINGING IN THE SOUTH SHOWCASES FACEBOOK LIVE ONLINE STREAMING CONCERT SERIES
Written by Staff on December 3, 2017 – 11:54 am -
Atlanta, Georgia (November 17, 2017)  

Douglas and Melinda Davis of the Southern Gospel trio, Inheritance, have announced the resignation of Wendy Lowe, the group's alto.




 




According to Douglas Davis, "Wendy resigned her position to care for her mother and stepfather.  Their health is failing and Wendy needs to be able to spend time helping care for them."  Melinda Davis added "While we are sad to lose Wendy as a member of Inheritance, Douglas and I will be praying for her as she becomes caretaker for her parents. We wish her nothing but the best!"




 




Inheritance has begun the search for a member to join their ministry team. Douglas and Melinda understand that change is part of a gospel music/preaching ministry and look forward to ministering with the new person that God sends them. Inheritance has grown to become a recognized name in Southern Gospel music, singing in the showcases at this year's National Quartet Convention and other events, including appearances on TV and radio.  Douglas is also known as the designer of the Mercedes Benz, Itour coach and is helping other groups and artists learn more about this safe, comfortable and efficient ministry vehicle.




 


For those interested in speaking to Inheritance about the open position, email dgdeassociation@yahoo.com or call 404-539-3544

.




 




Inheritance is a ministry of the Douglas G Davis Evangelistic Association, a non profit organization. They deliver the message in song with a Southern Gospel sound and a unique blend of tight knit harmonies. Douglas grew up singing throughout the southeast with his brother and sisters. Melinda comes from a very musical family as well. She grew up singing with her family and traveled with a family group, Inner Peace, singing Southern Gospel music. Inheritance offers a ministry of singing and preaching, singing and leading worship in churches, revivals, campmeetings, and other venues across the country.

For the latest issue of SGNScoops Magazine click here.
For the latest Gospel music news click here.
For online Gospel music radio click here.
Tags:
gospel music
,
Inheritance
Posted in
announcements
,
artists
|
Comments Off

on Inheritance Announces Resignation of Wendy Lowe Begins Search For New Addition to their Ministry Team
Written by SGN Scoops Staff on December 11, 2015 – 6:31 pm -
Solid Rock Welcomes Inheritance
Solid Rock is pleased to introduce you to our latest artist from the great state of Georgia.  They are Inheritance, a great family group that consists of Douglas Davis and wife, Melinda, and his sister, Melody Mabry.  This group has it all – great family harmony, stage appearance, and anointing. They have just released a new CD and recently appeared on Atlanta Live Channel 57 TV.  Inheritance is coming on strong. We trust you will consider this group for some of your upcoming events next year.  You will not be disappointed.  Contact them at Solid Rock
256.506.3044
Find More Southern Gospel News
Here

Tags:
Atlanta Live Channel 57
,
Inheritance
,
Southern Gospel News
Posted in
announcements
|
Comments Off

on Inheritance Joins Solid Rock