Written by Staff on January 22, 2015 – 10:18 am -
By Candi Combs
In a world where there are few good choices of entertainment, there is now a new option. Welcome to Inspiration is now available on DVD. Crabb shares the screen with popular stars, Larry Gatlin, Christy Sutherland, Jackie Stewart and Regina McCrary in a faith based movie that brings much more than entertainment.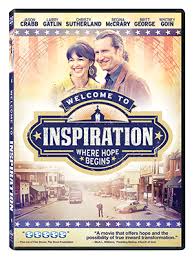 The movie is set in a small town where people share each other's struggles as they walk through life. There are storylines within the film that cover a vast array of social issues. Crabb portrays a man who mentors a young musician who is striving to see a bigger stage to perform. Other characters are dealing with marriage, military service, grief, and each turns to faith while seeking God's wisdom.
The gospel message is shared through a series of "revelations" that are biblically-based principles for better living. As stated by the movie's producers in a recent press release, "In moments of providence, our characters meet mysterious teachers like the STREET SWEEPER, who openly share the Seven Revelations of Irrefutable Success at just the right moment. The revelations are Bible-based principles that point toward a life that is increasingly more spiritually fulfilling. True Success is not so much about material gain as it is about finding true meaning in life. We've heard them before: "it is more blessed to give than receive, knock and the door will open", but have we really explored them? As our characters struggle to find their way, they transform their lives by looking to the Lord for their path."
"I am so very honored to be a part of a project that communicates the values of the Bible that are real and relevant to our lives today," Crabb has said.
Music for the movie is a score of Contemporary Christian as well as a good mixture of original Country Gospel. Crabb and Gatlin are both featured artists as well as the Lee University Campus Choir. Sutherland brings her own brand of music along with her vast acting experience.
This movie is one that appeals to all age groups and all phases of life. There is no doubt that each viewer will feel that they have walked the streets of the small town while being "inspired" to walk a better life!
The DVD is available at retail outlets nationwide.
By Candi Combs
Tags:
Christian artists
,
christy sutherland
,
faith based film
,
gospel music
,
Jackie Stewart
,
Jason Crabb
,
Larry Gatlin
,
Regina McCrary
,
Welcome to Inspiration
Posted in
announcements
,
artists
|
Comments Off

on Welcome to Inspiration Featuring Jason Crabb Now Available on DVD
Written by SGN Scoops Staff on December 18, 2014 – 9:12 am -
Los Angeles, Calif. – Based on the popular and much buzzed-about book The Street Sweeper by Tim Enochs, Welcome to Inspiration brings a small town to life on the big screen. Releasing January 20 to DVD, Welcome to Inspiration is a family film with a musical heart starring a cast of well-known Christian and country artists, including GRAMMY® Award-winners Jason Crabb and Larry Gatlin, as well as Contemporary Christian artist Christy Sutherland. Additional cast members include Jackie Stewart (Slingblade, A Time to Kill) as The Street Sweeper and Regina McCrary of The McCrary Sisters.
Welcome to Inspiration follows the true-to-life story lines of people searching for meaning in the midst of unfulfilled dreams, challenging circumstances and unexpected struggles. When a big city couple find themselves stranded in a small town, their lives are changed forever.  A chance encounter with a Street Sweeper opens their eyes to inspirational life lessons that come alive through the town's residents: a widow coping with the death of her soldier daughter, a small business owner rescuing a young runaway, a mechanic finding faith and a young musician bravely pursuing his dream. Like Enochs' book, the movie reveals seven Bible-based principles, which Enochs dubs the "Seven Revelations of Irrefutable Success" that point toward a life of increased spiritual fulfillment.
With themes of faith, family and discipleship, Welcome to Inspiration points viewers to the Word of God as the source of ultimate authority and direction.  The film effectively moves audiences to spark personal spiritual journeys, using drama, music and emotion to seek Scripture for use in daily life. When living in Inspiration a child, a marriage , even an entire town can be saved because with God all things are possible (Matthew19:26).
In anticipation of the DVD's release, fans have the opportunity to join the Inspiration community online  www.WelcomeToInspiration.com sharing their stories of how God has used a "Street Sweeper" in their own life to guide them toward biblical truth. Fans have already uploaded videos of personal testimonies, sharing the work God has done in their unique circumstances. In addition, the website provides complimentary resources for churches, charities and small groups.
Welcome to Inspiration also places an emphasis on powerful music scored throughout the movie and features live performances from a diverse line-up of artists including Grammy Winners Jason Crabb and Larry Gatlin, Christy Sutherland,  Regina McCrary (The McCrary Sisters), Andrew Greer, Andrea Thomas, Kaitlyn King, Terri Sharp and a themed score by Mike Viola (That Thing You Do, Walk Hard).
To join the community, watch the official movie trailer and learn more, visit
Tags:
Christian News
,
christy sutherland
,
Jackie Stewart
,
Jason Crabb
,
Larry Gatlin
,
Street Sweeper
,
Welcome to Inspiration
Posted in
announcements
|
Comments Off

on NEW MOVIE WELCOME TO INSPIRATION BASED ON TIM ENOCHS' BOOK THE STREET SWEEPER