Written by scoopsnews on April 5, 2016 – 10:47 pm -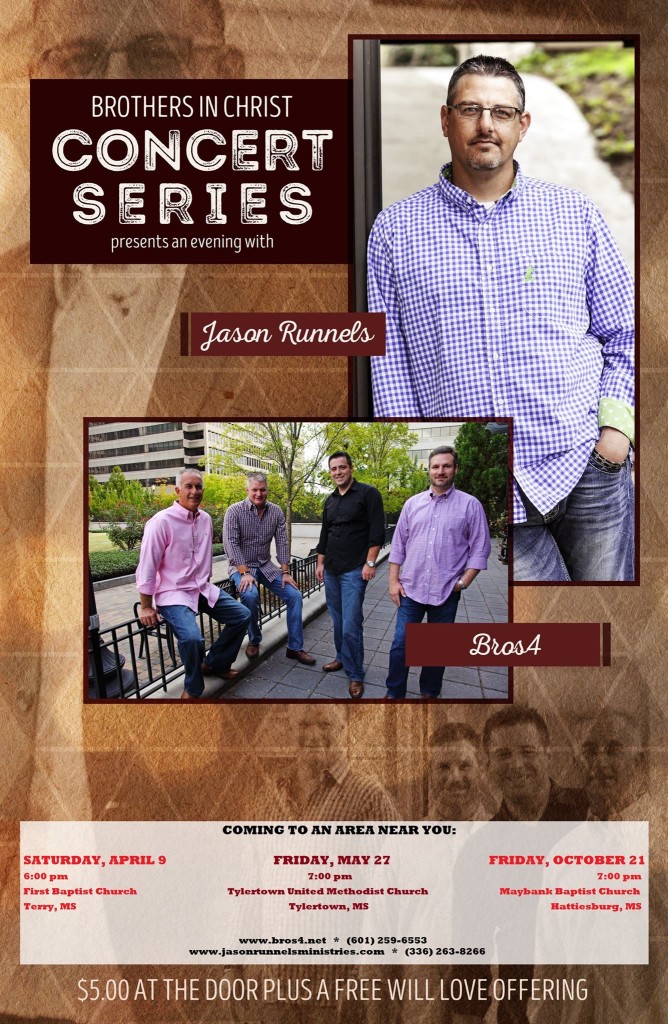 Brothers in Christ Concert
Here's a word from Adam Dungey with Bros 4 about the event:
Tags:
Brothers 4
,
Jason Runnels
Posted in
announcements
|
Comments Off

on Brothers in Christ Concert….
Written by SGN Scoops Staff on February 22, 2016 – 11:12 am -
BROS.4 PARTNERS WITH JASON RUNNELS TO FORM "BROTHERS IN CHRIST" CONCERT SERIES
Clinton, MS — Beginning in April 2016, BROS.4 and Jason Runnels will begin an annual concert series entitled Brothers In Christ.  The Brothers In Christ concert promotions will be comprised of annual gospel concerts in the Southeast, including Alabama, Louisiana, and Mississippi.  The inaugural concerts have been scheduled as follows:
Saturday, April 9, 2016 – First Baptist Church, Terry MS
Friday, May 27, 2016 – Tylertown United Methodist Church, Tylertown MS
*****All events are $5.00 at the door with a Free Will Love Offering*****
This special opportunity for fellowship brings together a lifelong friendship between Jason Runnels and BROS.4 bass singer, Adam Dungey.  The two of them were born in Jackson, Mississippi and raised in the same Church, started their gospel music careers together with the same group, and even participated in each other's weddings.  In addition to their individual relationship, their families where also involved in the music ministry together.
As many know, Jason spent many year's traveling with Tony Gore and Majesty, then the Down East Boys, before embarking on a solo ministry.  He is also an accomplished song writer, penning many charting songs including five top twenty singles, and has been a part of the Gaither Homecoming series.  BROS.4 formed for a onetime event in response to the tragic tornadoes in Hattiesburg three years ago.  After an overwhelming response, combined with their shared convictions and talents as brothers in Christ, the ministry was formed.
With both ministries being from the central Mississippi area, it is a natural progression for them to worship and minister together.  Three additional dates of musical celebration are already being planned.  You don't want to miss your chance to be a part of this unique and meaningful experience!
For more information call (601) 259-6553 or email, bros4@comcast.net.  Additional details can also be found at www.bros4.net or www.jasonrunnelsministries.com.
Tags:
Bros.4
,
Jason Runnels
,
Southern Gospel News
Posted in
announcements
|
Comments Off

on BROS.4 and Jason Runnels Announce Concert Series Partnership
Written by SGN Scoops Staff on January 25, 2016 – 2:34 pm -
Sharps Chapel, TN – Chapel Valley Music Group is excited to announce that popular tenor Jason Runnels will be added to their family of artists.
Jason is known from his days singing with Tony Gore and Majesty and then with the Down East Boys. He was nominated in 2000 as one of the Top 5 Young Artists, according to the Singing News subscribers and has also written 5 Top 20 songs. Today Jason travels full time around the U.S and Canada with his family.
Chapel Valley Music's Marketing and Artist Director, Richard Hyssong states, "We are looking forward to working with Jason. He has been a fan favorite for many years, and audiences love his enthusiasm on the platform. His love for God and his family endears people to his wonderful ministry."
"I was looking for a company that had the same values as I do, and knew almost immediately after talking with Richard, that Chapel Valley is exactly where I need to be", adds Jason.
Tags:
Jason Runnels
,
Southern Gospel News
Posted in
announcements
|
Comments Off

on Jason Runnels Signs with Chapel Valley
Written by Staff on October 7, 2015 – 4:13 am -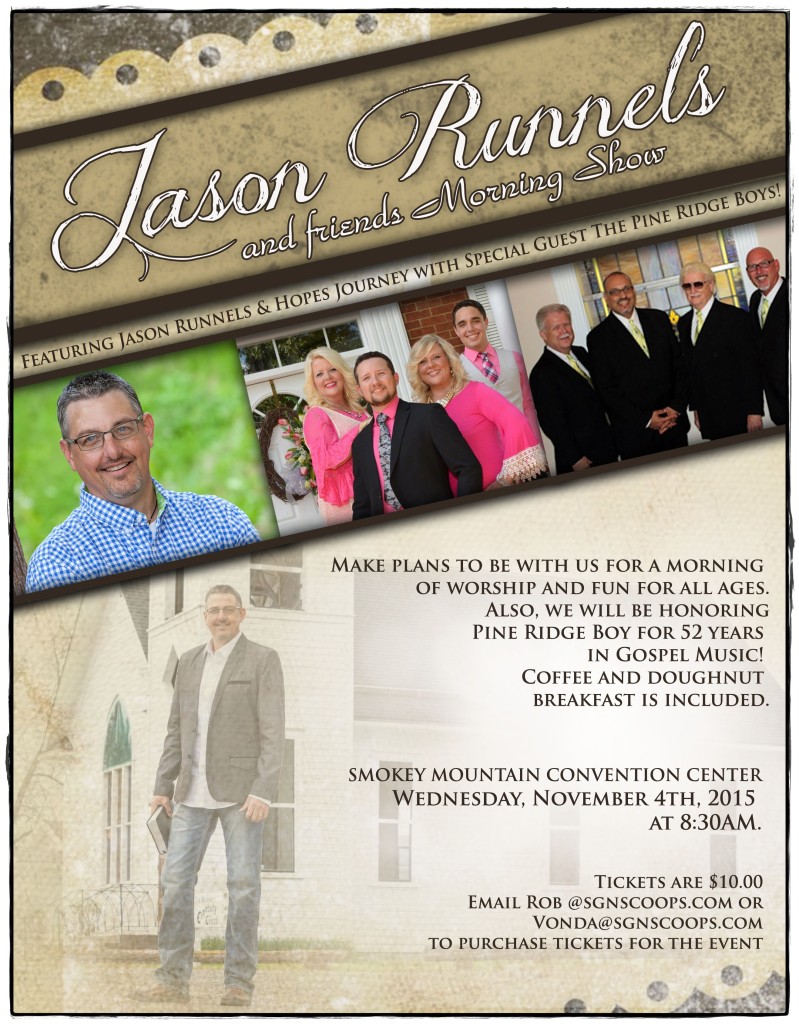 Creekside Gospel Music Convention, November 2nd through 5th at the Smoky Mountain Convention Center  in Pigeon Forge TN, announces a new addition to their schedule.
Wednesday morning, November 4th,, we welcome the Jason Runnels and Friends Morning Show, featuring Jason Runnels and Hope's Journey with special guests The Pine Ridge Boys from Inman, South Carolina.
 Make plans to be with us for a morning of worship and fun for all ages. Also, we will be honoring Pine Ridge Boy for 52 years in Gospel Music. This event will be held at the Smoky Mountain Convention Center, Wednesday November 4th, at 8:30 am. Coffee and doughnuts will be served.

Tickets are only $10. Email rob@sgnscoops.com or vonda@sgnscoops.com for tickets.
For more information on the Creekside Gospel Music Convention,  visit www.creeksidegospelmusicconvention.com 
Tags:
Creekside Gospel Music Convention
,
Hope's Journey
,
Jason Runnels
,
Pigeon Forge
,
Pine Ridge Boys
Posted in
announcements
,
artists
,
gospel events
,
sgn scoops magazine
|
Comments Off

on Creekside welcomes Jason Runnels, Hope's Journey, Pine Ridge Boys
Written by Staff on May 6, 2015 – 12:31 pm -
We have had such a great response from our SGN Scoops' friends that we are posting a double Prayer feature today. We hope that these comments touch your heart and increase your faith.
Remember, today's prayer verse is: Today's Bible verse: "Confess your faults one to another, and pray one for another, that ye may be healed. The effectual fervent prayer of a righteous man availeth much." (James 5:16KJV)
Clayton Inman of the Triumphant Quartet, says that prayer is the key:
Prayer is, no doubt, key to everything that transpires in my daily life. Everyone gets busy. I know it doesn't sound holy, but I do too. So much so, if I don't begin my day in His word and prayer, everything becomes stressful and fleeting. I think this quote was attributed to Martin Luther, though it's not found in his writings: "I have so much to do today that, if I don't spend at least three hours in prayer, I would never get it all done."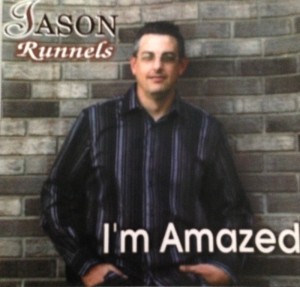 Jason Runnels of Jason Runnels Ministries shares one very direct answer to prayer:
When thinking about prayer, I could go on and on about the goodness of God and how He has answered prayers for me over and over. However, one prayer in particular comes not from me, but from my mom. This month of May marks the six year anniversary of her death.
Ten years prior to that, mom was diagnosed with cancer. When the doctors found the cancer she was told she had a year at best to live. Mom looked at the doctors and said, "Well Doc, you don't have the final say in that! I am praying that God will give me ten years so I can see my grand babies grow up." We began to pray along with her, and she claimed it in Jesus name.
When Mom passed away, she was two months shy of ten years! I promise God is real and He truly answers prayer!
My prayer closet is usually while I am driving at night. My family typically goes to bed or sits back on the couch watching tv, so I have alone time with God. But, I try to always start my day with prayer before I ever get started. I thank God for another day to serve Him and spend with my family.
What does prayer mean to you? Have you had some obvious answers to prayer, that could only have been God? Email us at lorraine@sgnscoops.com
Tags:
Christian Music
,
Clayton Inman
,
gospel music
,
Jason Runnels
,
Prayer
,
Prayer Focus
,
sgn scoops
,
triumphant quartet
Posted in
artists
,
causes
,
Christian interest
,
sgn scoops magazine
,
special feature
|
Comments Off

on Wednesday Afternoon Prayer Focus: The Key to Everything
Written by SGN Scoops Staff on December 3, 2014 – 11:16 pm -
Plans have been finalized for our first annual Jason Runnels Ministries Homecoming. May of 2015 will mark  one year of full time ministry for our family. We would like to invite you to join us as we celebrate this milestone in our ministry. Many of you know I spent 10 years in Gospel Music singing tenor for The Down East Boys, and I have invited them to be our special guest for this event. Several people over the past year have said that they would love to hear me singing with the guys again. Well, May 16, 2015 you will have that chance. Ricky Carden and I have agreed to do a Down East Boys reunion set after intermission that night. I will join Ricky, Daryl, and Joe to sing some of your favorite Down East Boys songs.
This will be a one time event, and we would like to invite you to join us May 16, 2015 at Harvest Baptist Church in Burlington, NC. The concert will start at 6:30 PM and the cost of the event will be $5 ticket and we will take up an offering to off set cost of the event. If you have a family with 5 or more, you only pay $20. We are looking for a sell out crowd for this event. If you are interested in getting on our list for tickets before they are released, simply call 336-263-8266 or email me Jason.runnels1208@yahoo.com and give me your name, number of tickets, and phone number to contact you when they are available. Official ticket release date is March 1st and will be available through the Church office and our website www.jasonrunnelsministries.com. Please mark your calendars, get your tickets and join us as our family celebrates this milestone of Jason Runnels Ministries.
Tags:
Down East Boys
,
Jason Runnels
,
Southern Gospel Magazine
,
Southern Gospel News
Posted in
announcements
|
Comments Off

on Jason Runnels Ministries Announces First Annual Homecoming