Written by SGN Scoops Staff on January 15, 2015 – 11:22 pm -
Wayne Duffield, brother of keyboardist Jeff Duffield, entered into his eternal reward today.  Below is a Tribute to Wayne:
"The well known Dr……….Seuss to be exact, said this: "Don't cry because it's over, smile because it happened".
This afternoon, Wayne Duffield, my "big" brother, protector from neighborhood bullies for many years, (How would you like to have an older brother 50 lbs heavier than your friends?) Took that big step that all of us will someday take.
He was referred to as "Special Needs."  Perhaps. To me, he was just Wayne, my brother.  Born 2 calendar days after me, but 6 years before me, I never really thought of him as "needy".  I will tell you though what he was: the most unconditional, kind, giving, loving person I have ever met. IF…….you took five minutes to get to know him and show him any attention, you had a friend for life. I can give you names of people who did just that: Ronald Hensley, Duane Nicholson Neil Enloe among others, who although he had not seen them in many years, still recalled their names instantly.
When I wanted to learn how to ride a bicycle, he did also, and figured it out ON HIS OWN before the so called "normal" one did. And he could write down with great accuracy the starting lineup of the Philadelphia Phillies. Can you do that? I can't…….
So………IF we believe what we've been taught in Church these many years, (and I do) Guess what? He's as normal (?) as I am this afternoon, no restraints in logic, no limitations on hand to eye coordination, no delay in learning new skills. And, he's talking with Mom………I envy that today……  A big part of me is gone, but only for a while. I love you Wayne……. Gotta stop typing, can't see the screen………"
Jeff Duffield is a well-loved and sought after keyboardist with over 45 years experience in studio recording and stage performance.  He and his wife, Sue, travel in ministry together.
Artists and ministries he has worked with include: Jimmy Fortune, Brooklyn Tabernacle Choir, Canton Junction, John Hagee Ministries, Ann Downing, Ben "Cooter" Jones, Doug Oldham, The Cathedrals, Three Bridges, Sammy Hall, The Nelons,
Tags:
jeff duffield
,
Southern Gospel Music
,
Southern Gospel News
,
the nelons
Posted in
announcements
|
Comments Off

on JEFF DUFFIELD'S BROTHER PASSES AWAY – "TRIBUTE TO WAYNE"
Written by SGN Scoops Staff on March 11, 2013 – 11:23 am -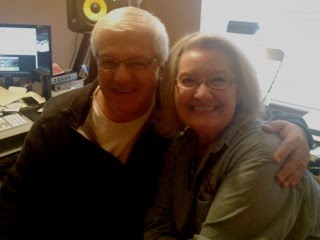 It's pretty fun when old friends get together! But it's even more fun when there's a mutual
respect and admiration for the hymns of the church. Ann's selection of these vintage and
singable standards come from the deep formation of her faith. And that's the connection
that will bring both Jeff Duffield's musicianship and production together with Ann's legacy.
"There hasn't been a better time than now for Ann to sing the songs that touch her deeply,",
says Jeff. "There's already a stir and urgency, to deliver a simplistic purity in making this
more than just a studio project. We're recording it in a way that will go beyond the sterile
programatic approach, striving to be spontaneous and spirit-led." Some of the songs
included are: "God Leads Us Along", "Blessed Assurance", "All That Thrills My Soul", "How
Marvelous", "Footsteps of Jesus", "Lead Me To Calvary", "And Can It Be", and many more.
Recording starts in March at Oak Tree Studios, Hendersonville, with an April release.
Tags:
Ann Downing
,
gaither
,
jeff duffield
,
Oak Tree Studios
,
southern gospel
,
Southern Gospel News
Posted in
announcements
|
Comments Off

on New Project For Ann Downing Coming In April
Written by Scoops Staff on November 17, 2010 – 9:31 am -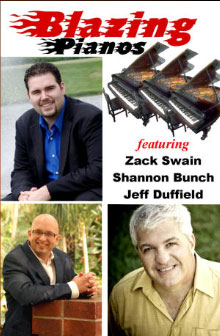 After debuting at the Branson Gospel Music Convention pianists Zack Swain, Jeff Duffield & Shannon Bunch are taking the show on the road. Shannon, a nationally recognized pianist & solo artist shares, "The Blazing Pianos is going to be a show that is like no other, encompassing gospel tunes, pop & country as well as American classics. We feel there is a need for a family-friendly show 'on the road'.
While this format is very entertaining it will allow us to plant the gospel seed into the lives of the un-churched that attend." Zack Swain, the youngest member of the team, is perhaps one of the most talented pianists in gospel music. A student of the Stamps-Baxter School of Music, he has shared the stage with some of the industry's finest artists. His forte of piano solos is a "wow factor" each time he plays. Jeff Duffield privately studied with renowned classical pianist, Reinhold Freche & later at the Berklee School of Music. He has over 700 albums to credit.
The Blazing Pianos will begin its concert touring debut in Nampa, ID Saturday, November 27, 2010 @ 7:00pm at the Nampa Civic Center filmed in HD (high definition) before a live audience with special guests Homeland Harmony Quartet from Nampa, ID. Tickets are on sale now at www.nampaciviccenter.com. A temporary website for this event can be viewed at http://www.wix.com/mactwf/blazing-gospel-pianos. An official website is forthcoming.
Tags:
Branson Gospel Music Revival
,
jeff duffield
,
Shannon Bunch
,
tours
,
zack swain
Posted in
gospel events
|
Comments Off

on 'Blazing Pianos' Goes on Road