Written by SGN Scoops on October 1, 2013 – 12:15 pm -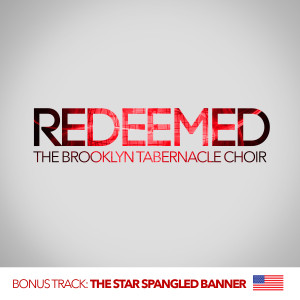 It's been a great year for the legendary Brooklyn Tabernacle Choir. The Grammy Award winning ensemble kicked the year off by singing its dynamic rendition of "The Battle Hymn of The Republic" at President Obama's inauguration ceremony on the steps of the U.S. Capitol with a worldwide television audience of a billion people. The group was featured on the cover of The New York Times, highlighted in Time Magazine and performed on The Fox News Channel's "Fox & Friends" program. Its 27th album "Love Lead The Way" debuted at #1 on iTunes Christian/Gospel albums chart in the spring.
The choir is now prepared to close the year with a bang as the aggregation releases its latest recording "Redeemed" during The Brooklyn Tabernacle Church's annual Music Conference that kicks off Friday, October 4th and runs through Sunday, October 6th.  On October 1st the digital release will be available for purchase exclusively on iTunes and on   www.brooklyntabernacle.org. As a bonus, the soul-stirring track will be bundled with a free-with-purchase download of "The Star Spangled Banner."
The poignant "Redeemed" anthem was first recorded by the Christian band Big Daddy Weave and became a #1 Christian radio hit in 2012. It's currently nominated for Dove Award as Song of the Year. "I was in Nashville mixing the `Love Lead The Way' album and heard the song on the radio," choir founder Carol Cymbala recalls. "I wasn't familiar with it but it struck a chord with me. The song's message of redemption is relevant to us all and I felt it would be a wonderful song for the choir to record for our audience."
The choir's majestic wall of voices creates a heavenly listening backdrop as tenor Brandon Camphor steps center stage to passionately testify of God's forgiveness of sins, "I am redeemed, You set me free, So I'll shake off these heavy chains. Wipe away every stain, now I'm not who I used to be, I am redeemed." The singers are enveloped in a warm, full orchestrated cloud of aural movements that enhance the power of the song's message yet remain true to the choir's signature sound. Stream the song at Da Gospel Truth's exclusive link:  http://www.dagospeltruth.com/?p=8911
The 300-voice choir is a blend of ethnic and economic backgrounds, with members ranging from lawyers and doctors to former drug addicts.  Since 1981, the choir has performed at major venues such as Radio City Music Hall and Madison Square Garden. They've appeared on "Good Morning America" and other national television programs. Their amazing legacy includes six Grammy Awards, seven Dove Awards, two #1 Billboard charting CDs and over four million albums sold. Visit http://www.brooklyntabernacle.org for more news on the choir.
Tags:
Brandon Camphor
,
Brooklyn Tab
,
Brooklyn Tabernacle Choir
,
Carol Cymbala
,
Choir
,
Jim Cymbala
Posted in
announcements
|
Comments Off

on THE SIX-TIME GRAMMY AWARD WINNING BROOKLYN TABERNACLE CHOIR TO RELEASE NEW DIGITAL SINGLE "REDEEMED" DURING UPCOMING MUSIC CONFERNCE October 4-6, 2013 in Brooklyn, New York
Written by SGN Scoops on August 31, 2011 – 2:18 pm -
For Immediate Release – Acts 413 Ministries held their first prayer gathering event in Philadelphia

on Friday, August 20 and exceeded all their expectations.  Nearly 3000 church leaders, staff and members attended the event, featuring speaker Pastor Jim Cymbala of the Brooklyn Tabernacle.   Jim Maxim, founder of Acts 413 and author of the new Whitaker House book, Face to Face with God, says the response shows the intense hunger the church has for prayer.
"We had pastors and leaders from every denomination in attendance," says Maxim.  "We had to open up an extra room at the convention center to accommodate the people.  It shows us that God's shepherds are hungry for revival and to pray for, and with, one another."
Acts 413 Ministries was formed by Maxim to "serve God's servants" through prayer and discreet ministerial support.  Maxim, a successful businessman in the automotive industry, has felt a burden for many years to offer help to church pastors and their staffs.  Recent statistics on pastors are alarming: 
57% of pastors would leave the pastorate if they had somewhere else to go or some other vocation they could do; 
70% don't have any close friends; 
80% believe that pastoral ministry affects their families negatively; 
90% work more than 50 hours a week;
1,500 pastors leave ministry each month due to burnout, conflict, or moral failure.
Maxim believes the church body must become involved in lifting up church leadership, regardless of denomination.
"We are hoping that Christians across the world will join together and pray specifically for their leadership at least one day per week.  Our first prayer gathering was proof that our church leaders are looking for an undergirding of prayer so we are encouraging that people pray for their local church pastors and staffs every Tuesday."
Acts 413 will offer a Public Service Announcement to radio stations leading up to Pastor Appreciation Month in October.  They will also be offering a free Prayer Strategies guide to help churches quickly engage their members.  The guide gives specific instruction on how to formulate prayer groups for every ministry within the local church body.
Acts 413 is partnering with business sponsors to distribute Maxim's new book Face to Face with God through the Teen Challenge organization as well as other ministries around the world.  Maxim will be guest speaker for pastors and church leaders in Cuba in October. In addition to Acts 413 Ministries, Maxim serves on the boards of various ministries including People for People and World Impact and is the chair of The Hope Center, an inner-city crisis pregnancy center. Maxim also works with various mission organizations in Africa, ministering to both pastors and children.
Face to Face with God is Maxim's true-life story of being restored and redeemed from addiction, self-destruction and rebellion. Laying in critical condition in the hospital, Maxim was confronted by the personal demons that plagued his life and then found himself face-to-face with Jesus.  "I wrote this book for people like the old me who may feel like 'lost causes,'" Maxim says. "I' am living proof God answers prayer, and that absolutely no one is beyond His reach." 
For more information, visit www.Acts413.net.
Tags:
Acts 413 Ministries
,
Brooklyn Tabernacle
,
Jim Cymbala
,
Jim maxim
,
Whitaker House
Posted in
Christian interest
|
Comments Off

on Prayer Gathering Event Exceeds Expectation