Written by Staff on September 28, 2019 – 12:34 pm -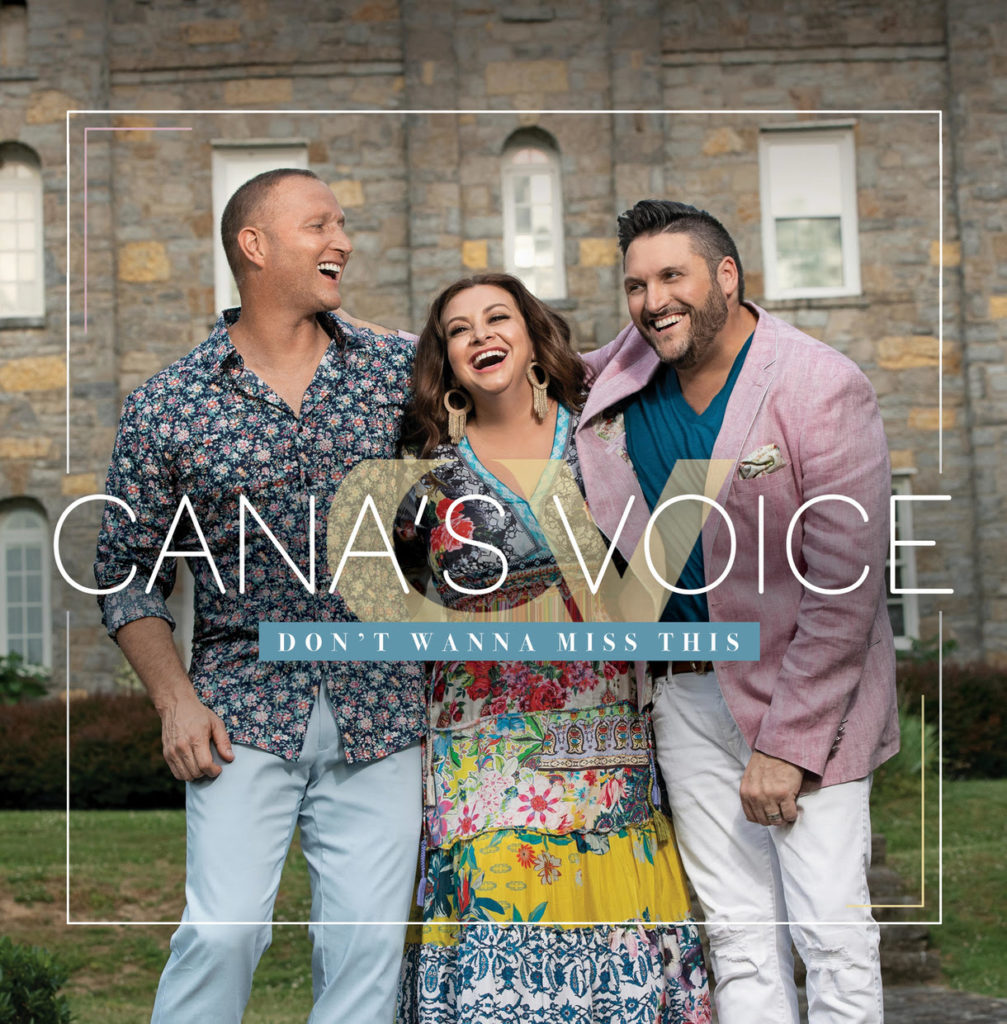 Nashville, TN — With countless live appearances behind them and the success of their chart-topping project, This Changes Everything, StowTown Records artist Cana's Voice is thrilled about the release of their highly-anticipated sophomore recording project, Don't Wanna Miss This, which is now available at all digital and retail platforms worldwide.
Drawing on the strengths of three of today's top, award-winning producers, Wayne Haun, Jim Hammerly and Jerard Woods, Cana's Voice couldn't be more excited about the production and arrangments on this project. But as amazing as this project sounds, it would be meaningless without the message of the carefully-selected songs they chose. Penned by an extremely talented group of songwriters including Don Koch, Andraé Crouch, Wayne Haun, Joel Lindsey, Jeff Bumgardner, Fred Hammond and Brian White, Don't Wanna Miss This is a collection of songs designed to offer hope to the hopeless. Fans will enjoy the fresh new sounds of songs like the upbeat title cut, "You Don't Wanna Miss This" and worshipful "Center Of It All," but they will also enjoy the Cana's Voice treatment of well-known CCM hit "There Is A Love" and Traditional Gospel song "Where Jesus Is."
While they want to send the message of God's love and redeeming grace to as many people as possible, they are particularly concerned for those who are on the edge of giving up on God, Christianity and the church. Jody McBrayer shares, "When we got together, the whole point of this group was to be something unique, genuine and real, and to be a part of something done with excellence. We didn't want to get in the studio and throw some songs together to have a project to sell. No, we've chosen to work diligently for these last 3 years to bring our listeners something that changes people."
With each of the three group members (Doug Anderson, TaRanda Greene and Jody McBrayer) having successful solo careers, Cana's Voice comes together for special events and 30-40 concert dates each year. They look forward to sharing Don't Wanna Miss This at the Brooklyn Tabernacle this Sunday as a launch to their 2019-2020 touring season.
Don't Wanna Miss This is distributed by Sony/Provident Distribution.
TRACK LISTING:
1. Where Jesus Is
2. You Don't Wanna Miss This
3. There Is A Love
4. Orphans of God
5. I Don't Have To Know
6. Again & Again
7. We're Blessed
8. I Stand Redeemed
9. Center Of It All
10. Hope
11. What Are You Waiting For
12. At Midnight
ABOUT CANA'S VOICE:
Cana's Voice has combined the multi-genre talents of Jody McBrayer, TaRanda Greene and Doug Anderson to create a unified message of hope for the hurting. Their awe-inspiring harmony, coupled with the beautiful ability to deliver their personal testimonies, has propelled the vocal group into the music industry spotlight. In addition to each member having well-established solo careers, Cana's Voice comes together 30 to 40 times a year for special events, as well as exciting concert tours with such artists as acclaimed tenor David Phelps and multi-Grammy award winner CeCe Winans. Among their many concerts over the last three years, they have performed at Brooklyn Tabernacle, Bellevue Baptist Church and Shadow Mountain Community Church. They have also been a part of the National Day of Prayer events in Washington, DC, been featured at the Southern Baptist Metro One Worship Conferences and have made regular appearances at Turning Point rallies. In 2020, they will be expanding their tour into Norway, Sweden, and Australia.
LINKS:
http://www.canasvoice.com/
https://www.facebook.com/canasvoice/
https://www.instagram.com/canasvoice/
https://twitter.com/canasvoice
https://www.youtube.com/channel/UCE1RQJI1NhGMofwJ0huCIrw
ABOUT STOWTOWN RECORDS:
StowTown Records was founded in 2011 by Ernie Haase and Wayne Haun and then expanded in 2014 with the addition of partners Landon Beene and Nate Goble. With each person bringing their individual expertise, StowTown has become a powerhouse independent Gospel Music label. As the creative home for many of today's top artists, the StowTown family of artists includes Ernie Haase & Signature Sound, Doug Anderson, Charles Billingsley, The Browns, Cana's Voice, Tiffany Coburn, The Collingsworth Family, The Erwins, TaRanda Greene, The Guardians, Trey Ivey, The Little Roy & Lizzy Show, Tim Lovelace, Jody McBrayer, Devin McGlamery, The Perrys, Southern Raised, The Taylors and Triumphant Quartet. Distributed worldwide through Provident/Sony Distribution, StowTown Records has garnered industry attention with multiple GMA Dove Awards and chart-topping releases from their highly respected roster of artists.
LINK: HERE
For more Gospel music features, read the latest SGNScoops Magazine HERE.
Download SGNScoops Magazine In PDF 
Here
Find SGNScoops Magazine On Facebook 
Here
Listen To Todays Gospel Music Here
Tags:
Cana's Voice
,
Doug Anderson
,
gospel music
,
Jody McBreyer
,
Taranda Greene
Posted in
announcements
,
artists
|
Comments Off

on Cana's Voice Releases Sophomore Project: Don't Wanna Miss This
Written by Staff on August 11, 2016 – 2:02 pm -
"On the third day a wedding took place at Cana in Galilee. Jesus' mother was there, and Jesus and his disciples had also been invited to the wedding. When the wine was gone, Jesus' mother said to him, 'They have no more wine.'…Nearby stood six stone water jars, the kind used by the Jews for ceremonial washing, each holding from twenty to thirty gallons. Jesus said to the servants, 'Fill the jars with water'; so they filled them to the brim. Then he told them, 'Now draw some out and take it to the master of the banquet.' They did so, and the master of the banquet tasted the water that had been turned into wine…What Jesus did here in Cana of Galilee was the first of the signs through which he revealed his glory; and his disciples believed in him." (John 2:1-3, 7-9, 11 NIV)
For this first recorded miracle, Jesus made what some may consider an interesting choice in the vessel that He used to perform the wonder. The jars often go unnoticed in the story of The Wedding at Cana. But they play an important role in the miracle. They are used by the Master to reveal His glory.
The significance of the vessels has not gone unnoticed by TaRanda Greene, Jody McBrayer, and Doug Anderson. All three powerhouse singers have sung before thousands and thousands of Christian music fans. And all three have had moments before an Audience of One when it seemed as if their broken pieces wouldn't hold any more miracles. But Jesus looked past the brokenness and saw three voices that He would use to restore hearts, to heal wounds, and to change lives.
He saw Cana's Voice.
TaRanda Greene's excellent vocal ability and powerful delivery has wowed listeners for years. She has been a regular vocalist on Grammy award-winning Brooklyn Tabernacle Choir projects, and has also been invited to sing at the United Nations, as well as in the largest churches across the world. She has been a regular on the In Touch Network, Gaither Homecoming Series, and Turning Point Ministries.
Jody McBrayer traveled 12 years with the highly acclaimed and multi-award winning Christian pop group, Avalon. His vocal abilities helped garner 21 number-one songs, three Grammy nominations, over four million records sold and three Dove Awards for the group. In 2003, Avalon earned the American Music Award for Best Contemporary Inspirational Artist.
Doug Anderson was a founding member of Signature Sound. As a member of this highly successful Southern Gospel quartet, Doug has traveled the globe, appearing in countless sold-out venues. He has earned a Grammy nomination and 13 Dove Awards as both a soloist and as a member of Signature Sound. During his time with the group, they had three videos and one CD attain Gold status in Billboard sales.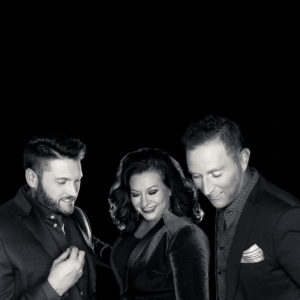 So how did these three extremely talented singers find themselves singing as one voice, Cana's Voice? Doug explains, "Landon Beene, President of IMC/StowTown Records (and TaRanda Greene's husband), TaRanda and I, along with our families, have vacationed together for years and have always joked and dreamed about putting something together where we could still keep our solo careers going, but be a part of something bigger. When I decided to leave Signature Sound the search was on, since we were searching for a third person to make this dream a reality. Landon contacted Jody whom we had all followed over the years, to see if he would be interested. We met at Wayne Haun's house, another StowTown Records executive and our producer, and just got around a piano and just did what singers do. I was all in within the first two minutes. I knew there was something special here and I wanted to be a part of it. And so Cana's Voice was born!"
Tags:
Cana's Voice
,
Doug Anderson
,
Jody McBreyer
,
Taranda Greene
Posted in
artists
,
sgn scoops magazine
,
special feature
|
Comments Off

on Cana's Voice: Once Broken, Now Restored