Written by scoopsnews on March 28, 2016 – 6:57 pm -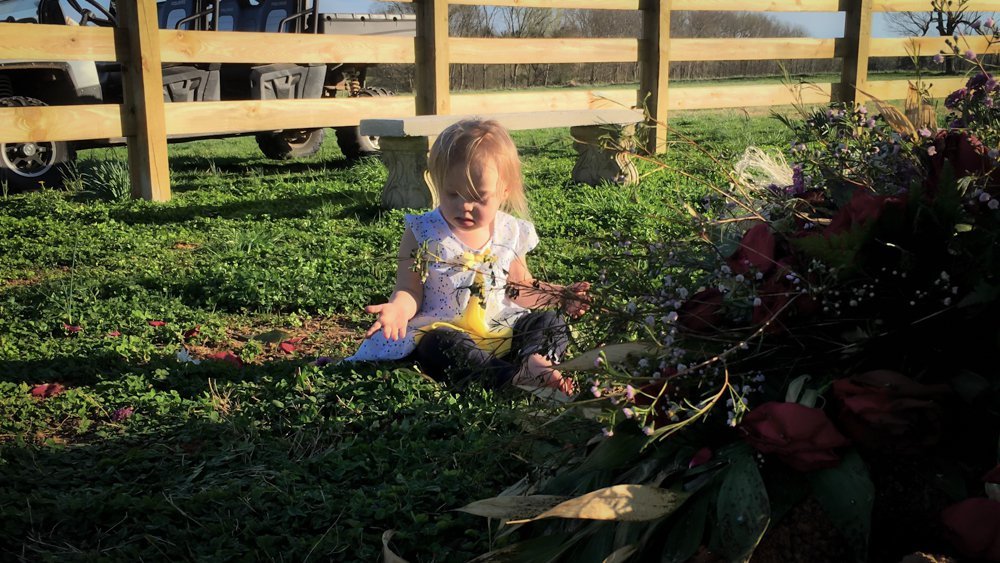 Rory Writes:
Easter is Joey's favorite holiday.
It always has been.  Not because of Easter baskets or bunnies or candy or eggs, but because today celebrates the day that Christ has risen from the dead.  Joey loved sunrise services, and the Lords' supper and the newness of life that Easter brought to the world.  She would get so excited about the day coming and would talk about it for weeks, months sometimes.   I'm embarrassed to say that my favorite holiday is still Christmas.  Partly because of Jesus' birth, but also for a million sentimental reasons and trees and carols and the 'feeling' that's in the air that time of year.  I still have a lot of growing in my faith to do I guess.
I can't help but think of my bride today.  To remember all the Easter's we've spent together over the years and what this morning would be like if she were still here with us.  What it would mean to her to share Easter this year with our two-year-old.  It would be so, so special.
There's a Bible verse that I have been thinking a lot about lately… John 3:30.  It says, "He must become greater; I must become less."  I know that the context of the verse is John the baptist talking about Jesus' ministry growing as his will become less.  But I think of that verse today because of Indiana.  And because of Joey.
Indy has not asked for her mama.  Not one single time since Joey's been gone.  It's almost as if she hasn't noticed that she's not here.  And that is so sad… and oh, so wonderful – all at the same time.
Read the rest HERE
Tags:
Joey and Rory
Posted in
announcements
|
Comments Off

on Rory Feek…. This Life I live
Written by scoopsnews on March 26, 2016 – 7:45 am -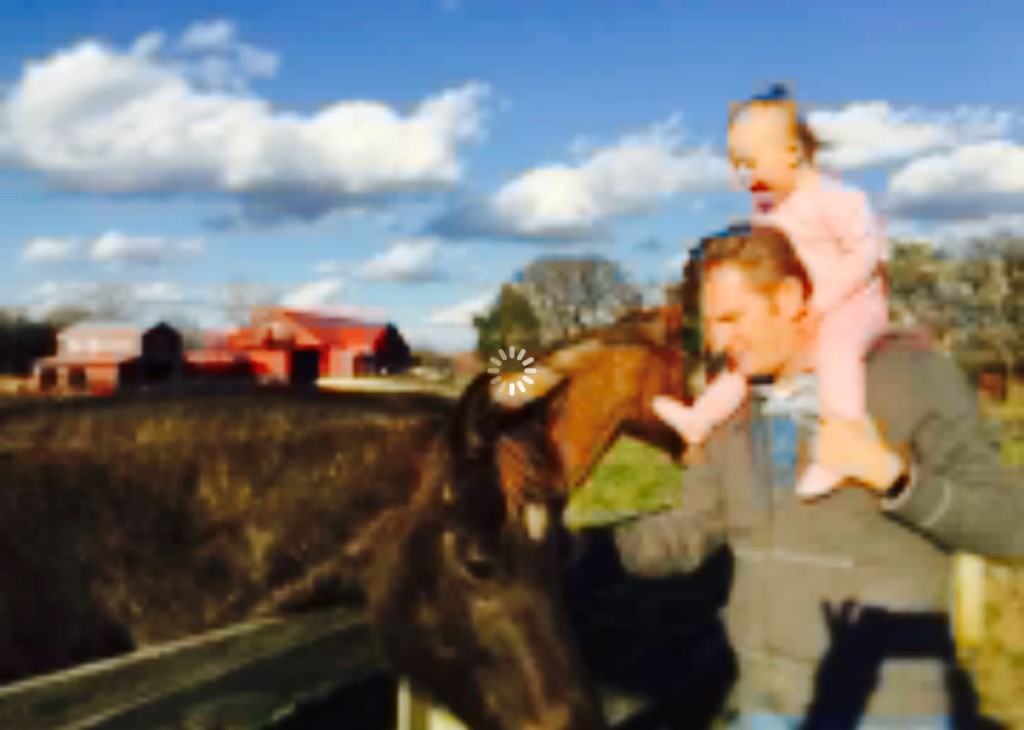 Rory writes……
Joey had every intention of home-schooling Indy as she grew up. For many reasons. But life http://www.thislifeilive.comhas changed that plan.
I have written before about our desire to live our lives with "high hopes and low expectations"… but during the month of January, when Joey and I decided we needed to start researching what and where the next-best option for school for Indy might be…we had no idea that God would lead us to a place called, of all things… 'High Hopes'.
It's a Developmental Center and preschool in Franklin, TN about 25 minutes north of our farm. We had heard about it from our sweet banker friend Lisa Harless and were soon reading all about it online and speaking with the director Gail on the phone. Half of the Center is a preschool and the other half is a state-of-the-art therapy center for children with special needs. When I showed this video about their program to Joey, she wiped the tears from her eyes and with a beautiful smile said, "that's the one honey… that's the one".
About forty percent of the kids in the school have special needs and after walking through and touring the facility the first time we visited High Hopes, it was easy to see that the other parents, the teachers and the staff there all have special hearts too. Joey was so excited about Indy getting the chance to come to High Hopes and I was so thankful that she felt great about it. Somehow she managed to transform her disappointment of not getting to raise and teach Indy into a real hope of something even better. I don't know how, but she did. And she never cried another tear over it.
Indy has been in the preschool a couple days a week for the last week and a half now and is loving every minute of it.
High Hopes-11-6
She is making lots of new friends and loves being around all the other kids…
High Hopes-5-2
She likes recess and playing outside…
High Hopes-6-2
And getting to ride on fun toys…
High Hopes-9-5
and learning lots of new things…
High Hopes-11-4
She even likes her new nap time…
High Hopes-2-4
Indy has already started physical therapy classes to help her learn to walk and speech therapy to start turning all the words that she can say with her hands into sentences she can say with her mouth. I can hardly imagine how special it will be when the time finally comes that she can walk beside me and talk with me.
I believe that God gives us just what we need, when we need it. Sometimes it's not what we had planned or what we thought we wanted, but if we keep an open mind… it just might even be better than what we originally hoped for.
High Hopes-10
When I came to pick her up at the end of her first day of preschool, Indiana's teacher Miss Susan told me that Indy had found a little plastic figure in one of the toy boxes and was holding it up and signing "Papa"!
High Hopes-3-3
Though it's hard for me to be away from Indiana at all, I also know that it's a wonderful opportunity for her. And after her living with me in one small bedroom of a house for the last 5 months and not having much to do, she is ready for more stimulation and learning, and her new preschool is truly a blessing from heaven.
Indy and I are trying to adjust to our new life at home. To the empty chair at our table and pillow on the other side of my bed. Desperately missing Joey and carrying her in our hearts with us everywhere we go. Knowing, believing… that she's looking down each morning as I take Indy into High Hopes, still smiling saying, "that's the one honey…that's the one".
Read the rest Here
Tags:
Joey and Rory
,
rory feek
Posted in
announcements
|
Comments Off

on Rory Feek…. "This Life I Live"
Written by scoopsnews on March 21, 2016 – 5:51 am -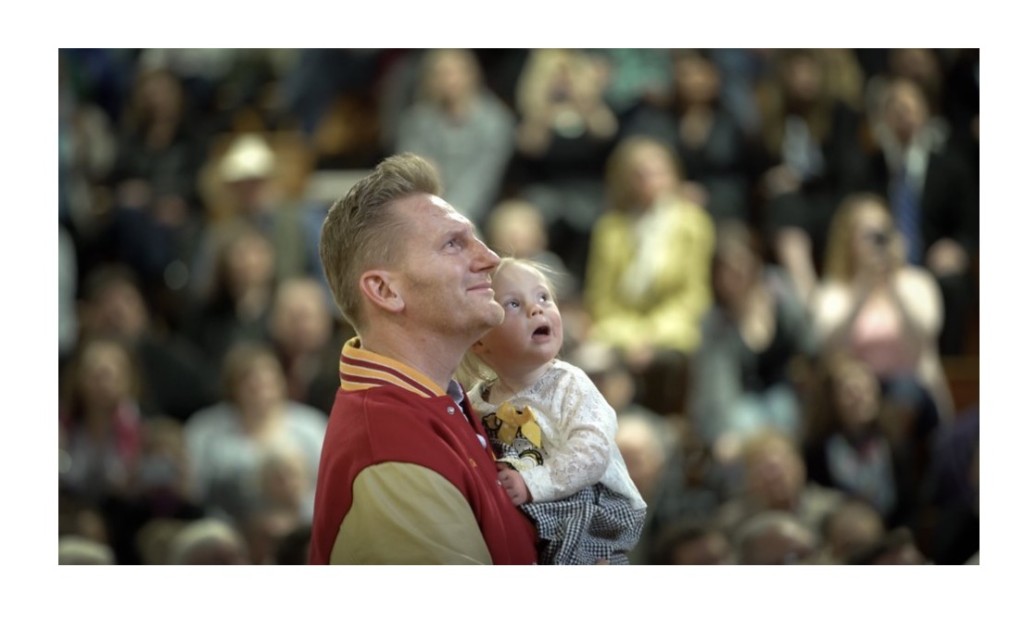 Rory writes…..
The first time I came to the place Joey was born and raised in was in April of 2002. It was my first trip with Joey to her hometown and to meet her family. It's also the weekend that we got engaged.
We had been dating for two months. But when you know… you know. And so what is there to wait for….
Read it all below:
Tags:
Joey and Rory
Posted in
announcements
|
Comments Off

on Rory Feek…."Our Town"
Written by Staff on March 5, 2016 – 6:51 am -
Joey Martin Feek, age 40, went home to meet her Savior Friday, March 4th, 2016, around 2:30pm, in her native hometown of Alexandria, IN.  A current resident of Pottsville, TN, with her husband, Rory, Joey was surrounded by family and close friends at the time of her passing.
Joey had been fighting Stage IV cancer for nine months, surrounded by the love and support of countless family members, friends, loved ones, longtime followers of her music and even strangers who were inspired by her life.
Joey was known for her beautiful voice, beautiful smile and beautiful marriage partnership with Rory Feek.  Together they shared a life built around a love of faith, family, farming and country music.  Their stories, which ranged from growing vegetables to their blossoming as a country music duo, have impacted countless people through television, radio and performances.  While grateful for numerous accolades and countless career dreams that came true, Joey found the real meaning and joys of life to be one of love for her GOD, love for her home and family, love for planting and growing and love for sharing with everyone she knew.  Her roles as wife and mother are often heralded beyond her celebrity successes.
There will be a private funeral service.  Joey is survived by her adoring husband, Rory; their three children, Heidi, Hopie and Indiana; her mother and father and three sisters.
In lieu of flowers a donation can be sent to: Joey and Indy at PO Box 5471 Vancouver, WA 98668.  Joey and Rory's journey of love and some of the stories of the past few months can be found at Rory's blog: www.thislifeilive.com
Tags:
Joey and Rory
,
Joey feek
,
Joey Martin Feek
Posted in
announcements
,
artists
|
Comments Off

on Joey Martin Feek: Funeral Arrangements
Written by scoopsnews on February 22, 2016 – 1:55 pm -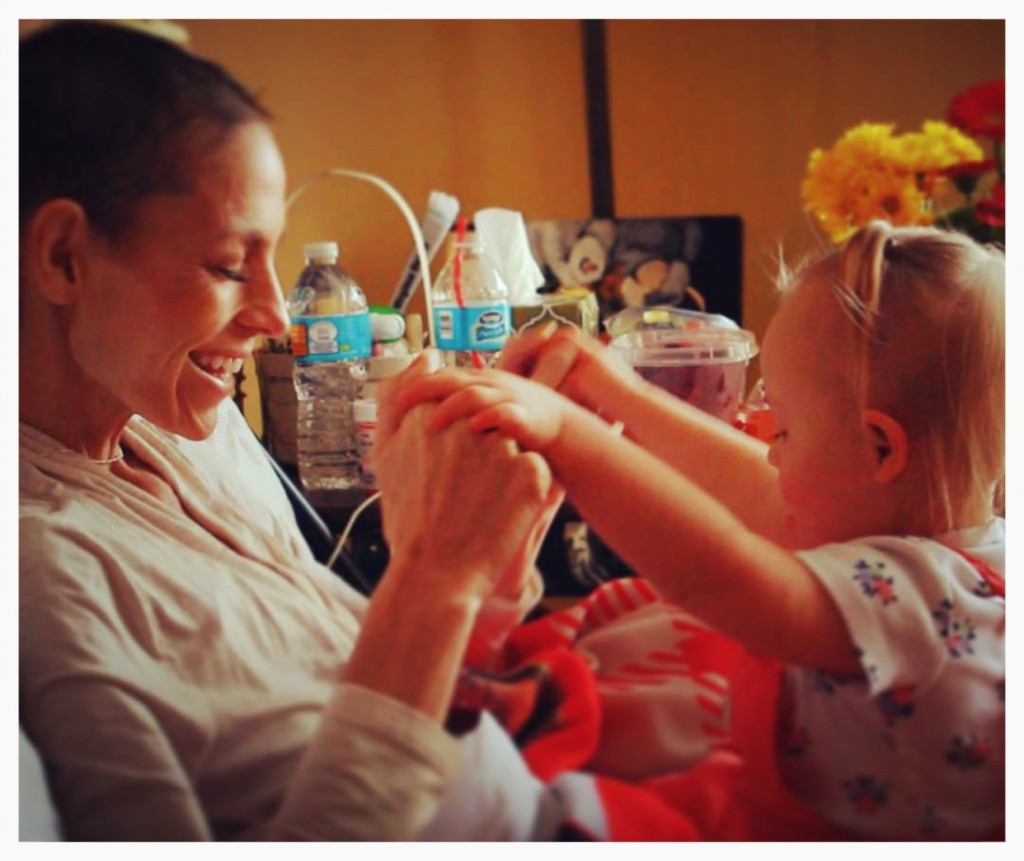 There is nothing like the love between a Mother and daughter. Joey and Rory posted this picture of Indy and her Mom celebrating her birthday on their Facebook page.
Looks like little Indiana keeps everyone on there toes around the Feek house! Check out this sweet video.
Please continue to pray for Joey as she battles terminal cancer.
Check this out: So PRECIOUS….
Tags:
Joey and Rory
Posted in
announcements
|
Comments Off

on Joey and Indiana Feek
Written by scoopsnews on February 17, 2016 – 9:58 am -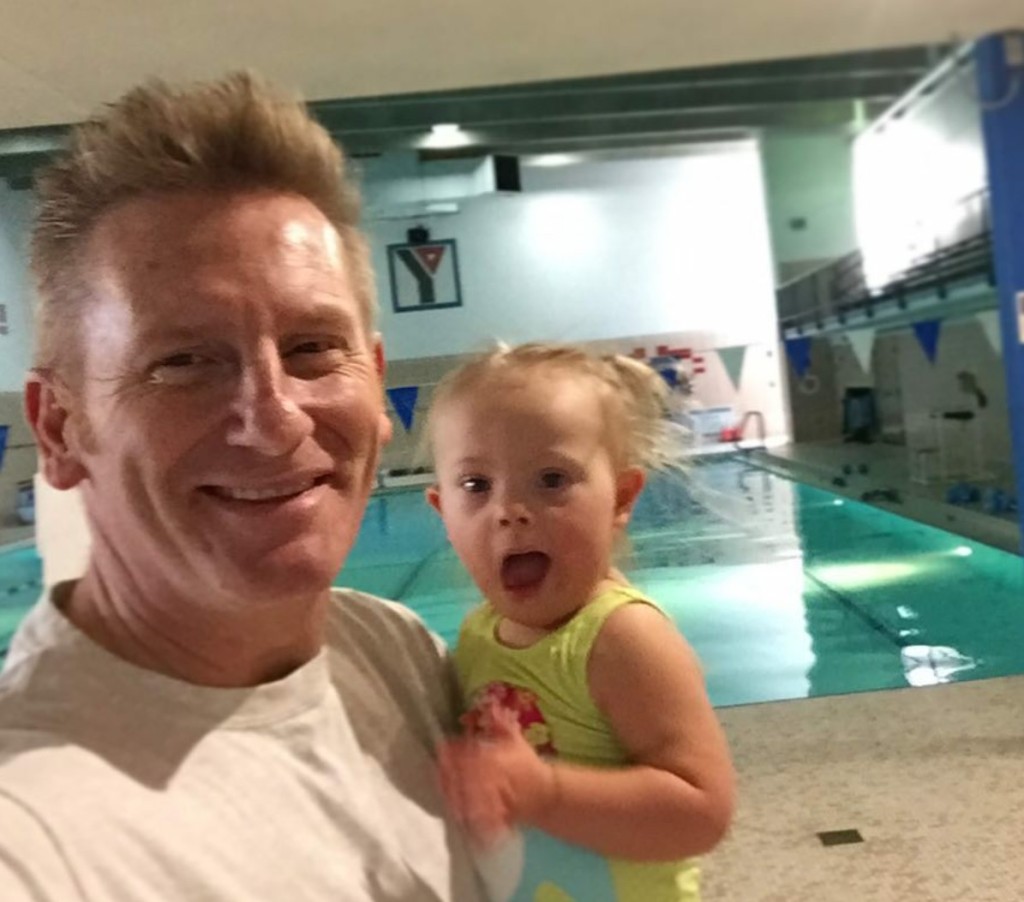 Sweet little Indiana Feek, daughter of Joey and Rory, is having a Birthday!  Hope you have a wonderful birthday Indy with your family!
We are praying for your Mommy.
Have a happy happy day!
SGN Scoops Social  Media Team
Tags:
Joey and Rory
Posted in
announcements
|
Comments Off

on Happy Birthday Indy!
Written by scoopsnews on February 12, 2016 – 11:09 am -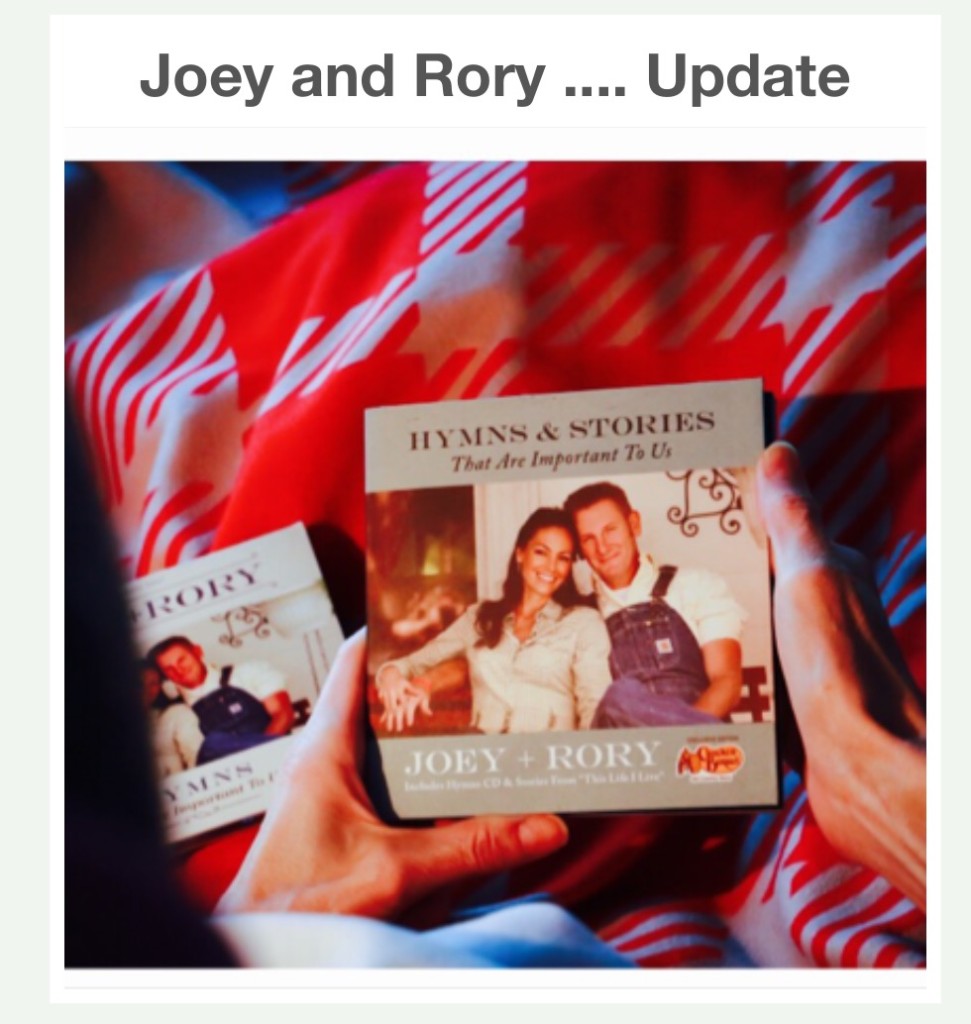 Rory writes…..
Our music has taken us many incredible places and let us experience some amazing things in the past 8 years and people we meet have often asked if we had a plan to get to where we are. I've always answered, "yes, there's a master plan… it's just not ours".
And so now, with the big week we have coming up, we have a little plan. But ultimately, how the plan plays out is up to God.
Valentines Day is this Sunday, the Grammy awards Monday, our little Indiana turns 2 on Wednesday, and on top of all that, our new album was released today.
I woke up just before the sun came up this morning with all those things on my mind…
See entire story HERE
Tags:
Joey and Rory
Posted in
announcements
,
artists
|
Comments Off

on Joey and Rory Update
Written by scoopsnews on February 11, 2016 – 8:54 am -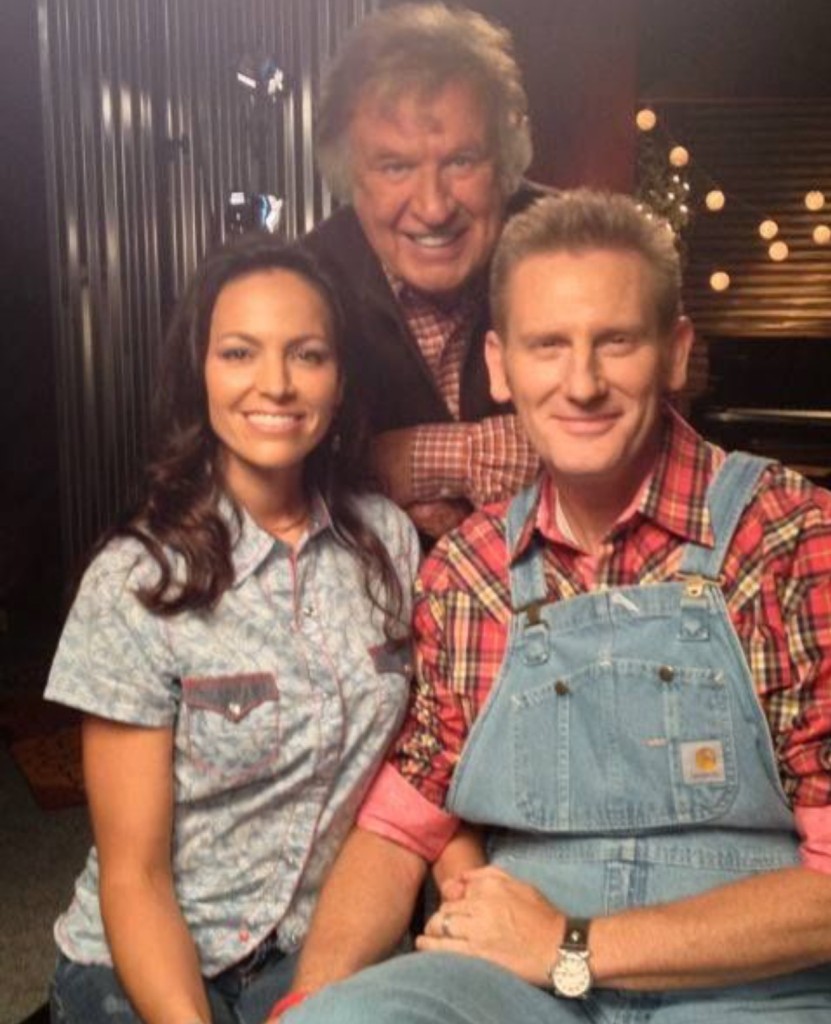 According to Joey and Rory's Facebook, Bill paid Joey a visit this morning and played the piano . It's obvious that he loves this couple like we all do…
Keep praying!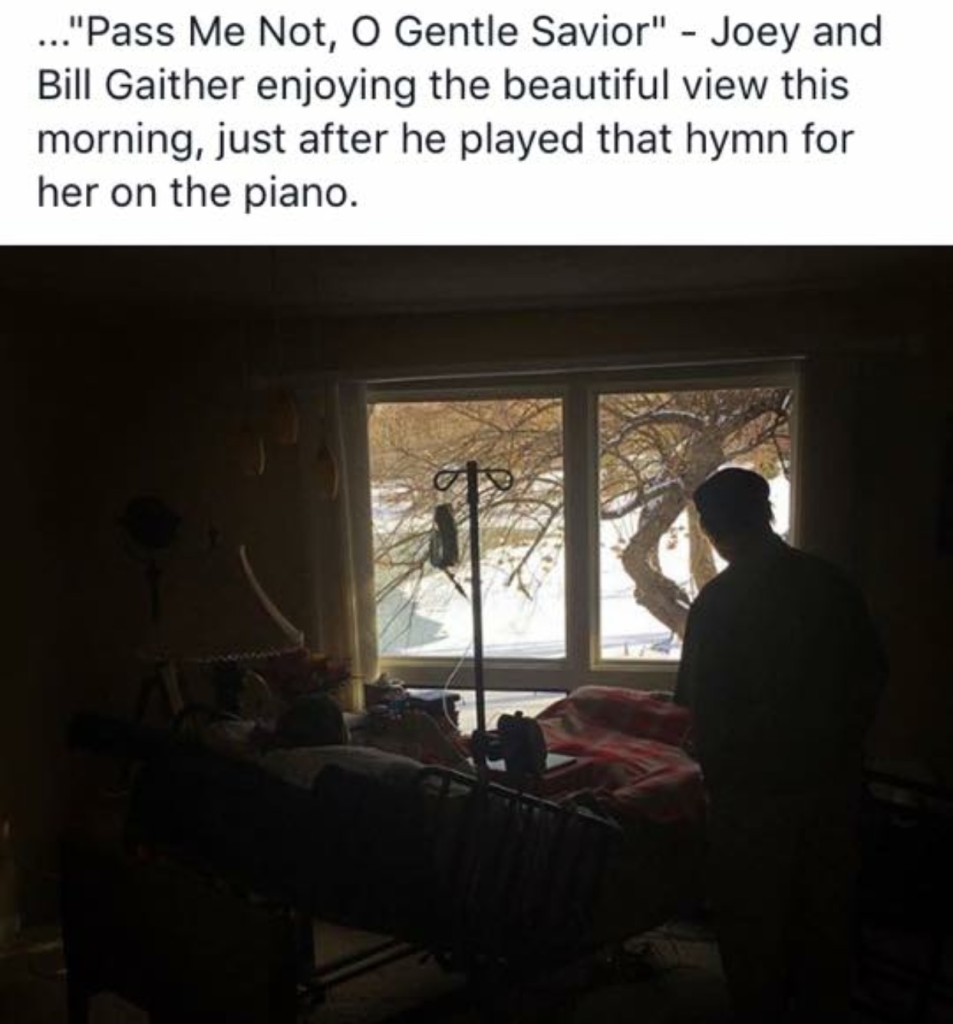 Tags:
Joey & Rory
,
Joey and Rory
Posted in
announcements
,
artists
|
Comments Off

on Bill Gaither visits Joey…
Written by scoopsnews on February 3, 2016 – 1:06 pm -
1 Thessalonians 5:17
Pray without ceasing.
Dear friends,
Let's start a prayer chain for Joey ! Please comment your name below and share on your page if you will pray daily for Joey, Rory, and Indiana.
Rory posted today: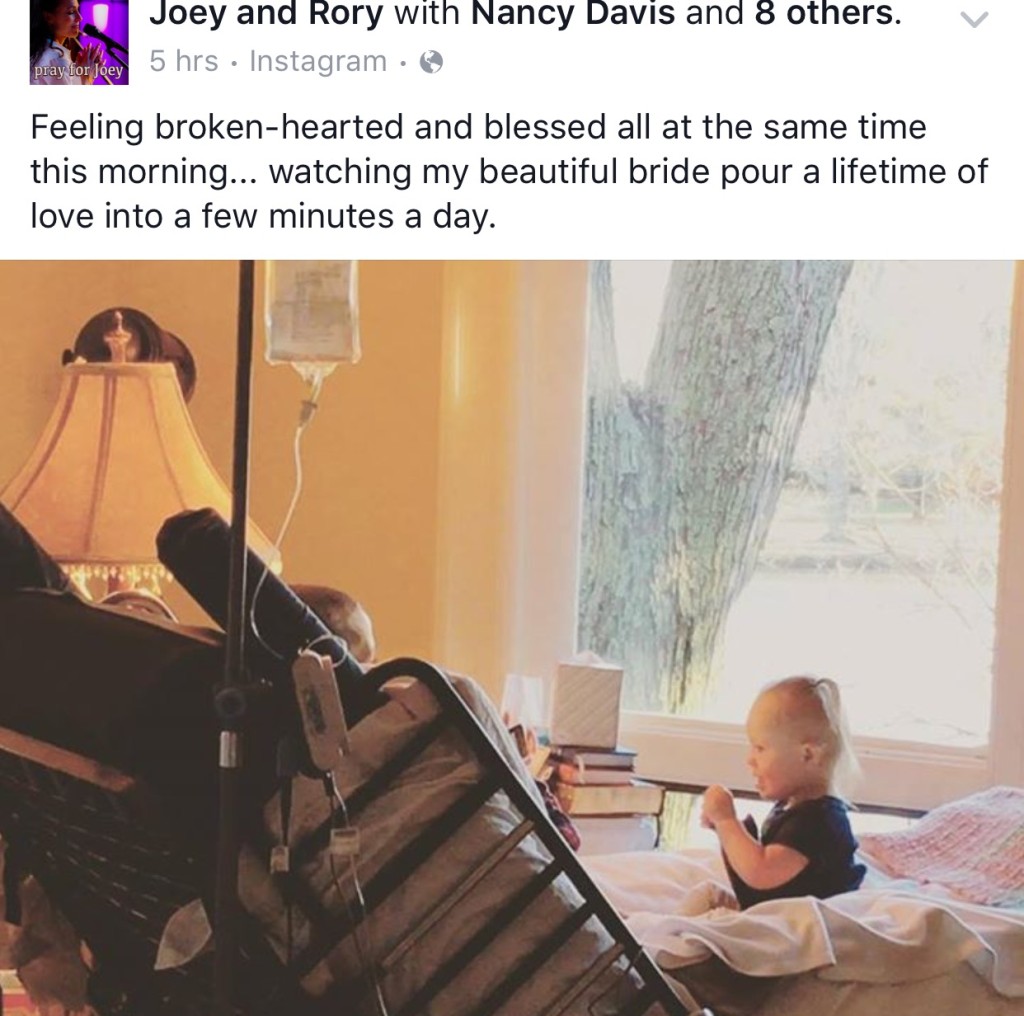 God Bless You!
Prayer Changes Things!
Tags:
Joey and Rory
,
Joey feek
Posted in
announcements
|
Comments Off

on Pray for Joey and Rory
Written by scoopsnews on January 26, 2016 – 6:20 pm -
Reflecting on the last few months and all the stories and posts on the SGN SCOOPS site, I believe we have posted more things on people requesting prayer than on actual news. What that tells me is there are hurting people everywhere and we all recognize the importance of prayer.  One of our first prayer posts was about friends and family gathering to pray for Joey and Rory with the news of Joey's terminal cancer. What faith these two have shown!  Maybe we should all learn to pray like Joey.

We have prayed for Michael Combs, Gail Shelby, The Steeles, The Hemphills, Joey and Rory, Jenna Bolerjack, Natalie Grant's daughter, Natalie Cole's Family, Back Home, The Drummond Family, Lorraine Walker's Dad, San Bernadino, Our Country, Paris, and the list goes on and on. Some prayers have been answered here and some in heaven. Others are still waiting on their miracle.
Each night before bed, I always run through my prayer list and try to call each name. I'm sure most of you do the same. Let's not forget what's most important which is, Do we know Jesus? Are we washed in the Blood? You could go your whole life and not read one of our posts and you would be fine, but we can't make it without The Lord.
Thank you to every reader who prays! We appreciate you!
Rob Patz
I can't think of a better thing to close with than this song…
Tags:
Joey and Rory
,
Prayer
Posted in
announcements
|
Comments Off

on Maybe we should all learn to pray like Joey.