Written by SGN Scoops on February 25, 2013 – 10:30 am -
Hendersonville, TN (February 25, 2013) – Red Hen recording artist, RED ROOTS will appear on Season 2 of the hugely successful GSN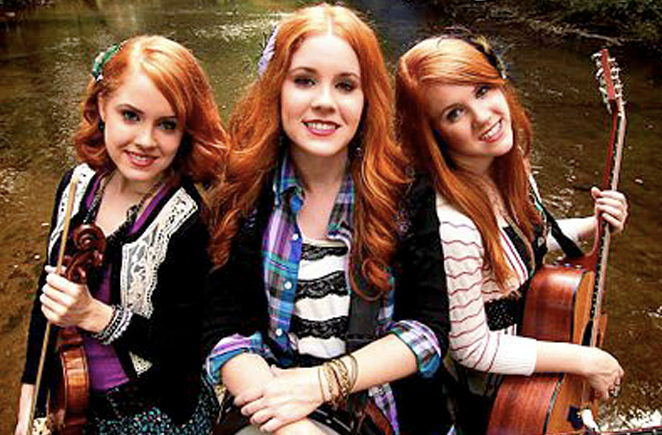 television series THE AMERICAN BIBLE CHALLENGE.  Jeff Foxworthy hosts this one-hour game show in which contestants compete based on their knowledge of the Bible.  THE AMERICAN BIBLE CHALLENGE, will premiere Thursday, March 21 at 9 pm ET/PT on GSN, and the Red Roots will appear in one of the first six episodes.TEAM RED ROOTS will be competing for Home of Grace, an addiction recovery program founded by their pastor—and the first place the Red Roots performed.
These 21-year-old triplets formed the Christian-pop-country band "Red Roots," named in honor of their red hair and their renewal in the blood of Christ.  These sweet Southern girls are also passionate, tough competitors!

Along with showcasing their knowledge of the Bible, this season's new crop of 18 teams of contenders will vie for the title of THE AMERICAN BIBLE CHALLENGE champions by competing in brand new games that put their spiritual AND physical talents to the test.  Each team will be competing for their favorite charity.  The second season of THE AMERICAN BIBLE CHALLENGE will feature GRAMMY® winner and multi-platinum-selling musician and producer Kirk Franklin joining as musical co-host.

Red Hen just released the second single from the group'sMiddle of Nowhere CD called "Christian Country Girl."  The video from the single can be viewed at http://www.youtube.com/watch?v=2mToUDBEsYs.  For more information on Red Roots, please visit theredroots.com.

Red Hen Records is a division of Daywind Records.  Based in Hendersonville, TN, the label is also home to Christian artists Zach and Rodney and Michael Lee.  Red Hen is exclusively distributed by New Day Christian Distributors (www.newdaychristian.com).
For more information regarding this press release, please contact:
publicity@daywind.com.
Tags:
American bible Challenge
,
christian country
,
Kirk Franklin
,
Red Roots
,
Southern Gospel News
Posted in
announcements
|
Comments Off

on Red Roots To Appear On The American Bible Challenge On GSN
Written by SGN Scoops on January 10, 2012 – 4:16 am -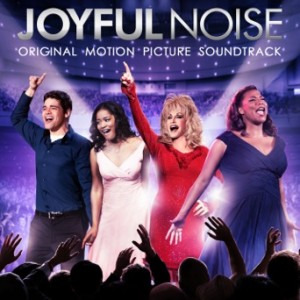 Soundtrack Features New Music Performed by Dolly Parton, Queen Latifah, Kirk Franklin, Karen Peck, Keke Palmer and Others
January 10, 2012 – WaterTower Music announces the release of the soundtrack to Alcon Entertainment's and Warner Bros. Pictures' "Joyful Noise," a funny and inspirational story of music, hope, love and renewal, which opens in theatres January 13, 2012.
This musically driven story brings together the sounds of gospel, pop, country, rock and R & B with multiple performances by Grammy Lifetime Achievement Award recipient and Oscar® winner Dolly Parton ("Steel Magnolias," "Nine to Five"), Grammy, Oscar®,  and Golden Globe Award winner Queen Latifah ("Chicago," "Hairspray"), and BET and NAACP Award winner Keke Palmer (True Jackson VP, Akeelah and the Bee).  The soundtrack to "Joyful Noise" includes these performances, including renditions of memorable songs originally recorded by a wide range of artists: Michael Jackson, Paul McCartney, Sly & the Family Stone, Usher, and Stevie Wonder.  Additionally, the soundtrack boasts recordings of the three original songs Dolly Parton wrote for the film, "He's Everything," "Not Enough" and "From Here to the Moon and Back."The collection also includes tracks by some of the finest acts in gospel and R&B.  Grammy winner Kirk Franklin wrote and takes the vocal reins on his jubilant new song "In Love," and award winning gospel vocalist Karen Peck creates harmonic gold on "Mighty High."
Five-time Grammy winner and 10-time Grammy nominee Mervyn Warren ("Dreamgirls," "The Preacher's Wife," "Sister Act 2") produced and arranged all songs on the "Joyful Noise" soundtrack.  Warren has written arrangements for the likes of Quincy Jones, David Foster and Whitney Houston, and was a member of acclaimed a cappella group Take 6.  He is also a recipient of a Soul Train Award and has been recognized by the NAACP Image Awards, Dove Awards, and Stellar Awards.
The "Joyful Noise" soundtrack releases today – January 10, 2012 – at both physical and digital retail outlets including iTunes.
 Track List:
1. Not Enough       Dolly Parton and Queen Latifah
2. Man In The Mirror                             Keke Palmer
3. Maybe I'm Amazed     Jeremy Jordan and Keke Palmer
4. In Love                                                            Kirk Franklin
5. Fix Me Jesus       Queen Latifah
6. From Here To The Moon And Back   Dolly Parton, Kris Kristofferson and Jeremy Jordan
7. I'm Yours        Keke Palmer, DeQuina Moore and Angela Grovey
8. Mighty High       Karen Peck
9. That's The Way God Planned It      Ivan Kelley, Jr.
10. Higher Medley      Queen Latifah, Dolly Parton, Keke Palmer, Jeremy Jordan, Andy Karl, Angela Grovey, and DeQuina Moore
11. He's Everything      Queen Latifah, Dolly Parton, Keke Palmer, Jeremy Jordan, Andy Karl and DeQuina Moore
12. Joyful Noise Suite     Mervyn Warren
 
Tags:
dolly parton
,
entertainment
,
Joyful Noise
,
Karen Peck
,
Keke Palmer
,
Kirk Franklin
,
motion picture sound tracks
,
Queen Latifah
Posted in
announcements
,
christian entertainment
,
Christian interest
|
Comments Off

on "Joyful Noise" Soundtrack Releases TODAY, January 10, 2012
Written by SGN Scoops Staff on April 22, 2011 – 10:19 am -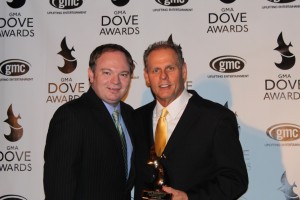 Hendersonville, TN (April 21, 2011) – The 42nd annual GMA Dove Awards celebrated another great year in Gospel music last night at the historic Fox Theatre in Atlanta, Georgia.   Hosted by Sherri Shepherd, the sold out crowd enjoyed performances by some of the top artists in the industry, including Chris Tomlin, Kirk Franklin, Steven Curtis Chapman, Natalie Grant, Jason Crabb, Ernie Haase & Signature Sound and many more.   The top winners of the night were Francesca Battistelli, Chris August, Point of Grace and Jason Crabb, with each receiving three Dove Awards.   The final award of the evening, Song of the Year, was presented to Jason Crabb's, "Sometimes I Cry," written by his father, Daywind songwriter, Gerald Crabb and published through Christian Taylor Music.   Gerald was also awarded overall Songwriter of the Year: a category in which fellow nominees included Chris August, Jason Ingram, Joel Lindsey and Wayne Haun.
The Pre-Show Ceremony, held on Wednesday afternoon in the Fox Theatre's Egyptian Ballroom, was hosted by Jason Crabb and featured performances by Guy Penrod, Nicole C. Mullen, and others.  Highlights of the afternoon included an impromptu moment when Jason Crabb invited his brother, Aaron, and Karen Peck Gooch to join him on stage for an incredible rendition of "Through the Fire" that brought the crowd to its feet.  Brian Free sang his hit song, "Never Walk Alone," during a special segment honoring industry professionals and artists who have passed away this year, including his own mother and father.
The 42nd Annual GMA Dove Awards will be televised on the Gospel Music Channel, Easter Sunday, April 24th, at 8:00 p.m ET.
Daywind Music Group is based in Hendersonville, TN and is distributed worldwide through New Day Christian Distribution.  Daywind is home to such great artists as Legacy Five and the Perrys, and writers such as Kenna West and Marty Funderburk, among others.  For more information on Daywind Records, visit daywindrecords.com.
Tags:
Chris Tomlin
,
Ernie Haase & Signature Sound
,
gerald crabb
,
Jason Crabb
,
Kirk Franklin
,
Natalie Grant
,
Steven Curtis Chapman
,
Wayne Haun
Posted in
announcements
,
christian entertainment
|
Comments Off

on Daywind Songwriter Gerald Crabb Brings Home Multiple GMA Dove Awards
Written by Scoops Staff on December 21, 2010 – 8:42 am -
With Headliners Kirk Franklin, Fred Hammond, Marvin Sapp, Sinbad, Canton Jones and JoyFest MC Bone Hampton
JoyFest Will Be Held at Carowinds in Charlotte, N.C. on May 28 and at Kings Dominion in Doswell, Virginia on July 16
HIGH POINT, N.C. – December 15, 2010 – A summer evening of great gospel music and thrilling amusement park rides can only be described as a JoyFest, and that is exactly what Premier Festivals will present next May 28, 2011 at Carowinds in Charlotte, N.C. and on July 16, 2011 at Kings Dominion in Doswell, Va.
JoyFest, the annual celebration of black gospel and urban music and entertainment, will feature Kirk Franklin, Fred Hammond, Marvin Sapp, comedian Sinbad, Canton Jones and, back by popular demand, the official JoyFest MC Comedian Bone Hampton, plus other acts to be announced soon.  A JoyFest ticket includes, not only a seat to the exclusive evening of music, inspiration and laughs, but also an amusement park ticket for admission to all the rides and amusements at both JoyFest locations.
"JoyFest has become one of the largest premier Gospel events in the Nation.  This year is no exception as JoyFest will host one of the best lists of artists and comedians in its entire history!" said Richard Young of Premier Festivals, which produces and promotes JoyFest.
JoyFest at both Carowinds and Kings Dominion have previously experienced capacity attendance at the parks and JoyFest 2011 is expected to be another huge event.  Tickets are now on sale at 
www.ticketmaster.com
and detailed ticket information is available at
www.joyfest.com
, including early bird and group discount information.  
The Kings Dominion JoyFest event is also offering special holiday discounts through January 31, making a JoyFest ticket a tremendous gift-giving opportunity this Christmas.
Carowinds is called the thrill capital of the Southeast.  The 122-acre amusement park is the home of 232-foot-high Intimidator, the tallest, fastest, and longest coaster in the Southeast and the Afterburn, consistently ranked as one the top steel coasters in the world.
With more than 400 acres, Kings Dominion is home to more than 60 rides, shows and attractions. The park features 15 world-class roller coasters making it one of the largest coaster collections on the East Coast. In 2010, Kings Dominion introduced the Intimidator 305; at 305 feet-tall and over 90 miles per hour, it is the tallest and fastest coaster of its type on the East Coast.
JoyFest is one of Premier Festival's most successful annual concert series and is produced in partnership with Cedar Fair Entertainment, the industry leader in family-oriented amusement park properties in North America.
Tags:
Bone Hampton
,
Canton Jones
,
Fred Hammond
,
joyfest
,
Kirk Franklin
,
Marvin Sapp
,
Sinbad
Posted in
gospel events
|
Comments Off

on JOYFEST 2011 Announces Biggest and Brightest Line-Up of Talent