Written by Staff on May 23, 2014 – 9:01 am -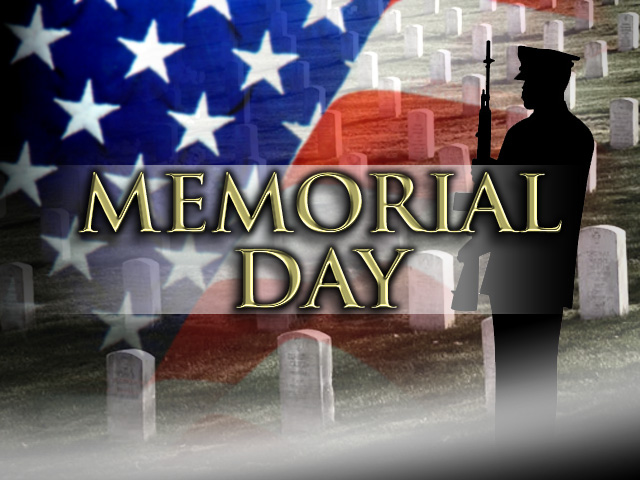 As we look toward the Memorial Day weekend, we think of those that have given their lives to give us a peaceful land in which to live. Award-winning artists Triumphant Quartet had a hit song entitled, "Somebody Died For Me", from their "Everyday" project released in 2009. From a feature story published by SGN Scoops magazine in September 2010, one of the co-writers of "Somebody Died For Me" discussed the creation of this ballad. Excerpts from the article are below:
The song was written by Christy Sutherland and tells the story of soldier who lived through battle because another soldier, his best friend, died in his place. From a similar feature published in USA Today, Sutherland talks about the song's concept and creation. "I remember when I read the article thinking 'What would I do if a friend were to give their life for me?' In that moment it was as if the Lord said, 'Somebody did die for you and He is your Friend.' I was just overwhelmed with a sense of God's great love for me, that He would send His Son to die for me. I knew I had to write a song. I called my friend and co-writer Kyle Matthews and we wrote the song over a period of a few weeks."
Sutherland continues, "Triumphant actually heard me perform the song at a charity event in East Tennessee. They asked if they could record the song and I told them I would love for them to record it, but I was planning on releasing my recording to radio as a single. They said that was fine with them and they would not release it as a single before I did. So, I released the song and it became my first Singing News charting single. I am even more excited that it is now climbing the charts with the guys singing it. The highest honor a songwriter can receive is to have other artists wanting to record their songs."
Triumphant Quartet has received a lot of response from the performance of "Somebody Died For Me", and will no doubt see that response continue with the release of their next recording, "Love Came Calling". Vocalists Clayton Inman, David Sutton, Eric Bennet and Scott Inman put their heart and souls into every new release and this latest recording continues with that tradition.
Somebody Died For Me
He was a troubled kid in and out of jail
When his daddy said this is the last time I'll pay bail
He enlisted in the army and they sent him to Iraq
He was a different man when he came back
Somebody said the army must've whipped you into shape
But he said that's not the reason that I've changed
Somebody died for me (before I even asked for help)
Gave his life for me (when I couldn't save myself)
I cannot live the way I lived or be the way I was
Every day's a gift to me because (somebody died for me)
Now they fold the flag and attach a silver star
While the grieving mother leans against his arm
Then he stands before the family and does his best to tell
How he survived the night his best friend fell
He says no one who knew him was surprised he died that way
He tried to live for Jesus oh he always used to say
And I don't wanna waste a moment
Of the time I have left
With every breath I'm given
God help me not forget
"Somebody Died For Me" was written by Christy Sutherland and Kyle Matthews, recorded by Triumphant Quartet in 2009 on their album Everyday.
Tags:
christy sutherland
,
May 2014
,
Memorial Day 2014
,
Somebody Died For Me
,
triumphant quartet
Posted in
Christian interest
|
Comments Off

on Memorial Day 2014: Somebody Died For Me
Written by Staff on April 8, 2014 – 5:00 am -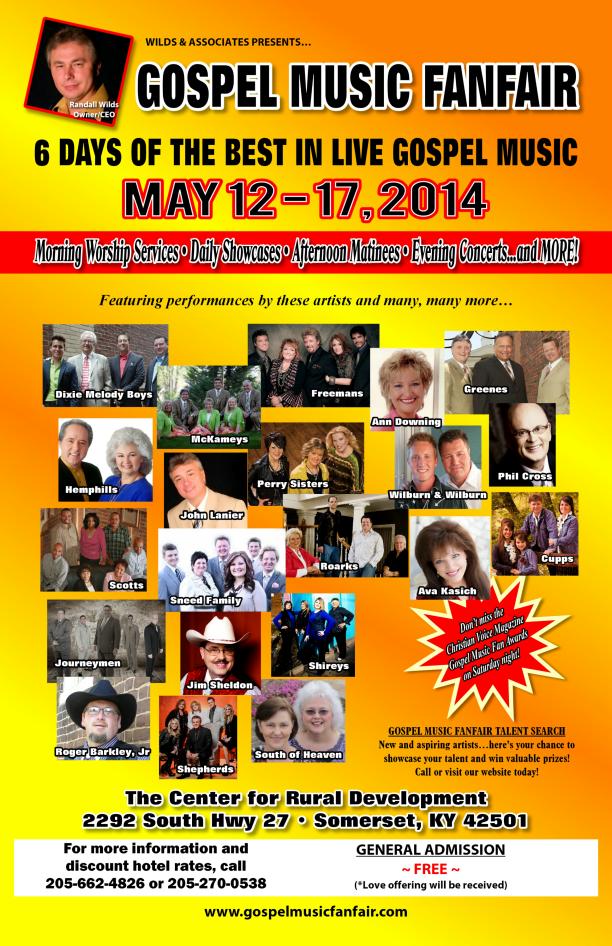 The Southern Gospel Music FanFair has seen much growth in a decade great concerts. SGM FanFair launched its inaugural event in 2005, in Chattanooga, Tennessee and then moved to Pigeon Forge, Tennessee in 2009. The following year, Wilds & Associates launched the Country Gospel Music FanFest, adding another week of music and even more variety for Gospel music fans.
Earlier this year, SGM FanFair and CGM FanFest was combined into one event so that Gospel music fans can now enjoy a variety of traditional and progressive Southern, Country, Bluegrass, Inspirational and Urban Gospel music at the new Gospel Music FanFair.
The week of Gospel Music FanFair will feature morning worship services, afternoon matinees, daily showcases, evening concerts and a talent search. Presented by Christian Voice Magazine, the Gospel Music Fan Awards program will be held on the final evening of the event.
The all-new six-day mega event premiers at the state-of-the-art theatre of The Center for Rural Development in Somerset, Kentucky on May 12th through 17th. The prestigious Center is located in the heart of the beautiful Lake Cumberland. The theatre is the crown jewel and showpiece of The Center, where some of the top names in music have performed including the world-renowned National Symphony Orchestra.
The Center offers on-site parking and plenty of nearby hotel accommodations for artists, vendors, and fans. Somerset offers the outdoor fun of Lake Cumberland, plus wide variety of shops, restaurants and attractions suitable for the entire family.
Wilds & Associates has announced yet another major change for this mega event. In honor of their 10th anniversary event, no admission will be charged for general seating. While tickets are still required for artist circle seating, a recent vote among the Gospel Music FanFair Board of Directors resulted in a "no admission charge" policy for general seating. Instead, love offerings will be received each evening throughout the week.
Wilds & Associates president and CEO, Randall Wilds, states, "By choosing to operate on a love offering basis, we believe it will be more economically feasible for families to attend. We also believe that Gospel music fans are loyal and will support the event with their generous financial contributions. We feel great about this decision and we look forward to celebrating our tenth year with Gospel music fans and their favorite artists."
Nearly 100 artists are scheduled to appear throughout the week, including The McKameys, The Dixie Melody Boys, The Freemans, The Greenes, Wilburn & Wilburn, The Hemphills, Phil Cross, The Roarks, Ann Downing, The Shepherds, John Lanier, Sunday Drive, Eternal Vision, and many more.
Everyone is cordially invited to join us for this special 10th anniversary event as we continue the tradition of Gospel music, fellowship and family fun – creating wonderful memories for years to come.
For more information, visit www.gospelmusicfanfair.com or call Wilds & Associates at 205-662-4826.

****Special Announcement: Christian Voice Magazine Gospel Music Fan Awards****
Christian Voice Magazine has merged their awards programs, formerly known as the Southern Gospel Music Fan Awards and the Country Gospel Music Fan Awards. The change was made to coincide with the new six-day Gospel Music FanFair event being held this spring in Somerset, KY and to accommodate a broader spectrum of Gospel music sub-genres.
The name of the awards program was officially changed to the Christian Voice Magazine Gospel Music Fan Awards. The program remains 100% fan-based, but Gospel music fans can now vote for their favorites from multiple progressive and traditional conservative sub-genres including Southern Gospel, Country Gospel, Christian Country, Bluegrass Gospel, Inspirational, Urban Gospel, and Worship.
Voting began in early February with the open nomination ballot where fans listed their choices in 25 categories. As a result, Christian Voice Magazine has just announced the top ten finalists for the 2014 Gospel Music Fan Awards.
Jason Crabb leads with nominations in eight categories. In addition to Favorite Male Vocalist and Favorite Crossover Artist, Crabb's Love Is Stronger CD has been nominated for Favorite Album and his hit radio single, "What The Blood Is For", is among the top ten for Favorite Song.
Following closely is Christian Country band Sunday Drive and rising male soloist, Michael Wayne Smith. These artists tie with six nominations each, including Sunday Drive's nomination for Favorite Group and Smith's for Favorite Soloist.
The Roarks and Tim Livingston come in together with five nominations each while Marty Raybon, Brian Free & Assurance, Ava Kasich, and newcomers Ashley Repass and Jesse Reece each nab four nominations. Karen Peck & New River, Triumphant Quartet, The Dixie Melody Boys, and The Parish Family all have multiple nominations as well.
Gloria Gaither, Archie Watkins and Gerald Wolfe are among the top nominees for Living Legend.
Awards will be given as winners are announced at the 2014 Christian Voice Gospel Music Fan Awards program on May 17, 2014, during the 10th annual Gospel Music FanFair at the Center for Rural Development's Performing Arts Theatre in Somerset, KY.
To view the full list of top ten finalists and access the online ballot, visitwww.christianvoicemagazine.com
Tags:
Bluegrass Gospel
,
christian voice magazine
,
country gospel
,
gospel music
,
Gospel Music Fan Awards Program
,
gospel music fanfair
,
Kentucky
,
May 2014
,
Somerset
,
Urban Christian music
,
worship music
Posted in
announcements
|
Comments Off

on Gospel Music FanFair Moves To Somerset, Kentucky