Written by Staff on March 22, 2019 – 5:28 pm -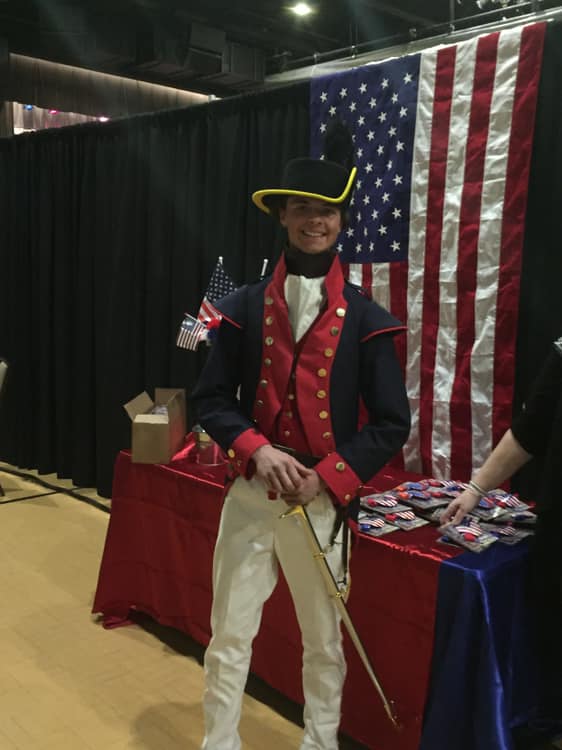 Oxford, Ala. (March 22, 2019) – The first day of Southern Gospel Weekend was filled with numerous gospel artists and styles, from the Bluegrass sound of Eagle's Wings to the Country gospel stylings of Tonja Rose and Jessica Horton. Fans began filling the auditorium at 5:00 p.m. and the excitement grew as the First Responders and Veterans began entering the hall, after a special private reception with the artists.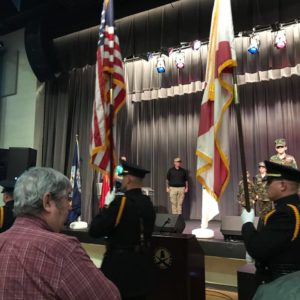 The Veterans Appreciation event began the evening with the presentation of the flags, followed by keynote speaker Ken Rollins, who honored the Veterans and First Responders for their service. Special music by Mark209 and Matthew Wilson of Eagles Wings.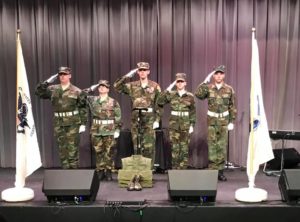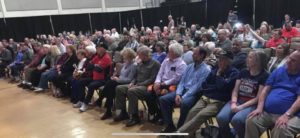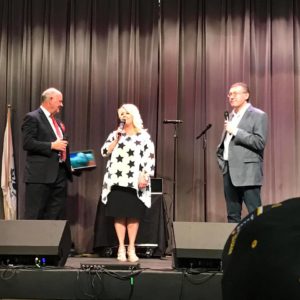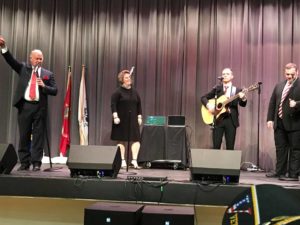 The musical portion of the evening was very well received, with artists like Mercy Rain, the Williamsons, New Ground and ClearVision Quartet.
After the concert, many went to eat at Hubbard's Off Main, where the Midnight Prayer portion was led by Tonja Rose.
We hope you enjoy the images we have captured for you.
Please note, for any that are in the Oxford, Ala., area:  All day Saturday there are events in the Civic Center. Most are free admission. Be sure to catch the Diamond Awards Top 10 big reveal.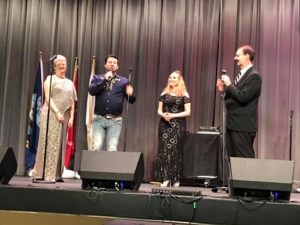 For more information please call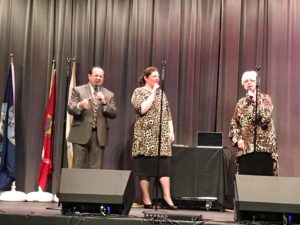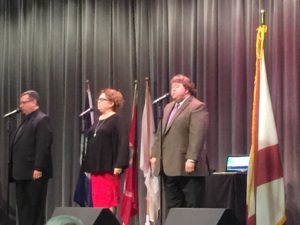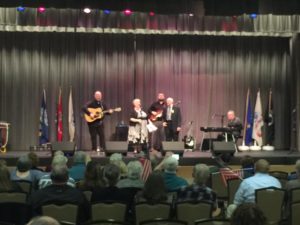 256-310-7892.
Tags:
bluegrass
,
christian country
,
Clearvision Quartet
,
country gospel
,
Eagle's Wings
,
gospel music
,
Jessica Horton
,
Mercy Rain
,
New Ground
,
sgnscoops
,
Southern Gospel Music
,
Southern Gospel Weekend
,
The Williamsons
,
Tonja Rose
,
Veterans appreciation
Posted in
announcements
,
artists
|
Comments Off

on First Day of Southern Gospel Weekend a blast!
Written by Staff on October 20, 2018 – 7:43 pm -
Pigeon Forge, Tenn. (October 20th, 2018) — Creekside Gospel Music Convention has often given its audience a chance to give back to the community during Christian music festival. This year, Creekside is asking those who make the trek to Pigeon Forge, Tenn., for the four-day event Oct. 28 – Nov. 1, to think of their neighbors when they pack their suitcases.
By now everyone has heard the accounts, and viewed the photographs, of the devastation that Hurricane Michael left in its wake as it cut a swath through the coastal towns of the Florida Panhandle and the Gulf Coast.
Angela Parker, of gospel artists Mercy Rain, grew up in one of the hard-hit areas of Florida, and is spearheading efforts to gather toiletries from the concert goers at Creekside. Items will then be shipped to the areas of need. Creekside attendees are asked to bring small items for donation to drop off at containers that will be available at each entrance.
"I just wanted to help them all and this is a way to help," says Parker.
Suggested items include:
Food — small packages whenever possible, non-perishable.  Examples:
Doritos

Nature Valley Granola Bars

Crystal Light drink mix

Lance  Toast Chee  Peanut Butter Crackers

Apple Sauce packs

Lays Chips

Mac and Cheese

Cookies

Anything  light-weight and boxed that can be mailed easily
Toiletries – personal sizes wherever possible. Examples:
Toilet Paper

Toothpaste

Toothbrushes

Soap

Hand Sanitizer

Paper Plates

Paper Towels

Deodorant

Tampons & Pads

Tissue

Clorox wipes

Baby wipes

Diapers

Formula (powder mix)

Chapstick

Sunscreen

Hand Lotion

Shampoo

Conditioner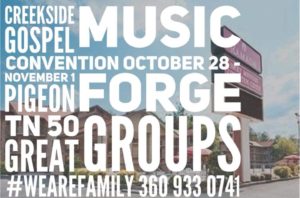 ***Remember: Everything is going to be shipped, so the items need to be light-weight and easy to mail.
Rob Patz, director of Creekside, says, "I'm excited about Angela's suggestion of this Hurricane Michael Relief Collection. It seems like a great way to give back to areas that have been hit so hard by the hurricane. I love it when our artists and audience can join together in reaching out a hand to others. In my opinion, it just confirms the fact that #WeAreFamily."
For more information on this Hurricane Michael relief collection, please contact Angela Parker at angelamparker77@gmail.com.
Creekside Gospel Music Convention is a four-day event held annually at Pigeon Forge, Tenn., at the Smoky Mountain Convention Center. Daytime showcases, evening concerts, midnight prayer and special events are held daily. Come and experience the preaching of CT Townsend. Dr Jerry Goff will be honoring Arthur Rice of the Kingdom Heirs, and the 2018 Diamond Awards will also be held during this week of gospel music. For more information on Creekside, contact Creekside director, Rob Patz, at rob@sgnscoops.com.
Come to Creekside and discover why we say #WeAreFamily.
Tags:
2018 Creekside Gospel Music Convention
,
Angela Parker
,
Christian Music
,
gospel music
,
Hurricane Michael
,
Mercy Rain
,
rob patz
Posted in
announcements
,
causes
,
Christian interest
|
Comments Off

on Creekside Audience Asked to Give Back to Hurricane Michael Relief Collection
Written by Staff on September 17, 2018 – 6:55 am -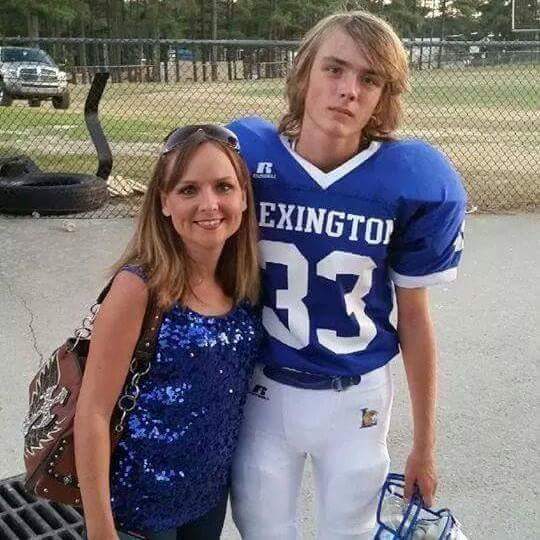 Angela Parker and her son, ChristianSGNSCOOPS magazine welcomes Angela Parker to the team of writers. Angela Parker is a life-long singer and sings with her mother's group, Mercy Rain. She resides in Lexington, SC. She's been happily married to her husband Jack for nearly 4 years and they have five children.
Faces of Autism by Angela Parker
People often ask me, "What is Autism to you?"
Well, I'd have to say that Autism, to me, is a lot of different things. It's been many things to me over the last 18 years. It has been tantrums, late nights, stimming (short for self-stimulatory behavior, behaviors that may include hand- flapping, rocking, spinning, or repetition of words and phrases), schedules, worried days, Individualized Education Program (IEP) Meetings, therapy sessions, repetition, behaviors, among many other things.
However, it has also been big smiles, goofy jokes, huge laughs, unexpected hugs, reaching goals that we thought were unattainable, unimaginable pride and more love than any mother could ever hold in her heart. I wouldn't trade any of it for the world.
I never knew that my whole world would be surrounded by the most awesome kids, including my own son, niece and nephew.
I've been blessed to not only have a son with Autism, but also a niece and nephew. I believe that God only gives His most precious gifts to those He trusts the most. I keep asking God if He's sure He trusts me so much.
The challenges began 18 years ago in January and haven't stopped, but God has seen us through every step of the way. One of our latest struggles, for instance, was Algebra 1. Without it, my son, Christian, couldn't graduate.
I worked as hard as I could with my son to get him through Algebra 1 so he could graduate, and now he'll be graduating in December. I couldn't be more pleased. This will be the most exciting moment of my life. Words can't describe it.
My niece, Kylie, and nephew, Zach, also have an amazing mom that is an awesome Autism advocate for them. I love her for that. They have such a supporting mom. Not all Autism Spectral Disorder (ASD) kids have that luxury, unfortunately.
Two years ago I was blessed again to be able to start working with Developmentally Delayed children at a place called Early Autism Project. God blessed me with the ability to learn quickly on the job. Before I knew it, I was a Behavior Therapist working with some of the most amazing kids ever. The kids and the families loved having us there because they knew we were there to help.
So, when someone says "What is Autism?" I have to ask them if they mean scientifically or personally. Because the meanings are so different for me and a lot of other Autism caregivers.
By Angela Parker, first posted on SGNScoops website in April 2018.
More about Angela Parker: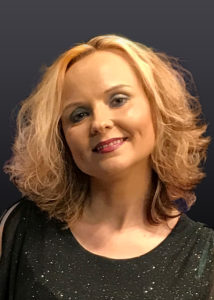 Angela'a husband, Jack,  travels with Mercy Rain whenever he can and helps out where possible. He supports Mercy Rain continuously. Since Angela has recently been diagnosed with Lupus, Jack has done everything he can to take care of her.
They have five (5) children. Christian is 18 and will be graduating in the spring of 2019. He is looking forward to college soon after that. His main hobby is skateboarding. Brennah is 17 and will be graduating in the spring of 2019 as well. She is in her second year of cosmetology and plans to have her license upon graduation. She currently works at Blush Nails and Spa in Red Bank, S.C. and is saving up for her first car. Noah is 14 and is entering his freshman year of high school. He takes Honors classes and is in the Marching Band. He's proficient on the trumpet but has the ability to play many other brass instruments.  McKenzie is 19 and graduated in spring of 2017 after which she also received her cosmetology license. She currently works at Regis Hair Salon in Columbiana Mall in Columbia, SC. Brett is 14 and is also entering his freshman year in high school. He is on the Golf Team with his school and enjoys riding his dirt bike.
Angela is also the daughter of LaVerne and Noah Sanders. She attributes a lot of her successes to her parents. She feels that they have supported her through every hardship she's been through in her life.
Angela is no stranger to Southern Gospel Music. She started singing at the age of five. She remembers singing on the stage in church at the age of seven. She loved gospel music so much that she would beg to go to her mom's group practices. She begged to travel on the road with those groups. She just couldn't get enough. She was raised on Southern Gospel and continues to follow that path to this day.
She actively advocates for Autism Awareness. She feels education for all involved is the key to their success. She worked with Autistic children providing ABA Therapy up until her current illness forced her to have to quit. She has seen ABA Therapy work, and there aren't enough therapists for the amount of kids that need help.
She speaks out against Domestic Violence having been a victim of abuse for many years herself. You can never understand personal torment until you endure domestic violence for as long as she has. She felt the mental and verbal abuse was worse than the physical. Her constant battle today is healing from the mental scars that are left over after the physical and verbal abuse. Her personal testimony will help others see how God can deliver you from abuse and help you heal after.
When she had to quit her job as a Behavior Therapist because of her health, she had no idea what she could do next. So this new writing endeavor is going to be fun for her. She wrote poetry in high school and even had one published in an anthology. She is very excited about writing for SGN Scoops and loves all of the SGN Scoops family. She loves the Lord with all her heart and has been blessed with awesome talent and love for others. You will be blessed by her talent and great spirit!
Thanks Angela, for joining the SGNScoops team!
Be sure to read Angela's first artist feature in the September issue of SGNScoops magazine as she talks to the Gibbs Family.
Read the full SGNScoops August  Magazine Here.
Download the PDF of SGNScoops Magazine HERE
Find SGNScoops On Facebook HERE
Listen To Today's Gospel Music Online HERE
Tags:
Angela Parker
,
autism
,
Mercy Rain
Posted in
announcements
,
artists
|
Comments Off

on SGNScoops magazine welcomes Angela Parker and her look at Autism
Written by SGN Scoops Staff on December 27, 2015 – 11:14 am -
Make plans to join us for this years NEW YEARS EVE SING!! Featuring The Pine Ridge Boys, The Believers Quartet, Mercy Rain, Cindy Ward, and Singin Steven!! No better way to bring in the New Year!
For More Information Call Mercy Rain At 803 430 3548
Find Them On Facebook Here
Tags:
Mercy Rain
,
Southern Gospel Concert
Posted in
announcements
|
Comments Off

on Mercy Rain 12th Annual New Year's Eve