Written by SGN Scoops Staff on December 5, 2015 – 10:13 am -
Some try to be relevant by copying the latest fads. The Inspirations know better. They stay relevant by staying themselves.
Suppose you played their new release, Pray For Me, back to back with their first LP. There would be no question you were listening to the same group. Few develop an instantly recognizable sound. Fewer maintain that sound after member changes. But The Inspirations have for fifty-two years!
The title track of Pray For Me features the resonant tones of bass singer Joseph Brown. Long-time lead singer Matt Dibler delivers the powerful testimony song "It's Under The Blood." Tenor Harold Reed shows how well he fits the classic Inspirations sound on "Onward to the Call." The Inspirations' lineup also includes pianist Martin Cook, bass Myron Cook, and multi-instrumentalist Luke Vaught.
The same distinctive sound that took the world by storm is still carried on today. Preview and pre-order add to your digital media collection.
http://smarturl.it/8l5imu
Find More Southern Gospel News Here
Tags:
Inspirations
,
new music
,
Southern Gospel News
Posted in
announcements
|
Comments Off

on The Inspirations Pray For Me.
Written by SGN Scoops Staff on October 24, 2014 – 10:41 pm -
Weleetka, OK (October 24, 2014) Talented mixed quartet, The Williamsons, have just released another great album titled Tell Somebody. The album consists of material that is written by some of the most talented songwriters available today, including four songs penned by Lisa Williamson, group member and featured soloist on many of the songs. Closing the CD out is a great classic written by Mosie Lister.
To make a great album you must have great songs and that task wasn't taken lightly. No less than 200 songs were listened to in the deciding process. Choosing 50 would have been difficult, but narrowing it down to eleven was nearly impossible.
The project was produced by award winning producer, Donna King, known for stretching artists and pulling things out of them they didn't think possible. Donna was present in every step of the process down to the final mix. She was going for the best ever from the Williamsons. One thing about making a great record, besides great songs and well-recorded vocals, is making the little details matter too, from every background vocal, to every note played, and every overdub, and all the mix sounds, the Williamsons covered all the bases to produce the best album of their career.
Donna King commented "Every album I produce is as important to me as my own (if not more important).  To have the opportunity to produce music that affects God's kingdom, because of the ministry that will come from the songs, is not something I take lightly.  Working with the Williamsons was an amazing experience.  They were FULLY engaged and willing to go places no man "or woman" had gone before  (as far as things they had done in the past).  They understood the importance of great songs and they worked with me diligently on those choices.  They gave me 110% from day one (and there were many days).  That is a producer's dream.  They are so talented, but they are also pliable and that is a GREAT attribute to ending up with a superb album.  And, most importantly, their hearts are in this for ALL the right reasons!  I LOVE this group and I am SO excited about this album and honored to have been blessed to produce it."
Donnie Williamson. Baritone singer and group manager stated "I believe this is the most powerful music we have ever recorded. The music is filled with the message of Christ that will uplift those who listen and touch them no matter where they are in life."
Lisa Williamson also said "Some of the best songwriters in Gospel Music are represented on this project and I am honored to have four of my songs included."
The first song released to radio is "It Was The Word" written by Lisa, and it is already being accepted well by DJs across the country.
Songs include:
It Was The Word
That's What I'm Talking About
All Our Hope
Shout
Monday
He Lived To Tell It
No Umbrellas
I Laid It All Down
Healing For The Hurting
I've Got To Tell Somebody
While the Ages Roll
You can learn more about the Williamsons by going to http://www.williamsonsmusic.com or https://www.facebook.com/pages/The-Williamsons .
To book the Williamsons contact scheduling@thedominionagency.com .
Tags:
Donna King
,
Donnie Williamson
,
new music
,
Southern Gospel Music
,
Southern Gospel News
,
Williamsons
Posted in
announcements
|
Comments Off

on Williamsons Release New Album – Tell Somebody
Written by SGN Scoops Staff on September 12, 2014 – 3:01 pm -
One of Southern Gospel's newest and fastest-rising artists, Declaration, has released a brand new song to radio. "Lighten Up" is an encouraging tune that is sure to brighten the listners day! This is the groups follow-up single to their Singing News Top 80 hit, "It Wasn't Me."
The song was written by songwriting newcomer, Haley Young, who wrote the song to remind people to, "Relax because Jesus has everything under control." Declaration members say they are excited about the song because it's a great message for today that happens to be set to a tune that you can't help singing all day long.
"Lighten Up" is slated to appear on the new Declaration record Set Free, slated for release in late September.
For more information regarding Declaration, radio song 'Lighten Up' or the upcoming project, 'Set Free' visit www.DeclarationTrio.com.
Tags:
Declaration
,
new music
,
Southern Gospel Music
,
Southern Gospel News
Posted in
announcements
|
Comments Off

on DECLARATION RELEASES NEW SINGLE "LIGHTEN UP"
Written by SGN Scoops Staff on September 12, 2014 – 10:59 am -
THE STEELES are excited to be beginning a new chapter in life and ministry!  About a year and a half ago Sherry and Jeff Steele joined forces with long time friend Andrew Ishee and began performing a series of dates called Monumental Monday's with THE STEELES.  Jeff states "I was The Senior Pastor at our church and Andrew was the Worship pastor at his church and we arrived at Monday as about the only date we COULD work.  None of the three of us ever had any intention, nor did we ever even talk about ever doing this full-time again.  The dates were a resounding success but even THAT never became a conversation about going back full-time.  We were having too much fun!
The Lord began to deal with Sherry and I about going back.  We asked Andrew what HE thought and after some prayerful consideration he decided that (with he and his wife Sheree having two small children) the time was just not right for him.  There are absolutely NO hard feelings.  We could not love Drew any more than we do…still talk every day and are so happy for the time we shared together."  Andrew says…"I DO love Sherry and Jeff.  I have known them all my life.  We have had a blast!  I am thrilled to see them take this opportunity to minister full-time on the road again.  I just feel like (and I learned this from Dr. Steele) that my most important ministry (at this time in life ) is to be a godly father to my two little girls and a "present" husband to my wife Sheree.   I will still do some of my piano concerts as the schedule allows and I will pray for the ministry of THE STEELES!"
THE STEELES conducted a nationwide search for a new singer and landed on another life-long family friend Matthew Thompson.  Matthew has sung previously and most recently with The Men of Music!  His brother Landon was a member of the group Testify and is now serving a church in Houston, TX.  He heard about the opening and recommended that Matthew try out for the position.  Sherry says "we are excited about this step of faith and trust the Lord for our future as we walk through this new door."  Keep up with THE STEELES singing and preaching ministry @ www.jeffrsteele.com and through Facebook and Twitter
Tags:
new music
,
Southern Gospel Music
,
Southern Gospel News
,
The Steeles
Posted in
announcements
|
Comments Off

on Steeles Name Matthew Thompson As New Singer
Written by SGN Scoops Staff on August 28, 2014 – 7:17 am -
Goodlettsville, TN – One of Christian music's leading booking agencies, The Harper Agency, has named the newly organized Jim Brady Trio, as the latest addition to their artist roster. The announcement comes just a few days after popular vocal group, The Booth Brothers shared the news that long-time group member Jim Brady would be leaving the group at the end of the year. "Ronnie and I are saddened to see Jim depart our team," Michael Booth stated, "yet we are tremendously excited about his future contributions to Gospel Music."
Since joining The Booth Brothers in 2002, Jim has become a favorite among Southern Gospel Music lovers. Over the past decade Jim, with Ronnie and Michael Booth,  have become one of Gospel Music's most awarded groups, collectively receiving more than 100 industry honors and accolades. "The last 12 and a half years have meant more to me than words could ever express," Jim shared. "Ronnie and Michael have truly become brothers to me, and I'll be forever thankful for the great times spent with them."
To say that Jim's time with The Booth Brothers solidified his place at the pinnacle of Gospel Music  would be an understatement; however, Jim possessed a rich musical heritage prior to his arrival with the Brothers. He first began singing with his gifted musical family at the age of five, and by the time he was 16 he began songwriting. Also prior to joining The Booth Brothers, Jim traveled with his wife, Melissa, and her family, The Shulers for nearly a decade. Jim and Melissa merged their songwriting gifts and are now recognized as two of Gospel Music's most prolific songwriters, having penned more than 200 songs.
Over the years Melissa has faithfully supported her husband's calling to Gospel Music, and as often as possible the two have had the privilege to sing and minister together. Melissa is a talented vocalist and musician and was featured on the Women of Homecoming Gaither Videos released in 2013. She is a regular columnist for The Singing News Magazine and Homecoming Magazine, and has also filled in for such popular groups as The Hoppers, The Martins and Lordsong over the past several years. "God has brought so many opportunities our way as a result of Jim's time with The Booth Brothers," Melissa said. "Had he chosen to sing with them for the rest of his life, I would have supported him 100 percent, but God had other plans, and we are honored that He is affording us the opportunity to share a full-time ministry. "
The third member of the Jim Brady Trio has yet to be named; however, Jim and Melissa know God has the perfect person already selected. "We are so excited about this new adventure," Jim stated. "The decision to leave The Booth Brothers was not made lightly, but I felt an urging from God that this is right, and I am so grateful for Michael and Ronnie's blessings on this new ministry."
"We have no doubt The Jim Brady Trio is equipped to make quality music that will encourage and evangelize," Michael explained. "Great days are ahead for this union, and we know God is going to use them in a mighty way."
The Harper Agency is pleased to have the opportunity to work with this newly formed group and are thrilled to add The Jim Brady Trio to their roster of fine artists, which also includes The Booth Brothers.    "We've known Jim and Melissa for 11 years, since we first began scheduling The Booth Brothers," Ed Harper states. "While collectively, they are a new trio, Jim and Melissa have already established themselves to be credible artists with a heart for ministry. They have a uniqueness in that they have had the opportunity to test the waters, so to speak, and have been able to minister together, even when Jim was traveling full-time with The Booth Brothers."
The Harper Agency has enjoyed a wonderful partnership with The Booth Brothers for over a decade and obviously, it was important to have the blessing of The Booth Brothers before embarking upon a scheduling agreement. Thankfully, the blessing was bestowed.  "We are equally excited that Jim and Melissa's trio will be a part of the Harper Agency. Ed Harper and the Harper Agency have effectively managed the schedule of The Booth Brothers for 11 years, and I know they will be a tremendous asset to Jim and Melissa."
"I believe Michael and Ronnie consider The Jim Brady Trio to be an extension of The Booth Brothers' ministry," Ed shared. "They have that kind of friendship, and that is definitely important. We are honored to have the opportunity to work with and represent such an outstanding couple. We are anxious to see who they name as the third member of the Trio, and we look forward to being a part of their future for many years."
The Harper Agency may be reached by calling 615-851-4500 or visiting www.harperagency.com. The Agency is currently scheduling dates for 2015 for The Jim Brady Trio. Additional information regarding The Jim Brady Trio is available online at www.BradyHouseMusic.com.
Tags:
Jim Brady Trio
,
new music
,
Southern Gospel News
,
Southern Gospel Update
,
the booth brothers
Posted in
announcements
|
Comments Off

on New Jim Brady Trio Added To Harper Agency Artist Roster
Written by SGN Scoops Staff on August 26, 2014 – 9:31 am -
We are excited to announce our new project ATMOSPHERE!
COMING TO YOU 9.12.14
Check out the ATMOSPHERE video!
Also visit www.sistersmusic.org and join SISTERS ATMOSPHERE for a FREE download of our single release "YOU ALONE" and Pre-Order information.
We appreciate your prayers and support of our ministry!
SISTERS
Kim, Heather & Valerie
Tags:
ATMOSPHERE
,
Christian News
,
new music
,
sisters
Posted in
announcements
|
Comments Off

on Sisters new project ATMOSPHERE Coming September 12th
Written by SGN Scoops Staff on August 20, 2014 – 8:21 am -
August 20, 2014 (Franklin, TN) StowTown Records welcomed its newest signing, TaRanda Greene, Monday morning with a pre-release launch party hosted by Provident Music Group.
The special gathering celebrated TaRanda's brand new project 
Stronger
, which is scheduled to hit the markets
November 11
.
Following a behind-the-scenes video that highlighted both the production and concentration of the album, TaRanda gave her heartfelt testimony and performed several standout selections that included: "Stronger", a 2014 Dove Award nominee for Inspirational Song of the Year, as well as "Deepest Praise" and "Shackles".
"We're so excited to have TaRanda back and have been so looking forward to this record. It was so moving to hear some of these songs this morning," said event emcee Randy Davis, VP of Sales at Provident Distribution. "StowTown is really making a move to the forefront of Southern Gospel/Inspirational music and TaRanda is a wonderful, wonderful addition to that, so we're very excited about it."
Stronger Producer Geron Davis was also in attendance and gave his thoughts about the project. TaRanda was thrilled to share this special occasion with so many of her biggest supporters and friends in the industry.
"These are the people that have seen everything, heard everything and done everything," she explained. "So, I was nervous all morning and just praying that something would reach them to let them know where I've come from and where I am, and…like the music!"
TaRanda also lit up the room with a spectacular performance of her brand new single, "This Is Where Amazing Happens".
"When I first heard the song, just the demo of it, I just started squalling and I knew it was my song…I knew I was supposed to sing it. I finally, after four years, believe that 'this is where my amazing happens," TaRanda added. "It's the start of huge things, and finally I feel the flavor for life and the excitement for the future."
"The title says it all…and it's where I feel like I am right now. It's not over. It's just the beginning and this is where miracles begin."
Tags:
new music
,
Southern Gospel Music
,
Southern Gospel News
,
Stow Town Records
,
Taranda Greene
Posted in
announcements
|
Comments Off

on TaRanda Greene introduces 'Stronger'
Written by SGN Scoops Staff on July 2, 2014 – 10:30 am -
Allison Speer has released a new single entitled "She's Better Now." Co-written with Dove award winner, Joel Lindsey, the song honors Allison's grandmother, Alice Powell, and Joel's mother, Reba Lindsey, both in now Heaven. Allison has been singing for 26 years and is a regular artist on the Gaither Homecoming videos and concerts.
Allison says, "Joel and I got together to write in 2013 at an office in Nashville. He was fondly speaking about his mother and how she had been gone seven years and how he missed her. He said he had recently seen a friend who had asked about her, and the first thing that came out of his mouth as an answer was, 'she's better now.' I gasped when he said that. I did not beg him to let me co-write the idea but it came pretty close. We spoke for most of the afternoon about his mom and my grandmother, and this song was born in that writing session."
"She's Better Now" was featured in the 2013 Gaither video release, "Women Of Homecoming." Allison has released a video of the song that can be viewed at www.allisonspeer.com. For more information, contact Brian Speer at 615.331.0900 or at brian@allisonspeer.com
Tags:
Allison Speer
,
gospel music
,
Joel Lindsey
,
new music
,
Southern Gospel Music
Posted in
announcements
|
Comments Off

on Allison Speer Releases New Single
Written by SGN Scoops Staff on June 24, 2014 – 1:13 pm -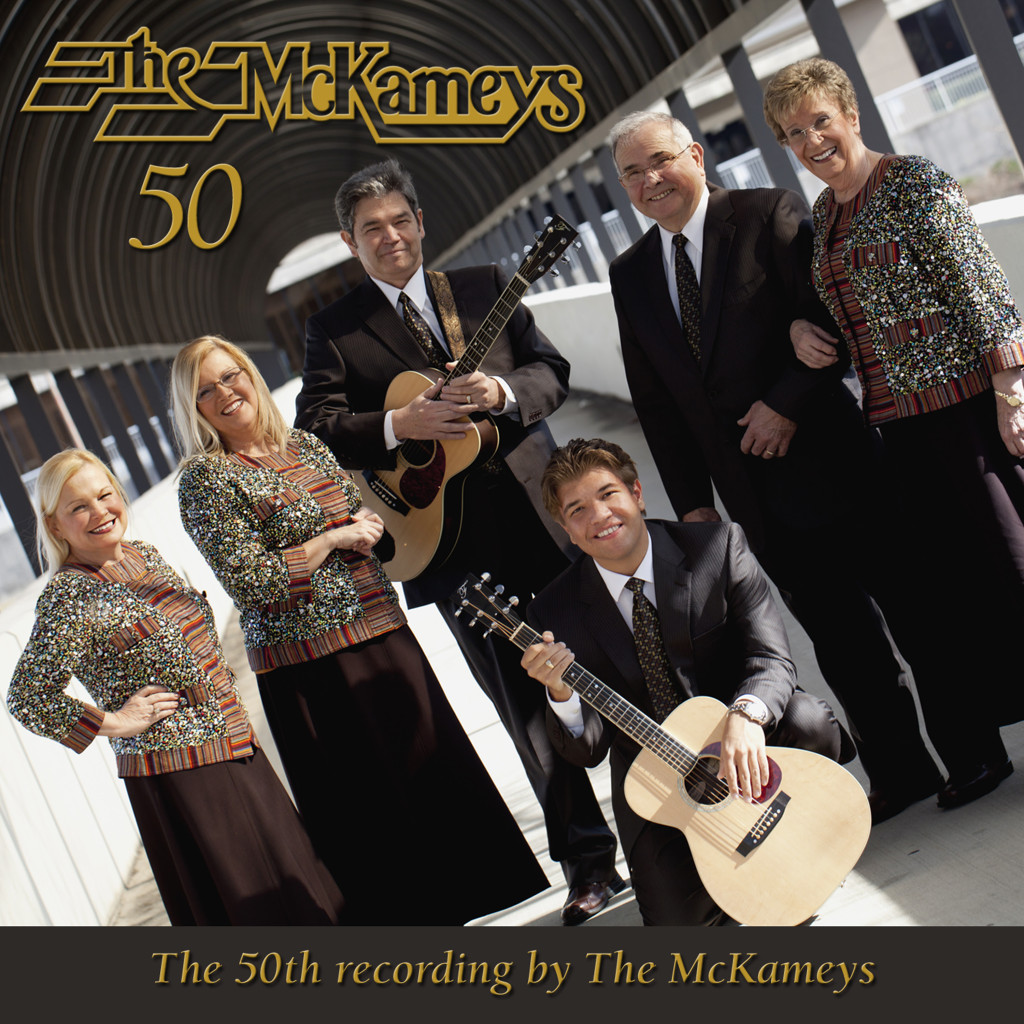 The Appropriately titled 50 is Set to Release July 15th
(Nashville, TN) – If there is one word that describes The McKameys, it would be sincere. Each member of this Southern Gospel singing group is sincere in their love for the Lord, sincere in their love for the music they sing, and sincere in their need to spread the Word to others through their music – which has led them to the most #1 hits in Southern Gospel history and a dedicated following that has stood the test of time. Now we celebrate with them the release of their 50th album.
In The McKameys' appropriately titled fiftieth album, 50, the blend of numerous positive attributes like sweet simplicity and family harmony and the faith and joy of knowing Jesus are inherently woven throughout this historic recording.
From the powerful "I'm Gonna Die on the Battlefield" to "The Coming of The Lord," there is something for every McKameys fan and follower on this milestone musical project. The album starts with a remake of their very first recorded song, "Don't Forget the Family Prayer," with a special intro that they pulled from the original cut. "There is Jesus" conscientiously sums up what their music ministry has always been.
"It's the joy of the Lord and the strong message in the songs they hear," Peg says. "We try to have fresh songs and new encounters with the Lord so we can pass them along to those in need of it."
50 is the epitome of new musical encounters with the past and the present – an artistic accomplishment that few groups have realized.
The McKameys play about 150 days a year, traveling all over North America from Southern California on up to British Columbia and over to the East Coast, north to New Brunswick and south to Florida. They have had 24 #1 singles and have been honored for having the most #1 hits in Southern Gospel Music. The group has been awarded several Singing News Fan Awards throughout the years with Peg being named Favorite Female Vocalist a remarkable 7 times.
Tags:
I'm Gonna Die on the Battlefield
,
new music
,
Southern Gospel Music
,
Southern Gospel News
,
The Mckameys
Posted in
announcements
|
Comments Off

on The McKameys Release 50th Album