Written by Staff on December 16, 2019 – 2:41 pm -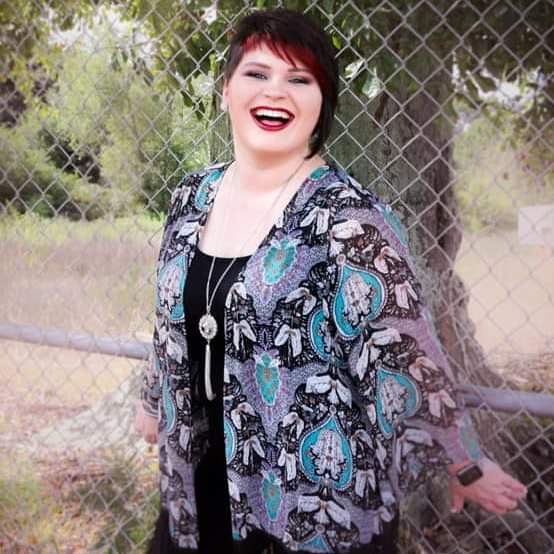 Nashville, Tenn – Popular 65/40 Nashville recording artist, Victoria Bowlin will be joining her family, The Shireys, for a special New Year's Eve reunion concert event on Tuesday, December 31, 7:00 pm, at the Community Church Of Praise in Stockbridge, Georgia. A love offering will be received in lieu of ticket sales.
Being billed as a "Farewell Concert," it will mark the last performance by Rachael Shirey Flowers. Rachael has made the decision to step down from full time traveling ministry so she can spend more time with her family, and be more involved in ministry at her own local church. Of the move Rachael states "I feel led to focus on a different type of ministry with my husband in our home church. God has called us to work as a team, and we believe that time is now."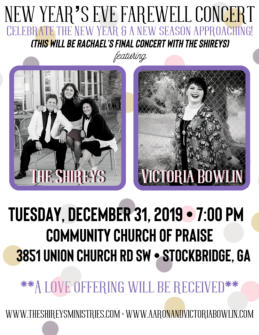 Victoria is pleased and thankful to be able to take time from her own busy touring schedule to join her family, The Shirey's, in this important event. She traveled and ministered with her family over 20 years before stepping into solo ministry, with her husband, Aaron Bowlin, five years ago. Victoria stated, "I look forward to bringing in the New Year with my family and watching Rachael step into a new season of life and ministry."
The Shireys will continue to travel and minister, and further information about their future endeavors will be released soon. No concert dates will be missed or rescheduled as they make this transition. Of the upcoming change, Wayne Shirey says, "God has great things in store for The Shireys, and we are looking forward to continuing to travel and minister. We're not quitting any time soon."
To interview Victoria contact AG Publicity at info@agpublicity.com.
To purchase Victoria's current project You See Beauty go HERE
To connect with Victoria Bowlin follow her on social media and her Website.
About Victoria Bowlin
A licensed Church of God minister, Victoria is a powerful singer, songwriter, author, and Faith-Inspired speaker who gives encouragement and hope through music and personal testimonies.
Originally from West Columbia, SC, Victoria's background includes extensive singing and traveling full time with her family, The Shireys, and participating in tent revivals held by her late Grandmother, Evangelist Mamie L. Clark. She first took the microphone at two years of age. At eleven, Victoria replaced her uncle in her family's group and began singing full time. In January of 2015, God called Victoria into ministry with her husband, Aaron, where they formed a preaching and music team. In 2018, that ministry was expanded to include solo concerts throughout the United States.
Victoria has been awarded and nominated for several vocal and songwriting awards. In August of 2016 and 2017, Victoria had the privilege of being chosen to sing on the Main Stage at the famous Gatlinburg Gathering. Then, in September of 2016, she was honored to be asked to sing on the Main Stage at Southern Gospel's largest annual event, the National Quartet Convention. Victoria writes and arranges most of her music.
Read more Gospel Music News in the latest SGNScoops Magazine Online HERE.
Download The SGNScoops Magazine PDF 
Here
Find SGNScoops Magazine On Facebook 
Here
Listen To Gospel Music 
Here
Tags:
Christian Music
,
gospel music
,
New Year's Eve
,
Rachael Shirey Flowers
,
Southern Gospel Music
,
The Shireys
,
Victoria Bowlin
Posted in
announcements
,
artists
|
Comments Off

on Victoria Bowlin To Perform at Rachael Shirey Flowers Farewell Concert
Written by Staff on December 31, 2015 – 2:51 pm -
The bus loaded up early on Wednesday. Ed Hill told all the Singing Americans to be at the bus Thursday night at midnight. We were heading to Ashland, KY to sing on the New Year's Eve Gospel sing for Barbara and Sonny Sites. On the program…the Singing Americans, Jerry and The Goffs and Gospel Harmony Boys.
We went early that morning to the Paramount to set sound and practice new material. Later we had a huge dinner at the Sites home. They were special friends to the Singing Americans.
But wait, this is New Year's Eve! And gospel music abounds just about everywhere. Read on.
Meanwhile in Charleston, WV Sonny Simmons with Century Two Promotions was ushering in the New Year with the Inspirations, Kingsmen, Rex Nelon Singers, Royalmen Quartet, Conrad Cook and the Calvarymen Quartet and a host more.
Down in Birmingham, AL at Boutwell Auditorium the Happy Goodmans, Florida Boys, Dixie Echoes and Bibletones were getting ready to sing out the old and sing in the New Year.
Dick Carper with Garden Spot Promotions with dinner concerts with Hopper Brothers and Connie, Jacobs Brothers,
DeLawders and Dixie Melody Boys were settling in for their annual New Year's Eve festiveness at Good-n-Plenty and at The Lighthouse Restaurants.
Dayton, Oh with Norm Livingston at the Dayton Arena featured The Spencers, Freemans, Primitive Quartet and others on their New Year's Eve sing.
In Greensboro at the Greensboro Civic Center, The Masters Five, Gold City Quartet, Heaven Bound, Wendy Bagwell and the Sunliters were singing down the glory as the clocks passed midnight.
Out west in Fort Worth,
TX WB Nowlin hosted the Cathedral Quartet, Bob Wills and the Inspirationals, Speer Family with Sisters and Talleys
East Point, Ga-Bill Flurry and the Joyful Noise welcomed in the New Year with the Palmetto State and the Flurries. While in Newton, NC the Hallelujah Supper Club welcomed the New Year
with Harvesters Quartet and Singing Winebargers!
In LaPlata, MD, Guy Latimer promoted the Journeymen singing out the old and in with the new with their dinner concert series.
The Lesters, Rhythm Masters and Crownsmen
welcomed in the Cincinnati New Year at Landmark Baptist Temple.
In Gainesville, GA Hayne Tatum featured the Singing Echoes, The Perrys, Felecia Shiflett and Called Out with the Singing Cookes.
In Macon, GA at the Opry House, the beloved Naomi and the Segos, Lewis Family, Georgians and Deep South Quartet took to the stage to ring the midnight bell.
Add to the mix countless churches across the land with Watch Night Concerts featuring the
best regional music artists and church quartets. There are thousands of opportunities to hear our gospel music.
That is really just about any year or time in Southern Gospel music. Oh the some of the groups and the promoters
may change, but southern gospel music abounds. But there is one thing that lives even after the concerts have ended. HISTORY!
There are stories, "Let me tell you what happened" moments that live to this day from concerts 50 years ago. Those special
history moments are being renewed with keen interest on Facebooks social media group, WE LOVE OUR SOUTHERN GOSPEL MUSIC HISTORY.
36,000 plus are members. Videos, photos, collectibles, audio clips, stories and just plain chatter fill the posts of gospel music enthusiasts around the world. A new generation is learning history and chronicling it for future generations.
But the love goes much farther than just a social media gathering place. Now there is a convention in the music city dedicated just to history, sharing the stories, searching for collectibles, food, friendship, reunion concerts, lots of gospel music and other activities.
March 21-22, 2016 will gather are the convention facilities of the Airport Holiday Inn in Nashville, TN. Two Day Event – March 21-22, 2016 – 2 Evening Concerts, Banquet, Lunch on Tuesday, sing-a-longs, funny stories, memorabilia, periodicals, thousands of records for sale, and more.
Talent includes, Blackwood Brothers, Dove Brothers, Jeff Stice, Pine Ridge Boys, Charlie Griffin, Ann Downing, Downings, Sheltons, Collectors Quartet, Rita Robinson Spillers, Hannah Kennedy, John Crenshaw, and Harold Timmons. There will be other surprise guests and artists during the event as well.
The interest is explosive and is rekindling relationships from years gone by. Commitments from across America are leading the charge to grow the history convention. Yet it is the most affordable way to reacquaint with the participants and history makers. It is up close and personal time with artists and fans. It is a social gathering spawned by the love of quartet or southern gospel music and our history.
CONVENTION DETAILS AND LINKS:
The early bird special expires at midnight Eastern Time, this Thursday, December 31st. The rate increases $20 per person on Jan 1, 2016.
MORE INFORMATION – PAYMENT and HOTEL RESERVATION LINKS
For more information on Hotel reservations and registration, see the pinned post on our Facebook Page.
https://www.facebook.com/groups/sgmhistory
https://gospelgallery.com/WLOSGMH2016.htm
Tags:
gold city
,
Kingsmen
,
New Year's Eve
,
Singing Americans
Posted in
announcements
,
artists
|
Comments Off

on IT'S NEW YEAR'S EVE AND GOSPEL MUSIC IS RINGING LOUD