Written by Staff on October 15, 2018 – 2:47 pm -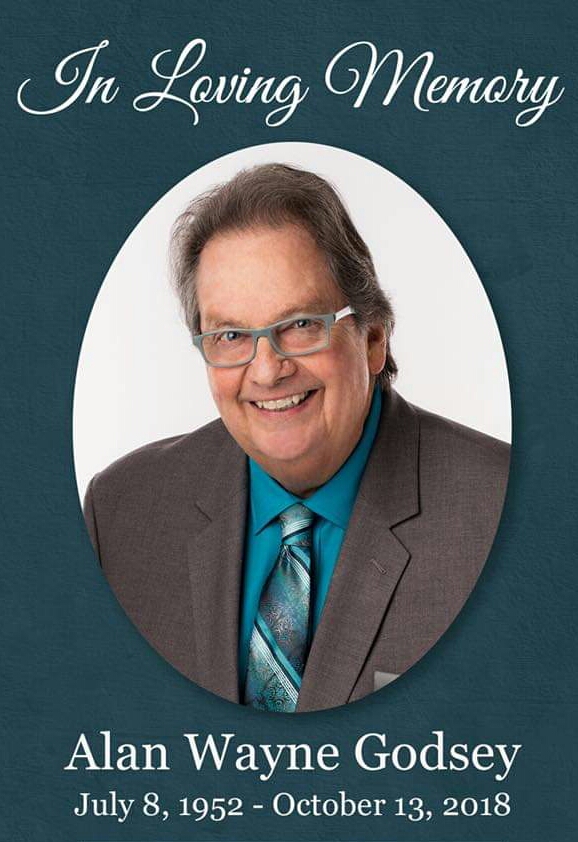 SGNScoops was sorry to hear of the passing of Alan Godsey.
Alan's son, Scott, posted the following earlier today on his Facebook page:
I loved my Daddy so much, he was a one of a kind and loved his family more than anything followed by his passion for Southern Gospel music. I miss him so much already, but I know he is in Heaven singing better than he ever has. He probably already recruited singers and made a quartet, maybe even has a tour bus driving on the streets of gold.
He is not suffering anymore, and I am so thankful for that.
I Love You Dad!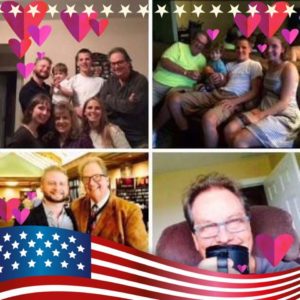 ANNOUNCEMENT: Alan Wayne Godsey, 66, passed on to eternal life on Saturday evening, October 13, 2018 at Hospice Home in Fort Wayne. Alan was born July 8, 1952 to Ernest Elbert Godsey and Christine (Upchurch) Godsey who preceded him in death. Alan was born in Cincinnati, Ohio, and moved to Fort Wayne as a teenager. Alan founded The Northmen, and the Northern Gospel Singing Convention. His desire was to share the Gospel of Jesus Christ through song. He began singing at the age of 4, with his family group, The Upchurch Family. He loved being with his family, enjoyed any activity the grandkids were involved in and family vacations. He is survived by his wife of 46 years Cathy (Wallace) Godsey, daughter Amanda (Jason) Moore, son, Scott Godsey; three grandchildren, Madeline Moore, Jonathan Moore, and Lincoln Godsey; two sisters Judy (Vernon) Baker and Helen (Jeff) Gallant; nieces, nephews, cousins and friends. Funeral Service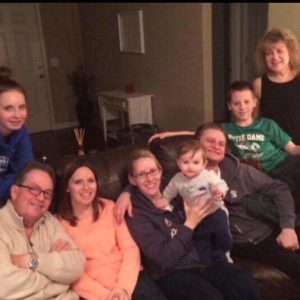 will be held at D.O. McComb and Sons- Pine Valley 1320 E Dupont Rd on Thursday October 18, 2018 10:30 am with calling one hour prior. Visitation will also be at the funeral home Wednesday October 17, 2018 from 2 pm – 4 pm and 6pm – 8pm. Burial in Prairie Grove Cemetery. Memorials may be made to Cancer Services of Northeast Indiana. To sign the online guestbook visit mccombandsons.com
SGNScoops wishes to express sympathy and condolences to the Godsey family. You are in our prayers.
Pictures shown were gathered from the Facebook page of Alan Godsey on Oct. 15, 2018.
Tags:
Alan Godsey
,
Christian Music
,
gospel music
,
Northern Gospel Singing Convention
,
Scott Godsey
,
southern gospel
,
the Northmen and Cathy
Posted in
announcements
,
artists
|
Comments Off

on Alan Godsey of the Northmen and Cathy has passed away
Written by Staff on September 2, 2018 – 10:06 am -
For the past 19 years, Alan Godsey has been bringing gospel music to Indiana through the Northern Gospel Singing Convention, currently held in Marion, Indiana, each year at the beginning of August. Godsey is the owner of the Northmen & Cathy, a trio that has been on the gospel music scene for over 29 years, traveling across over forty states and into six foreign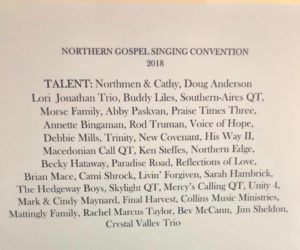 countries.  
But twenty-two years ago, God began speaking to Godsey about doing further than his involvement with the group.  "God spoke to me for three years to have an event that people enjoy coming to [in order to] hear gospel music singing and for artists to come together to fellowship," Godsey explained. "It took me three years for anybody else to believe it with me."    
For three years Godsey prayed for the right venue and sought God. Out of that vision, the Northern Gospel Singing Convention was born.
The NGSC first began as a two-day event but quickly moved to its present "five events in three days" format.  Throughout the years, gospel music fans have flooded the venue for both matinee and evening concerts, which feature both well-known and up-and-coming artists who
quickly became fan favorites and who now return year after year.
One of the crowd-pleasers each year is Indiana's own Doug Anderson. Formerly of Ernie Haase and Signature Sound, and currently doing both solo work and limited dates with Cana's Voice, Anderson brings his down-home personality to the event both on and off the stage. Other favorites over the years include Buddy Liles, Trinity, and the host group, the Northmen & Cathy.
This year at the Northern Gospel Singing Convention 2018, the event was held on August 2, 3 and 4, and the audience filled the hall to overflowing. The crowd also enjoyed the media exhibits and having the opportunity to chat with the artists.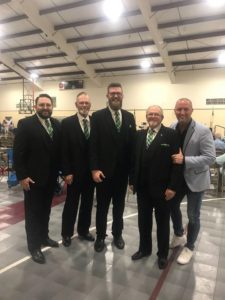 Next year will mark the twentieth anniversary of the event, and when asked if he had anything special planned, Godsey cryptically responded, "We definitely have a big year in the planning of our 20th Anniversary."  
For more information on being a part of next year's Northern Gospel Singing Convention taking place on August 1-3, 2019, in Marion, Indiana, contact Alan Godsey at  260-348-5164.
By Kristen Stanton.
Read the full SGNScoops August  Magazine Here.
Download the PDF of SGNScoops Magazine HERE
Find SGNScoops On Facebook HERE
Listen To Today's Gospel Music Online HERE
Tags:
Alan Godsey
,
Christian Music
,
Doug Anderson
,
gospel music
,
NGSC
,
Northern Gospel Singing Convention
,
Northmen and Cathy
Posted in
artists
,
exclusive report
|
Comments Off

on Northern Gospel Singing Convention 2018