Written by Staff on August 4, 2019 – 10:16 am -
El Paso, Texas: 20 killed, over two dozen injured.
Dayton, Ohio: 9 killed, 27 injured
Almost 100 people's lives were changed within a span of 24 hours. Think of all the first responders, the witnesses, the families, the loved ones of everyone involved. So many people who will never be the same.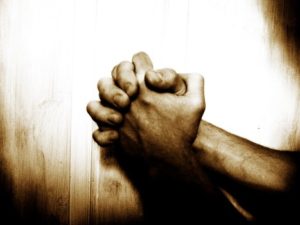 SGNScoops would like to express our sympathies, prayers, and love towards all of you who will never be the same today.
Some of you are asking why God would allow these atrocities. For the many reasons that so many have written about, how evil affects the world, and how bad things happen to go both good and bad people, but also I would like to add one more thought.
While still experiencing some of the effects of evil through chronic pain, one of the answers to the why question that I have found, is this: Sometimes we need to be reminded that we are not in control. We do not have a say over everything that happens to us. For those of us who like to control everything, this is hard to take. But we must come to terms with the fact that bad stuff happens and we cannot always control or fix it.
Secondly, every good and perfect gift is from God. If what you are receiving is not good or perfect, then it follows that it is not from God. So don't blame him for making that person turn a gun on innocent bystanders. However, his reasons for not preventing it… somethings we are not meant to understand.
Good things happen to us and we don't ask why, demanding that God gives us an answer. Just a thought.
Whatever the reasons are for God allowing things to happen to us, sometimes he does not give us the answers, sometimes he just wants us to trust him. What is the reason for faith and trust if what you believe in is tangible and visible? It makes no sense to say, "I believe in this blanket that is on top of me." Where is the faith in that? To trust in something you cannot see or touch, that is faith.
Above all, remember this: God is in ultimate control. He will have the final say. If you believe the Word in the Bible, and you have read Revelations, you know it is going to get worse before it gets better. But it will get better.
Dear survivors and all those touched by the hand of evil today: We pray you will feel the overwhelming, never ending love of God and His Peace today.
To everyone reading this: Cast all your anxiety, cares, fear, worry, anger that these events have stirred in your soul, onto an Almighty Father, who is good, loving, and powerful, and who cares for you beyond your ability to imagine. He allowed his own son to be cruelly tortured and killed by evil so that he could show you this love. Then he raised him up from death to life to show you that you can also have eternal life. Trust him.
In our thoughts and prayers,
Lorraine Walker
For SGNScoops
Tags:
Dayton
,
El Paso
,
Ohio
,
Prayer
,
Shooting
,
Texas
Posted in
announcements
,
Christian interest
|
Comments Off

on El Paso, Dayton, we pray for you
Written by SGN Scoops Staff on November 25, 2013 – 11:10 am -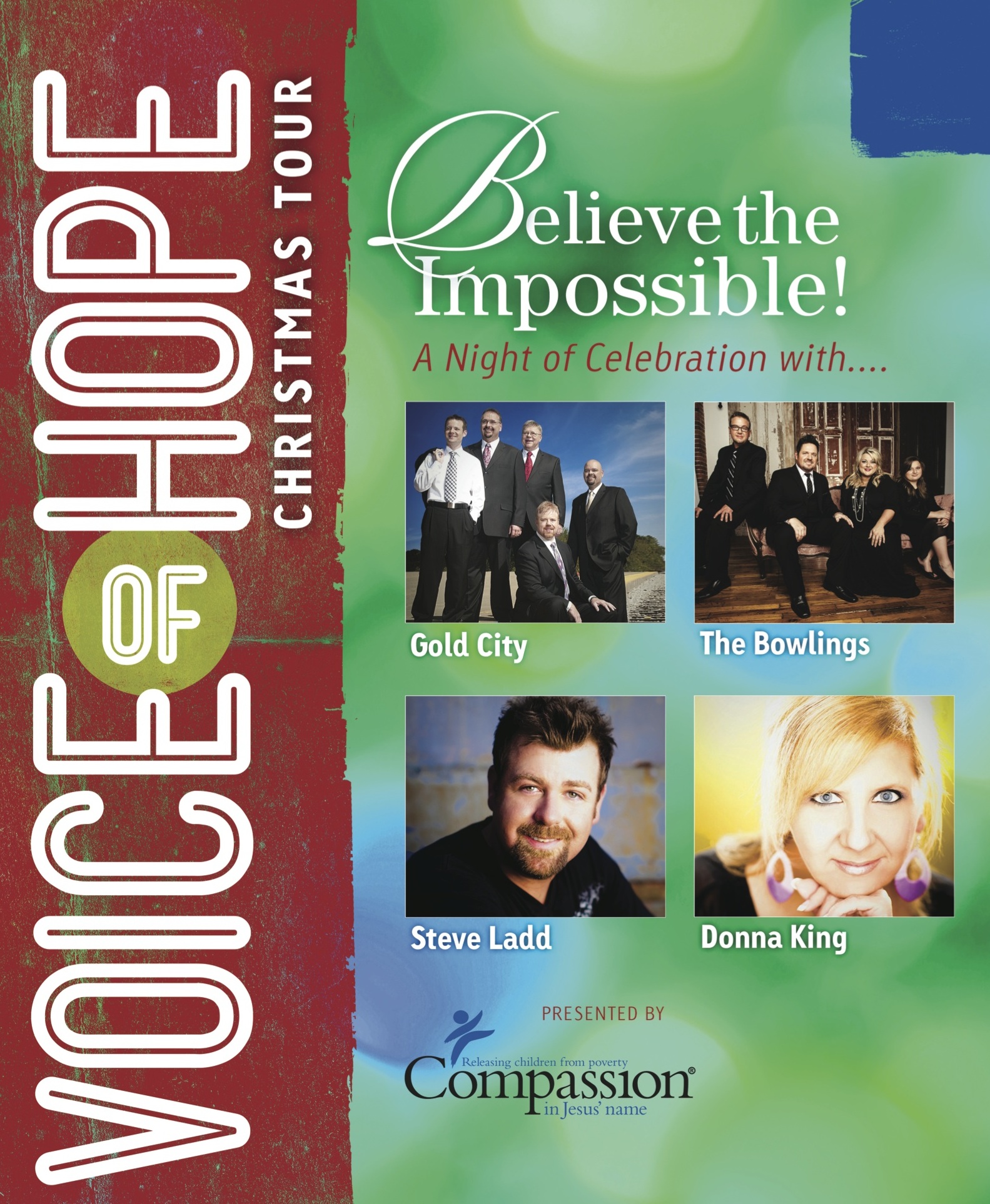 Nashville, TN (November 25, 2013) The Beckie Simmons Agency is thrilled to announce the Voice Of Hope Christmas Tour featuring Gold City, the Bowling Family, Steve Ladd, and Donna King.
The tour will be sponsored by Compassion International and will make stops in West Virginia, North Carolina, South Carolina, Ohio, and Indiana/Kentucky during the month of December. The featured artists, Gold City, the Bowling Family, Steve Ladd, and Donna King, will be celebrating the HOPE of Christmas through their music and sharing incredibly memorable evenings with concert attendees.
Gold City's Daniel Riley expresses, "Christmas truly is the season for giving, and it all started when God gave us the gift of salvation through His Son, as a baby born in a manger. I look at my beautiful family, my wife and two daughters, and think how incredibly blessed I am. I am excited to be embarking on a tour that will allow us all to celebrate Christmas, count our blessings, and, also, provide meaningful support to precious children, who so desperately need it, through the powerful ministry of Compassion International. This really is the season of compassion. When Jesus Christ came to earth–it was with the compassion of a pure and holy God for his children. We hope to share in the joy of that HOPE with you on the Voice Of Hope tour this December."
Zane King, of Compassion shares, "We are blessed to have such wonderful artists headed out to share the JOY of Christmas and to be a voice for the least of these, those in extreme poverty around the world. This concert tour promises to be uplifting, encouraging, and full of GREAT music! I truly believe it will also make a life changing difference for attendees and for children around the world."
"To sing about our Savior is ALWAYS an extreme honor. To share an opportunity to change a life through Compassion makes it even better," expresses Mike Bowling of the Bowling Family, "We are going to have a GREAT TIME together on this tour. Please join us at one of the Voice Of Hope concert dates around the country this December!"
And solo artist Steve Ladd puts it like this; "I'm so excited to be a part of the Voice Of Hope Tour! The Christmas season is a time of Compassion. Celebrating the compassion God had for us by sending his Son to this world is a JOY! What better way to celebrate that than have a powerful night of music all centered around our Savior, and, even more, to offer HOPE to children around the world."
To find out more about the tour and to get specific information about dates and locations, visit, http://upto.com/s/h9yO.
You can learn more about Compassion at www.compassion.com.
And to find out additional information you can visit the Beckie Simmons Agency at www.bsaworld.com.
Tags:
compassion international
,
Donna King
,
gold city
,
North Carolina
,
Ohio
,
South Carolina
,
Steve Ladd
,
The Bowling Family
,
Voice Of Hope Christmas Tour
,
West Virginia
Posted in
announcements
|
Comments Off

on ANNOUNCING THE VOICE OF HOPE CHRISTMAS TOUR sponsored by COMPASSION
Written by SGN Scoops Staff on June 17, 2011 – 11:38 am -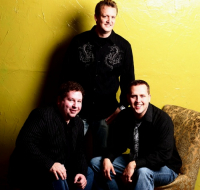 CHURCH HILL, Tenn. – Popular trio Brothers Forever are currently embarking on their 2011 "Let the Worshippers Arise" Summer Tour. This new tour will take Brothers Forever across 10 different states for 21 concert and worship events.
The "Let the Worshippers Arise" Tour kicked off this past Sunday in Pampa, Texas. Throughout the tour, the guys will be ministering across California before making their way back around to Arkansas, North Carolina, Alabama, Tennessee, South Carolina, Ohio, Virginia, and West Virginia. One stop along the tour will be at First Church of God in Red Bluff, California. This venue has hosted many major artists such as Greater Vision, Jeff & Sheri Easter, The Nelons, Booth Brothers, and many more.
Curtis Hagy of Brothers Forever said, "We are so honored to be invited to such a prestigious venue that has hosted the best artists in Southern Gospel!"
"On a spiritual note, the summer tour is always our favorite because we usually have so many decisions for Christ, and that's what it's all about," responded Brothers Forever's Gary Ballew.
In addition to this summer tour, Brothers Forever have recently released their much anticipated worship recording – Let the Worshippers Arise. The new recording features many songs that churches have grown to love over the years such as the title cut "Let the Worshippers Arise," "Mighty to Save," "Bring the Rain," and "Heal the Wound." More information on that release can be found by visiting the group's web site.
The dates for this year's "Let the Worshippers Arise" Summer Tour are as follows:
June 12, 2011 / Pampa, TX / Carpenters Church
June 15, 2011 / Alburquerque, NM / Crossroads at Alburqueque
June 18, 2011 / Escalon, CA / First Baptist Church
June 19, 2011 / Tracy, CA / Center of Hope
June 22, 2011 / Ripon, CA / Ripona Christian Fellowship
June 24, 2011 / Fremont, CA / Pregnancy Choices Clinic Benefit Concert
June 26, 2011 / Mantecca, CA / Cornerstone Community Church
June 26, 2011 / Caruthers, CA / The Rock Church
June 30, 2011 / Red Bluff, CA / First Church of God
July 3, 2011 / Hayward, CA / Church of the Cross
July 10, 2011 / Vendor, AR / Big Creek Assembly of God
July 20, 2011 / Smyrna, TN / SGN Music Fest, River of Life Church
July 23, 2011 / Honorville, AL / Midway Community Church
July 24, 2011 / Enterprise. AL / Holloway Tabernacle
July 30, 2011 / Lessburg, OH / Highland Methodist Church
July 31, 2011 / New Vienna, OH / New Vienna United Methodist Church
August 5, 2011 / Wadesboro, SC / Bethany FWB Church
August 7, 2011 / Youngsville, NC / Grace Fellowship Church
August 14, 2011 / Gate City, VA / Daniel Boone Baptist Church
August 21, 2011 / Bean Station, TN / Noeton Baptist Church
August 28, 2011 / Princeton, WV / First Assembly of God
August 28, 2011 / Princeton, WV / Fairview Community Church
To visit the newly designed Brothers Forever website, visit http://www.brothersforever.net.
Tags:
alabama
,
Arkansas
,
brothers forever
,
North Carolina
,
Ohio
,
South Carolina
,
Tennessee
,
Virginia
Posted in
announcements
,
christian entertainment
,
Christian interest
,
gospel events
|
Comments Off

on Brothers Forever Embark on 2011 "Let the Worshippers Arise" Summer Tour