Written by Staff on January 24, 2018 – 2:46 pm -
How often do you meet twins who have the same talent, vision and ministry giftings? The Chrisagis Brothers are internationally-known Christian music artists, who annually present a Legends Concert to honor pioneers of Christian music such as Russ Taff, Michael English, Rambo McGuire, Dino, and many more.
Brian and Shawn's support of artists across Christian music genres has increased their notability in the Southern gospel arena as well, with Christmas concerts featuring Adam Crabb, Russ Taff, Angela Primm, Bonnie Keen, and the Blackwoods.
The Chrisagis Brothers have a strong emphasis on family in their ministry and one reason for this is their heritage. "We are Italian and Greek, so family has always played an important part of our lives," says Shawn.
"When we were born, we were born with life-threatening allergies and the doctors said we would never live past the age of one year old. We were dying for seven years of our lives and could not go outside because we were allergic to the sun. We couldn't eat anything but soybean milk, sardines, rice-cakes, and peanut butter.
Shawn recalls, "Through the love of our strong family, the three generations who lived in one home, including our Mom, Dad, and our Grandparents and our brother Anthony, we twins survived the odds because of love and faith.
"Our Mom always said that the acronym of 'FAMILY' stood for Forget About Me, I Love You. Our family lived that daily and at seven years old we were healed," continues Shawn. "Our Mom became born again and found out how to break the curse of sickness, death and disease in our home in the name of Jesus. When she did that, we were instantly healed."
The twins' strong faith is proclaimed nightly in their onstage appearances.
Tags:
Chrisagis Brothers
,
Christian Music
,
gospel music
,
Jaci Velasquez
,
Leon Patillo
,
Michael English
,
Phil Keaggy
,
russ taff
Posted in
artists
,
Christian interest
|
Comments Off

on Chrisagis Brothers champion legendary artists Russ Taff and Michael English
Written by Staff on April 10, 2017 – 1:26 pm -
The dynamic duo of Christian music, Brian and Shawn Chrisagis, known as the Chrisagis Brothers, are bringing a powerhouse lineup to this years' 2017 Legends event. The Chrisagis Brothers are gathering together five classic artists from Christian music, including Southern Gospel, Rock, Ballads, Contemporary and Classical, all in the name of Jesus, music.
Artists to appear include Grammy and Dove Award winners, and members of the Gospel Music Hall of Fame: Dino Kartsonakis, Michael English, Phil Keaggy, Wayne Watson, and also the three-year staple for the Legends concerts, Scott Wesley Brown.
This year Brian and Shawn are also bringing along their long time friend and sister in Christ, legendary actress, super model and author, Jennifer O'Neill, to cohost with the Chrisagis Brothers. The event is Aug. 19, 2017, at The J.B. Chambers
Performing Arts Center in Wheeling, W,V. This beautiful center holds 1200 seats waiting to be filled with Christian music fans from across the United States.
This is the third year for the Legends event and each time the brothers bring their A-Game to the table with acclaimed artists. This year the legends are the cream of the crop. The duo will welcome Dino, known as a pianist extraordinaire, an artist who has been performing in his own stage show in Branson for many years.
Dino will take the stage with Phil Keaggy, one of the top three best guitarists in the world. Phil is world-renowned and has played with the Beatles.
Michael English is known as a solo artist and as a member of the multi-awarded Gaither Vocal Band. This man has had an amazing career and his voice is one of the greatest in Southern Gospel music.
Wayne Watson is best known for his duet with Sandi Patty, "Another Time and Another Place," but has won many awards and has had numerous No. 1 hit songs on the CCM charts.
Last is Scott Wesley Brown, the anchor man at the Legends concerts, and one of the greatest songwriters and Generals for God in his 40 years+ of ministry.
Welcoming these artists to the Legends concert event are the Chrisagis Brothers, award winners and nominees in several areas. They are especially proud of
winning the Extraordinary People Award for Duo of the Year. These two have ministered for over 35 years and have won many Hollywood Stars to Jesus.
They have a radio show called "It's a God Thing" that has allowed many of Hollywood elite to share their faith. Some of their friends and guests in Hollywood are Lindsay Wagner, Erik Estrada, Jennifer O'Neill, Joe Penny, Loni Anderson, Morgan Brittany, Cheryl Ladd, Kevin Sorbo, Corbin Bernsen, Pat Boone, Dolly Parton, Alana Stewart (from the Farrah Fawcett Foundation – who shared Farrah's faith in Jesus on the radio show.)
The Chrisagis brothers have also been very powerful forces in bringing their Legends events to various areas in the United States. These guys have won favor with CCM pioneers in the business and with Hollywood personnel. For more info on these two incredible ministers who are making a difference check out their website here.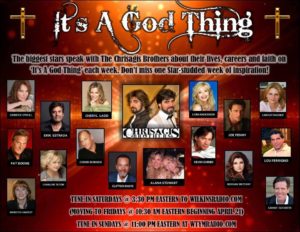 For more Gospel music news, click here.
Tags:
Chrisagis Brothers
,
Dino
,
Dino Kartsonakis
,
Jaclyn Smith
,
Jennifer O'Neill
,
Michael English
,
Phil Keaggy
,
Scott Wesley Brown
,
Wayne Watson
Posted in
announcements
,
artists
|
Comments Off

on Michael English and more at 2017 Chrisagis Brothers Legends concert event