Written by scoopsnews on September 12, 2018 – 12:09 pm -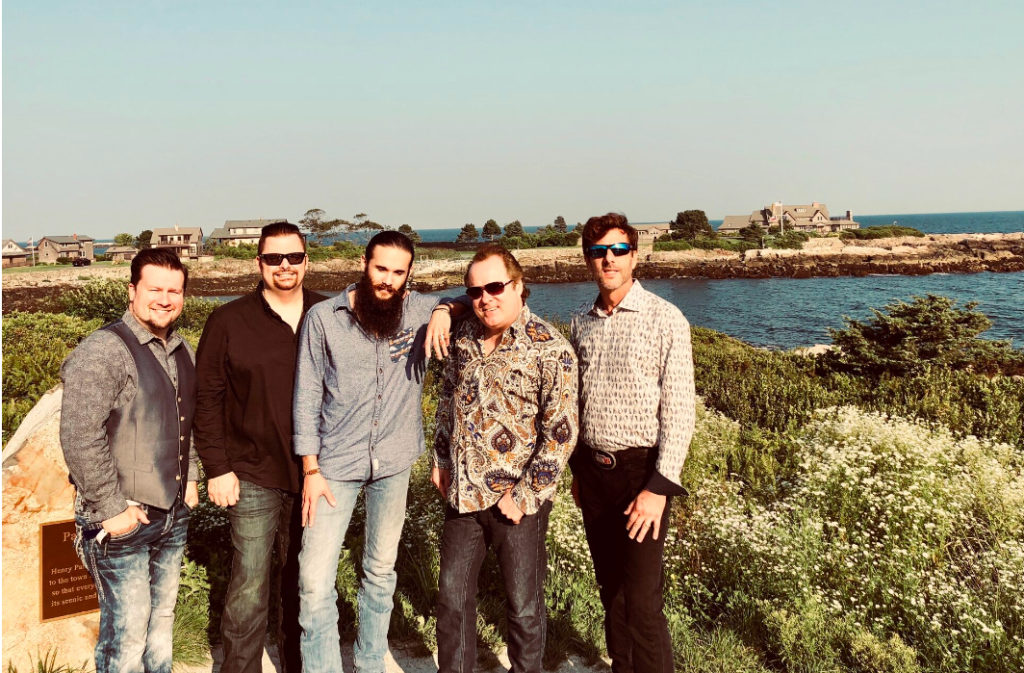 (Nashville, TN)  – MARK209 received an invitation from President George H.W. Bush to visit Walker's Point (the Bush family summer home) and perform an intimate concert for the former President and his family.
MARK209 was preparing for their final concerts of their 2018 New England Tour, when they received an invitation from President Bush to visit him at his home on Walker's Point in Kennebunkport, ME.  Others in attendance were President Bush's extended family, which included his son President George W. Bush, First Lady Laura Bush, Barbara and Jenna Bush (the twins), other members of the Bush family, as well as some of their staff.
President Bush told the band how he had recently had Lee Greenwood and Michael W. Smith in to sing for him over the past few weeks.  MARK209's tenor and front man, Nathaniel Justice says, "The President's Chief of Staff told me that Lee Greenwood said that all of Nashville would be on a plane immediately to visit our former President at the invitation … he is loved by so many.  MARK209 is just thrilled to be included in the select few who have been invited."  Nathaniel said.
MARK209 sang songs requested by the family and President Bush which included hymns, country classics, and some of MARK209's original material.  MARK209's "Soldiers and Jesus" received a great response from the family.  And President Bush was thrilled to have the quartet sing his favorite song by the Oak Ridge Boys, "Elvira".
"Josh sat down at the piano and began to play as the family gathered around," states Jimmy Reno, MARK209 baritone singer.  "We began with a few hymns and then started singing some of our original material.  President George W. Bush really enjoyed 'Keep on the Firing Line.'"
"This was a huge honor for MARK209'" states Jym Howe, the band's lead singer.  "It was our third opportunity to perform for President Bush.  Two at his invitation to his home with all the family and once, last year in Kennebunkport, when he and First Lady Barbara came to our concert and sat on the front row.  It is really something that this country boy from Cut and Shoot, Texas would have the audience of such powerful people.  God has truly blessed MARK209."
Photos were not allowed on property this time while visiting the Bush family, but the band will carry these fond memories.
About MARK209:
MARK209 is based out of Nashville, TN. The band takes their name from Mile Marker 209 in Nashville, which leads to Music Row, The Country Music Hall of Fame, and the Ryman Auditorium.  MARK209 entertains audiences across the United States with their brand of Gospel, their Family Friendly Country Concert, and their popular Christmas show "Christmas from the Heart of Nashville."   MARK209 is proudly sponsored by Sound Solutions (Oxford, AL).
For more information about MARK209, visit www.MARK209.com.  For booking inquiries call 615-246-2667.
Tags:
Mark209
,
President George W. Bush
Posted in
announcements
|
Comments Off

on MARK209 sings for President Bush
Written by Staff on August 17, 2016 – 4:14 pm -
HENDERSONVILLE, TN – Christian music artist, MARK209 based out of Nashville, TN was invited yesterday evening to do an impromptu concert at the home of President George H.W. and First Lady Barbara Bush at the Bush Compound in Kennebunkport, ME.
MARK209 was in the middle of a 23 Day New England Tour and this was their only scheduled day off as they were planning to spend time sightseeing and touring the area when the opportunity presented itself for them to sing a song while touring the Bush Compound for Margaret Bush, an accomplished singer and actress. After leaving the property they were continuing their tour and received a call inviting them back to do a concert that evening for The Bush Family.
"Only a handful of people get the opportunity to sing for distinguished people let alone Presidents and today we were humbled by the opportunity to sing for not only one, but two Presidents at their private residence," shares Jym Howe, lead singer for MARK209.
They sang several songs including Amazing Grace, Sweet, Sweet, Spirit, Crying In The Chapel and even Elvira by special request. Among those attending the concert were President George H.W. and First Lady Barbara Bush, President George W. and First Lady Laura Bush, Marvin and Margaret Bush, Doro and granddaughter Georgia.
Nathaniel, tenor singer for MARK209 shares, "When we came to the door, we were greeted by President George W. Bush. I was humbled by their gratitude, generosity, and willingness to invite us, someone they did not know, into their home last minute." Before leaving, the guys were asked by President George H.W. Bush about returning to perform a full concert sometime in the future.
MARK209 just recently signed a booking and management deal with April Potter Agency and will be in the studio working on a new project later this fall.
For more information on MARK209, you can visit their website here or April Potter Agency at www.apotteragency.com or call April Potter Agency at 615.479.0954.
For more Gospel music news click here.
Tags:
Mark209
,
president George H. W. bush
,
President George W. Bush
Posted in
announcements
,
artists
|
Comments Off

on MARK209 INVITED FOR IMPROMPTU CONCERT FOR BOTH BUSH PRESIDENTS AT THE BUSH COMPOUND IN MAINE