Written by SGN Scoops Staff on February 25, 2020 – 9:00 am -
NASHVILLE, TN – April Potter, President of the April Potter Agency announces the addition of multi-award recipient
and singer/songwriter Riley Harrison Clark to the roster. April Potter Agency will be handling all booking and
management for Riley.
"Riley has a unique gift for connecting with people through speaking and sharing his personal testimony and song"
says April. "When we met and talked about dreams and where his ministry was heading, it was a perfect fit for our
agency. I love the raw, pure heart Riley has for ministry both one-on-one and to the masses. We are honored to
represent him in both booking and management to help grow his ministry to new levels."
Riley adds, "Since before stepping out on my own, I've been praying for 'my team' of people. I believe April and the
team at April Potter Agency are an answer to those prayers. I'm excited to be working alongside someone who has
20+ years of experience in music and who shares my vision for the future of my ministry. I look forward to not only
continuing to love and cater to those friends and fans I've had for over 10 years, but the opening doors of reaching new
people and enjoying new ventures."
MORE ABOUT RILEY HARRISON CLARK:
Riley's success began in 2010 when he began touring with Tribute Quartet. In his 10-year tenure with the group, he
was privileged to sing in almost all of the 50 states as well as venues in several different countries. He was honored to
share stages with Jason Crabb, Russ Taff, The Isaacs, Gaither Vocal Band, CeCe Winans, The Oak Ridge Boys and
many others. Riley has performed at National Quartet Convention, Billy Graham Training Center at The Cove, Silver
Dollar City, Dollywood and multiple cruises.
While with Tribute, the group was nominated for several awards including GMA Dove Awards and celebrated three #1
Songs. Riley received the Favorite Young Artist Award from The Singing News Fan Awards and Male Vocalist of the
Year at the AGM Awards as well as being nominated 8 years in a row for Tenor of the Year. He released his first solo
record with Daywind Records in September 2018 entitled Welcome to Me with the lead single "Glory To Glory"
nominated for Inspirational Recorded Song Of The Year at the GMA Dove Awards. He is currently in the studio
working on his second Daywind Music project slated to release sometime in early spring.
MORE ABOUT APRIL POTTER AGENCY:
April Potter Agency is a full-service, exclusive booking and management company located in Nashville, Tennessee
serving such venues as arenas, auditoriums, churches, fairs, festivals, schools, city events, coffeehouses, and theme
parks and more with a variety of artists. April Potter brings to her agency 23 years of experience in the music industry.
In 1996, she began working for The Harper Agency, and later formed her own company in 2002, where she
represented some of the most popular names in gospel music. She returned to work for Harper in 2010 for two more
years, before leaving to home school her daughter. Since that time, she's worked as a freelance agent and consultant
in multiple areas of the industry, including management, marketing, radio, publicity, and booking, both stateside and
worldwide. In May 2016, she relaunched April Potter Agency expanding from Christian music to several genres
including Country, Bluegrass, Rock, Corporate Speakers and Tribute Bands. Potter is a Franklin County, Alabama
native and Music Business graduate of University of North Alabama.
For more information on Riley Harrison Clark or April Potter Agency, contact us at 615.479.0954 or email
april@apotteragency.com.
You may visit their websites at or www.rileyharrisonclark.com or www.apotteragency.com.
Tags:
Riley Harrison Clark
,
Southern Gospel News
Posted in
announcements
|
Comments Off

on APRIL POTTER AGENCY SIGNS EXCLUSIVE WITH RILEY HARRISON CLARK
Written by Staff on June 7, 2019 – 6:15 am -
Jantina de Haan Baksteen reached out to Riley Harrison Clark to go Beyond the Song into his new release, "Glory to Glory," from his "Welcome to Me" album. We all know Riley from Tribute Quartet where he sang the lead. Members include Gary Casto, Josh Singletary, and Anthony Davis. Filling in the tenor part is Gus Gaches.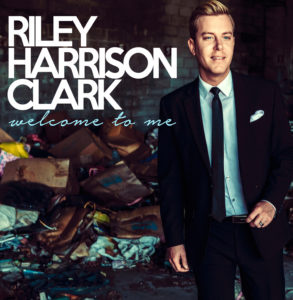 You started your solo career in 2018 and introduced "Glory to Glory" to radio from your first solo album. Who wrote this song and why is it on this project?
Joel Lindsey, Jeff Bumgardner, and I wrote, "Glory To Glory." I have always been inspired by Larnell Harris and his music, so when it came time to record an album of my own, I know I wanted to write a song that would stylistically be something like what he would record.
What made you pick this song as your first song to radio?
"Glory To Glory" is the opening for every one of my solo concerts. It is the opening of the album, so we simply felt it fitting to make it the first single off the project.
What does the message of the song mean to you?
Along with wanting to record something that felt inspired by the styles of Larnell, I also wanted to take a moment on the project to simply glorify God for all He is and all He has done. I believe we were able to capture both of these things.
What is the message you want to share with your audience?
To answer this question as simple as possible I would say the most important thing I want to share is that there is hope. For whatever you may be going through and whatever may come your way there is always hope. You are not alone and never will be.
Can you tell what lies ahead for your solo ministry in the near future?
As an artist I have goals. Goals for my music, my voice, my future. However, I am always careful to not put a goal on my ministry other than to be where God has for me at every moment. I never want to put a cap on, for lack of better terms, my ministry. I feel the moment I start trying to control the future of my ministry is the moment it will start to stray from the greater things God has ahead.
I know you traveled a lot to foreign countries with Tribute Quartet. Where did you go?
Yes. While with the guys (Tribute) we were fortunate to travel all across the world; Northern Ireland, Scotland, Canada, Mexico, and most recently Tanzania, Africa where we were able to be involved with an organization we all feel privileged to support, Kids4School.
Is it on your wish list to travel out of the country as a solo artist?
I would love to continue to travel the world. It is my passion to share my music and God's message to not only my country but others as well.
Is there something more you'd like to share?
Lastly, I want everyone to know that it is my heart's desire to reach the lost and broken as well as to encourage others that are simply in need of being uplifted. I believe now is as good a time as any to pour all we have into showing the love, grace, mercy, and hope of Jesus out for all to see. I am honored to do this by sharing the ministry of Riley Harrison Clark with all those that will listen, whether it is down the street or all around the world.
Thanks so much for your time. As the SGNScoops team, we wish you God's blessing for your ministry and family!
Read the May SGNScoops Magazine Online HERE
Download SGNScoops Magazine On PDF
HERE
Find SGNScoops Magazine On Facebook
HERE
Listen To Todays Gospel Music
HERE
Tags:
Beyond the Song
,
Christian Music
,
Glory to Glory
,
gospel music
,
Riley Harrison Clark
,
Tribute
,
Welcome to Me
Posted in
artists
,
Beyond the Song
|
Comments Off

on Beyond the Song: Riley Harrison Clark sings, "Glory to Glory"
Written by SGN Scoops Staff on October 3, 2018 – 3:48 pm -
Riley Harrison Clark's debut album, Welcome To Me released Friday, September 28, 2018. He celebrated the release with his family and fellow members of Tribute Quartet while at the National Quartet Convention in Pigeon Forge, TN.
To purchase your copy of Welcome To Me visit your local LifeWay Christian bookstore, iTunes, rileyharrisonclark.com or Daywind.com. Listen to his single, You Will Be Found below.
Tags:
Riley Harrison Clark
,
Southern Gospel News
Posted in
announcements
|
Comments Off

on Riley Harrison Clark's Debut Album, Welcome To Me
Written by scoopsnews on February 9, 2018 – 8:14 pm -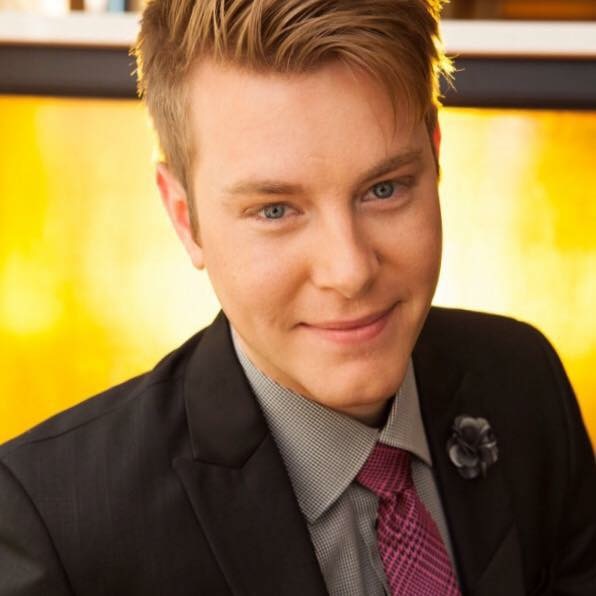 Congratulations Riley! Can't wait to hear the finished project!
From Riley:
Tags:
Riley Harrison Clark
Posted in
announcements
|
Comments Off

on Exciting News From Riley Harrison Clark
Written by Staff on September 1, 2017 – 8:59 am -
Southern Gospel Music is known as quartet music for its traditional four-men-and-a-piano set-up. Over the last few years, Southern Gospel has evolved into a popular form of music across the United States and overseas. There are only a few groups who live up to this customary Southern Gospel description.
The word tribute, when used as a noun, is defined by Dictionary.com as "a gift, testimonial, compliment, or the like, given as due or in acknowledgment of gratitude or esteem" (http://www.dictionary.com/browse/tribute, June 20, 2017). That is the perfect description of this group. When you meet the Tribute Quartet, you will understand how four voices and a piano can truly excite and energize your day on the radio or in person. They are a tribute to Southern Gospel Music, and their testimony and music is a gift to share.
Preparing the Gift
In 2005, the Wilburns (led by the husband/wife tandem of Jackie and Elaine Wilburn) decided to retire. However, a couple of the Wilburn group members were looking to sing on. And sing they did. In a short time, Wilburn members Gary Casto and Josh Singletary were enjoying presenting gospel music. Yet, Casto and Singletary had a vision of a quartet that was focused on music and ministry.
The veteran singers began a new vision without a name in December of 2006. Now, the group had signed to record with BSA World Records. Time had come to name the new group, but no one name had caught their attention.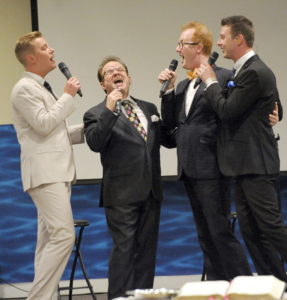 "Glen Bates of BSA World Records made the suggestion of Tribute," Singletary recalls. "There were no other names. That's the one that was suggested. We all thought about it and loved it, so we stuck with it."
From the first Tribute Quartet outing, the enthusiasm and energy caught the attention of Gospel Music lovers, young and old alike. Over the following months, the word began to spread about this new, young group that was energizing churches and concert stages in the Gospel Music world.
By 2008, Tribute Quartet began to receive some industry awards and a variety award nominations as well. In short, the Tribute Quartet was making its mark in brief time.
Tags:
Anthony Davis
,
daywind
,
Gary Casto
,
gospel music
,
Josh Singletary
,
Riley Harrison Clark
,
SGNScoops Magazine
,
Tribute
Posted in
artists
,
sgn scoops magazine
|
Comments Off

on Tribute Quartet: Artists on a Mission
Written by scoopsnews on August 19, 2016 – 5:55 am -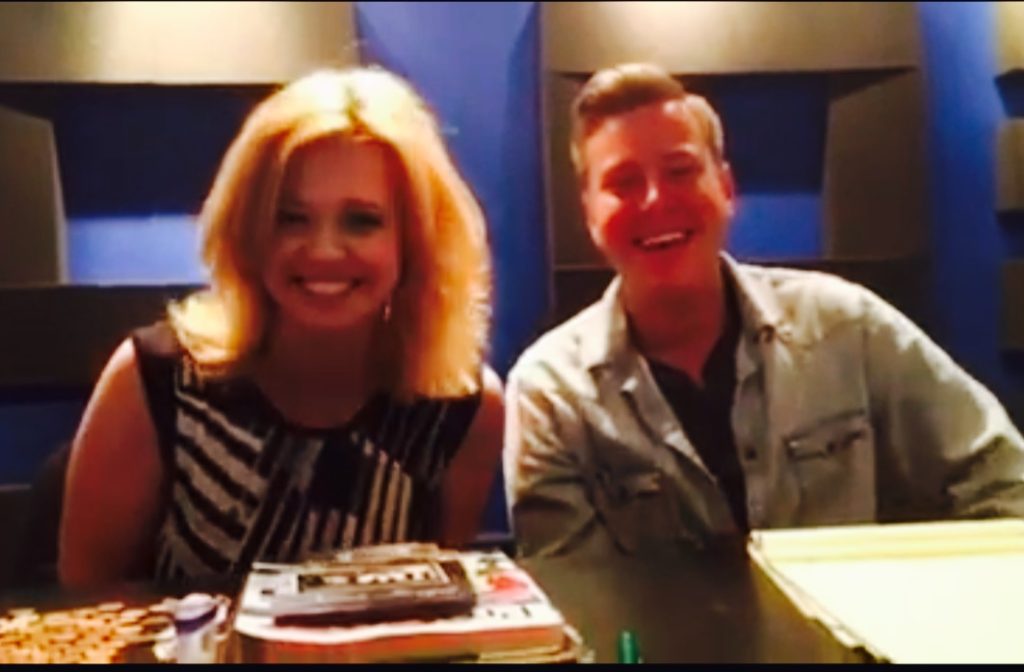 Lauren Talley and Riley Harrison Clark are both phenomenal singers.
Have you seen this sneak peak? This is going to be awesome!
Check out the video:
Tags:
Lauren Talley
,
Riley Harrison Clark
Posted in
announcements
|
Comments Off

on Awesome News from Lauren Talley and Riley Harrison Clark
Written by Staff on April 15, 2016 – 4:58 am -
Nashville, TN- (April 15, 2016) Tribute Quartet is excited to announce that tenor Riley Harrison Clark and his wife Megan have a new baby girl.  Charlee Rae Clark was born yesterday surrounded by a host of family members, including two year old, big brother Colbin. Charlee has a head full of blonde hair and weighs 7 lbs., 9 oz. Megan and Charlee are both doing well.
"Mary, Did You Know" is a song that Tribute Quartet fans enjoy hearing Riley Clark perform.  But for the Clark family, this song has much more meaning.  Even when on the road, with the use of video technology, Riley is able to sing this song for Colbin as he falls asleep.  In addition to sharing the Gospel, Riley is attempting to share with his son that God has big plans.  And now, Riley is already singing songs to Charlee.
"Megan and I are grateful for every prayer whispered on our behalf.  It is daunting to think that God has given us the gift of two beautiful children.  Our Southern Gospel family is a large part of supporting us in bringing them up with knowledge of a loving Savior", Riley Clark stated.
Gary Casto, Tribute Quartet's leader said, "Tribute Quartet is family, all of us are thrilled to have precious Charlee join us.  She can be assured that with Josh Singletary, Anthony Davis and I as honorary uncles, will spoil her!"
For more information on Tribute Quartet, visit tributequartet.com and follow on Facebook and Twitter.
More news
Tags:
Riley Harrison Clark
,
Tribute Quartet
Posted in
announcements
,
artists
|
Comments Off

on Tribute Quartet Grows!
Written by Staff on September 2, 2014 – 12:51 pm -
By Erin Stevens
No matter where you grow up, what job you have, or what music you listen to, when God puts a calling on your life, nothing and no one can stand in your way. That is just the case with powerhouse tenor, Riley Harrison Clark of Tribute Quartet. Take a few moments to hear straight from this tenderhearted man of God. Take it away, Riley…
Erin: For the readers who don't know your background, why don't you tell about how you came to be Tribute's tenor?
Riley: I've been singing since I was 12; at that age, I began vocal coaching with Steve Hurst. At 13, I attended his music school; it was there I met the Tribute guys. I had a few lessons with the guys and when Brian Alvey (their former tenor) came off the road, my name was brought to them. On a Wednesday I was on my face at 2:00am pouring my heart out to God, trying to plead with Him to move me forward in the area He was calling me. At 10:00am that same day, Gary Casto gave me a call and asked if I would be interested in joining Tribute. It was one of those God moments that, even if I wanted to say no, it would have been impossible. June 25th 2014 will be four years since I first sang with Tribute.
Erin: When you came into the industry, you were the consummate newbie. What were some key things that took a lot of getting used to?
Riley: 1. Sleeping in. Working back home, I was always up early. When I got on the bus, I quickly realized that everyone sleeps in. I'm still getting used to that, and generally with no success. 2. At first, when we would walk into events, I was taken back that I was not only in the same place with people I looked up to, but that I was actually doing the same thing.
Erin: While still being in that newlywed stage of life, and recently becoming a daddy, along with traveling full-time, how do you juggle all three roles?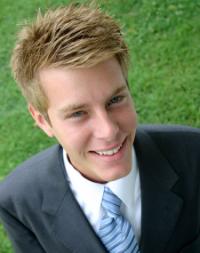 Riley: It begins with constantly reminding yourself that God has called you at this time, for this season, to be where you are at because He wants to use you. It also takes an incredibly loving, supportive wife that understands the call of God, and wants her husband to be in the center of God's will. Can I say that it's easy? Not at all. There are times I want to stay home because of how I miss Megan and Colbin, but it goes back to the first point I made. I am called to sing, and I know I am where I am for a purpose. As for the little guy, it is rather tough to miss out on his everyday adventures; but thank goodness for technology that allows me to see him, even though I may be in a different state or country.
Erin: What is the most peculiar thing a fan has ever said to you?
Riley: (This is for you, Morgan Easter) One year during Singing In the Sun, a sweet lady walked up to me, and just said, "I really like your ears." Surprising, since they were red and peeling from sunburn. Besides that, I didn't realize ears were a feature that got much attention!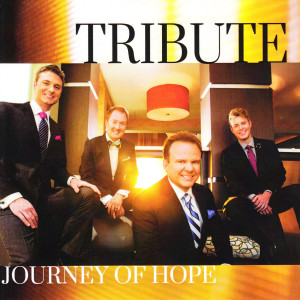 Erin: Favorite aspect of road life, and least favorite? (double whammy question – go.)
Riley: Favorite: waking up at Wal-Mart and being in a different part of the country every morning. Least favorite: waking up at Wal-Mart and being in a different part of the country every morning.
Erin: Which song do you sing each night that you consider your testimony and why?
Riley: Recently we put "God on the Mountain" on our Hit Replay Again album. If there is something I could say to anyone, it is that no matter what is going on, where you have been, where you are at, or where you are headed, God is always faithful. If you believe in what the word of God says, then find rest in the assurance that He will always be God, and that He will always be faithful.
Erin: A must-ask question among all Gospel singers: what's your hands down, can't live without, favorite food?
Riley: Hot dogs, pot roast and Ranch dressing. Anthony will make a pot roast on the bus, and there is no doubt that I will eat 70% of what is in that crock-pot. As for restaurants, hands down, IN-N-OUT BURGER.
Erin: How would you encourage those looking up to you as a role model in these crazy, mixed up days we are living in?
Riley: Get planted in the Word of God. Stay focused on what it says. Never think you are too small to be used by God. Do your best to know what it is that He wants with you and for your life. Don't stop until you reach your goals and once you get there, never let the devil discourage you because it is God that called you. And if He has called you, then you are carrying out His plan, and that one needs to be carried out 'til the end.
Riley would also like me to add that he has made it thus far largely due to the guidance he has received from his parents. What an outstanding privilege and blessing to have such a strong support system within the family unit. Needless to say, the Clarks raised a great man to carry out the message of the Gospel. Thank you, Riley for sharing from your heart with the readers today. Until next month, Scoops fans…
And that's my take on it.
By Erin Stevens
First published by SGN Scoops digital magazine in July 2014.
For current SGN Scoops issues, visit https://www.sgnscoops.com/
Tags:
Christian artist
,
Erin Stevens
,
gospel music
,
Riley Harrison Clark
,
sgn scoops
,
southern gospel
,
Tribute
,
Tribute Quartet
Posted in
artists
,
sgn scoops magazine
|
Comments Off

on Younger Perspective – Riley Harrison Clark
Written by SGN Scoops on February 3, 2014 – 11:08 am -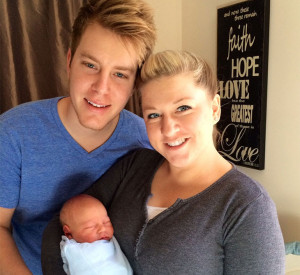 Daywind Music Group, Hendersonville, TN (February 3, 2014) Tenor for the Southern Gospel group Tribute Quartet Riley Harrison Clark and his wife Megan welcomed a precious baby boy, Colbin Harrison Clark, into their lives on January 28th at 11:50 pm.
Riley beamed "I've instantly learned a whole new level of love. This little boy is the most perfect 6 lb and 15 oz baby I could ever imagine and I am head over heels for him."
They are grateful for the many prayers and well wishes they have received.
If you would like to congratulate this sweet couple please visit the Tribute Quartet's Facebook page athttp://www.facebook.com/tributequartet
Tags:
Daywind Music Group
,
Riley Harrison Clark
,
Southern Gospel News
,
Tribute Quartet
Posted in
announcements
|
Comments Off

on Tribute Quartet's Riley Harrison Clark Welcomes Baby Boy