Written by Staff on August 3, 2020 – 9:52 am -
For more information on the Tri-state Hall of Fame, please contact Will Dickerson at. admin@TriStateGospelMusicHallOfFame.com
Website: TRI-STATE GOSPEL MUSIC HALL OF FAME
Facebook page HERE
Story by Robert York
Special to SGNScoops Magazine
Did you know that you can receive the printed, full-color version of SGNScoops Magazine by subscription? Find out more 
HERE
.
Find SGNScoops Magazine On Facebook 
HERE.
You can download the latest edition of SGNScoops Magazine 
HERE.
Read the latest edition of SGNScoops Magazine online
HERE
.
Listen To Today's Gospel Music
HERE
Tags:
Brian Etheridge
,
Buddy Burton
,
Charles Yates
,
David Maddox
,
Ed Hill
,
Howard Green
,
Ken Hicks
,
Little Willie Wynn
,
Peggy Parker
,
Robert York
,
The Greesons
,
Tommy Fairchild
,
Tri-State Gospel Music Hall of Fame
,
Troy Burns
,
Will Dickerson
Posted in
announcements
,
artists
|
Comments Off

on Tri-State Hall of Fame Ceremony recognizes Troy Burns, Buddy Burton, more
Written by scoopsnews on October 3, 2016 – 6:05 pm -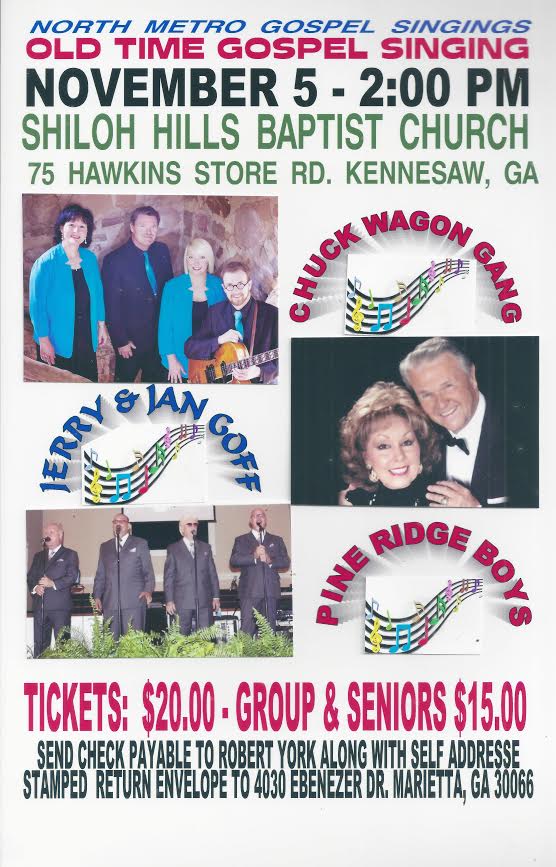 DON'T FORGET

NOVEMBER 5

– 
2:00 PM
AT SHILOH HILLS BAPTIST CHURCH, 75 HAWKINS STORE ROAD, KENNESAW, GA
AN OLD FASHION SINGING WITH THE CHUCK WAGON GANG, DR. JERRY & JAN GOFF AND THE PINE RIDGE BOYS.  THIS IS A TICKET EVENT STARTING AT

2:00 PM

-TICKETS: $20.00 – SENIORS $15.00 AND GROUPS OF TEN $15.00 (PLUS ONE FREE TICKET)
Tags:
Robert York
Posted in
announcements
|
Comments Off

on Upcoming Concert! Don't Miss This One…
Written by scoopsnews on July 28, 2016 – 7:04 am -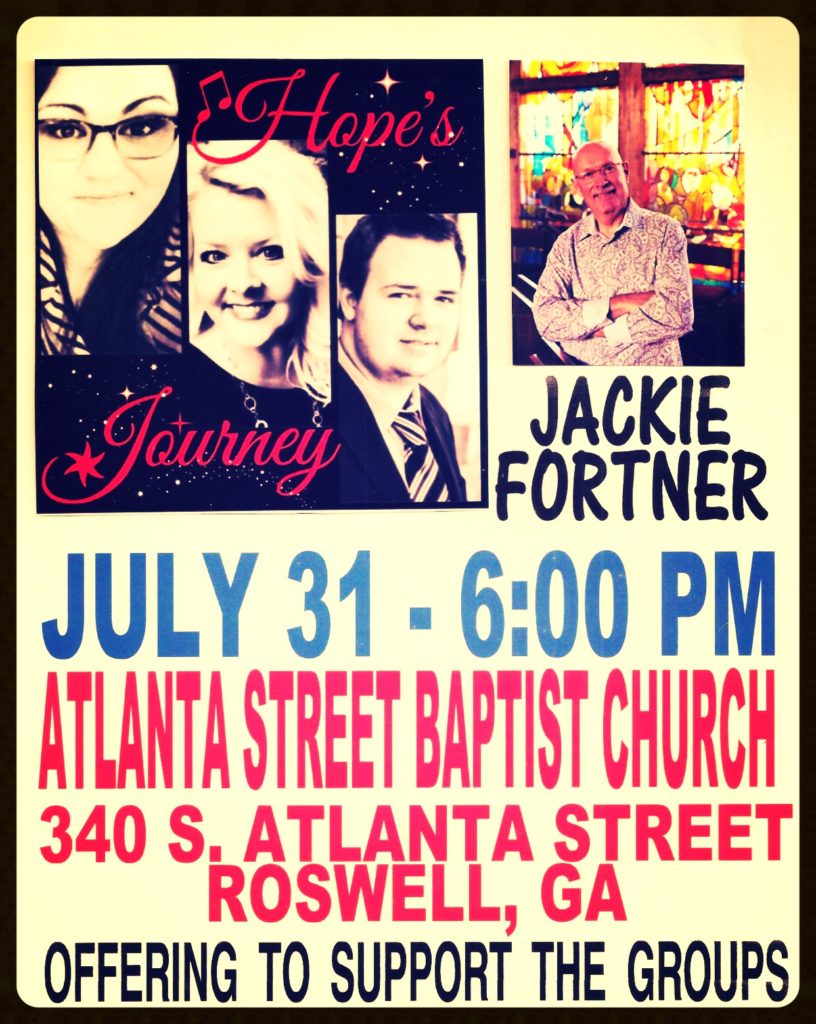 WE ARE HAVING GREAT SUNDAY NIGHT SINGINGS AT ATLANTA STREET BAPTIST CHURCH, 340 S. ATLANTA ST., ROSWELL, GA. PASTOR IS JAMIE CALDWELL WHO FORMERLY SANG WITH THE DIXIE MELODY BOYS AND ANCHORMEN. JEFF NUNNALLY IS MUSIC DIRECTOR AND LAMAR NEWTON IS ON THE PIANO. THIS SUNDAY NIGHT, JULY 31 AT 6:00 PM WE WILL HAVE HOPES JOURNEY FROM HEFLIN, AL. YOU WILL CERTAINLY ENJOY THE GROUP WITH VONDA EASLEY, VOICE OF STRICTLY SOUTHERN SHOW ON WPILFM RADIO. ALSO WITH THE GREAT TENOR VOICE JACKY FORTNER FROM GAINESVILLE, GA. NO TICKET BUT LOVE OFFERING TAKEN. OCTOBER 9 WE WILL HAVE THE SHARPS QUARTET FROM FORT PAYNE, AL.
DON'T FORGET AUGUST 20 CONCERT AT SHILOH HILLS BAPTIST CHURCH, KENNESAW, GA WITH KAREN PECK & NEW RIVER, JIM BRADY TRIO AND CHILDREN OF THE PROMISE. ADVANCE TICKETS ARE AVAILABLE THROUGH AUGUST 15 AT $22.00 EACH.
Robert L. York
Tags:
Atlanta Street singings
,
Robert York
Posted in
announcements
|
Comments Off

on Atlanta Street Baptist Singing this Weekend!
Written by Staff on January 5, 2016 – 10:43 am -
ROBERT'S CONCERT RAMBLINGS  by Robert York

On a cold January morning, the Kingdom Heirs stood outside The Showstreet Theater in Dollywood singing the National Anthem. This is a morning custom for them. The Showstreet is their usual home next to the Southern Gospel Music Hall of Fame just as you enter Dollywood. During a couple of events that take place over the year they move over to the Pines Theater. I had the opportunity to be there and visit with them the last two days of the 30th season. You don't have to worry, they will be back in March to begin their 31st season.  They will be touring the next nine weeks across the country.

Kreis French is a native member, as he was the first to start the group back when the park was known as Silver Dollar City. The Kindgom Heirs sang as a part time group until the park changed it's name to Dollywood in 1986. Dolly Parton insisted that they remain there and be a full time group performing two to three shows, five days a week during the regular season.

Kreis plays bass for the group in the Kingdom Heirs Band, who have won Band Of the Year for seven times. Dennis Murphy has been playing drums for 26 years. Most drummers don't live that long, especially a comedian like Dennis. Andy Stringfield from Harriman, TN fills the piano slot and also does some backup singing.

The voices of the Kingdom Heirs include Arthur Rice who sings lead and also is the emcee for the group. Arthur has been singing since he was 14 years old and is from Ashville, NC.  He states, "You shake a tree in North Carolina and a quartet will fall out."

Jeff Chapman from Brunswick, GA fills the bass position. Jeff formerly sang with the Anchormen and at the Blackwood Show in Pigeon Forge. Jerry Martin is tenor for the group from Bladenboro, NC. He formerly sang with the Dove Brothers. Brian Alvey sings baritone and also plays with the band.  Brian is a former member of Tribute Quartet. The group ended the season singing "He Lifted Me."

Famous songwriter Dianne Wilkinson has written about 60 sings for the group with the first cut for them was "I've Passed Over" in 1999.  She says the exact number of songs are hard to count as some have been recorded more than once. Of the songs Dianne has written, there have been several number one songs: "What We Needed"(2008), "Tell Me Why" (2012), "Just Preach Jesus"(2013), "Just Beyond the Sunset"(2013), "The Borrowed Tomb"(2014 cowritten with Rebecca Peck and "I'll Know I'm Home"(2014) cowritten with Jeff Crews.

Dianne says, "It has been my privilege to have the Heirs record my songs for about 16 years. God has blessed, and I have come to regard these dear men as if they were family. Every cut I have had on the Kingdom Heirs album has been amazing…all I envisioned for the songs, and more. I value their friendship, and admire their strong faith and their commitment to singing songs with a doctrinal message. Great quartet…great men of God! I love them and their families dearly!"

The Kingdom Heirs have recorded on the Sunlight label since 1986.  You can check out their traveling schedule for the next few weeks on their website www.kingdomheirs.com. If they are in your area GO OUT AND SEE THEM, I'm sure you will enjoy the evening.

By Robert York

Dollywood Pictures by Robert York
Tags:
Dollywood
,
Kingdom Heirs
,
Robert York
Posted in
announcements
,
artists
,
sgn scoops magazine
,
special feature
|
Comments Off

on KINGDOM HEIRS END 30TH SEASON AT DOLLYWOOD
Written by scoopsnews on November 18, 2015 – 7:17 am -
START YOUR THANKSGIVING OFF WITH A GREAT GOSPEL SINGING AT SHILOH HILLS BAPTIST CHURCH, 75 HAWKINS STORE ROAD, KENNESAW, GA WITH THE WORLD FAMOUS CHUCK WAGON GANG AND THE DAVIS TRIO.  CONCERT STARTS AT

2:00

,

NOVEMBER 21

.  SENIOR DISCOUNT TICKETS ARE AVAILABLE. YOU CAN ORDER ADVANCE TICKETS BY CALLING 770-617-0359
For more information: Click
HERE:
Tags:
Chuck Wagon Gang
,
Robert York
Posted in
announcements
|
Comments Off

on Thanksgiving Concert
Written by Staff on February 27, 2015 – 11:27 am -
VONDA ON THE RUN by Robert York
I decided to dust off my passport and travel across the state line to visit a friend in Alabama. After getting everything clear they let me in. I visited with a great friend while I was there and would like to let you know exactly what she does. Most everyone knows her as the "HEY Y'ALL" lady, while I know her as Vonda and Friend.
Vonda Easley is involved in numerous things that go on in Southern Gospel Music. In her early life she was brought up loving Gospel, Bluegrass and Country music. Around 10 years ago she and her daughter Ashley Easley formed a group to share God's word and message in Southern Gospel music. She named the group "Hope's Journey" and has been going strong ever since. She works with Morris Music Group and has a promotion company, Hey Y'all Media. You can also find her working as a dental hygienist.  Ashley married Josh Franks and left Hope's Journey to sing with her husband.  Tracy Byrd is now singing with Vonda and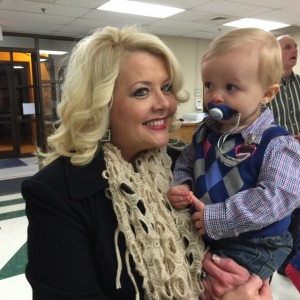 Chris Clay in Hope's Journey. Vonda is also deeply involved with SGN Scoops and has developed a relationship with them that is carried all around the world.
Well, that's just to say a little about Vonda.  I when to Heflin, AL to see what she was up to.  First off, there was a concert that Josh and Ashley hosted called 'Battle of the Quartets'.  It featured Mark Trammell Quartet and The Perrys along with Josh and Ashley.  Well guess who was also there:
Grandma Vonda keeping her grandchildren and spending time with her family.  The next morning she was up bright and early for her live radio program at  WPIL-FM called Strictly Southern with Vonda Easley.  She had Charlie Sexton as a guest on the program talking about a benefit concert that was happening that evening.  I then joined her on the program where we chatted about Gospel music and concerts. The final 30 minutes of the program is usually devoted to a phone call with Rob Patz talking about events that are going on and just really having a good fun time.  Rob loves to call that portion of the show the Rob and Vonda Show, but Vonda has a different idea about it.
One of the upcoming events that Vonda is heavily involved in, that will prove to be very successful and enjoyable is Southern Gospel Weekend,

March 26-28

at the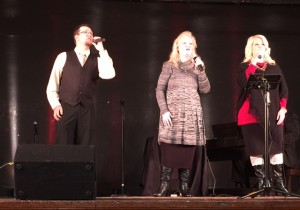 Oxford, AL Civic Center. Vonda and Rob have put together a great weekend of Southern Gospel Music which will feature around 30 artists. This one of the many events sponsored by SGN Scoops which also host the Diamond Awards Program in the fall at the Creekside Gospel Music Convention.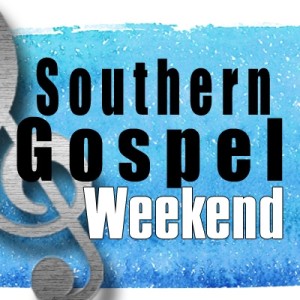 Well after the radio program, Vonda went by to spend a little while with her mother and take her to lunch, but the day was not over for her. Hope's Journey had a benefit concert to perform at that evening so it was off to the concert to sing. She was joined by several other groups and they raised over $3500 for a young child whose medical expenses had become more than the parents could afford. 
This is just a little about Vonda Easley and what she does to carry God's message to hurting folks. Visiting with her and the staff at WPIL-FM is always an honor for me.  Keep up with Vonda and Hopes Journey.  www.hopesjourneyonline.com
For more on Southern Gospel Weekend visit http://www.southerngospelweekend.com/
For more on Creekside Gospel Music Convention visit  http://www.creeksidegospelmusicconvention.com/
For more on Strictly Southern with Vonda Easley visit https://www.facebook.com/StrictlySouthernWithVondaEasley 
Tags:
Ashley Franks
,
christian country
,
Christian Music
,
gospel music
,
Hope's Journey
,
rob patz
,
Robert York
,
sgn scoops
,
southern gospel
,
Strictly Southern with Vonda Easley
,
Vonda Easley
Posted in
artists
,
christian entertainment
,
Christian interest
,
sgn scoops magazine
|
Comments Off

on A Visit with Vonda Easley of Hope's Journey
Written by Staff on January 16, 2015 – 10:52 am -
By Robert York
Dollywood has closed for the season and the Kingdom Heirs are on the road for some dates during their break. On their first weekend out, they started on friday night at Andy's hometown in Harriman, TN, then it was onto Clarksville, TN.  I had the opportunity to go to Hopewell Baptist Church in Milton, Georgia, on Sunday evening to see them in concert on the road.  This was the third year that they have been at the church and it was a full house. The ladies of the church had prepared a southern dinner prior to the concert consisting of fried chicken, mashed potatoes, green beans, slaw and cake.
After dinner the Kingdom Heirs hit the stage singing. The group consisted of Dennis Murphy on drums, Kreis French on bass guitar, Andy Stringfield on piano and singing baritone, Arthur Rice singing lead, Jeff Chapman singing bass and Jerry Martin on tenor.  2014 marked the 29th year the group had been singing at Dollywood. Prior to that they sang at the same location, which was called Silver Dollar City. In 1986, Dolly Parton became a part of the group that owned Silver Dollar City and they changed the name to Dollywood. The Kingdom Heirs perform two to three shows daily during the season.  They sing to more folks each year than most other groups. The theme park gives them the opportunity to sing to folks that have never heard Southern Gospel music and minister to those that don't know Jesus.
The Kingdom Heirs have recorded on the Sonlite label since 1986 and their latest CD Redeeming The Time has had three number-one releases. This is probably a record for a Southern Gospel group having that many number one songs on a single CD.
The Kingdom Heirs' band is the recipient of six Singing News Fan Awards for Band of the Year. Each year the members of the group and the group itself always receive nominations for many awards. Their on-the-road journey will continue until March 21, 2015 when then return to Dollywood for their 30th season. The park also dedicates the month of October to Southern Gospel music having many of the major groups there performing during the month.
We were blessed with a great evening of Southern Gospel quartet singing from the Kingdom Heirs, and strongly suggest that Gospel music fans journey to hear this group while they are on the road. The quartet will be traveling in the Southeast and Indiana, Illinois, Pennsylvania and Virginia during their winter break. You can keep up with their schedule on their website. Www.kingdomheirs.com 
By Robert York
Tags:
Andy Stringfield
,
Arthur Rice
,
Dennis murphy
,
Dollywood
,
Jeff Chapman
,
Jerry Martin
,
Kingdom Heirs
,
Kreis French
,
Robert York
Posted in
artists
|
Comments Off

on Kingdom Heirs On The Road
Written by Staff on November 21, 2014 – 11:17 am -
By Robert York
Voices Won celebrated their 13th Anniversary with a weekend of great Southern Gospel music. Voices Won is a trio from Dalton, GA consisting of three brothers; Jaron who is the oldest and writes most of the songs they sing; Shantell who is the middle brother and also their military man having served in the Air Force, and Staclynn, who is the youngest and mom's favorite. They opened the concert each evening which was held at Crosspoint Christian Center in Dalton, GA​.
Opening night included the story-telling Mark Bishop who shared a lot of his story songs, pleasing the audience. He even sang a few that he had not written. Winners of five 2014 Diamond Awards, Karen Peck and New River took the stage singing from their Revival CD and a few all-time favorites, ending their program with "Four Days Late."
Saturday night, Voices Won took a few requests from the audience after they had sung. Then, on to the stage popped the group that has a record of having number-one songs, The McKameys. They made up different singing groups out of their stage personnel. As usual, The McKameys came away pleasing the crowd.
Up next was another fan favorite, Triumphant Quartet. Of course, during their set, Clayton had to have his way and sing "The Old White Flag."
Tissues, napkins, hankies and even toilet paper came out of women's purses when he sang. With both these groups performing, it was a sold out show. Folks had to make room for the standing crowd as very few seats were left
Danny Jones emceed the two-night event. Voices Won's mother, Regina and father, Aaron did a great job preparing meals both nights for folks to enjoy before the concert. If you didn't want a full meal they also had hot dogs and barbeque sandwiches as well as pinto beans and cornbread.
Voices Won is already preparing for their 14th Anniversary, which is always held the second Friday and Saturday night in November. For more information visit
http://voiceswon.com/.
Thanks to Robert York for this concert review.
For more concert reviews and artist features, read the SGN Scoops digital magazine found at https://www.sgnscoops.com/
Tags:
concert review
,
gospel music
,
karen peck and new river
,
Mark Bishop
,
Robert York
,
southern gospel
,
The Mckameys
,
triumphant quartet
,
Voices Won
Posted in
announcements
,
artists
,
sgn scoops magazine
|
Comments Off

on Voices Won Celebrates 13th Anniversary
Written by SGN Scoops Staff on November 15, 2014 – 7:14 am -
It's November and we are thrilled to present the latest edition of SGNScoops for you to read and enjoy. Creekside Gospel Music Convention was a blast and we have lots of pictorial coverage in these pages, as well as on the fabulous front cover. Inside we have an update on the event with a list of the Diamond Award winners and so much more. We say an extra thank you to all of those who went above and beyond to help make Creekside the best ever. If we were to make a list, we might leave someone out, so to each and every one of you: we are so grateful to have you as part of our team.
Thanks to our artists for brightening our pages this month! Featured guests for November are: Soul'd Out, Tim Parton, Melanie Walker, the LeFevre Quartet, Triumphant, Hannah Webb, Canaan's Crossing, Sherry Anne, the Jordan Family, Quinton Mills and DJ Ron Foster.
Thanksgiving is quickly approaching and you will find several articles with different views on this holiday. We appreciate all of our artists for contributing what they are thankful for and also their favorite holiday food!
Our monthly devotional writers are back with more insights, as well as a new column entitled "Pastor's Corner". This month we welcome Music Pastor, Terry Snyder.
Since this is the month of giving thanks, we would like to thank all of our current authors that spend so much of their time and talents on SGN Scoops. Special thanks to Candi Combs, Chris Clay, Craig Harris, Dan Duncan, Dean Adkins, Dixie Phillips, Erin Stevens, Hannah Webb, Jennifer Campbell, Laura Kennedy, Lynn Mills, Marcie Gray, Paige Givens, Scott Rhoades, Tina Wakefield, Robert York, Sandi Duncan Clark and Vonda Easley. There are others who contribute in other ways and we are thankful to you as well: Vivian Belknap, Michelle Drummond and Bev Byrd.
We so appreciate all of our columnists, including Lou Wills Hildreth, David Staton, Laurette Willis, Jeff Steele, Kelly Nelon Clark and Sherry Anne.
SGN Scoops would look really dull without the artistic team of Stephanie Kelley and Staci and Pete Schwager. Joan Walker makes sure all of our i's are dotted and our t's are crossed. Lorraine Walker as acting editor pulls it all together. And of course, SGN Scoops' Publisher Rob Patz keeps us all focused and enthusiastic about the future of the magazine. And SGN Scoops would not exist without our founder, Dr. Allen Smith.
Above all we give thanks to our Lord Jesus Christ, for Whom we give our gifts and to Whom we give all praise and thanksgiving.
Happy Thanksgiving!
Tags:
Candi Combs
,
Chris Clay
,
Craig Harris
,
Creekside Gospel Music Convention
,
Dan Duncan
,
Dean Adkins
,
diamond awards
,
Dixie Phillips
,
Erin Stevens
,
Hannah Webb
,
Jennifer Campbell
,
Laura Kennedy
,
Lynn Mills
,
Marcie Gray
,
Paige Givens
,
Robert York
,
Sandi Duncan Clar
,
Scott Rhoades
,
SGNScoops Magazine
,
Tina Wakefield
,
Vonda Easley
Posted in
announcements
,
sgn scoops magazine
|
Comments Off

on November 2014 SGNScoops Magazine
Written by SGN Scoops Staff on July 31, 2014 – 11:10 am -
Southern Gospel Music promoter Robert York of Georgia is taking a new direction for one of his upcoming shows.
Included among the top promoters in the U.S., York has hosted the top talent in the industry for his North Metro Atlanta Gospel Singings.
"We have decided to add to our concert lineup an evening of acoustic and bluegrass gospel," York said. "Many people in our area have requested we do some of this type of show."
York decided to include artists that enjoy success in several genres – Randall Franks, the Watkins Family and Les Butler.
The music ministries will appear on Sept. 13 at 6 p.m. in the 600-seat Shiloh Hills Baptist Church auditorium at 75 Hawkins Store Road in Kennesaw, Ga.
Franks, a TV/Film star, columnist, musician, and entertainer is well known for his role as "Officer Randy Goode" from TV's "In the Heat of the Night."
"Randall is a Top-20 selling Christian artist who has acted in several recent films and appeared for the Grand Ole Opry several times," York said. "He is recognized by the International Bluegrass Music Museum as a Legend for his contributions to bluegrass."
Adding to the entertainment of the evening will be emcee and musician Les Butler.
"Les is your weekend afternoon host on Solid Gospel radio across the country as well as the host of the popular weekend programs – 'Front Porch Fellowship' (bluegrass gospel) and 'The Old Country Church' (country gospel)," York said. "He is also host of popular TV show Harmony Road.  It's not unusual to find him on stage at any given concert adding his talents from mandolin, piano, guitar, and Dobro to playing the bass. His show won the annual Achievement In Radio Award in 1999."
One of America's best loved acoustic music families – the Watkins Family have served as gospel music ambassadors from the state of Georgia to the world for more than three decades,
"Many family groups have made a name for themselves in the fields of gospel, bluegrass and country music but few can claim performance success in all three genres while never veering from their sincere dedication that their music should always reflect the love of Jesus," York said.
York said whether the Watkins are performing on a grand stage with country stars such as Randy Travis and Diamond Rio, bluegrass festival or National Quartet Convention in front of thousands, or in the pulpit of a small country church, 2008 Impact Award nominee the Watkins Family raise spirits and hopes of the life to be led as servants of Christ through their harmonies.
"While the musical legacy of the Watkins family reaches back for generations in the mountains of northeast Georgia, their music today reflects the best in harmonies and musical instrumentation that can be heard," York said.
According to York, if response for the concert is positive, then he will be looking seriously at adding more events that share the music of the mountains with Southern gospel audiences of Atlanta.
Tickets for the event are $20 at the door or $15 in advance by mail to Robert York, 4030 Ebenezer Drive, Marietta, Ga. 30066.
Tags:
Randall Franks
,
Robert York
,
Southern Gospel Music
,
Southern Gospel News
,
The Watkins Family
Posted in
announcements
|
Comments Off

on Southern Gospel Music promoter Robert York of Georgia is taking a new direction for one of his upcoming shows