Written by SGN Scoops Staff on August 8, 2012 – 9:10 pm -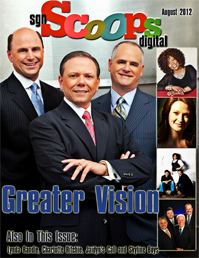 We're serving up another sizzling hot summer issue! This packed August edition unveils the list of the 2012 Diamond Awards Nominees! Also this month, Lorraine Walker, Sandi Duncan Clark, Jennifer Campbell, Charlie Sexton and Laura Kennedy presents the latest happenings in the ministries of Greater Vision, Charlotte Ritchie, Lynda Randle, The Skyline Boys, Jeff Steele and Jaidyn's Call. Look behind the music with Rob Estep as he talks with Ben Storie, and focus on the young with Victoria Shirey as she shines the spotlight on Rebecca Reynolds. Don't miss Rob Patz' Publisher's Point and enjoy a Media Minute with him along with Sylvia Green. Charlie Sexton covers the Lari Goss Celebration and Rhonda Frye catches up with Union Street, Roy Webb and Bruce Taliaferro on the road. Lou Wills Hildreth shares legendary memories, John Mathis Jr. offers a word of encouragement and Laurrette Willis' reminds us to eat healthy! Jeff Hawes shares memories from his home town, and special guest writer, AJ RINALDI offers post-trauma faith sharing tips. We also share our excitement regarding 2 major upcoming events: The National Quartet Convention and Creekside Gospel Music Convention! See what songs are topping the charts and who is releasing new music in this all-digital, all free August Edition! And… Share with your friends!
Download The Magazine Here
Tags:
AJ RINALDI
,
Ben Storie
,
Bruce Taliaferro
,
Charlie Sexton
,
Charlotte Ritchie
,
Greater Vision
,
Jaidyns Call
,
jeff hawes
,
Jeff Steele
,
Jennifer Campbell
,
Lari Goss
,
Lorraine Walker
,
Lou Wills Hildreth
,
LYNDA RANDLE
,
national Quartet Convention
,
Rebecca Reynolds
,
Rob Estep
,
rob patz
,
roy webb
,
Sandi Duncan Clark
,
Sylvia Green
,
The Skyline Boys
,
Union Street
,
Victoria Shirey
Posted in
announcements
,
sgn scoops magazine
|
Comments Off

on August 2012 SGNScoops Magazine
Written by SGN Scoops on June 25, 2012 – 5:10 am -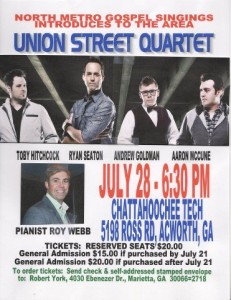 North Georgia Gospel Metro Singings presents Union Street Quartet and pianist, Roy Webb in concert on Saturday, July 28 at 6:30 PM. The concert will be held at Chattahoochee Tech located at 5198 Ross Road, Acworth, GA.  Tickets are on sale now and can be purchased by sending a self addressed stamped envelope to Robert York 4030 Ebeneezer Drive, Marietta, GA 30066-2718.
Ticket Info:
Reserved Seats: $20.oo
General Admission $15.00 if before July 21
General Admission $20 if after July 21
Everyone is invited to come out and enjoy a great night of Gospel Music!
Tags:
gospel music
,
Robert York
,
roy webb
,
Southern Gospel Music
,
Southern Gospel News
,
Union Street Quartet
Posted in
announcements
,
gospel events
|
Comments Off

on Union Street Quartet, Roy Webb in Acworth, GA July 28
Written by Scoops Staff on August 31, 2010 – 12:47 pm -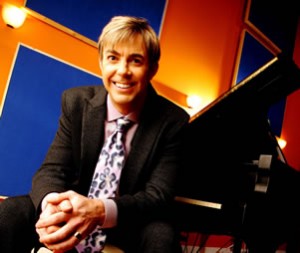 When 2010 began, Gold City introduced a new line-up of familiar faces with the addition of tenor Josh Cobb and pianist Roy Webb. As mentioned in the earliest days of this re-organization of the quartet, Roy was  on board in a temporary role to help develop Gold City's future plans. During this time, Roy maintained a schedule of selected solo dates, with the intentions of one day returning to a full-time solo career.
That day has arrived, and Gold City is searching a for a new pianist. Anyone interested in being a part of a 30-year ministry is encouraged to send a resume and demo to Gold City, Attn: Jason R. Maise, P.O. Box 2100, Gadsden, AL 35903 or via email at jasonrmaise@yahoo.com.
"It has been a pleasure to be involved with Gold City," says Roy. "I wish them much success and I believe they are truly one of Southern Gospel music's all-time great quartets.
However my heart is in my solo efforts and that's where I feel I need to be. So it is time to make the move." Roy's scheduling will be handled through The Beckie Simmons Agency.
"We wish for nothing but the best for Roy," adds Gold City's Daniel Riley. "Roy's contributions to this group have been numerous and they are greatly appreciated. In the meantime,
we look forward to the next person God will put in our path. We're excited about what may lie ahead for us."
Personal appearances for Gold City are also scheduled through The Beckie Simmons Agency (www.bsaworld.com).
Tags:
gold city
,
personnel change
,
roy webb
Posted in
announcements
,
breaking news
|
Comments Off

on Gold City Announces Changes