Written by Staff on April 6, 2020 – 10:10 am -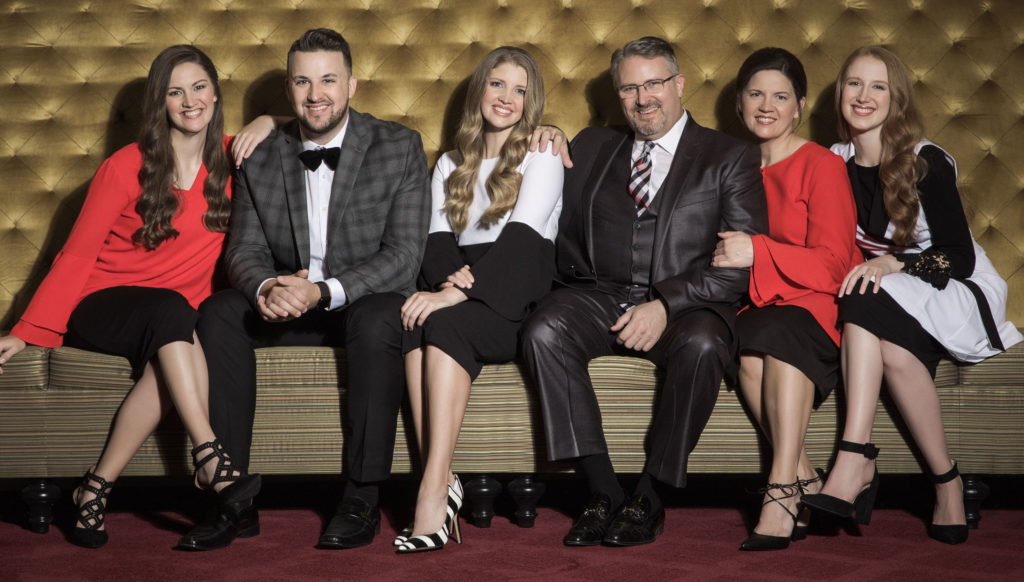 NASHVILLE, Tenn.—GRAMMY® Award-nominated StowTown recording artist The Collingsworth Family recently partnered with evangelical Christian humanitarian aid organization Samaritan's Purse for "Sunday Night Worship Around The Piano," a Facebook LIVE concert from the family's Mt. Orab, Ohio, home. More than 513,000 people have viewed the event to date, which The Collingsworth Family created to help Samaritan's Purse raise funds for their work in the United States and around the world fighting the COVID-19 pandemic.
 
The livestream featured the award-winning family ensemble's signature harmonies and included classic hymns and songs of faith; their timely new single, "Joy Has Not Been Cancelled," penned by Kim and inspired by a recent devotional from Lysa TerKeurst; and a reading of Psalm 33. 
 

"Samaritan's Purse is grateful for the support and generosity from The Collingsworth Family," said Franklin Graham, president of Samaritan's Purse. "As the world is facing this coronavirus pandemic, they are not only encouraging and blessing people with their music, but they are also using their talents to be a part of helping others. We are thankful for this tremendous gift, which is supporting our work in running Emergency Field Hospitals in New York City and Cremona, Italy, the two hardest hit areas."
 
"Ever since we were invited to do Christmas concerts with Cliff Barrows in 2014, we have returned every year to perform at The Cove, a ministry of the Billy Graham Evangelistic Association," Phil Colllingsworth said. "So we just knew that Franklin Graham's Samaritan's Purse was the right partner for this event. We are in such a crisis right now; when we were choosing the songs to share, Samaritan's Purse had trucks on the way to New York City to set up field hospitals."
 
"When we first realized we were going to need to stop traveling and stay home because of the pandemic, we asked God what He would have for us to do," added Kim Collingsworth. "We decided we wanted to do something to encourage our friends and listeners as we all struggle with challenges during this season. We also wanted to open our hands, and bless those who are on the frontlines of this crisis. Sharing this evening with folks around the world was a reminder to us that God is doing some unexpected things in the midst of unimaginable hardship and uncertainty."
The Collingsworth Family's "Sunday Night Worship Around The Piano" can be viewed here, and donations can still be made to assist with Samaritan's Purse COVID-19 relief efforts. One hundred percent of every donation will go towards helping those impacted by the pandemic.
About The Collingsworth Family
With a GRAMMY® Award-nomination, a GMA Dove Award and multiple Singing News Fan Awards to their credit, StowTown recording artist The Collingsworth Family is among Gospel Music's most beloved family groups. Multi-faceted musicians whose sole purpose is offering their talent back to God as a sacrifice of praise, the family is comprised of Phil & Kim Collingsworth and their children, Brooklyn (Blair), Courtney (Metz), Phillip and Olivia. In addition to their signature harmonies, several family members are acclaimed instrumentalists in their own right: Kim on piano; Brooklyn and Courtney on violin; and Phil Sr. on trumpet. The Collingsworth Family has performed at The White House; the Billy Graham Training Center at The Cove; and at multiple Gaither Homecoming events around the country.  
 
About StowTown Records
StowTown Records was founded in 2011 by Ernie Haase and Wayne Haun and welcomed partners Landon Beene and Nate Goble in 2014. A powerhouse independent Gospel music label, StowTown is home to renowned pop/Inspirational artists Charles Billingsley, Cana's Voice, TaRanda Greene and Jody McBrayer, as well as acclaimed comedian Tim Lovelace, and some of Southern Gospel's biggest names, including Ernie Haase & Signature Sound, Doug Anderson, The Browns, Tiffany Coburn, The Collingsworth Family, The Erwins, The Guardians, Trey Ivey, The Little Roy & Lizzy Show, Devin McGlamery, The Perrys, Rambo McGuire, Southern Raised, The Steeles, The Taylors and Triumphant. Distributed worldwide via Provident/Sony Distribution, StowTown Records artists have garnered multiple GMA Dove Awards and chart-topping releases.  
 
For further information on The Collingsworth Family, visit thecollingsworthfamily.com or stowtownrecords.com. Follow the family on Facebook, Instagram, Twitter, YouTube and Bandsintown. For information on Samaritan's Purse, visit samaritanspurse.org.  
Did you know that you can receive the printed, full-color version of SGNScoops Magazine by subscription? Find out more 
HERE
.
Find SGNScoops Magazine On Facebook 
HERE.
You can download the latest edition of SGNScoops Magazine 
HERE.
Read the latest edition of SGNScoops Magazine online
HERE.
Listen To Today's Gospel Music
HERE
Tags:
collingsworth family
,
COVID-19
,
gospel music
,
Hymns
,
Samaritan's Purse
,
songs of faith
,
Southern Gospel Music
,
StowTown
Posted in
announcements
,
artists
|
Comments Off

on THE COLLINGSWORTH FAMILY PARTNERS WITH SAMARITAN'S PURSE TO BRING HOPE AND HEALING TO A WORLD IN NEED
Written by SGN Scoops Staff on April 1, 2020 – 1:32 pm -
NEW YORK, April 1, 2020 — Samaritan's Purse is opening an Emergency Field Hospital in Central Park adjacent to The Mount Sinai Hospital, the main facility of the Mount Sinai Health System to provide additional specialized care for victims of the COVID-19 pandemic. With nearly half of all U.S. cases occurring in New York City, medical centers are overrun and in desperate need of added capacity.
Samaritan's Purse worked closely with Mount Sinai Health System, city, and state officials as well as the Federal Emergency Management Agency (FEMA) to deploy a 68-bed Emergency Field Hospital to help meet the needs of local hospitals that are facing an unprecedented wave of sick patients.
"Samaritan's Purse has been asked to help in New York as the state and their medical infrastructure have been overwhelmed by the coronavirus," said Franklin Graham, president of Samaritan's Purse. "We are grateful to be working alongside Mount Sinai Health System to help meet this critical need. In a time of crisis, we all have to come together to help people who are suffering. Samaritan's Purse is responding in Jesus' Name-please pray for everyone affected by this deadly virus."
"In order to meet the needs of the coming surge, we must work as a united front in order save as many lives as possible. We are grateful for the collaboration with Samaritan's Purse who have come to the aid of the people of Italy and now New York. Through this partnership, we are leveraging our collective resources to care for our patients and community." said Margaret Pastuszko, executive vice president, chief operating officer, and chief strategy officer for Mount Sinai Health System.
"As part of its broader COVID-19 response, we have activated surge planning to expand our capacity to care for patients with COVID-19. As a system, we're changing our policies as needed and in real-time, freeing up physical space to expand capacity to serve COVID-19-positive patients, and freeing up staff and resources to manage this crisis however we can. We are doing everything we can do to mitigate this crisis, and taking extraordinary steps to protect and serve our communities, including erecting triage tents outside of emergency departments throughout our eight-hospital system to expand services in addition to the mobile tent hospital made possible by our partners at Samaritan's Purse. These measures are critical, along with the collaboration of our city and state governmental partners and with Samaritan's Purse, will ensure we get through this pandemic together," said Dr. Jeremy Boal, executive vice president and chief clinical officer for Mount Sinai Health System.
"I am very proud of the life-saving work we have done thus far. We are working diligently, around the clock, to prepare for the increase in patients. The partnership with Samaritan's Purse will allow us to expand inpatient and critical-care capacity to meet this growing need. We thank them and our governmental partners for joining us in this fight to stop this pandemic," said Dr. Brendan Carr, chair of emergency medicine at Icahn School of Medicine at Mount Sinai and Mount Sinai Health System.
Samaritan's Purse welcomes the opportunity to work with the Mount Sinai Health System, which will transfer patients within its system to the field hospital. The 68-bed unit, was delivered to New York by a convoy of trucks from the Samaritan's Purse warehouse in North Carolina.
Tags:
Samaritan's Purse
Posted in
announcements
|
Comments Off

on Samaritan's Purse, in Collaboration with Mount Sinai Health System, Opens Emergency Field Hospital in New York's Central Park in Response to the Coronavirus Pandemic
Written by SGN Scoops Staff on June 2, 2011 – 10:57 pm -
Franklin, TN (Mansion Entertainment) June 1st, 2011 – Three Bridges recently performed as part of the Delta Call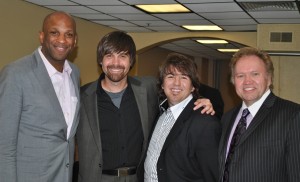 Disaster Relief Concert on Memorial Day, May 30, 2011.  The event was presented by the Trinity Broadcasting Network (TBN), Donnie McClurkin and Samaritan's Purse and held at the historic Boutwell Auditorium in Birmingham, AL. The purpose of the event was to raise support and bring hope to the Delta States ravaged by the recent flood waters and tornadoes.  The Memorial Day concert will air on TBN's flagship program, 'Praise The Lord', Wednesday evening June 1st at 10pm Eastern, 7pm Pacific and will include performances by Three Bridges, Donnie McClurkin, CeCe Winans, VaShawn Mitchell, Karen Wheaton, Vicki Yohe, Tribute Quartet and others.
Elliott McCoy, founder, manager and baritone for Three Bridges said, "It was a truly magnificent event where the presence of God was so real. I know that our heavenly Father loves it when His children come together to express His love for one another!"  Three Bridges tenor, Jeremie Hudson was raised in the Birmingham area and still lives there with his wife and children today.  Jeremie state, "It was an overwhelming show of support for our area and it was my honor to be a part of giving back to my home town and state during this time of crisis." Pictures of the event can be viewed via Three Bridges' Facebook: www.facebook.com/3bridgesmusic.
A new DVD from Three Bridges' live performance at TBN's Trinity City Theater earlier this year is slated for release this summer with the group also appearing as a featured artist on the upcoming international television program, "A Country Campmeeting", to air this fall on TBN.
Tags:
Donnie McClurkin
,
Samaritan's Purse
,
three bridges
,
Trinity Broadcasting Network
Posted in
announcements
,
christian entertainment
|
Comments Off

on Threes Bridges Performs for The Delta Call Disaster Relief Concert and TBN
Written by Rhonda on November 29, 2010 – 2:46 pm -
CHARLOTTE, N.C., Nov. 29, 2010 /Christian Newswire/ — The next television special from the Billy Graham Evangelistic Association (BGEA), which begins airing Nov. 29 online and on national Christian networks, focuses on "The Greatest Journey," a discipleship Bible study program from BGEA and Samaritan's Purse. The program teaches children all over the world who have received shoe box gifts from Operation Christmas Child more about beginning a relationship with Jesus Christ.
"Samaritan's Purse and the BGEA have teamed up to create 'The Greatest Journey', a 12-session Bible study program for children after they receive their [Operation Christmas Child] gift," said Franklin Graham, president and CEO of BGEA and Samaritan's Purse, in the program. "A lot of folks are getting involved in this project, and we're excited."
In the program, viewers will follow Christian recording artists Matthew West and BarlowGirl to Colombia and Belize, respectively, on distributions of shoe box gifts for needy children. Showing that the impact of Operation Christmas Child doesn't end with a shoe box, the program explains how "The Greatest Journey" is working now to help children understand what it means to follow Jesus.
"I've had the chance to see first-hand the type of impact Operation Christmas Child can make, not only in the lives of the children who are receiving those gifts but in the lives of the people who are back home packing those shoe boxes," says Matthew West in the program. "Watching 'The Greatest Journey' begin in these children's lives is something I'll take with me everywhere I go."
Viewers will see students from Riga, Latvia's first graduating class of "The Greatest Journey" discipleship program, where Franklin Graham personally congratulated the students. After completion of the program, children received a certificate and their own copy of the New Testament translated into their native language. The graduation ceremony also presented an opportunity for many parents to hear the Gospel.
"One of the great benefits of Operation Christmas Child and 'The Greatest Journey' is the children who receive the boxes," said Graham. "But, it's [also] the parents. Many of these parents are not believers."
The program also includes a powerful segment on Haiti, which is still recovering from the earthquake in January as well as the recent outbreak of cholera. Many Haitian churches have invited Franklin Graham to hold a Festival in the country in January 2011. One local pastor, Vladimir Dorsainvil, who lost his wife and daughter in the earthquake, is helping with Festival preparation, as well as Operation Christmas Child distributions and "The Greatest Journey" program.
"Christmas in Haiti this year is going to be pretty tough. This country is still struggling, even though there have been some great things that have happened this past year," notes Graham in the special. "We want to do everything we can to not only help the people of Haiti, but to reach them with the Gospel of Jesus Christ."
The Billy Graham Evangelistic Association deployed its Rapid Response Team, alongside Samaritan's Purse, shortly after the tragic earthquake, and it has maintained its presence in the country since. In addition, BGEA is currently making preparations for its My Hope evangelism project to take place in July 2011.
The television program also features the world premiere of the music video for BarlowGirl's new song "Hallelujah (Light Has Come)," produced by the Billy Graham Evangelistic Association. To watch the program online or to find dates, times and networks for television airings, please visit www.billygraham.tv.
About Operation Christmas Child
Operation Christmas Child is a kids-helping-kids project of Samaritan's Purse that uses simple gift-filled shoe boxes to let hurting children know that they are loved and not forgotten. Each year, thousands of volunteers pack shoe boxes with toys, school supplies, necessity items and handwritten notes of encouragement, which are hand-delivered to millions of children around the world suffering from natural disaster, war, terrorism, disease, poverty and famine. Since 1993, OCC has hand-delivered shoe box gifts to more than 77 million hurting children in more than 130 countries.
About BGEA
BGEA proclaims the Gospel of the Lord Jesus Christ throughout the world by every effective means available. From its headquarters in Charlotte, N.C., BGEA directs a wide range of domestic and international evangelism ministries, including: large-scale Festivals led by evangelists Franklin Graham and Will Graham; Dare to Be a Daniel, a youth evangelism training project; My Hope World Evangelism Through Television; the Billy Graham Rapid Response Team, offering the hope of Jesus Christ in the midst of tragedy; and many others through print, television, telephone, radio and the Internet. For more information, please visit www.billygraham.org.
Christian Newswire
Tags:
Billy Graham Evangelistic Association
,
Billy Graham.
,
Franklin Graham
,
Operation Christmas Child
,
Samaritan's Purse
Posted in
Christian interest
|
Comments Off

on Next Billy Graham TV Special Takes Viewers on 'The Greatest Journey'