Written by SGN Scoops Staff on April 16, 2014 – 9:12 am -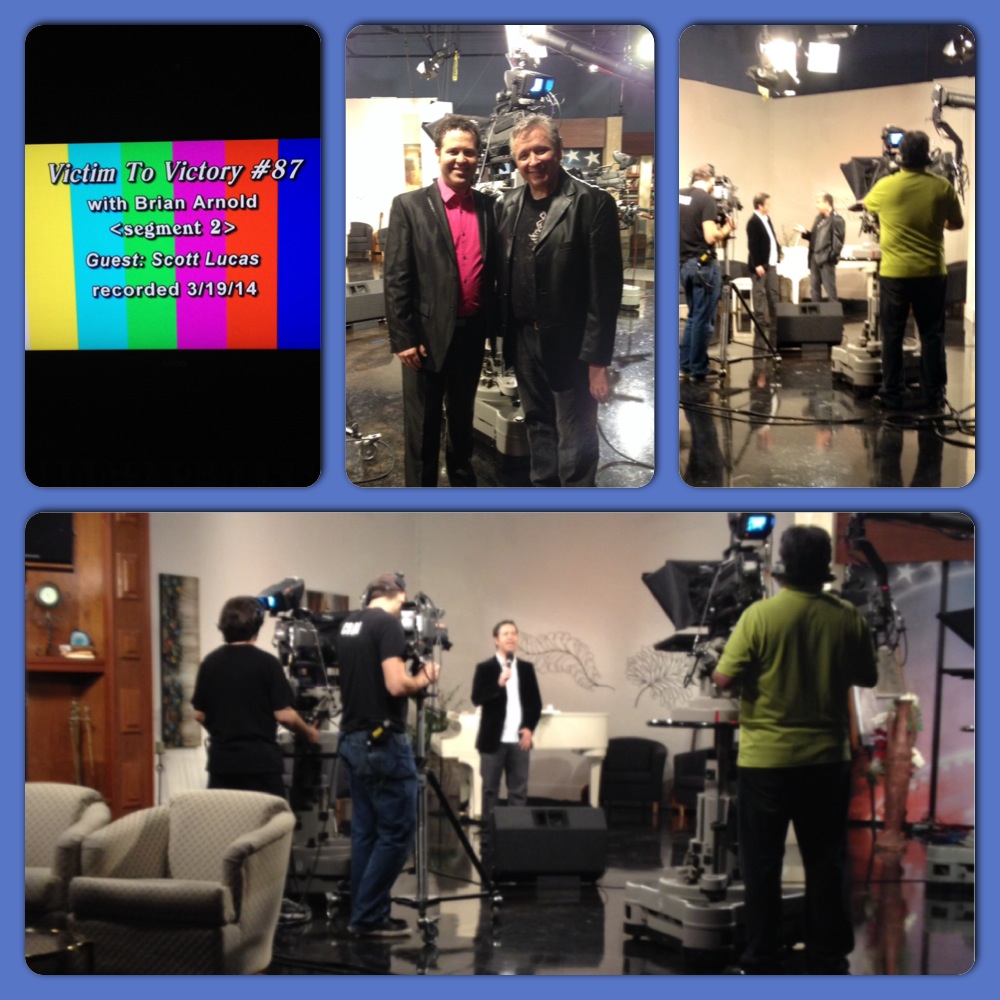 Nashville, TN April 15, 2014- Standing Ovation singer/songwriter, Scott Lucas was the featured guest on Brian Arnolds program "Victim to Victory" on the TCT Network. Scott filmed two shows, which will air May 18th & May 25th at 9:00pm on Direct TV 377 as well as other providers who carry TCT programming. Scott performed several songs on the programs and spent some time talking with Brian Arnold.
Brian Arnold is known as the "one-handed piano player" and is also becoming one of America's most sought after motivational speakers and evangelists. For more than 20 years, Brian has ministered to millions all around the world. Nearly 15 years were spent in Branson MO opening for some of America's premier talent, performers like Roy Clark, Ray Stevens, Ricky Skaggs, Loretta Lynn, Porter Wagoner, Frankie Avalon and many more. While in Branson, Brian also sang and played the piano for Silver Dollar City's resident Gospel quartet, Chosen Few. Brian has spoke at events with Don Piper (author of "90 Minutes in Heaven"), Samaritan's Purse (with Franklin Graham) and Compassion International (traveling to Bolivia and Guatemala), along with continuing to speak at all different kinds of churches and events.​
Arnold shares: "Scott is a dynamic young man with a powerful voice and testimony of God's grace. Victim To Victory strives to bring different guests each week with stories of living lives of victory. Scott was a perfect fit with his life story and our audience will be greatly blessed by his ministry."
"What an honor to be asked to be on Brian's show!" says Lucas. "I have known Brian for several years and have been blessed by his ministry. Every time I hear him play the piano I am reminded that with God ALL things are possible."
For more information on Scott Lucas visit http://www.scottlucasmusic.com
For more information on Brian Arnold visit http://www.brianarnoldministries.com
Tags:
Scott Lucas
,
Southern Gospel Music
,
Southern Gospel News
,
TCT
,
Victim to Victory
Posted in
announcements
|
Comments Off

on Scott Lucas to Appear on TCT Network
Written by SGN Scoops Staff on November 11, 2013 – 7:46 pm -
Nashville, TN November 11, 2013- The video "Reason's" by Danny Norman, directed by Scott Lucas, has been used to reach people all across the country in a mighty way. On Saturday, November 9th the video was honored as the Artist Music Guild's 2013 Music Video of The Year.
The 2013 Artist Music Guild Awards ceremony was held in Fort Mill, SC and hosted by music legend Chubby Checker. "I would like to take the time to thank God for inspiring me to write the song Reasons. I want to thank all my fans and friends that have taken the time to watch and share my video", said Danny. "This song has touched and ministered to so many people who have lost their precious loved ones. I wrote and recorded this song for a dear friend and family, who lost their daughter and son-in-law in an automobile accident. My prayers and love goes out to anyone who has experienced a tragedy or loss of someone you love dearly. I pray God would comfort you each and everyday and bring reassurance that someday, we will see our loved ones again and we will know the Reasons why."
Director Scott Lucas states, "When Danny came to me with this song I knew the video was going to reach people on a whole new level. To this day I still hear from people that have been touched through this video. I am so happy for Danny and honored to have had a part in this video. Special thanks to Kevin Hayes, who helped to bring my vision to reality."
If you have not seen this powerful video yet, you can view it using the link below.
http://www.youtube.com/watch?v=BhW4qlt7UJc
For more information on Danny Norman visit www.dannynorman.net
For more information on Artist Music Guild visit www.artistsmusicguild.com
Tags:
Artist Music Guild Awards
,
Christian Country News
,
Chubby Checker
,
Danny Norman
,
Scott Lucas
,
southern gospel
,
Southern Gospel News
Posted in
announcements
|
Comments Off

on Danny Norman & Scott Lucas Team Up to Win AMG Award
Written by SGN Scoops on February 9, 2012 – 5:41 pm -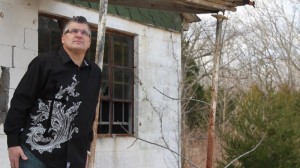 Nashville, TN July 28, 2011- Christian Country songwriter and recording artist, Danny Norman, of Carbondale, IL, releases "Reasons" this week through Spin-N-Motion. The complimentary video, produced by Scott Lucas of Catacomb Music in Nashville, TN, can be found on YouTube using this link: http://www.youtube.com/watch?v=BhW4qlt7UJc
 "This video was an incredible experience. It is one thing to direct such an emotional video, but to also act in it… too much for words", says Scott Lucas. "I believe that this video is going to touch so many lives & look forward to hearing the stories that come in from people after they have viewed the 'Reason's' music video."
 "Reasons," was inspired by an incident that took place with a friend of Danny's, who is also a pastor, during one of his concerts. As Danny was ministering in song to his friend's congregation and souls were being stirred, everyone began to feel the spirit of revival. As Danny began to encourage his friend, he realized the message was going to the pastor and not the congregation and that God was preparing his friend for something in the near future. Shortly after this experience, Danny turned on his computer to find that some of his friend's immediate family had been killed in an auto accident. That afternoon Danny was found by his wife weeping in his study and writing "Reasons." Inspired by real-life events, this song & video will move you. For more information on Danny Norman visit www.dannynorman.net 
For more information on Catacomb Music visit www.catacombmusic.com
Tags:
Catacomb Music
,
Danny Norman
,
Scott Lucas
,
Southern Gospel News
Posted in
announcements
|
Comments Off

on Danny Norman Releases "Reasons" Video Inspired by Real-Life Events
Written by Rhonda on August 12, 2010 – 4:09 pm -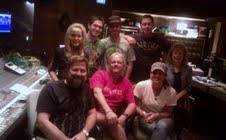 Nashville-TN – August 11, 2010 – The Telestials were at The Sound Shop Monday, recording tracks for their latest CD. The Telestials once again enlisted the help of producer, Michael Sykes.
 
Again, the Telestials are recording songs written by group members Caleb Brown & Scott Lucas, the writers of the single, Free. The Telestials will begin recording vocals next week, with the first single to follow soon. Monday's tracking session can be viewed on the Telestials blog at, www.telestials.wordpress.com
 
For more information about The Telestials or booking you may visit their website at www.telestials.com or call their ministry office at (615) 847-3660
Tags:
Caleb Brown
,
Scott Lucas
,
telestials
,
The Sound Shop
Posted in
new music
|
Comments Off

on Telestials Begin Work On New CD