Written by SGN Scoops Staff on June 9, 2011 – 10:58 am -
r Immediate Release (Nashville, TN) – Conference speaker and recording artist Shannon Perry will release her first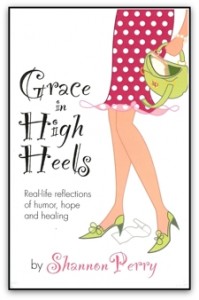 book entitled Grace in High Heels: Real-life Reflections of Humor, Hope & Healing via Grace and Fire Media, a division of Swanson Christian Products (SCP). Swanson has been a national distributor of gifts and church supplies to the Christian retail marketplace for over 75 years.
"I am so thrilled to be partnering with Swanson," said Perry.  "Their commitment to offering quality products to Christian retailers is long-standing and I appreciate their sincere desire to promote products that stay true to the Gospel."
Adam Swanson, president of Swanson Christian Products, says Perry's book made an immediate impression on his family. "My 10-year-old daughter saw the Grace in High Heels book on my desk," says Swanson.  "She picked it up while I was in a meeting and fell in love with it enough to take it off my desk and take it home!  She told her Mom she wanted to finish it for summer reading and said she thought the stories were funny and had lots of scriptures. If my daughter picked up on it that quickly, I thought, 'Wow, this must be an engaging book.'"
Based in part on material from her original women's conference "If the Shoe Fits," Grace in High Heels: Real-life Reflections of Humor, Hope & Healing includes true stories from Perry's life, reflecting on various issues such as being single, motherhood, marriage, finding purpose and many other topics that are divided into four sections: "Goody Two Shoes," "Is there a Hole in your Sole?," "Lacing up the Tongue," "Walk a Mile in my Shoes."
Perry has written articles for various media outlets including regular contributions to Salem Communications'  Crosswalk.com, Christian Voice magazine, Christian Women of Today magazine, WestSideStory.net, and Everyday Christian, to name a few.  Perry conducts her women's conferences across the U.S., averaging 50-75 events per year.  In addition to her conferences, Perry performs solo concerts and recently sang the National Anthem before 70,000 fans at a Houston Texans home game.
Perry earned her Master's Degree in Education with an emphasis in counseling and taught in the public school system for over fourteen years before entering into full-time ministry.  Her most recent recording, "The Real Thing," was produced by Lifeway Christian Resources producer/writer Paul Marino.  All ten songs were co-written by Perry who structured the lyrics to fit in with her conference themes.  She has performed with the Houston Symphony and appeared at Carnegie Hall. Shannon has shared the stage with best-selling authors Karen Kingsbury, Jan Silvious (Women of Faith), and Christy Award winner, DiAnn Mills.
Perry has created a two-minute radio show called "Does the Shoe Fit?" which was recently added to the WALK-FM Radio network (www.WALKFM.org) and will air on seven different stations in six states.  She is currently working on a bible study curriculum to accompany her conference teachings, and is putting together a pilot for a television show.
Founded in 1935, Swanson Christian Products is a not-for-profit ministry of Victory Christian Center. It is an importer, manufacturer and distributor of more than 4,000 Christian products in categories such as apparel, home/office décor, Bible accessories, entertainment and custom products. Grace & Fire Media provides a non-traditional alternative for authors to gain access to more than 3,500 retail stores in the traditional Christian retail market.
Tags:
Jan Silvious
,
Karen Kingsbury
,
shannon perry
Posted in
announcements
,
christian entertainment
,
Christian interest
|
Comments Off

on Speaker/author signs with national distributor
Written by Scoops Staff on October 21, 2009 – 11:39 am -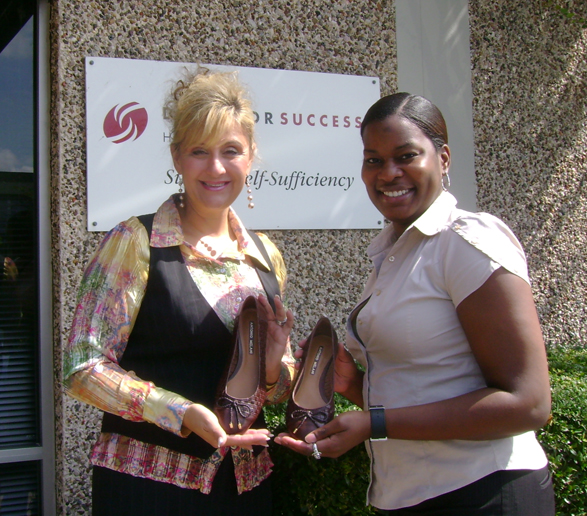 (Nashville, TN) –Speaker/singer Shannon Perry kicked off her new national women's conference this month entitled If The Shoe Fits. Perry decided to use the events to support Dress for Success, a worldwide charitable organization that promotes the economic independence of disadvantaged women by providing professional attire, a network of support and the career development tools to help women thrive in work and in life. After her first conference in the Houston area, Perry took over 200 pair of gently-worn shoes to the local Dress for Success affiliate.
"We had so many women respond with such generosity to our request for shoes," says Perry. "This is such a worthwhile charity and especially now when so many people are out of work and looking for jobs. I just wanted to be able to use our conference as a place for all of us to help women who are struggling."
Dress for Success Houston provides interview suits, confidence boosts and career development to more than 3200 women annually. With suits from Dress for Success Houston, women not only look their best, they feel their best and they have the confidence to succeed. An independent 501(c) (3) corporation registered in the state of Texas, Dress for Success Houston is part of a world-wide network and is an affiliate to 94 Dress for Success organizations.
Targeted specifically to women, the If The Shoe Fits conferences combine Perry's teaching prowess with her musical talent featuring topics such as "Goody Two Shoes," "Walk a Mile in My Shoes," "Is There a Hole in Your Sole" and "Lacing Up the Tongue." Perry's new music CD entitled The Real Thing (produced by Lifeway writer/producer Paul Marino) features songs specifically written to fit in with the theme of the conferences. Perry wrote the bulk of the original presentation in hospital waiting rooms while her husband was undergoing cancer treatment.
"One week after I began writing the script for the conference, my husband David was diagnosed with cancer," says Perry. "For four months following his surgery, I carried my computer to the hospital and while I sat in the waiting room during his radiation treatments, I silently cried out to God to fill my heart with ways I could help others and keep the focus off myself and my circumstances. I had plenty of time to pray, study and write the notes for each of the topics. This conference became a healing agent to me as I walked through the fears and all of the other 'unknowns' that cancer brings."
Perry earned her Master's Degree in Education with an emphasis in counseling and taught in the public school system for over fourteen years before entering into full-time ministry. She has previously-released music projects with both Daywind and Benson Records which garnered radio airplay on the national Christian charts. She has performed with the Houston Symphony and has even appeared at Carnegie Hall. Perry has shared the stage with best-selling authors Karen Kingsbury, Jan Silvious (Women of Faith), Joanna Weaver, and Di Ann Mills, as well as artists Larnelle Harris, Gordon Mote (keyboard player for Bill Gaither) and Michael English, among others. She has been a featured soloist at the J&J Music Conferences in Houston, Texas, and led praise and worship at numerous women's conferences and for the national Lifeway conferences held annually in New Mexico and North Carolina.
Perry says she has kept the conference topics flexible enough to present them in almost any type of gathering including bible studies, small group gatherings or other settings. She has also begun a conference specifically for tween and teenage girls entitled "Don't Flip-flop in your Walk with Jesus." Perry, who writes a column called "Grace in High Heels" for WestSideStory.net, is also working on a book to coincide with the If the Shoe Fits theme.
For more information, visit www.ShannonPerry.com
Tags:
causes
,
of interest
,
shannon perry
Posted in
artists
,
Christian interest
|
Comments Off

on New Conference Reaches Out to Help Women Struggling to Find Work