Written by Staff on June 12, 2018 – 8:11 am -
Larnelle Harris has a different perspective now than he once did.
"As I've gotten older … I saw a picture in a magazine," Harris shares. "It was a picture of a turtle on a fence post. When I first saw it, I didn't think much about it. Then, I started to think about the people in Danville, Ky., and how they've spoke things into my life. Then, when I saw it again, I started thinking about it. The turtle doesn't get on the fence post on his own. I started thinking about the people over the years and those who are still speaking, people who spoke a dream into my heart as a little kid. I didn't see it as a kid. As I got older, I began to see that."
Now, Harris is speaking … well, he's letting his words do the talking anyway.
He released his first book on Feb. 6, "Shaped Notes: How Ordinary People with Extraordinary Gifts Influenced My Life and Career." He wrote the book along with Christine Schaub.
"People who are close to me, who should be in the book, have talked about that for years," Harris says of writing a book. "What am I going to tell them? 'My name is Larnelle Harris. I grew up in Danville, Kent. My parents' names were' … there's nothing to see here.
"I was at the Governor's Mansion (in Frankfort, Kent.). I had been given an award. One of the ladies from Danville said, 'Whatcha got coming up?' I said, 'I'm thinking about writing a book.'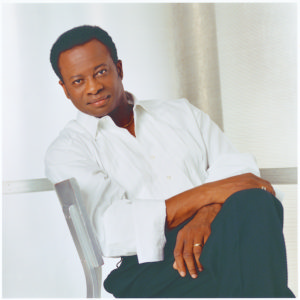 She said, 'You haven't lived long enough to write a book.' I said, 'I know, but I want to take this opportunity to just say thank you to them, to those people who have spoke into my life.'"
One of those individuals who spoke into his life came along early on.
"Mrs. Georgia Donehy … Mrs. Georgie played the piano and organ for the church choir," Harris explains. "She taught piano lessons to every kid in town, whether they wanted them or not. I didn't want them at first.
"She found out there was a little hidden boy soprano in here, and she started taking me around different places to sing. I did a concert in our church when I was nine years old, and she played the piano. She didn't want anything. Then, she passed on, and somebody else came along. It's a wonderful exercise for everybody. We've all had those people."
Larnelle summarizes the purpose of the book in two words.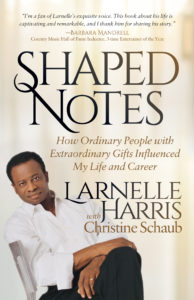 "There are two little words we don't use enough," Harris points out. "It seems like as we go up in generation, we use it less and less. Thank you … that's what it's about.
"Mrs. Georgie used to get on my last nerve. She said to my mom one time, 'you should not let Larnelle play any sports out in the dust, because the dust will hurt his voice.' But, now, I hope that every town, city, parish has a Mrs. Georgie in it."
Harris attempts to honor Mrs. Georgie during his concerts.
"I do a package of songs in concert to Mrs. Georgie," Harris notes. "I wanted to do some songs that I did in that first concert with Mrs. Georgie in the First Baptist Church in Danville, Ky.
"This book is very little about Larnelle, but it is about the process of God putting people in your life, to take you to the next plateau. It's about those people who guide you who don't want a thing. Mrs. Georgie had no idea what the future would be for me."
Tags:
Christian Music
,
Gaither Vocal Band
,
gospel music
,
larnelle harris
,
Shaped Notes
,
Spurlows
Posted in
artists
,
christian entertainment
,
sgn scoops magazine
|
Comments Off

on Larnelle Harris: The notes that shaped his life