Written by Staff on February 25, 2017 – 2:38 pm -
By Justin Gilmore
The Isaacs have been a mainstay in Gospel and Bluegrass music for years. This acclaimed family has captivated audiences with their harmony and musicianship. Most importantly their hearts for God are truly apparent. I recently had the pleasure to talk with matriarch Lily Isaacs about the group's career and their recent Grammy-nominated album, Nature's Symphony in 432: A Journey from Pain to Praise.
Gilmore:  Tell me about the formation of the group, the early days.
Isaacs: Well, the Isaacs started with myself and my kids' father Joe Isaacs, who's my ex-husband. We started singing in 1971 after we got saved.We had a
band at the time and we performed just on weekends because we had full time jobs. And as time went on and we got busier, we went into full time ministry in 1986.
As our children were teenagers, they showed a lot more interest in music and so as one band member would leave, the kids would take their place. Sonya was the first one, taking up the position of the mandolin and then Ben went on bass, and then Becky went to the guitar. So it wasn't really a plan, it just happened that way. So today we are an all-family band and we also have a drummer and my grandson Levi, who now plays guitar for us as well.
Tags:
Becky Isaacs Bowman
,
Isaacs
,
Joe Isaacs
,
Lily Isaacs
,
Sonya Isaacs Yeary
Posted in
artists
,
sgn scoops magazine
|
Comments Off

on The Year Of Jubilee: A Conversation with Lily Isaacs of the Isaacs
Written by SGN Scoops on September 8, 2011 – 6:06 pm -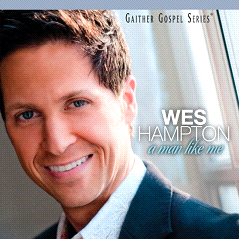 NASHVILLE, Tenn.—September 8th, 2011—Gaither Music Group is scheduled to release an all-new solo recording by Wes Hampton, member of the award-winning and legendary Gaither Vocal Band, on September 13th.  A Man Like Me, produced by Hampton along with producer/vocalist Michael English and producer/musician/vocalist Gordon Mote, showcases the depth of Hampton, who has been traveling with The Gaither Vocal Band for six years now.
A resident of Birmingham, Hampton came to Music City to create the new recording which he describes stylistically as "songs that he enjoys listening to."
"Bill and the GVB [Gaither Vocal Band] have always been great at mixing sounds," Hampton describes.  "And I feel like this release is somewhat along those lines–reflective of a variety of styles and of the influence the group has had on me when it comes to combining a variety of sounds."
Those sounds include background vocals from soloist and former Gaither Vocal Band teammate Marshall Hall as well as a duet with lauded Christian contemporary music pioneer Steve Green.  When Green toured through Birmingham, he invited Hampton to sing "It Is Well" on stage with him that evening, and the duet is now re-captured on this new release.
A Man Like Me features songs from heralded writers such as Travis Cottrell, Cindy Morgan, Becky Isaacs Bowman, Sonya Isaacs Yeary and Sam Mizell, among others.  Hampton covered the Cottrell hit "Jesus Saves"; and the title cut, penned by Jeff Pardo and Stephen Gause, is a special tune for him.  
"I loved this song immediately," Hampton recalls.  "It kind of encapsulated what I wanted to say as a whole, which is why I made it the title of the project.  It says, 'I believe there's hope for everyone, and Your arms still reach even for a man like me.'
"I relate to this," Hampton continues.  "I am a fallen man trying to make the best decisions I can every day, and sometimes I don't succeed, but I get a fresh start every day.  You can't outstretch the love of God.  I think it's important for people to hear that as much as possible as we tend to forget it.
"I hope this release encourages listeners.  We're not in this alone, so let's stop trying to pretend we can do it on our own.  We need each other, and we need God through the journey.  There are times when I try to do things by my own strength, forgetting that God has promised to walk alongside me and get me through whatever I'm facing.  The songs on this release point to the fact that we're all in this together."
In addition to a heavy touring schedule alongside The Gaither Vocal Band and the HOMECOMING tours, Hampton performs solo dates when time allows.  He and his wife, Andrea, have four children. 
A Man Like Me will be distributed in stores and digitally exclusively through EMI CMG Distribution.  It will be available on iTunes as well as at www.gaither.com .  For further information, visit www.weshampton.com .  To schedule interviews, receive music or make further inquiries, please contact:
Celeste Winstead,  CWinstead@springhillmusic.com, 615-383-5535, ext. 138.
Tags:
Becky Isaacs Bowman
,
Cindy Morgan
,
Gaither Music Group
,
Gaither Vocal Band
,
gordon mote
,
marshall hall
,
Michael English
,
Sam Mizell
,
Sonya Isaacs Yeary
,
Southern Gospel Music
,
Southern Gospel News
,
Steve Green
,
Travis Cottrell
,
Wes Hampton
Posted in
new music
|
Comments Off

on New Release from "A Man Like Wes Hampton"