Written by SGN Scoops Staff on April 18, 2013 – 1:08 pm -

SIGNAL MOUNTAIN, TN April 17, 2013
Gospel singer/songwriter Scotty Inman will be guest co host of this
weekends Harmony Road TV program, seen on TNN/The Nashville Network
and other outlets. Scotty and host, Les Butler will introduce music
from Triumphant Quartet (featuring Inman), the beautiful "I Got
Here as Fast as I Could" from Mark Bishop, Kim Collingsworth with
a stirring Piano solo, The Shaffer band and their concept video "I
Believe", and Karen Peck and New River with the hit song "Hey".
Shot at the Music Road Resort in Pigeon Forge, this week's program
features a variety of songs and artists ranging from a classic
quartet, a soloist, an instrumental and 2 mixed groups. More
information on the Music Road Resort can be found at
www.musicroadresort.com. The resort hosts several gospel events per
year including the Triumphant Quartet's Anniversary Celebration this
fall.
Harmony Road can be found each week on TNN, The Nashville Network on
Sunday mornings at 8 Eastern, and on other outlets. Information on TNN
and its growing list of affiliates can be found at www.watchtnn.com.
Go to www.harmonyroadtv.com for other times and channels. Harmony Road
is also seen on theWALKtv. For a list of affiliates and information on
streaming, including ROKU, go to www.thewalktv.com.
You can also find Harmony Road each Saturday evening and Sunday
morning on WMJN29 in the Huntsville/Decatur, Alabama area and streamed
on the internet at www.wmjn29.com. The program is also shown on Sunday
afternoons in the Anniston/Gadsden Alabama area on tv24, and on
Charter Cable in Clarksville and Jackson, TN where it's also available
"on demand".
Other members of the Harmony Road team include Ball Brothers pianist,
Cody McVey, doing interviews and stories "from the road", as well as
Randy Liner, Technical Director and Roger
Spears, Producer.
Tags:
Kim Collingsworth
,
Mark Bishop
,
Music Road Resort
,
scotty Inman
,
Soutehrn Gospel
,
triumphant quartet
Posted in
announcements
|
Comments Off

on Scotty Inman Special Guest Co Host on this Week's Harmony Road
Written by SGN Scoops Staff on September 25, 2012 – 1:18 pm -
BURLINGTON, ON – GMA Canada announced this morning during a press conference at the Crossroads Centre in Burlington, Ontario that The Amundruds are among the nominees for the 2012 GMA Covenant
Awards.
The Amundruds are nominated in the categories:
Group of the Year – The Amundruds
Country/Bluegrass Album of the Year: The Amundruds – At The Crossroad
Country/Bluegrass Song of the Year: The Amundruds – Catch Every Tear
Southern Gospel Song of the Year: The Amundruds – I Wanna Go
The Covenant Awards will be broadcast on CTS TV this November. Watch for times and local listing announcements to be made soon. The Amundruds are also scheduled to perform on the Awards Show
alongside artists: Starfield, Downhere, NewWorldSon, High Valley, Ben Cantelon, Greg Sczebel and the Toronto Mass Choir. Watch for more artist announcements coming soon! Visit GMACanada.ca for tickets and additional information.
Make plans now to join us in Ontario for GMA Week 2012!
Group Of The Year
The Amundruds
Downhere
High Valley
Newworldson
Starfield
Country/Bluegrass Album Of The Year
The Amundruds – At The Crossroad
Canada's Double Portion – Classics
Gary French – Sweetest Thing
High Valley – Love Is A Long Road
Kelly Manu – Believe
Country/Bluegrass Song Of The Year
The Amundruds – Catch Every Tear
High Valley – Have I Told You I Love You Lately
High Valley – Let It Be Me
Mike R. Schuster – Sunday
Rob Berg – Hammer Fall
Southern Gospel Song Of The Year
The Amundruds – I Wanna Go
Jassette Haughton – Once You Have Tasted
Blake Paul – Be Near Me
Torchmen Quartet – We Sing About a Saviour
Valiant – It's A New Day
Tags:
Canada's Double Portion
,
downhere
,
GMA Canada
,
High Valley
,
Kelly Manu
,
Soutehrn Gospel
,
Southern Gospel News
,
The Amundruds
Posted in
announcements
|
Comments Off

on 2012 GMA Canada Covenant Awards Nominees Announced
Written by SGN Scoops Staff on April 13, 2012 – 9:42 am -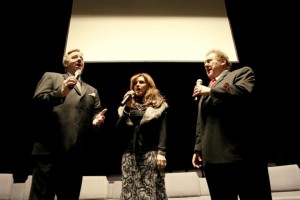 {EHA-Nashville, TN} Bill Dykes recently regrouped Chariot by bringing on board Tank Tackett and Darlene Chapman. The former Cathedrals member says the group is enjoying traveling and performing around the country. Members, Darlene Chapman and Tank Tackett, joined Bill in the Pathway Records studio recently to work on a brand new project. This week, Bill signed on with Ray Cooper Group to represent the trio with bookings. He notes, "It's a pleasure for Chariot to sign with Ray Cooper Group. We are looking forward to a great summer of singing and fellowship all over the country!" Ray Cooper notes, "It's certainly an honor to work with such a talented group. I feel blessed and excited to do my small part with such an anointed trio." Chariot is scheduled to sing April 14 at Landmark Baptist Church in Cincinatti, OH; along with Tammy Robinette, Steven Doan, the Perkins Family, and more. For more info on Chariot: www.Chariotmusic.org For more on Ray Cooper Group: 615-601-1056 or 256-616-5221
Tags:
Bill Dykes
,
Darlene Chapman
,
Ray Cooper Group
,
Soutehrn Gospel
,
Southern Gospel Concert
,
Southern Gospel News
,
Tank Tackett
Posted in
announcements
,
artists
|
Comments Off

on Chariot to Release New Project, Signs with Ray Cooper Group for Booking