Written by SGN Scoops Staff on September 1, 2014 – 10:45 pm -
 SGN Scoops Top 100 For August 2014
1 Browders Listening For The Shout
2 Brian Free and Assurance Say Amen
3 Hoskins Family God Is Big
4 Greater Vision For All He's Done
5 LeFevre Quartet Put It Right There
6 Gold City Never Too Broken To Belong
7 Mercy's Well More Like Jesus Less Like Me
8 Mark Bishop Love's Gonna Get You
9 Hyssongs Thinking About Going Home
10 Whisnants Not Afraid To Trust Him
11 McKameys A Hill Worth Dying On
12 East Ridge Boys He's Leaving His Throne
13 Sunday Drive Happy, Happy, Happy
14 Legacy Five He Is To Me
15 Kingdom Heirs I'll Know I'm Home
16 Mark Trammell Quartet Your Walk Talks
17 Keith Barkley and Family Tradition Heaven In The House
18 Karen Peck and New River Everybody's Going Through Something
19 Georgia We Have A Hope
20 11th Hour How Will You Plead
21 Hoppers I'll Take You Home
22 Booth Brothers If God Didn't Care
23 Erwins When Justice Called Mercy Answered
24 Old Paths Love Them To Jesus
25 Mark Dubbeld Family Higher Than I
26 Shellem Cline Look Up
27 Bowling Family I Know Enough
28 Nelons The Sun's Coming Up
29 Steve Hess and Southern Salvation Mountain of Grace
30 Beyond The Ashes No Sin Greater Than God's Grace
31 Steeles We're All Human
32 Michael and Delilah The Stroll
33 Primitive Quartet Empty Me Lord
34 Tim Livingston Over The Next Hill
35 Wilbanks Matchless Name
36 Allen Family Talk About The Lord
37 Carolina Boys Watch And Pray
38 Browns The Captain's Got It Under Control
39 Gordon Mote Meanwhile Back At The Cross
40 Dixie Melody Boys Roll Back Read more »
Tags:
SGNScoops Top 100
,
Southern Gospel Chart
,
Southern Gospel Music
,
Southern Gospel News
Posted in
announcements
|
Comments Off

on SGNScoops Top 100 For August 2014
Written by SGN Scoops Staff on January 17, 2012 – 1:00 am -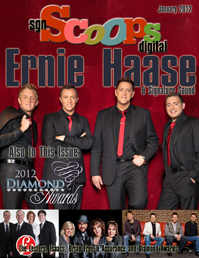 We're kicking the New Year off right at SGNScoops Magazine! We are so pleased to announce….DIAMOND AWARDS NOMINATIONS are underway! Check out Laura Kennedy's article for a little background on the Diamond Awards and follow the voting instructions. We're anticipating a great awards show this year as well as voting to top last year's record breaking participation. Help us spread the word about the Diamond Awards by posting our link to your website and all social media outlets.
Are you ready for some New Ernie Haase and Signature Sound music?!?! Check out our cover story and see what all Ernie Haase has to say about their new album and new tour! Features this month include Donna Beauvais, The Issacs, The Lesters, and Brian Free & Assurance. We have new music reviews, Voices Won Anniversary coverage and a concert story covering the Gaither's Jubilate 2011. As always, we provide inspiration and encouragement and the latest in Southern Gospel and Christian Country News. You'll also see what songs are topping the charts as well as find some great soup recipes! Thank you for reading and pass along to your friends! Happy New Year! Download The Magazine Here
Tags:
Brian Free & Assurance
,
Christian Country News
,
diamond awards
,
donna beauvais
,
ernie haase and signature sound
,
Faith
,
Gaither's Jubilate
,
Laura Kennedy
,
Lorraine Walker
,
Rhonda Frye
,
rob patz
,
Sandi Duncan Clark
,
SGNScoops Magazine
,
Southern Gospel Chart
,
Southern Gospel Music
,
Southern Gospel News
,
The Issacs
,
THE LESTERS
,
Voices Won
Posted in
christian entertainment
,
Christian interest
,
sgn scoops magazine
|
Comments Off

on January 2012 SGNScoops Magazine